National Match Competitors: DON EVANS
December 15, 2020
Civilian Marksmanship Program
▸
The First Shot
▸
National Match Competitors: DON EVANS
The annual National Matches has welcomed rifle and pistol competitors of all ages from around the country and the world since 1903. Moving to its current home at the Camp Perry National Guard Training Facility in Ohio in 1907, thousands of guests travel to the event each July and August to take part in the several competitive, educational and purchasing opportunities offered­ on the grounds.
Attending the National Matches has become a tradition that has moved through the generations, with some returning year after year, without fail. The Civilian Marksmanship Program (CMP), the entity that has helped facilitate the National Matches since 1996, has compiled a list of recognition of those who have attended the event for 20, 30 or even 50 years. These individuals have spent decades of their lives devoted to marksmanship, celebrating its legacy each summer on the shores of Lake Erie, and we at the CMP thank them for their unwavering support.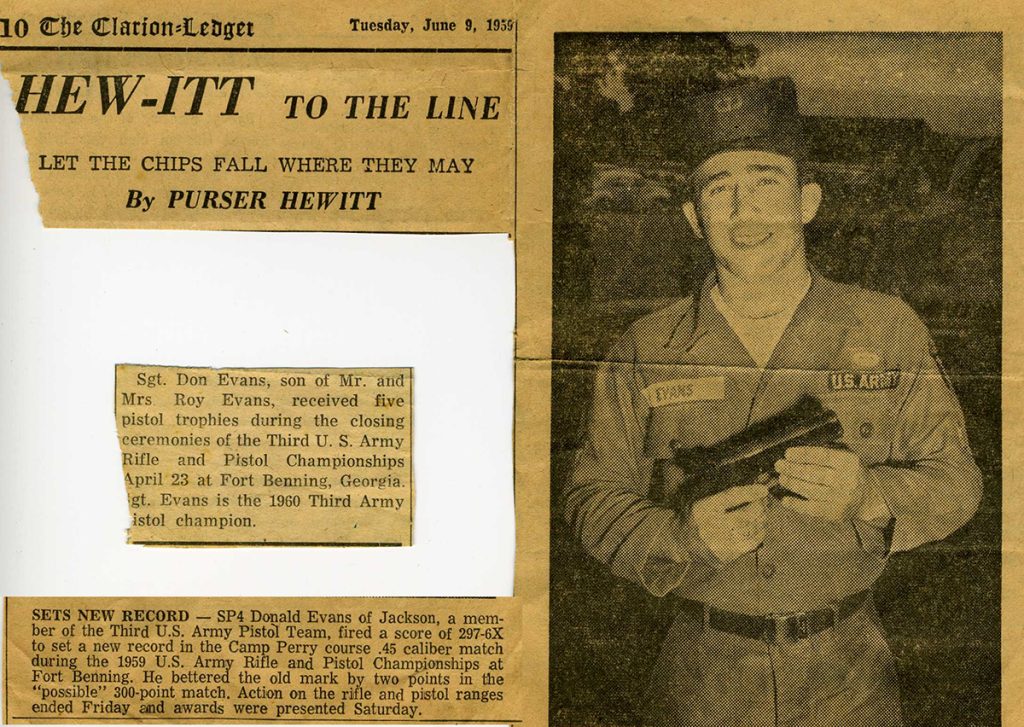 Don Evans, 85, of Long Beach, Mississippi – 3 National Matches, 40 years ago, retired member of the Army Marksmanship Team
I attended the Camp Perry Pistol Matches in 1959, 1960 and 1961, as a member of the Third U.S. Army Pistol team and later as a member of the Army AMU based in Fort Benning, Georgia.
In 1959, I set a new record for the .45 caliber National Match Course at the Third U.S. Army Rifle and Pistol matches, and in 1960, I won the Third U.S. Army Pistol Match.
I live in Long Beach, Mississippi, and I am 85 years old. As an NRA certified instructor, I currently teach the "enhanced" concealed carry class to Mississippi residents, and I still shoot in four or five USPSA (United States Practical Shooting Association) and Steel Challenge matches each month (unless they have been canceled due to corona virus concerns).
Even though I only attended the Camp Perry matches three times, it was a wonderful chapter in my life, and I continue to cherish the memories of the friends I made and the events I experienced.
Learn more about the 1959 National Matches.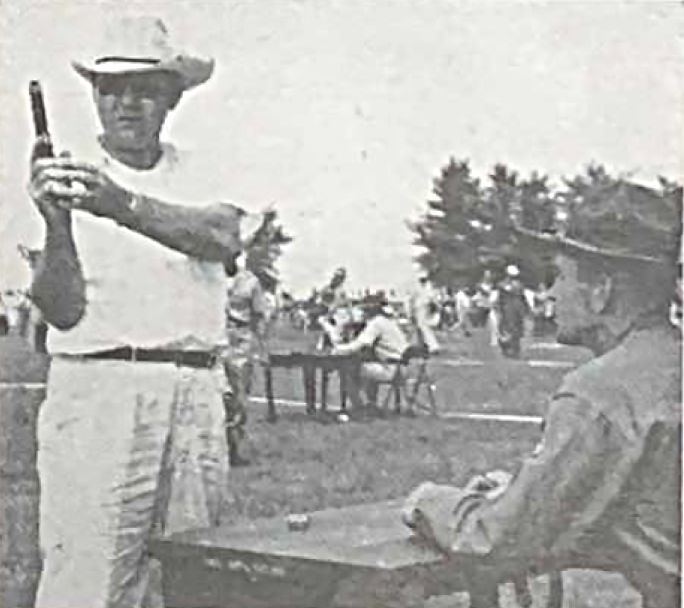 Interested in attending the CMP National Matches? We'd love to have you on the firing line at Camp Perry. View the 2021 National Match calendar and information on the CMP website at https://thecmp.org/competitions/matches/cmp-national-matches/.
It's time to determine some bragging rights! We'd like to recognize those individuals who have attended the most National Matches at Camp Perry. Tell us – when was your first year? How many years have you attended? Do you know of anyone else who you think could qualify? Those who we find have earned the "Most/Longest Attended" title will be highlighted in an upcoming CMP article. Let us show you off! You've earned it – comment below or email abrugnone@thecmp.org. (And we love old photos too!)