Club Sales Index
How to Place an Order Through CMP's Club Rifle Sales
Certain government-surplus rifles are available for sale to affiliated clubs at special club prices. CMP Affiliated Clubs receive a 10% discount on government-surplus rifles.
Rifles currently available include:
To place a club rifle order, please download the Club Rifle Sales Order Form and follow the instructions within.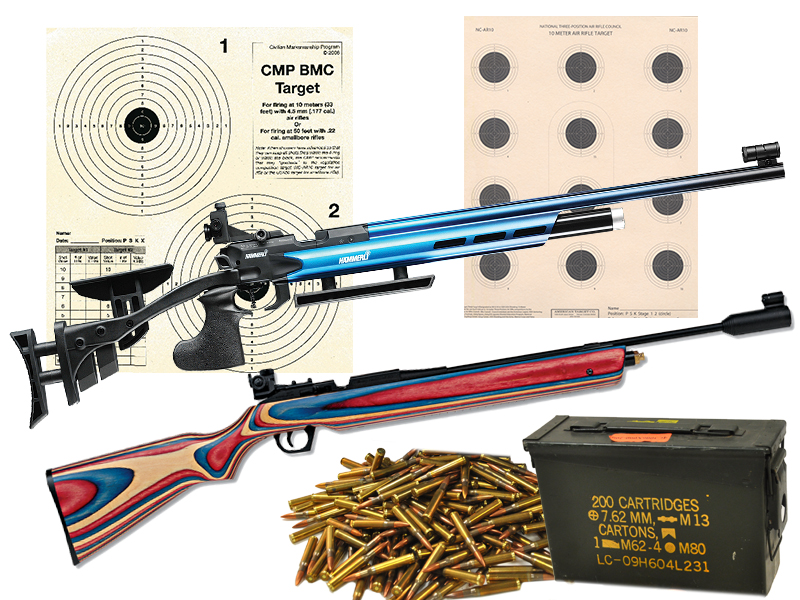 ---
How to Place an Order Through the CMP Affiliate Rifle Purchase Program
The CMP Affiliate Rifle Purchase Program is a CMP program in which CMP-affiliated schools, junior clubs, teams and camps can purchase .177 cal precision air rifles, sporter air rifles, air pistols and .22 cal smallbore rifles for target training and competition by beginning to intermediate level shooters.
Some of these rifles also may be purchased through the CMP delayed payment plan that allows purchaser to distribute payments over a two-year span.
To learn more about the program and place an order, click here.
---
How to Place an Order Through the CMP-Affiliated Club Ammunition Sales Program
The former government program that issued surplus government smallbore ammunition to DCM-affiliated clubs free of charge ended in 2000 when supplies of surplus government smallbore ammunition were exhausted.
The CMP replaced this program with volume-purchase commercial contracts that continue to make attractively priced ammunition that is especially suitable for junior marksmanship training available.
All CMP affiliates, regular and special, are eligible to buy unlimited quantities of this ammunition if they sponsor youth marksmanship training. This .22 cal. rimfire ammo and air rifle pellets are sold at CMP costs that are kept as low as possible by making volume purchases.
To download the order form for the CMP-Affiliated Club Ammunition sales program, click here.
---
How to Place an Order Through the CMP Target Sales Program
The CMP Target Sales program offers affiliated organizations and individual shooters an opportunity to purchase, at special prices, targets that are especially designed for use in youth and adult marksmanship instruction or in competitions that encourage large scale participation in the shooting sports.
To access an order form and learn more about the program, click here.
For additional information, please contactthe CMP Affiliate Relations Department at (419) 635-2141, Ext. 753 or email clubs@thecmp.org.