Introduction to Shotgun Class
JOIN US FOR OUR INTRODUCTION TO SHOTGUN CLASS
Where: Talladega Marksmanship Park
When: Basic class available during normal park hours, any day. Class is approximately 3 hours long and includes classroom and range time. Please call to schedule your class with the certified instructor at (256) 474-4408 ext. 460.
Cost: $30 per participant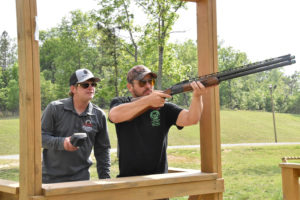 The CMP invites all novice shooters interested in learning more about shotgun techniques to join us for an introductory class. This 2 hour class will cover a variety of basic fundamentals including safe firearm handling, proper mounting, sighting procedures and target tracking.
This class will begin with classroom instruction and then move to the 5-stand for live firing drills.
Shooters must provide their own shotguns, ammunition, ear and eye protection.
Reserve your spot in the class by calling (256) 474-4408 ext 460 or 461, or emailing cmptalladega@thecmp.org.