National 3PAR Council
About the National Three-Position Air Rifle (3PAR) Council
The Council is the national governing body for junior 3-Position Air Rifle competition in the USA. 3-Position Air Rifle is one of the most popular youth shooting programs. The Council brings together national youth-serving organizations that are actively involved in promoting junior three-position air rifle shooting to provide a national standard rulebook, coordinate competition schedules and promote youth participation in the shooting sports.
This National Council website provides coaches, instructors, parents and youth with the rules, instructions and information they need to conduct youth 3-Position Air Rifle programs. All of these resources can be downloaded through this website.
What are the National Three-Position Air Rifle Council's Priorities?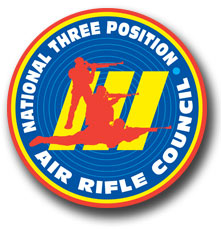 The National Council has three principal objectives:
Fostering youth development through safety and marksmanship training,
developing high performance junior athletes, primarily through precision air rifle competitions, and
building massive grassroots participation in junior target rifle shooting, primarily through sporter air rifle competitions.
Council priorities that support these objectives are:
Athlete-Centered Competitions. A fundamental reason for offering 3PAR programs to youth is to help them develop, physically, psychologically and socially. Learning marksmanship skills teaches valuable life skills like self-discipline, emotional control, responsibility and concentration. Acquiring these skills transforms youth marksmanship participants into winners.
National Standard Rules. The Council was originally organized at a time when several organizations conducted their own 3PAR programs with their own rules. Council members agreed that there must be one common rulebook for all 3PAR shooting in the USA. The Council created the National Standard Three-Position Air Rifle Rules to fulfill this objective and Council members all agree to use only these rules in their competitions.
An Accessible, Affordable Sporter Class. The 3PAR program promotes mass participation by maintaining a sporter class with low cost air rifles and strictly limited equipment. To keep sporter class competitions affordable and accessible, the Council strictly defines what an approved sporter air rifle is and enforces a price ceiling to prevent this competition class from launching an "equipment race" that would drive out less affluent programs.
The Olympic Path. The Council wants youth who participate in position rifle shooting to have realistic opportunities to follow "the Olympic Path." The Olympic Path is a sequence of training and competition opportunities that, when diligently pursued, could ultimately lead to earning a place on a USA National Team and representing the USA in international competitions. This policy recognizes that even youth who do not advance along the Olympic Path benefit from having opportunities to share in the Olympic Dream.
Strong Local Clubs and Teams. Council decisions consistently favor strengthening local clubs and teams and opposing changes that would weaken local clubs and teams. The Council believes strong, active local clubs and teams are the best foundation for growing youth participation in shooting.
Contact Information and Shooting Program websites for Council Members
National Standard Three-Position Air Rifle Rules
The primary function of the National 3PAR Council is to produce a common, "national standard" rulebook to govern all 3-Position Air Rifle competitions conducted by Council members and their affiliated organizations. National Council Rules now govern annually 1,500 sanctioned and non-sanctioned youth air rifle competitions and seven major national junior championships organized by Council members. The most recent National Standard Three-Position Air Rifle Rules were released in September 2018.
Range Officer Instructions
How to Conduct Competition Firing – Any Range Officer who is new to conducting firing for 3-position air rifle matches is strongly urged to download and study this article

before they conduct 3-position air rifle matches.

How to Conduct Finals – We encourage all Range Officers and Coaches to read this article.

In addition to describing the history and advantages of finals, the article provides detailed instructions on how Range Officers must conduct finals according to the

National Standard Rules.
Three-Position Air Rifle Rules Hotline
The Council offers a "Rules Hotline" service for athletes, coaches or match sponsors that have questions about how to apply or interpret the National Standard Three-Position Air Rifle Rules. The Rules Hotline is administered by the CMP. Anyone with rules questions is encouraged to call the Hotline at 419-635-2141, ext. 702 or send questions via email to 3PAR@TheCMP.org.