Director of Civilian Marksmanship
Mark Johnson, Director of Civilian Marksmanship and Chief Operating Officer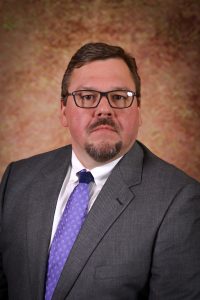 Mark Johnson is no stranger to hard work, success or the many facets of the firearms industry.
Born and raised in Talladega, AL, he graduated from Talladega High School in 1989 before attending Jacksonville State University, where he earned a BS in Business Management in 1994. He went on to earn his Master's Degree from Jackson University, Jacksonville, FL, in 1996 and later earned a Doctorate in Philosophy while teaching and serving as the principal of Four Square Christian Academy in Anniston, AL.
With his love of firearms, Mark opened a gun shop in Anniston in 1997 that quickly became involved with the CMP as an outlet for test-firing the company's refurbished M1 Garands. Soon, he was hired on as a full-time armorer.
Showing promise, he was promoted to Business Development Officer in 2001, where he was the head of advertising, commercial product procurement and pricing of all products. Continuing his rise in the company, he became the Program Manager of Camp Riflery, serving as the Junior Air Rifle Camps Task Force Leader from 2003-2006, along with developing into the lead operator of the South CMP Store as the Distribution Center Manager in 2004.
In 2007, he was named the Assistant Chief Operating Officer and Manager of the Production Planning and Control Department, where he was responsible for future and strategic planning for the organization. In 2009, his talents elevated him to Deputy Chief Operating Officer – making him responsible for the oversight of all CMP operations.
In September 2014, after the retirement of Orest Michaels, Mark was promoted to Chief Operating Officer. With his progression through the many levels of the CMP, Mark has developed an expansive insight into all of its inner workings, giving him the beneficial knowledge towards the betterment of the organization. At the March 2021 board meeting, the board of directors named Mark as the Director of Civilian Marksmanship.
Outside of work, Mark is a family man to four children – two sons and two daughters – and works alongside his wife, Gina, who serves as General Manager of the CMP. He can also be seen on the firing line as a National Match Service Rifle and Pistol competitor and CMP Games Match competitor.
Contact Information
Director of Civilian Marksmanship & Chief Operating Officer
Civilian Marksmanship Program
1401 Commerce Blvd
Anniston, AL 36207
Phone (256) 835-8455
Fax (256) 831-2353
[email protected]