Air Gun Competition Centers
Gary Anderson Competition Center hours will vary during the National Matches. See our schedule. CMP South Range hours will be Tuesday and Thursday afternoons from 5pm-7pm. Both ranges will be closed August 15-31.
To set up an appointment for your spot on the firing line, please call Catherine Green at 419-635-2141, ext. 704. 
Stop By Our Permanent Air Gun Competition Centers…
The Civilian Marksmanship Program maintains two permanent Air Gun Competition Centers: the Gary Anderson CMP Competition Center in Camp Perry, Ohio, and the CMP Air Gun Competition Center – South in Anniston, Alabama.
Both of these world-class air rifle and air pistol training and competition facilities feature state-of-the-art electronic targets at each of their 80 firing points. All shots are instantly displayed on monitors beside each shooter and on display screens visible to spectators in the center area of the range. The facilities also feature common areas with classrooms, offices, restrooms and a foyer.
Download our Range Brochures
Live Targets
In addition to hosting an array of air rifle and air pistol events throughout the year, both centers have Marksmanship Nights every Tuesday evening.
During the National Matches in July and August, the Camp Perry location hosts the National Match Air Gun Events. (To get more information on National Matches and download a schedule, click here.) This range is also open throughout the summer for Air Gun Events and public Marksmanship Training.
Our ranges also feature a Monthly Bench League Match. Click here for more details.
… Or Let Our Mobile Range Come to You!
In an effort to expand its outreach to shooters around the country, CMP has constructed a portable air rifle range with all of the luxuries of a state-of-the-art air gun facility. It's comprised of 60 electronic MEGAlink targets, all with color monitors next to the shooter so he or she is able to see each shot after it's fired.
Because of its versatile design, the mobile range can be used as a 60-point range, or broken down into three sets of 20 targets or two sets of 30 targets. Its ability to adapt to different areas of space gives the range the flexibility to be used in a variety of settings.
Additional features include LED targets set up downrange, with a lift system for 3-position shooting, as well as eight 60″ TVs to show the scores, and tables and chairs for spectators. The program is run by a three-computer system constructed in the middle of the range, which operates the targets, lifts, results and TV's.
Interested in Renting a Range?
All three ranges can be rented for a fee for your next event. Contact information for each is listed below.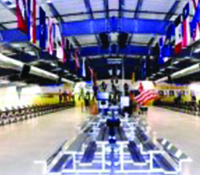 Gary Anderson CMP Competition Center
Camp Perry
Port Clinton, OH USA
Contact: [email protected]
(419) 635-2141 ext. 704
Visit the Gary Anderson CMP Competition Center on Facebook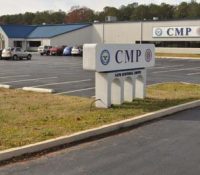 CMP Air Gun Competition Center – South
1470 Sentinel Drive
Anniston, AL USA
Contact: Renay Woodruff
(256) 835-8455 ext. 228
Visit the CMP Air Gun Competition Center – South on Facebook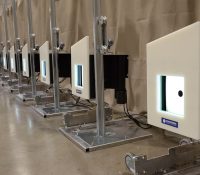 CMP Mobile Range
In an area near you!
To rent, contact Chance Cover
(419) 635-2141 ext. 603
[email protected]