Junior Air Rifle Camps and Clinics
The Civilian Marksmanship Program has announced the cancellation of the following marksmanship and training events due to health concerns brought on by the COVID-19 virus that is causing travel and logistical difficulties across the country. The CMP made the decision to alter the scheduling of these events in the best interest of the participants, families, spectators and staff in attendance at these popular events. More information will follow as it develops. Read our Special Notice.
ABOUT JUNIOR AIR RIFLE CAMPS AND CLINICS
Each summer, the Civilian Marksmanship Program (CMP) sponsors a popular series of Junior Rifle Camps and Clinics to teach intermediate and advanced rifle marksmanship skills to junior shooters and their adult leaders. All camps are one week long, with the exception of the Outreach Clinics and the Advanced Standing Camps.
Connect with Junior Rifle Camps on social to stay up to date on the latest news!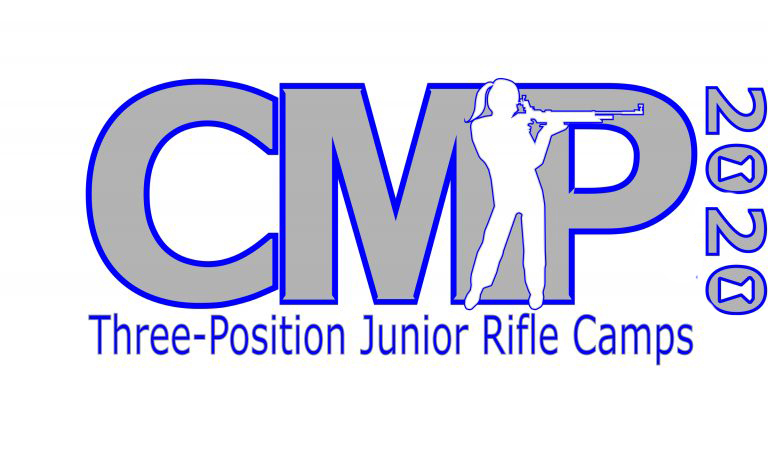 For questions, please contact Chance Cover, CMP Junior Rifle Camp Director at 419-635-2141 ext. 603, or [email protected], or Catherine Green, CMP Junior Rifle Camp Registrations, at 419-635-2141 ext. 704, or [email protected].
2020 CAMP DATES
Click on the Camp or Clinic for additional information.
Week 1
Camp 1
Granbury, TX
1-5 June
Camp 2
Anniston, AL
1-5 June
Week 2
Camp 3
Sarasota, FL
8-12 June
Camp 4
Anniston, AL
8-12 June
Week 3
Standing Camp 1
Sarasota, FL
15-17 June
Standing Camp 2
Anniston, AL
15-17 June
Clinic 1
Casper, WY
15-17 June
Week 4
Standing Camp 3
Camp Perry, OH
22-24 June
USA Shooting Nationals
19-26 June
CMP Sporter Nationals
25-27 June
4-H Nationals
23-26 June
Week 5
Camp 5 **FULL**
Anniston, AL
29 June-3 July
Camp 6
Camp Perry, OH
29 June-3 July
Camp 7
Redmond, OR
29 June-3 July
Week 6
Smallbore Camp 1
Camp Perry, OH
6-10 July
Smallbore Camp 2
Ft. Lauderdale, FL
6-10 July
Smallbore Camp 3
Elk River, MN
6-10 July
CMP Precision Nationals
11-13 July
Week 7
Camp 8
Fountain, CO
13-17 July
Camp 9
Anniston, AL
13-17 July
Standing Camp 4
Fountain, CO
18-20 July
Week 8
Camp 10
ABQ, NM
20-24 July
Clinic 2
Willard, MO
22-24 July
Clinic 3
San Antonio, TX
22-24 July
American Legion Championships
22-25 July
Week 9
Camp 11
ABQ, NM
27-31 July
Camp 12
**FULL**
Annapolis, MD
27-31 July
Camp 13
**FULL**
Anniston, AL
27-31 July
Week 10
Standing Camp 5
Anniston, AL
3-5 Aug
Standing Camp 6
Centreville, VA
3-5 Aug
IMPORTANT DATES FOR 2020
Counselor Applications Open – 2/22/2020
Counselor Applications Due – 3/22/2020
Counselors Hired by – 4/12/2020
Camp Fees Due – 5/15/2020 (This will also be the last day to cancel and receive camp fees minus deposit)
CMP Junior Rifle Camp Fees
Three-Position Air Rifle Camps: $285 (athlete) $50 (adult)
Advanced Standing Camp: $225 (athlete) $50 (adult)
Clinics: $175 (athlete) $30 (adult)
The tuition the CMP charges for these camps does not begin to cover the total cost of operating the camps; the CMP subsidizes the camp program through its budget for the camps.
NOTE: Camp fees are due 15 May 2020.
(This will also be the last day to cancel and receive camp fees minus deposit)
Registration and Payment
NOTE: Registrations will only be taken via paper, email, or fax, or through Competition Tracker online registration. All registration (aside from Competition Tracker online registrations) must be submitted on official CMP paperwork. No other forms of registration will be accepted. Incomplete registrations will NOT be accepted. All deposits are nonrefundable.
To register online, you will need a Competition Tracker Number (CT#) to. If you do not remember your CT#, or do not have one, click here for instructions to find or create a new CT#.
When registering online, you must log into Competition Tracker separately for each individual that is registering for your group. This means you will need the Competition Tracker User Name and Password for each person.
Team registration is not possible for Junior Rifle Camps. You must register each team member separately.
ONLINE REGISTRATION LINKS:
If you prefer to register via mail or fax, download and fill out the following forms. (These are fillable PDF forms, meaning you can type directly on the form then save a mail, email, or fax into CMP.)
Along with each Athlete and Adult registration form, please attach a $50.00 deposit or full payment and a Medical Release Form.
Payment for camp may be made via check or credit card.
Please send your completed forms and payment to:
Civilian Marksmanship Program
Junior Rifle Camp Registration
P.O. Box 576
Port Clinton, OH 43452
You may also send them via fax at (419) 635-2802.
Please make sure your contact information is correct so we may send you your confirmation email.
Fees submitted with registration forms will be returned in the event a desired camp is full. Fees are non-refundable once a participant is accepted into camp, but they may be applied to a substitute participant.
Notification of acceptance to camp
Adult Leaders will be notified via email of athlete/team acceptance to a camp. Adult Leaders, please provide a valid email address and phone number with registration form.
Cancellations and Substitutions
Participants unable to attend a camp, for which registration is complete and fees are paid, must notify Chance Cover or Catherine Green (see contact information below) in writing two (2) weeks prior to the beginning of their selected camp.
Fees (less the $50 deposits) will be refunded for good cause shown prior to 15 May. Cancellations, with good cause shown, after 15 May will receive a refund for half (1/2) of the camp fees. THERE WILL BE NO REFUNDS GIVEN FOR "NO SHOWS".
To substitute a participant, a Participant Substitution Form must be submitted to CMP. Substitutions will not be accepted over the phone. Substitutions after 15 May will incur a $10.00 fee per participant.
Apply to host a CMP Summer Camp
Interested in hosting a 3 Position Clinic, 3 Position Camp, or Advanced Standing Camp? Please fill out the form below: