National Matches
About the National Matches
Held annually at Camp Perry, the National Matches include the CMP National Trophy Pistol and Rifle Matches, the Pistol and Rifle Small Arms Firing Schools, the National Games Rifle Matches, the National Smallbore Matches and the National Long Range Matches. These matches are conducted by a partnership of the CMP and Ohio National Guard.
Since their inception, the National Matches have become a huge, national shooting sports festival with well over 4,500 annual participants. School students and competitors range from beginners to many of the world's best.
What to Expect
CMP's National Matches are open to the public and we encourage all marksman to participate in the Historic National Matches at Camp Perry in Port Clinton, Ohio. Watch our video below or contact our staff with any questions you may have – (419) 635-2141 or email [email protected]. Registration is open, we hope to see you on the firing line soon!
National Matches Phases
National Matches Info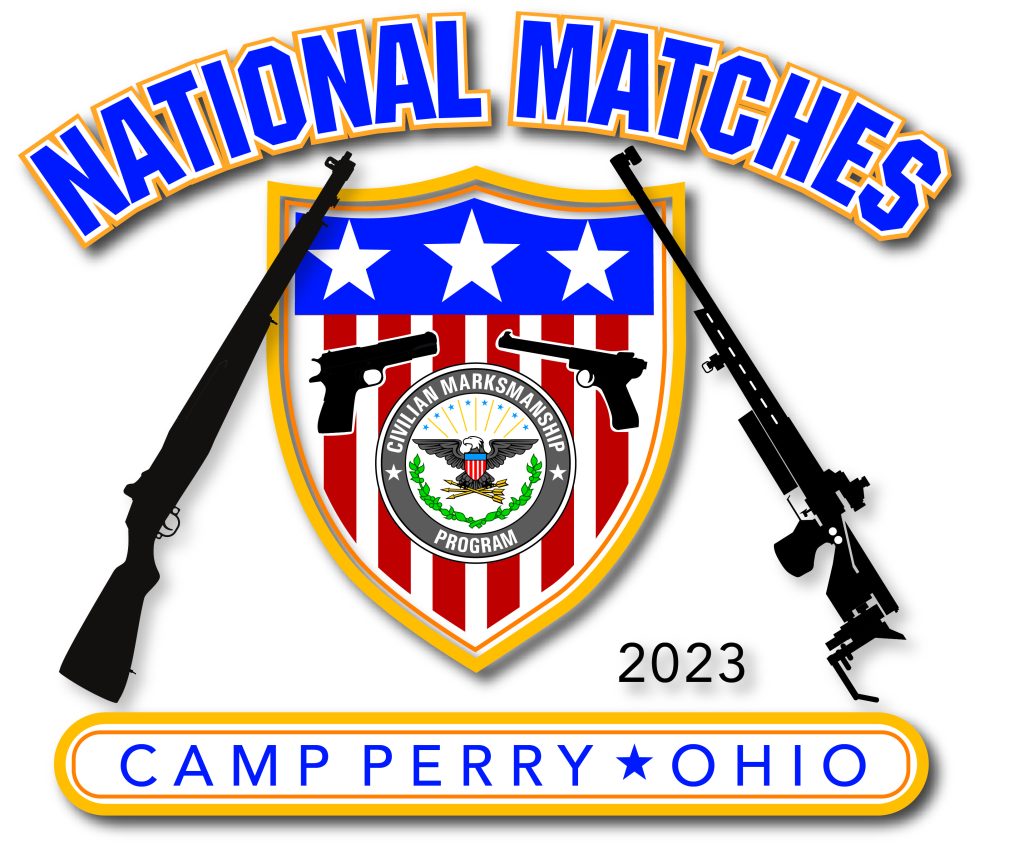 Registration/Results Links:
Pistol
National Match Air Gun Events
National Air Gun Matches
Rimfire
Smallbore
Rifle
Long Range
Youth Opportunities
The National Matches is a venue that offers several options suitable for junior marksmen. A variety of matches and clinics (each cautiously observed by CMP trained professionals and staff members) are available to young rifle, pistol and air gun supporters, based on safety guidelines. A list of opportunities include:
National Rimfire Sporter Match – specially designed for new and upcoming competitors
National Matches Camps, Clinics and Schools – full of smallbore, rifle and pistol educational possibilities for youth at entry and advanced levels
National Air Gun Events – fired at the Gary Anderson CMP Competition Center at Camp Perry (where the National Matches are located), offering a mix of simple, fixed-position matches and Open Public opportunities to accommodate young competitors in finding marksmanship and competition fundamentals in a controlled setting
Each event of the National Matches is open to competitors of all ages, meaning with proper training, supervision and safety, juniors will gain the chance to compete on the firing line at a national level – next to some of the best marksmen in the world.
Browse the National Matches events to set future goals and accomplish new beginnings in the world of marksmanship with your young individual or group of junior athletes!
Firearm Inspections
All firearms, to be used in any CMP Games or CMP Service Rifle event, are required to be inspected by a CMP sanctioned armorer prior to any live fire at every event. Competitors will be required to present all applicable scorecards to the CMP Armorer in order to complete the inspection process.
To expedite the inspection process, competitors are requested to apply their competitor label to each score card. Please include the last four digits of the serial number for the firearm to be used in the bottom right hand corner of the scorecard.
Upon completion of the firearm inspection process, each scorecard will receive a stamp of approval from the CMP Armorer, indicating that no safety violations or rules compliance issues were observed at the time of inspection. Each rifle will also receive an inspection tag, verifying participation in the inspection process. Any inspection tags from prior events are to be removed at the time of inspection.
Upon conclusion of firing, any scorecard received by CMP staff which does not bear the CMP Armorer's stamp, will be entered as "Out-of-Competition".
To accommodate unforeseeable circumstances, competitors will receive a 30-minute window after completion of firing in which a fired rifle may still be inspected.
This enhanced inspection process will aid in ensuring match compliance, as well as promote the safest experience that CMP can provide for all participants on our firing line.
Please be advised that CMP Armorers are operating in an advisory role and cannot absolutely certify the safety or compliance of all firearms in the time provided. It is still the responsibility of each competitor to ensure compliance with all CMP mandated safety regulations and match rules. The Armorer's stamp will not serve as an alibi in the event that a violation is found before, during, or after participation in a match.
Cancellation Policy
Cancellation requests may be submitted by mail, email [email protected] or phone (419) 635-2141 ext. 724 or 714. The CMP cancellation policy is designed to discourage no-shows and to encourage competitors who know they will not be able to fill their entry slots to report cancellations as soon as possible. No refund will be given if match is cancelled due to inclement weather.
Cancellations received at least 30 days prior to a competitor's first event will receive a full refund. Cancellation requests received between 29 days and one day prior to the event entered receive a 50% refund of all fees paid, no-shows on the day of the match or cancellation requests received on the day of or after the match will not receive a refund unless the cancellation is caused by bereavement, a medical emergency or CMP error.
About the CMP Targets at Petrarca Range
CMP Targets at Petrarca Range are located at Camp Perry in Port Clinton, Ohio. This range features new electronic rifle and pistol targets, marketed by CMP Targets, with technology provided by Kongsberg Target Systems (KTS) on Petrarca Range at Camp Perry. Visit our Petrarca Range web page for dates and times the range will be open to the public throughout the year, and the special times open throughout the National Matches.
History of the National Matches
In February 1903, an amendment to the War Department Appropriations Bill established the National Board for the Promotion of Rifle Practice (NBPRP). This government advisory board became the predecessor to today's Corporation for the Promotion of Rifle Practice and Firearms Safety, Inc. that now governs the CMP. The 1903 legislation also established the National Matches, commissioned the National Trophy and provided funding to support the Matches. This historic legislation grew out of a desire to improve military marksmanship and national defense preparedness. President Theodore Roosevelt, Secretary of War Elihu Root and NRA President General Bird Spencer were among the most important supporters of this act.
Pursuant to this Congressional authorization, Army General Order No. 61 was published in April 1903. It directed that the first "National Trophy Match" would be fired at Sea Girt, New Jersey on 8-9 September of that year. Teams of 12 representing the Army, military departments of the states, Navy, Marine Corps and state National Guard organizations competed for the new National "Dogs of War" Trophy. The new National Matches expanded to include their first pistol events in 1904. The National Matches moved to Camp Perry in 1907 and with few exceptions, Camp Perry has been the home of the National Matches ever since.
The National Matches celebrated their 100th anniversary in 2003 and the 100th anniversary of their first coming to Camp Perry in 2007. Peak attendance for the matches was in 1962 when the matches were supported and conducted by the Department of Defense and 7,762 competitors participated. Defense Department support was withdrawn after the 1967 matches. The NRA and a cadre of volunteers successfully continued the matches, although with significantly reduced participation. Subsequent to that and until 1995, the National Board for the Promotion of Rifle Practice secured federal appropriations to partially support the matches, but federal support for marksmanship created continuing political controversy. As a result, the U. S. Congress privatized the Civilian Marksmanship Program and the National Matches in 1996, while simultaneously enacting federal legislation that mandated the continuation of the National Matches under CMP leadership (Title 36 USC, §40725-40727).
Click here to view National Match Results Bulletins.
Questions?
Contact the CMP Competitions Department at [email protected] or (419) 635-2141, ext. 724 or 714.