Clinics
About Clinics
The CMP offers Clinics at many of our events for new and experienced competitors.
Below, you'll find descriptions of clinics we offer throughout the year.
CMP Junior Rifle Camps and Clinics
Each summer, the Civilian Marksmanship Program (CMP) sponsors a popular series of Junior Rifle Camps and Clinics to teach intermediate and advanced rifle marksmanship skills to junior shooters and their adult leaders. All camps are one week long, with the exception of the Outreach Clinics and the Advanced Standing Camps. Click here to learn more.
National Matches Junior Camp: Smallbore and Air Rifle
The CMP National Matches Jr. Camp will be held at Petrarca Range and the Gary Anderson CMP Competition Center Air Gun Range at Camp Perry, OH. The camp has evolved over past years and now specializes in training intermediate and advanced athletes who are striving to shoot in collegiate programs. Click here for more information.
Highpower Clinics at CMP Travel Games
This free shooting clinic will be conducted by members of Team CMP and will offer lectures and demonstrations by some of the world's leading highpower service rifle competitors.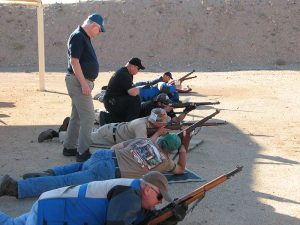 There will be plenty of instructors, as well as dry fire training with lots of hands-on coaching. Dry-fire training will be conducted on the range. Participants need to bring all shooting equipment and firearms, without ammo.
Garand-Springfield-Military (GSM) New Competitor Rifle Clinic
This clinic is recommended for all new competitors who plan to shoot in the following CMP Games; John C. Garand, Springfield and Vintage Military Rifle or the M1 Carbine Matches. However, anyone may attend, whether or not they will shoot in the CMP Games Matches. The course consists of two hours of classroom instruction and demonstrations. Steve Cooper, CMP Education and Training Manager, will instruct the clinic. Click here for more detailed information.
National Match Clinics
Several clinics are offered during the annual National Matches held at Camp Perry each summer. Click here for more detailed information.
CMP Talladega Marksmanship Park Clinics
The CMP Talladega Marksmanship Park offers weekly clinics for Pistol, Rifle and Shotgun. Click here for more detailed information.
CMP Club Sanctioned Clinics
Click here to view clinics held around the U.S. by our Affiliated CMP Clubs.