CMP-USMC Highpower Rifle Clinic
Join us 26-28 July 2024
One of the most popular CMP youth marksmanship clinics during the National Matches is the CMP-USMC Highpower Rifle Clinic. Many juniors participate in highpower service rifle shooting, usually as members of state association junior highpower teams. This clinic is offered at Camp Perry, Ohio, just prior to the National Trophy Rifle Matches.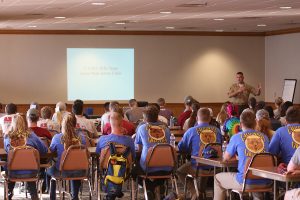 Information Links
Online Registration – Opens March 1st
Rifle Printable Event Registration Form
National Trophy Rifle & CMP Games Schedule
The clinic is open to junior highpower rifle shooters who have previous service rifle competition experience and are classified as a Sharpshooter or higher. Juniors who are new to high power rifle shooting are required to attend a Rifle Small Arms Firing School first before registering for the USMC Clinic.
Participants in the clinic must bring their own rifles, ammunition and shooting equipment. There will be no ammunition issued for the clinic. The CMP organizes the clinic and members of the U.S. Marine Corps Rifle Team provide instruction. 
About the Clinic
The clinic lasts three days. Day one is class instruction, including effects of the weather, how to properly use and modify equipment and the rulebook requirements for shooting positions.
Days two and three are spent shooting on the range firing at 200, 300 and 600 yards where juniors fire while being coached by a Marine Corps Rifle Team shooter.
The clinic will conclude in time for all clinic students to participate in the Squadded Practice. All students will receive a CMP-USMC Highpower Rifle Clinic T-shirt, certificate and school handout materials. There will be no Pizza Party in 2024. Certificates will be presented on the range after 600 firing.
Note: The USMC Junior Highpower Clinic will not include a Rifle EIC match. If juniors with no EIC points are interested in earning "introductory" EIC points, they should attend the Rifle Small Arms Firing School.
If you have questions about the CMP-USMC Junior Highpower Rifle Clinic, contact CMP Competitions at (419) 635-2141 or email competitions@thecmp.org.