Distinguished Badge Program
About The Distinguished Badge Program
The Distinguished Rifleman Badge and the Distinguished Pistol Shot Badge were created by the War Department in 1884 and 1891 respectively to recognize and reward members of the US Army for Excellence-in-Competition (EIC) with the service rifle and service pistol. Other Services of the Armed Forces adopted a similar program about the same time and in 1926 civilians were authorized to participate in the program.
In 2015, the CMP introduced the Distinguished .22 Rimfire Pistol Badge. The CMP also administers the Junior Air Rifle Distinguished Badge and U.S. Distinguished International Shooter Badge.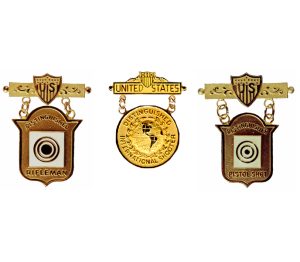 In 2019, the CMP introduced the Distinguished Marksman Badge. This allows competitors with a permanent disability or impairment that requires the use of adaptive firing positions, equipment or techniques and who is approved by the CMP in accordance with Rule 2.5.2 a) is eligible to compete to earn EIC credit points that count towards the awarding of the Distinguished Marksman Badge.
In 2020, the CMP introduced two Distinguished Smallbore Badges: the Distinguished Smallbore Rifle Three-Position Badge, and the Distinguished Smallbore Rifle Prone Badge. You can click here find out more details about the Smallbore Distinguished program.
In 2022, the CMP introduced three new Distinguished Badges: the Distinguished Service Revolver Badge, the Distinguished Air Rifle Badge and the Distinguished Air Pistol Badge. You can find out more details in the CMP Competition Rulebooks.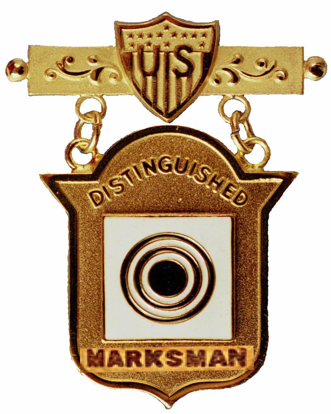 What are Distinguished Badges?
Distinguished Badges are the highest individual awards authorized by the U. S. Government for excellence in marksmanship competition. They are awarded by the CMP in accordance with 36 USC §40722 [3] and by the respective services in accordance with service regulations. The CMP and the military commands responsible for the awarding of Distinguished Badges coordinate their respective badge regulations and the establishment of a master file of Distinguished Badge winners.
Distinguished Badge programs for military personnel are administered by the respective services in accordance with applicable service regulations. Badge programs for civilians are administered by the CMP. The CMP issues Distinguished Badges only to competitors who earn them according to CMP Competition Rules. All Distinguished Badges issued by the CMP are serial numbered and are, without exception, accounted for on an individual badge basis. The name of the recipient, the year the badge was earned and the badge serial number are engraved on the badge.
Excellence in Competition (EIC) Points
EIC "leg" points are awarded to any eligible non-distinguished competitors who places in the top 10% of nondistinguished competitors, provided the score fired by the competitor equals or exceeds the EIC Minimum Credit Score.
To receive EIC credit points, the score fired by the competitor must fulfill the requirements of Rule 10.2.6 (top 10%) and equal or exceed the EIC Minimum Credit Score (MCS) for that discipline (see CMP Rule 10.2.7). EIC "leg" points are awarded based on the number of non-distinguished competitors.
Gold, Silver & Bronze Achievement Pins will be presented to competitors (Distinguished or Non-Distinguished), in CMP-Sanctioned EIC Matches, that equal or exceed Achievement Award Scores (Rule 3.11.3).
For a full breakdown of EIC points and minimum EIC scores, click here.
Who is Eligible to Compete in EIC Matches?
All EIC Matches are open to any individual that is 14 years or older for EIC Pistol and 12 years and older for EIC Rifle or EIC .22 Rimfire Pistol. U.S. citizenship is not required or individual membership in a CMP Club or sponsoring organization is not required to participate.
The number of EIC matches a nondistinguished competitor may compete in for EIC points is limited. In any calendar year, Non-Distinguished civilians, in either rifle or pistol, may compete in:
One National Trophy Individual Match.
A maximum of five CMP-sanctioned EIC matches.
A service sponsored EIC match may be fired in lieu of one of the five CMP sanctioned EIC matches, if civilian entries are accepted in the match.
Civilian or service competitors, who do not have any EIC points, also may compete in Special EIC matches (Rule 9.2.2) sponsored by the CMP, or in a special EIC match sponsored by a branch of Armed Services, where a maximum of four EIC points may be earned. These special introductory matches do not count as one of the five regular CMP-Sanctioned EIC matches.
Non-distinguished competitors cannot enter an EIC match on a noncredit basis (such as entering for practice). When a civilian competitor earns his or her first EIC "leg" points, whether it is 6, 8 or 10 points, they will be awarded a bronze EIC badge. When the competitor The Distinguished Program Eligibility achieves 20 points, a silver EIC badge is awarded. Military competitors will be awarded EIC badges according to the regulations of their Services. A civilian will become Distinguished when he or she has earned 30 credit points. At least one of the "legs" must be an 8 or 10 point leg. The Distinguished Badge will be issued by the Civilian Marksmanship Program. The badge will be engraved with the competitor's name, year earned and Distinguished number. Military members may be designated Distinguished Rifleman or Distinguished Pistol Shot when he or she has earned 30 credit points toward the Distinguished designation. The Distinguished badge will be awarded by their branch of service. Points earned as a member of the Armed Forces will transfer toward a Civilian Distinguished badge if the badge is not obtained while in the service. To be eligible for EIC credit points, a match must have at least 6 eligible nondistinguished competitors and conform to the current edition of CMP Highpower Rifle and Pistol Competition Rules.
Replacement Badges
The Distinguished Rifleman and Distinguished Pistol Shot Badges can be replaced by submitting the CMP Replacement Distinguished Badge form. The cost for a replacement badge is $50.00. You will receive a Lapel pin with each Badge ordered. Each replacement badge is engraved with the awardees name, date, and badge number.
If you were in the military when you received your Distinguished Badge, you will need to contact your branch of service for a replacement. If you have any questions concerning the replacement badges, you can contact Christina Roguski at croguski@thecmp.org or (419) 635-2141 ext. 714.
More Info
Distinguished Biographies
The Civilian Marksmanship Program would like to invite any Distinguished competitor to submit a biography. The biography should include information about your shooting career and your efforts to become Distinguished.
Please note that information submitted will be posted online next to your name on the Distinguished page.
To submit your biography by mail, please address to:
Competitions Department
PO Box 576
Port Clinton, Ohio 43452
To email your biography, attach it to an email to Christina Roguski, croguski@thecmp.org.
Help Us Update Missing Distinguished Competitor Information
The Civilian Marksmanship Program would like to make sure that all information listed on the Distinguished page is correct. We are missing birthdates, city and states, military ranks and branches of service for several of our Distinguished Competitors. Please provide information to make our Distinguished list as accurate as possible.
CMP Distinguished Badge Pre-1983 History Search
The CMP Competitions Department is updating its Distinguished Rifleman and Distinguished Pistol Shot files. Anyone who earned their Distinguished Rifleman or Distinguished Pistol Shot Badges before 1983 is asked to provide us with their badge information. Documentation is needed to confirm and complete historical files of Distinguished Competitors. We need the date the badge was earned, the badge number (if available), and the recipients name. If you earned your badge while in the military, we need that information also.
Please contact the Competitions Department via e-mail competitions@thecmp.org or phone (419) 635-2141, ext. 714 with your information. If you have documentation to confirm your Distinguished status, please send a copy to the Civilian Marksmanship Program, Competitions Department at: PO Box 576, Port Clinton, Ohio 43452.
Distinguished Badge Articles
For more information on the Distinguished Badge program and rules, see the section for the program in the CMP Competitions Rulebooks.