White Oak Armament Teams Up With CMP to Recognize Honorary Elihu Root Members
June 20, 2017
Civilian Marksmanship Program
▸
The First Shot
▸
White Oak Armament Teams Up With CMP to Recognize Honorary Elihu Root Members
By Ashley Brugnone, CMP Writer
TALLADEGA, Ala. – The Civilian Marksmanship Program (CMP) is proud to announce an exciting arrangement between the CMP Talladega Marksmanship Park and White Oak Armament to rightfully acknowledge the members of the Elihu Root Civilian Rifle Team by engaging them in real-life competition.
The Elihu Root Civilian Rifle Team is an honorary team comprised of the six highest scoring civilian competitors as well as the winning coach and captain in the National Trophy Rifle Team Match at the National Trophy Matches, fired each summer at Camp Perry, Ohio. Members on the team receive a respected status and exclusive Elihu Root Gold Medals, named after the respected U.S. Secretary who served under presidents William McKinley and Theodore Roosevelt. Root is also attributed with positively transforming the American military towards its current status.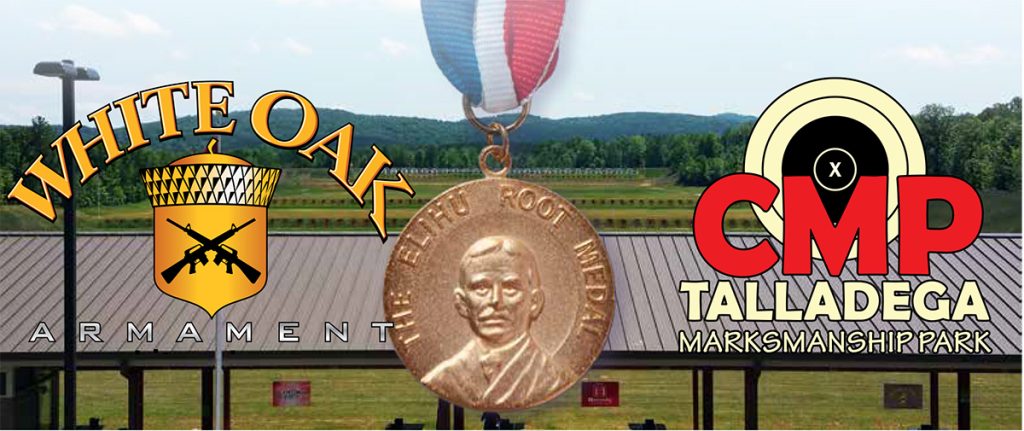 White Oak Armament and the CMP have joined forces to provide travel and other related expenses for members of the 2017 Elihu Root Civilian Rifle Team – allowing them to come together and compete in the Talladega 600, Dec. 5-10, at the CMP's Talladega Marksmanship Park.
"John Holliger, founder of White Oak, approached us this year with an idea to include this as part of his sponsorship funds," said Sara Rozanski, range master of Talladega Marksmanship Park. "I thought it was a great idea to actually have the Root Team shoot together and see how they'll do in an authentic competitive setting."
She added, "Other than at the National Matches, there has not been another venue where we could make this sort of collaboration possible, until now. Since the Talladega 600 is like a mini-Nationals in December, it's a great place to invite them to compete."
The Talladega 600 event is open to competitors of all ages and skill levels, featuring a variety of events catered to rifle, pistol and shotgun enthusiasts. Matches fired at the annual event include CMP Games competitions and those that mimic prestigious National Trophy Matches. A large Club House is located on the hill overlooking the 600-yard range to welcome guests with comfortable accommodations.
"White Oak has been a generous sponsor at the Talladega Marksmanship Park since we opened in May 2015," said Rozanski. "We are extremely excited and proud to be able to hold this one-of-a-kind event at our park."
For over 20 years, White Oak Armament has been a company that provides hand-picked, high-quality parts for marksmen, gunsmiths and home builders. Specializing in upper receivers, the company's products have been successfully used by winners in state, regional and national championships. White Oak is also a distributor of superior lower parts and kits – with an objective of offering custom parts without the irritation of custom part prices. The company has also been a long-time sponsor of CMP competitive matches.
"As a multi-time member of the team, I know what it takes to earn a place on the team, and it has been my desire for a long time to recognize this hard work," said John Holliger, creator of White Oak Armament and a fellow competitor. "The agreement gives us an opportunity to do just that by providing an opportunity for those members to compete together as a team on the state-of-the-art range at the Talladega Marksmanship Park."
Good luck to all competitors during this year's National Trophy Team Match. We'll see you at Camp Perry in July, and we look forward to seeing you at Talladega in December!
For more information about White Oak Armament, visit www.whiteoakarmament.com.
About Talladega Marksmanship Park:
The 500-acre Talladega Marksmanship Park is presented as the most advanced marksmanship park in the United States. Boasting the latest technological advances in the realm of marksmanship, including electronic scoring targets and monitors, it is a must-see destination for firearm supporters across the country. Open to the public for year-round use, the facility accommodates rifle, pistol and shotgun shooting. Learn more about our park by visiting https://thecmp.org/competitions/talladega-marksmanship-park/