NEW CMP AIR RIFLE AND AIR PISTOL COMPETITION PROGRAM
December 14, 2021
Civilian Marksmanship Program
▸
The First Shot
▸
NEW CMP AIR RIFLE AND AIR PISTOL COMPETITION PROGRAM
By Gary Anderson, DCM Emeritus
The CMP's selection of 2022 competition rulebooks, which it is beginning to release now, includes one new rulebook, the 1st Edition CMP Air Rifle and Air Pistol Competition Rules. A copy of this new rulebook is already posted on the CMP website at https://thecmp.org/wp-content/uploads/2021/12/2022CMPAirGunRulebook.pdf. Additional information about the CMP Air Rifle and Air Pistol Program can be found on the CMP website at https://thecmp.org/competitions/cmp-air-rifle-and-air-pistol-program/.
The CMP has noteworthy credentials for being an organization that sanctions and conducts air rifle and air pistol matches. The CMP established the two finest 10m air gun facilities in the USA, the Gary Anderson CMP Competition Center at Camp Perry, Ohio and the CMP Competition Center at Anniston, Alabama. Both centers regularly host major airgun championships that attract competitors from all over the country. The CMP has a mobile 10-meter electronic target range that supports major air gun matches for organizations like USA Shooting and the NCAA in other locations around the country. The CMP is a national leader in the Junior Three-Position Air Rifle program that has become the most popular junior rifle competition activity in the USA. The CMP conducts monthly matches with 60-shot Air Rifle standing and Air Pistol events on its Camp Perry and Anniston ranges. The CMP organizes annual National Matches Air Gun Events that attract up to 2,500 entries in ten different Air Rifle and Air Pistol events. The CMP Competitions Department currently receives regular requests from shooting clubs that want the CMP to sanction their air gun matches. The CMP is already a leader in promoting Air Rifle and Air Pistol competitions for juniors and seniors and is introducing this new rulebook as part of a planned expansion of its airgun competition program.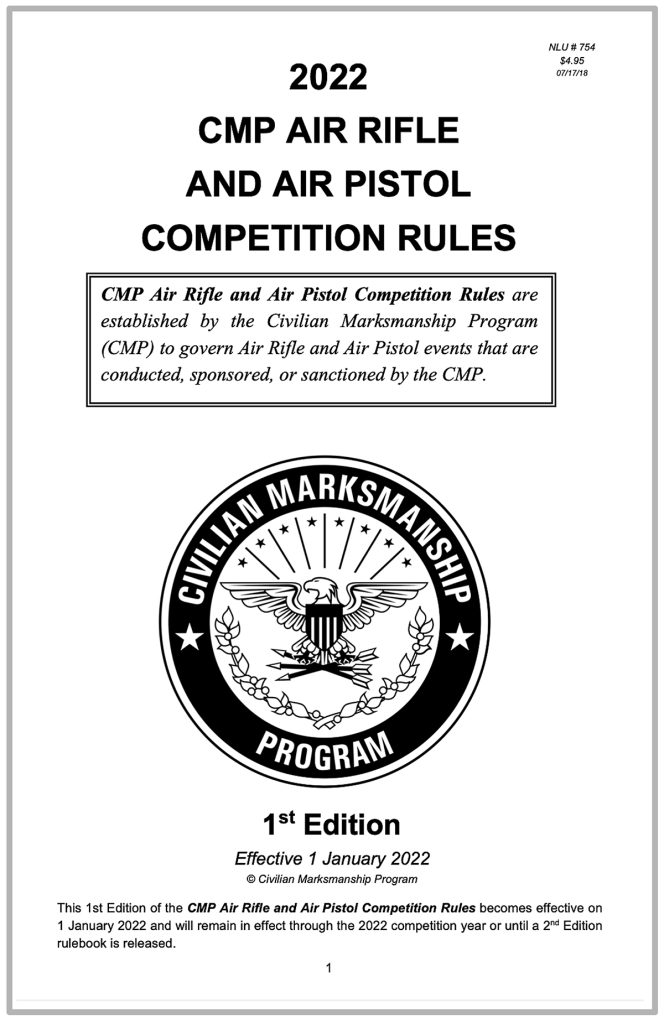 The new rulebook will govern National Matches Air Gun Championships and a full schedule of matches on CMP 10m ranges as well as any airgun matches that CMP-affiliated clubs sanction with the CMP. The rules follow ISSF Rules as closely as possible. Competitors in CMP airgun matches should not expect any substantial differences between ISSF, USA Shooting and the new CMP Rules. Air Rifles, Air Pistols and other equipment that are legal under ISSF or USA Shooting Rules will be legal in CMP sanctioned airgun competitions. Here are airgun program features that are defined in the new rulebook:
1. Air Rifle Event. The standard air rifle competition event is the 60-shot standing position event. This event may be fired on electronic targets with a 15-minute preparation and sighting time and a 75-minute record fire time, or it may be fired on paper targets. If a paper target range has target carriers, firing may be done on single or 5-bull targets with 90-minute record fire times. Paper target events may also use 10-bull targets with competitors going downrange to post and retrieve targets. The new rules seek to standardize this procedure by calling for two 10-bull targets to be hung at one time and by providing for three 20-shot record fire stages preceded by 10- and 3- minute preparation and sighting times.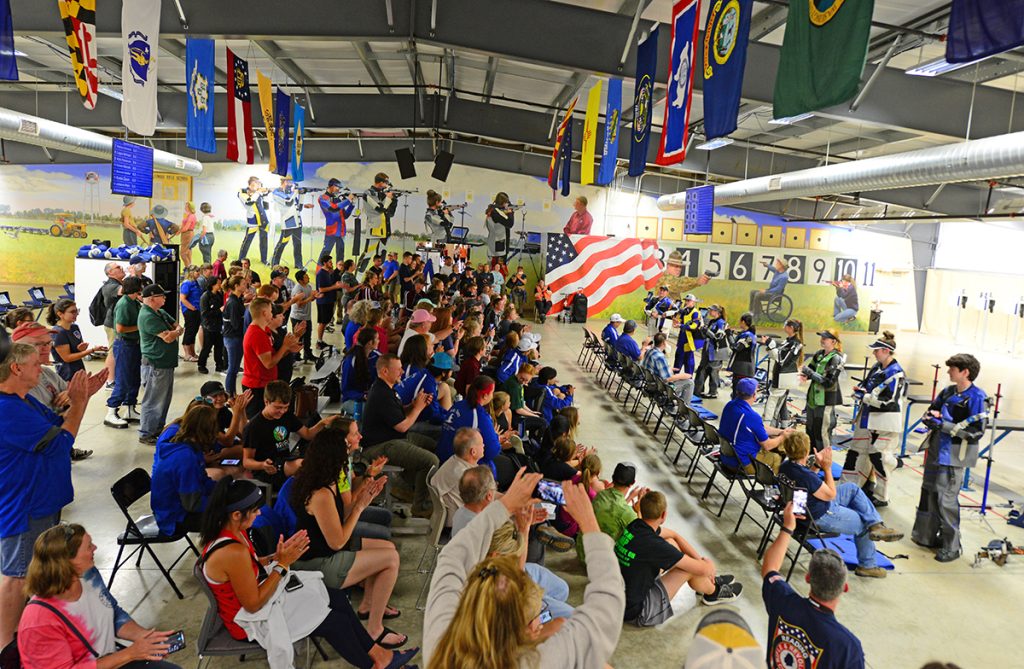 2. Air Rifle Decimal Scoring. In keeping with how air rifle targets are now scored in the rest of the world, CMP airgun rules call for all air rifle shots to be scored with decimal scores. This means ranges must have electronic targets, or the match sponsor must use Orion VIS scoring. Fortunately, a big majority of air gun ranges and clubs in this country now use Orion scoring, plus a growing number of them are taking the next step by acquiring electronic targets. Manual scoring is becoming a relic of the past. The CMP will, as a service, provide quick turn-around Orion scoring for sanctioned match targets that are fired on any range that does not have electronic targets or Orion VIS scoring. Clubs can estimate scores on the day of a competition, send their fired targets to the CMP and obtain official results within a few days.

3. Air Pistol Event. The standard air pistol competition event is the 60-shot air pistol event. It can be fired on either electronic targets with a 15-min. preparation & sighting and 75-minute record fire time, or on paper targets. Paper target events can either use carriers with single bull targets, with 90-minute record fire time limits, or they can have three 20-shot stages where one sigher target and four record targets are posted. Like paper target air rifle events, time limits for 20-shot record stages are 25 minutes. Air Pistol scoring is done with whole (integer) numbers.

4. Air Rifle and Air Pistol Finals. To give competitors, especially leading junior athletes, valid experiences in how international medals are won, the CMP airgun program encourages match sponsors to include finals in their matches. CMP air gun competitions at Camp Perry and Anniston regularly offer finals. The question now, however, is which finals rules to use. The new CMP airgun rulebook includes rules for the ISSF finals that were used during the recent 2021 Tokyo Olympic Games. Those finals are ISSF start-from-zero, 24-shot finals, with progressive eliminations. Finals with progressive eliminations, however, need to be conducted on ranges with electronic targets.

The problem with encouraging match sponsors to include finals in their match programs is that the ISSF is attempting to change the finals rules that it will use during the current Olympic cycle (2021-2024) but the International Olympic Committee has not approved those rules for the 2024 Paris program. No one is certain what the final version of those rules will be plus electronic target manufacturers have not had sufficient time to develop software to support new finals formats. The ISSF tested its new finals for the first time in its recent President's Cup matches and responses were mixed. The new ISSF finals rules feature multiple starts from zero, changes in scoring methods and eliminations that end with extended gold medal duels for two athletes who make it to the end of the final. Ultimately the CMP airgun program intends to adopt whatever finals format the ISSF uses since these are the rules under which many competitors in this program must be prepared to produce peak performances. The CMP airgun rulebook will be updated later in 2022 to include the new ISSF finals rules after a clearer picture emerges regarding what those rules will be.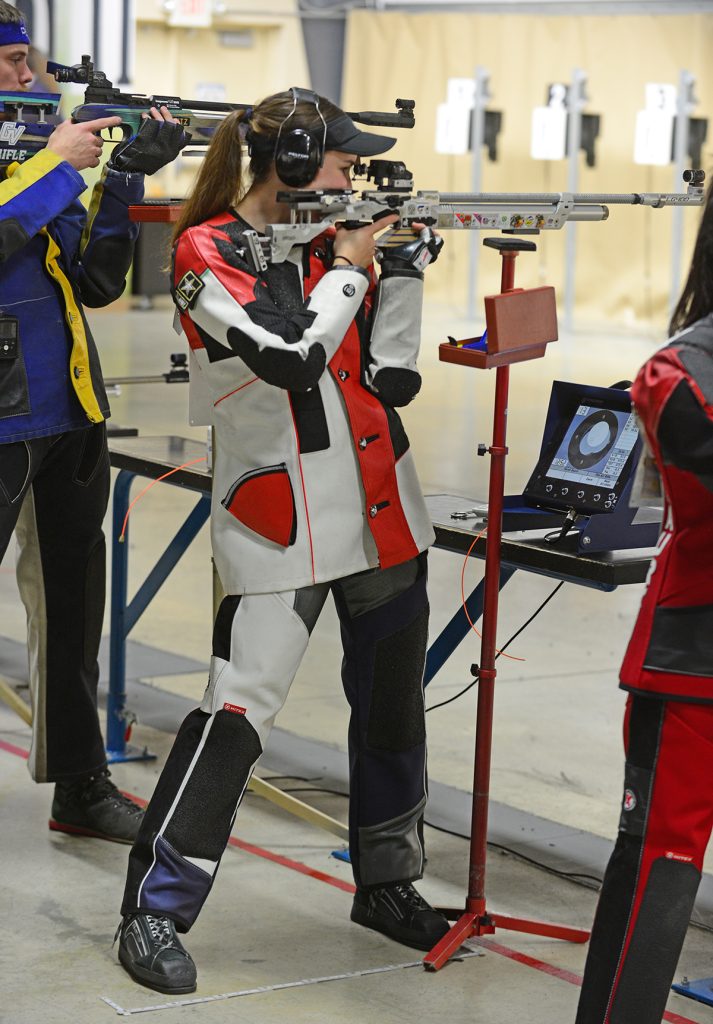 5. Junior Age Limit Change. The ISSF has also changed its rules for determining when a junior is a junior. Under previous rules, juniors competed as juniors through the calendar year of their 20th birthday. Under the new rules they are allowed to compete as juniors until the day of their 21st birthday (U21). This change already applies to juniors who compete in USA Shooting and ISSF competitions so many juniors who compete in CMP smallbore and air gun programs have already been impacted by this change. The practical effect of this change is to give current juniors from one day to 365 more days to compete as juniors, depending upon when their birthdays occur.

The principle of using birth dates rather than birth years to determine age group eligibility also applies to other age groups. Intermediate Junior eligibility will end on the day of the 18th birthday (U18); Sub-Junior eligibility on the day of the 15th birthday (U15); Seniors from the day after their 60th birthday and Grand Seniors from the day after their 70th birthday.

6. Classification Program. In anticipation that many competitors will enter multiple CMP sanctioned matches every year, the new rules provide for competitor classifications. This respected system allows match sponsors to divide competitors into groups of like ability to give enhanced competitive experiences to newer and less experienced competitors. There are four classifications using the well-known titles Master, Expert, Sharpshooter and Marksman. Air Rifle classifications are based on decimal scores. An average of 101.70 (610.2 for 60 shots) is required to earn a Master classification. Air Pistol classifications are based on whole number scores. A 93 average (558 for 60 shots) is required to classify as a Master.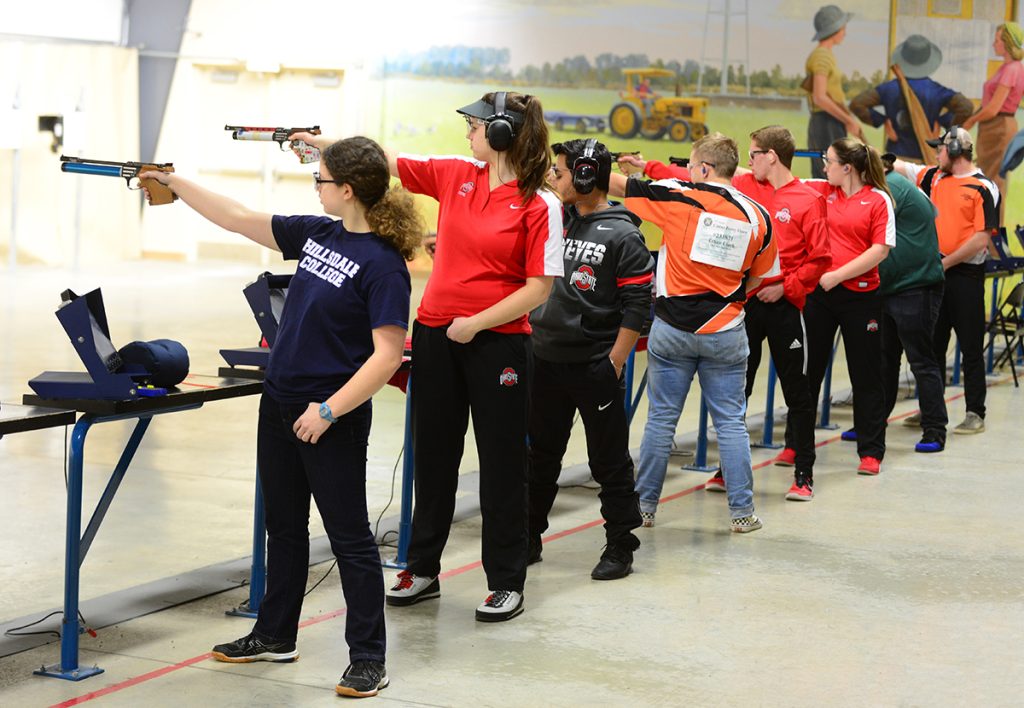 7. New Distinguished Badges. One of the most exciting features in the new CMP airgun program is the opportunity leading competitors will have to earn prestigious gold Distinguished Badges. There are separate badges for Air Rifle and Air Pistol. These programs retain the traditional 30-point requirement for awarding badges. The top ten percent of all competitors in initial 2022 sanctioned 60-shot Air Rifle and 60-shot Air Pistol EIC Matches will receive 10, 8 or 6 credit points, depending upon the number of competitors in those matches. CMP affiliated clubs are eligible to sanction Air Rifle and Air Pistol EIC Matches. Monthly Air Gun Matches at Camp Perry and Anniston will also provide early opportunities to earn credit points. The race to see who earns the first new Distinguished Air Rifle and Distinguished Air Pistol Badges starts in January 2022.

8. 2022 Program Opportunities.  The CMP airgun rulebook will govern the conduct of a full annual program of CMP airgun competitions.  One highlight competition will be a new National Matches Air Gun Championship on 15-17 July 2022.  15 July is a practice day; competitors will fire 60-shot Air Pistol or 60-shot Air Rifle events on both 16 and 17 July.  In 2023, the National Matches Air Gun and Smallbore Rifle Championships will move to the last two weeks in June where they will be combined with the National Three-Position Air Rifle Precision Championship.   The Camp Perry Open, which was previously held in January, when it practically guaranteed competitors a winter storm experience, has been moved to May so it can be combined with a 50-meter smallbore rifle position event.  It will offer competitors 60-shot EIC Matches in both events.  The Dixie Doubles Match, which takes place at the Anniston Competition Center in November, will also offer 60-shot EIC events, as will six scheduled 2022 monthly matches at both facilities.

9. How to Get Started. An electronic version of the new rulebook is posted on the CMP website at https://thecmp.org/wp-content/uploads/2021/12/2022CMPAirGunRulebook.pdf so that it is available to govern sanctioned matches starting in January. Given the uncertainty regarding when ISSF finals rules and electronic target software support will be available, printed versions of the rulebook probably won't be available until later in 2022. CMP affiliated clubs and organizations that are interested in conducting sanctioned air rifle standing and air pistol events, including EIC Matches, should contact the CMP at airgun@thecmp.org or call 419-635-2141, ext. 702. That will put you in contact with Vicki Donoho, who is the CMP staff coordinator for this program. To conduct airgun events, sponsoring organizations need a 10-meter air gun range that uses paper targets or is equipped with electronic targets. Clubs that sponsor Air Rifle events should have either electronic targets or use Orion Scoring Systems so they can produce tenth ring scores that are accommodated by CMP rules, the new Distinguished Badge program and classification system.

10. International Distinguished Badge Regulations. Rules for awarding the U. S. International Distinguished Badge, which previously were published in the CMP Highpower Rifle and Pistol rulebooks, have been moved to the CMP Smallbore Rifle and the new CMP Air Rifle and Air Pistol rules because the latter disciplines have a closer affinity to international rifle and pistol events. Recent changes in ISSF regulations that added separate World Championships for Rifle and Pistol and a bewildering array of team events has necessitated changes in the regulations. The badge's traditional emphasis on Olympic individual events is retained but allowing credit points for most team events was deleted because of this proliferation of events. The Para Pan American Games were added to the list of championships where para-athletes could earn credit points for the badge.

11. Added Rulebook Features. Like all CMP rulebooks, this one provides detailed Range Officer scripts for conducting 60-shot events on electronic targets, conducting three 20-shot stage events on paper-target ranges and for conducting 24-shot start-from zero finals. The rulebook annex also provides instructions for conducting three special airgun events, Best Center-Shot Contests, Bench Rest Air Rifle Events, and Air Rifle Target Sprint outdoor events.