GLOCK Offers Pistols Free for Use During Inaugural Match at Camp Perry in July
June 21, 2017
Civilian Marksmanship Program
▸
The First Shot
▸
GLOCK Offers Pistols Free for Use During Inaugural Match at Camp Perry in July
By Ashley Brugnone, CMP Writer
CAMP PERRY, Ohio – Thanks to the generosity of GLOCK, Inc., truly ANYONE will now have the opportunity to compete in the inaugural GLOCK Sport Shooting Foundation (GSSF) Camp Perry National Challenge event, scheduled for July 1 at Camp Perry during the 2017 National Pistol Matches.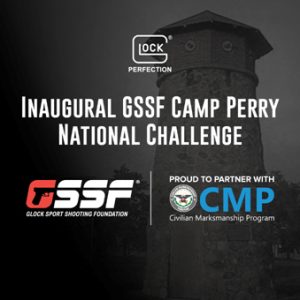 In order to encourage even more participation and to promote competitive shooting, GLOCK has offered to bring extra pistols to the National Matches to be used by those who may not have access to a pistol but are interested in competing in the match.
Though free to use, those who borrow pistols will still need to purchase their own 9 MM ammo to fire in the National Challenge match, which can be purchased at the CMP Store for $15 or on the range during the competition. Participants may sign up to fire in multiple relays, so be sure to buy the appropriate amount of ammo!
Other important notes about the GLOCK National Challenge Match, which is open to both adults and juniors of all skill levels, include:
This match is shot two-handed, making it ideal for new competitors.
If competitors shoot a 500 either the first time or with a re-entry score, they will be entered into the 500 Club and will be listed on the GLOCK Report on GLOCK's website. Those competitors will also receive a commemorative patch at the match.
Competitors can shoot the event multiple times. However, the aggregate score of the first firing will serve as the individual's official match score. Any additional scores will not be considered for awards, but will be considered for the 500 Club. (And, of course, extra relays will allow for more shooting fun.)
Ties are broken by the highest x-count at the last two stages of the match (15 and 25 yards).
The GSSF Camp Perry National Challenge will fire in two different categories, Stock and Unlimited, and will be set at distances of 5, 7, 10, 15 and 25 yards – with 10 rounds each in a time limit of 15 seconds. Competitors must have a GLOCK Membership in order to compete in the event. Plaques will be awarded, along with six pistols reserved for category winners (Overall, High Junior, etc.).
For more information on requirements for the Stock and Unlimited classes, read the match press release on the CMP's Communications page at https://thecmp.org/cmp-announces-new-glock-pistol-match-for-2017-national-match-schedule/.
To register for a GSSF Membership, visit http://www.gssfonline.com/registration.cfm or join during match registration at National Match check in.