CMP Announces New GLOCK Pistol Match for 2017 National Match Schedule
April 15, 2017
Civilian Marksmanship Program
▸
The First Shot
▸
CMP Announces New GLOCK Pistol Match for 2017 National Match Schedule
By Ashley Brugnone, CMP Writer
CAMP PERRY, Ohio – A new, exciting pistol event has been added to the Civilian Marksmanship Program's (CMP) 2017 National Matches schedule – set to fire on the historic grounds of Camp Perry, Ohio. The inaugural match, created in partnership with GLOCK, Inc., is open to both adults and juniors.

The GLOCK Sport Shooting Foundation (GSSF) Camp Perry National Challenge will fire on July 1, 2017, with two different categories: Stock and Unlimited.
The Stock Class is for GLOCK firearms with components that are or ever have been available from GLOCK, Inc., though some modifications are permitted. Those include:
Hogue-Grip type sleeves, A-Grip panels, skateboard tape or other grip-enhancing materials that do not materially alter the function of the stock firearm.
Slide and barrel stripping and/or refinishing.
Pearce Grip Inc. grip extenders on G26, G27, G29, G30, G33, G36 and G42 magazines.
Aftermarket replacement non-metallic base plates on magazines.
Post and notch sights (patridge sights) excluding any sight requiring slide modifications.
Please note that fiber -optic and express sights are approved.
The Unlimited Class is for firearms that contain the following modifications:
Any non-post and notch sights including but not limited to, ghost ring or laser, electronic or optical sights.
Wrap-around grip sleeves on magazines.
Aftermarket component parts and barrels.
Recoil spring guide/recoil reducer assemblies.
Aftermarket extender slide stop levers.
Firing pins (modified/aftermarket).
Connectors (modified/aftermarket).
Metallic magazine well funnels or slugs.
Lights or other barrel weights.
Any modifications deemed by the Range Master to create an unfair competitive advantage.
Competitors, who must have a GLOCK Membership in order to compete in the event, may choose to sign up once, twice or three times in each class. Awards will include plaques for the Overall Match High Shooter, High Stock GLOCK, High Unlimited GLOCK, High Guardian, High Senior, High Woman and High Junior. Additionally, six pistols will be awarded to the category winners during the match.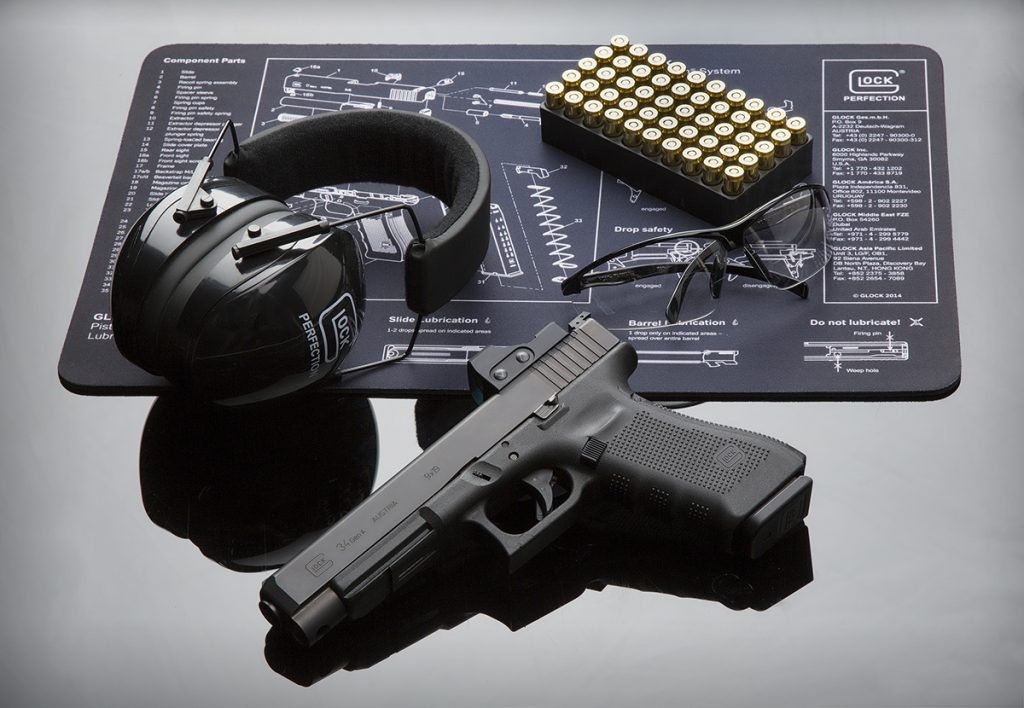 The Course of Fire for the match, on NRA D1 paper targets, will be set at distances of 5, 7, 10, 15 and 25 yards – 10 rounds at each in a time limit of 15 seconds.
"This match was suggested by Bob Schanen, a valued, long-time GLOCK employee and Camp Perry rifle competitor for 30 plus years," said Brandie Collins, GLOCK public relations and communication manager. "The partnership with CMP in bringing this match to Camp Perry meets our common goals of promoting safe gun handling, marksmanship and introducing people to competitive shooting."
"Competitors will find the GSSF match fun," she added. "Time limits are challenging and accuracy is paramount. Shooters of all skill levels will enjoy shooting this match."