Education On and Off the Firing Line Mark CMP's 2021 Talladega D-Day Event
June 21, 2021
Civilian Marksmanship Program
▸
The First Shot
▸
Education On and Off the Firing Line Mark CMP's 2021 Talladega D-Day Event
Talladega, Ala. – The Civilian Marksmanship Program's (CMP) annual Talladega D-Day Matches returned June 9 through June 13, 2021, with over 250 individual rifle and pistol match registrations through the course of the week.
The D-Day event, held at CMP's own Talladega Marksmanship Park, celebrates the anniversary of the Allied Forces landing at Normandy Beach in France in 1944. Competitors pay homage to the heroes of the World War II generation by taking part in friendly marksmanship competition on the range and observing authentic relics from the period, exhibited within the CMP Clubhouse.
The uniforms, medals and other fascinating pieces displayed were on loan from the Talladega County Hall of Heroes for guests to enjoy. Coming face-to-face with personal items from World War II allowed those at Talladega to not only know the events of the conflict, but granted them the chance to absorb the sentiment of those who truly experienced its combats first-hand.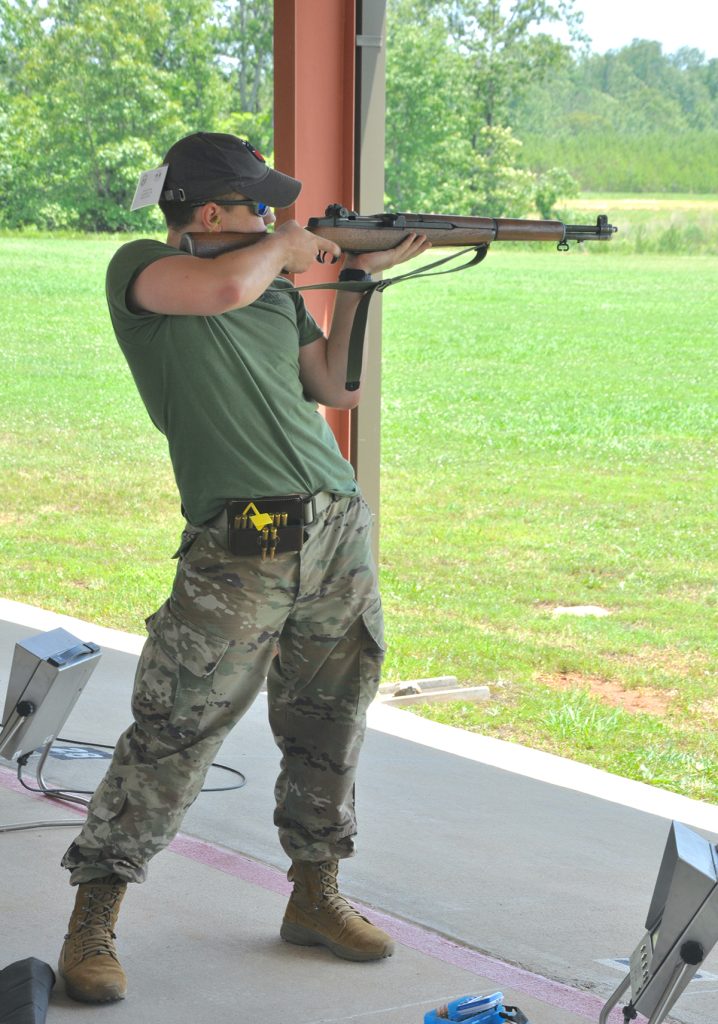 Featuring a lineup of vintage rifle matches, utilizing some of the real firearms used during World War II, competitors of all ages were able to hold a genuine piece of history while challenging themselves and their comrades in recreational-style Talladega D-Day events. A series of robust pistol events also added fun to the schedule.
Though rain dampened parts of the week, guests stayed dry under the covered firing lines of CMP's ranges – waiting to complete their match on the electronic targets equipped within the 500-acre facility.
Outside of competition, the D-Day event calendar included educational opportunities like the Garand, Springfield and Vintage Military (GSM) New Shooter Clinic that is comprised of classroom and live-fire exercises. The clinic at Talladega hosted 12 participants overall and was led by CMP's training and education manager, Steve Cooper.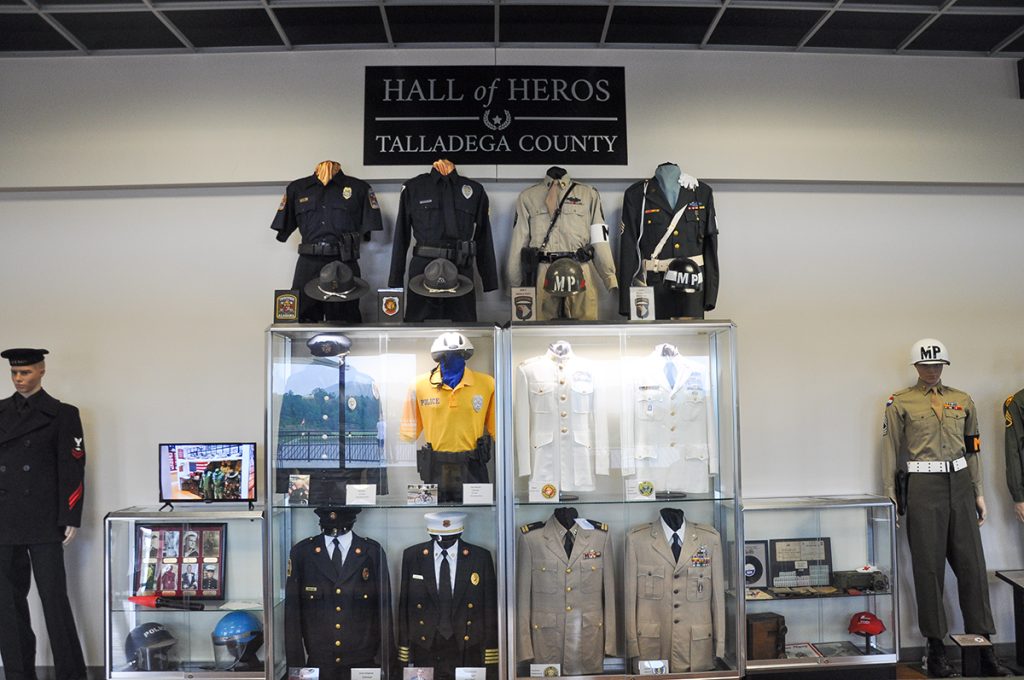 "They really got a feel for the pressure of a match," Cooper explained. "Danny Arnold, who called the matches on the highpower range all week, ran a typical safety briefing and gave commands for the practice rapid-fire strings. We then rolled back to open practice in any position with the remaining time."
Clubhouse training covered range safety issues and match procedures, along with detailed looks into the various rifles used in GSM matches. Topics such as loading ammunition for each type of rifle, course of fire and positioning were covered, along with the most important subject – safety. The group then moved to the 600-yard Range 1 for 20 minutes of shooting in different positions in slow-fire at 200 yards, followed by strings of rapid-fire.
"It went really well," Cooper said. "We had quite a few participants who hadn't done any formal match shooting, so it was a very good experience to help familiarize them with our match procedures in a 'live' environment."
Learn more about the Talladega D-Day matches and discover other CMP events by visiting https://thecmp.org/cmp-matches/talladega-d-day-matches/.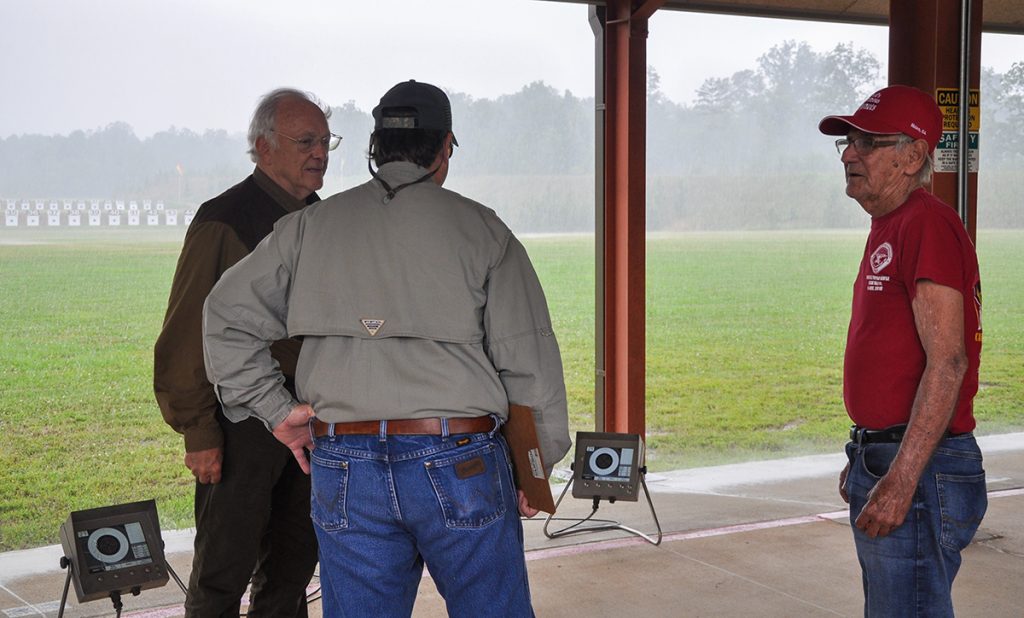 Top competitors of the 2021 Talladega D-Day events included:
Benchrest Garand Match:
Charlotte Carroll – 283-3x
Glendale Rutherford – 282-2x
E.C. Cris Stone – 280-4x
Garand Iron Match EIC Rifle Match:
Brian Dobish – 457-3x
Keith Schachle – 443-4x
Geoff Bateman – 431-3x
Garand Match:
Geoff Bateman – 290-5x
Keith Schachle – 287-8x (High Senior)
Brent Books – 286-5x
High Grand Senior: Imon Mitchell – 265-1x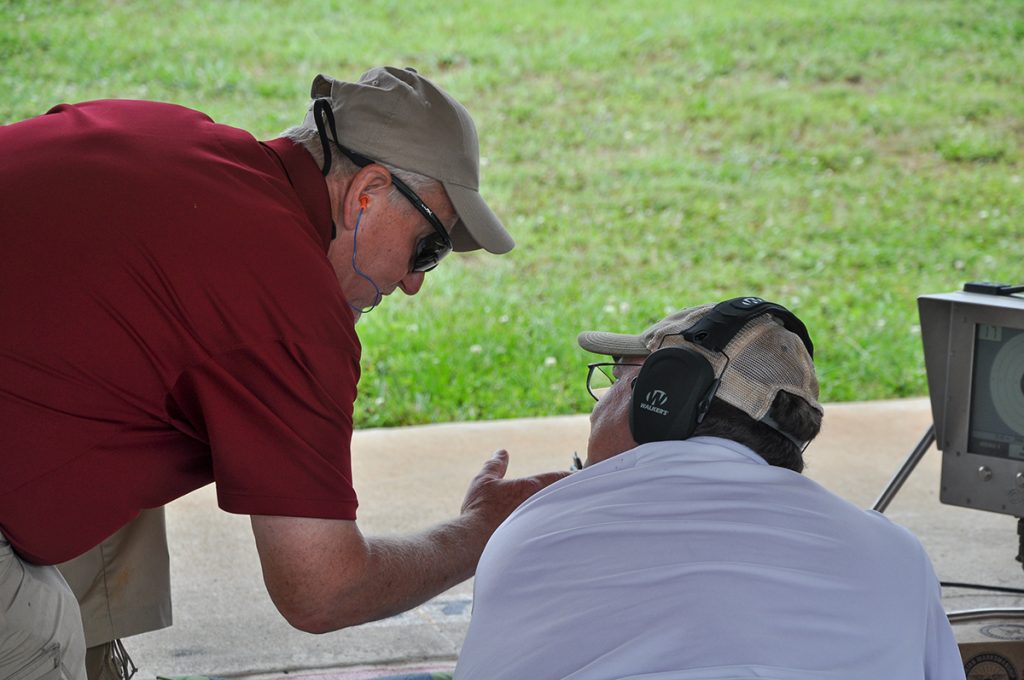 Springfield Match:
Kyle Kirschenmann – 274-0x
Richard Reichert – 273-3x (High Senior)
Larry Drake – 272-2x
High Grand Senior: Tom Dobbs – 261-2x
Vintage Military Match:
Keith Schachle – 291-7x
Kyle Kirschenmann – 283-4x
Dennis Trumble – 279-4x (High Senior)
GSM 3-Gun Aggregate: Keith Schachle – 848-23x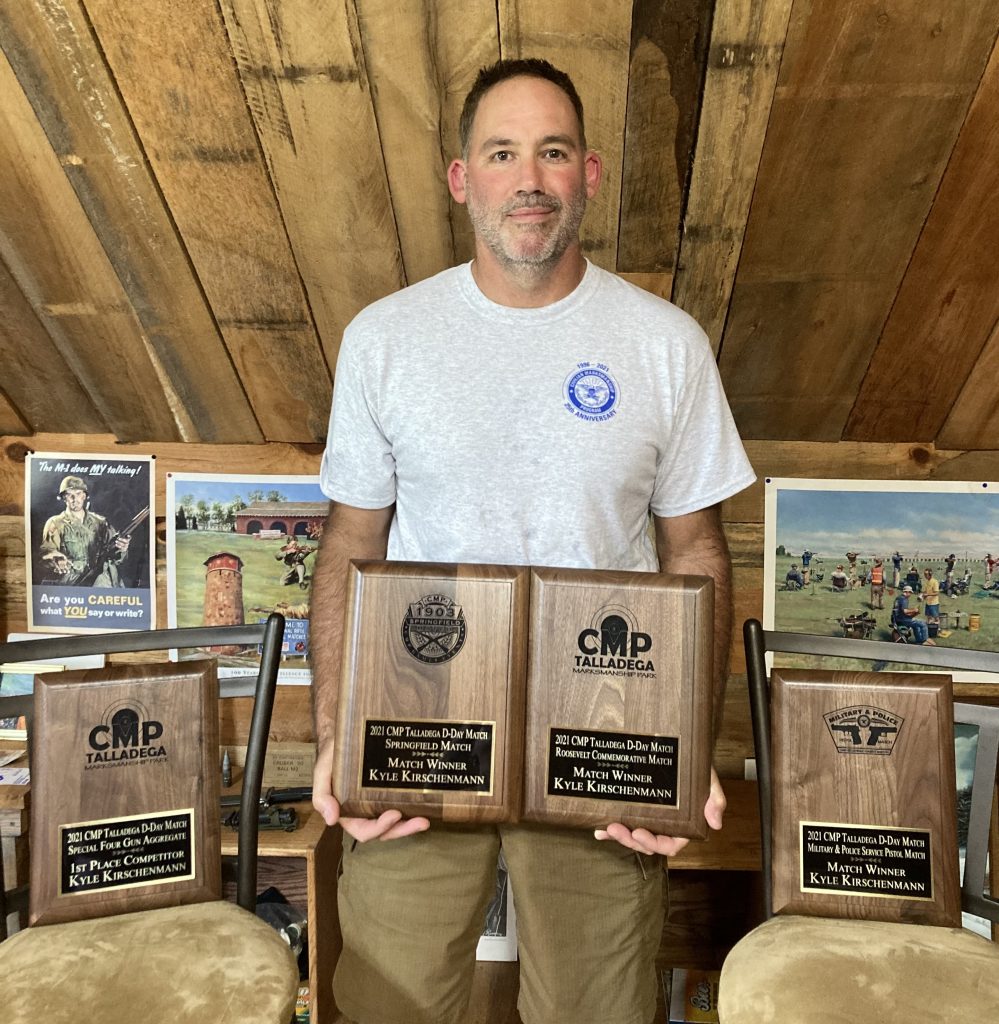 Roosevelt Commemorative Match:
Kyle Kirschenmann – 284-9x
Clint Townsend – 280-3x
Scott Godwin – 279-3x
Carbine Match:
CDR Christopher Deming – 342-1x
Kyle Kirschenmann – 338-2x
Samuel DeFrees – 337-2x
High Senior: Larry Drake – 335-2x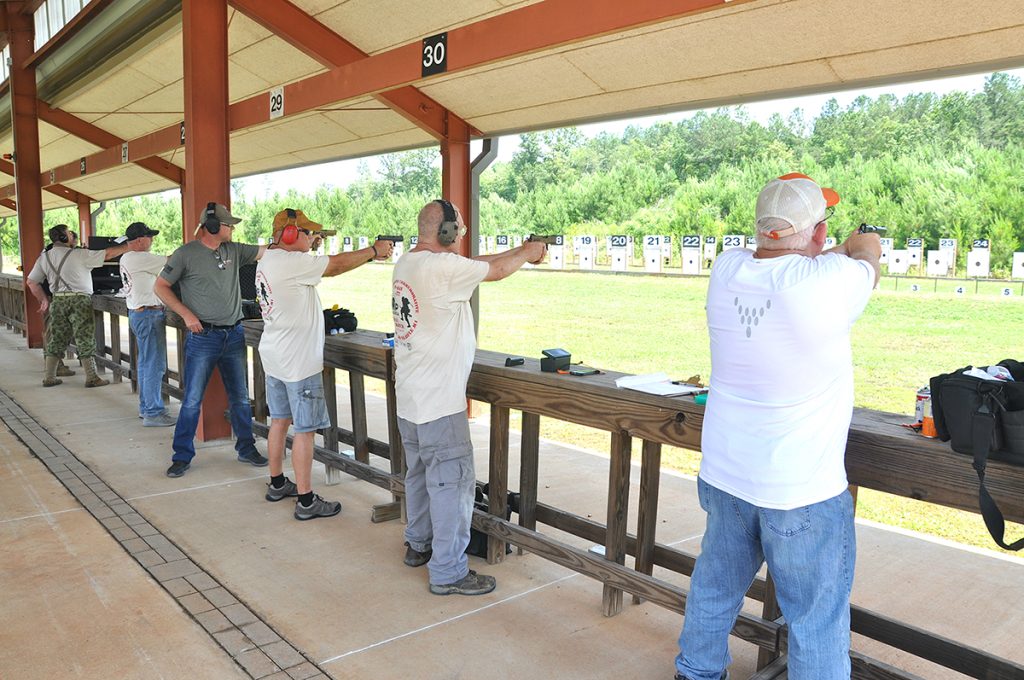 As-Issued 1911 Pistol Match:
Andrew Granberry – 349-9x
Imon Mitchell – 340-3x (High Senior)
Kyle Kirschenmann – 329-5x
Military & Police Pistol Match:
Kyle Kirschenmann – 359-7x
Andrew Granberry – 358-8x
Larry Drake – 356-3x (High Senior)
Vintage Sniper Match:
Manual:
Team 1941 (Russell Casterlin, Edward Deacon) – 389-7x
Fins Feathers and Fur (Trent Rutherford, Brian Rutherford) – 387-8x
Ridge Runners (Glendale Rutherford, E.C. Cris Stone) – 382-13x
Semi-Automatic:
Team CW5 (CW4 Steven Kilgore, David Ware) – 363-6x
View a complete list of results of the Talladega D-Day event through the CMP's Competition Tracker page at https://ct.thecmp.org/DDay2021results.
Photos of the event can be found on the CMP online album site, Zenfolio, at https://cmp1.zenfolio.com/f2753717 – with free image downloads!
About the CMP Talladega Marksmanship Park:
The CMP Talladega Marksmanship Park, "The Home of Marksmanship," hosts rifle, pistol and shotgun opportunities for guests to enjoy. The CMP Talladega Marksmanship Park Club House consists of 13,000 square feet of useable space and includes CMP's Pro Shop, which is loaded with firearms, ammunition, shooting accessories and CMP memorabilia.
The Park is open to the public all year long, Wednesday through Sunday. Find a list of monthly events and other happenings at the Talladega Marksmanship Park by visiting the CMP website at https://thecmp.org/ranges/talladega-marksmanship-park/.