Competitor Becomes Double Distinguished in One Day During 2019 National Pistol Matches
July 26, 2019
Civilian Marksmanship Program
▸
The First Shot
▸
Competitor Becomes Double Distinguished in One Day During 2019 National Pistol Matches
By Ashley Brugnone, CMP Writer
CAMP PERRY, Ohio – It was an incredible week for Mason Talbert at the 2019 National Trophy Pistol Matches.
For over 100 years, the National Matches, held annually at Camp Perry and conducted by the Civilian Marksmanship Program (CMP), has been a destination for those hoping to achieve their sought-after dreams. For others, it's a place where new dreams are born.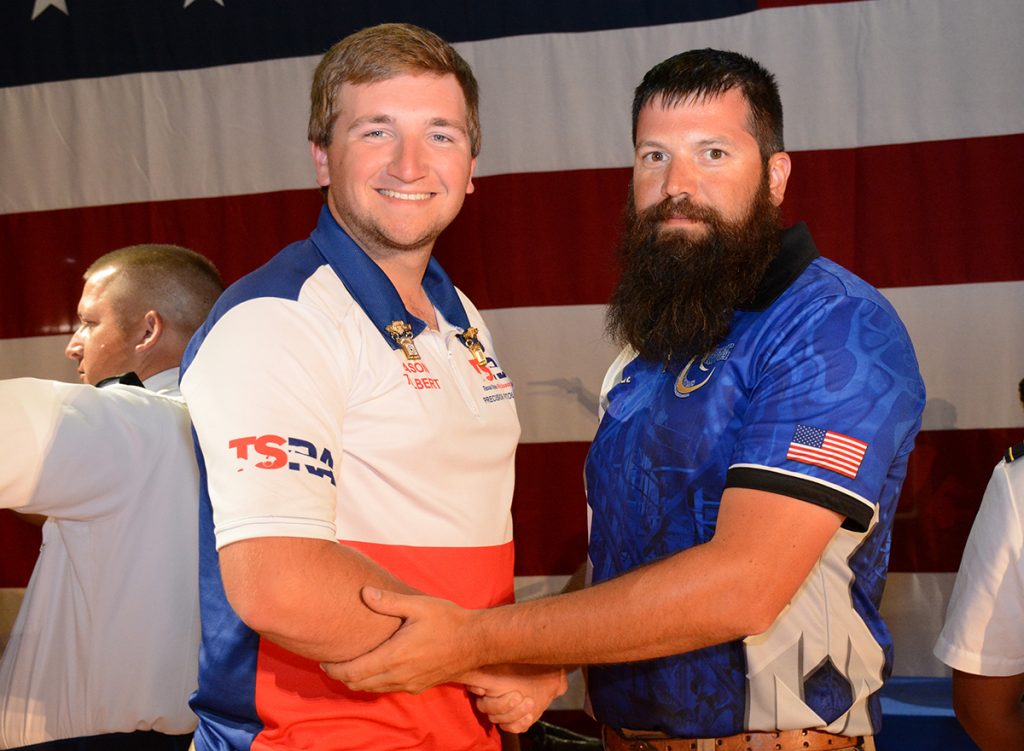 Both occurred for Talbert this year as he not only earned a number of celebrated titles but also took a step towards his future in a way he never could have anticipated when he made the trip north.
"I did not expect this much to happen, I can tell you that much!"
Having only recently made his start in pistol competition, the 21-year-old from College Station, Texas, was the overall winner in the CMP .22 Rimfire EIC Pistol Match, fired July 13, with a score of 292-9x. Talbert beat out second place competitor David Lange, 50, of Glen Rock, N.J., by only the x-count.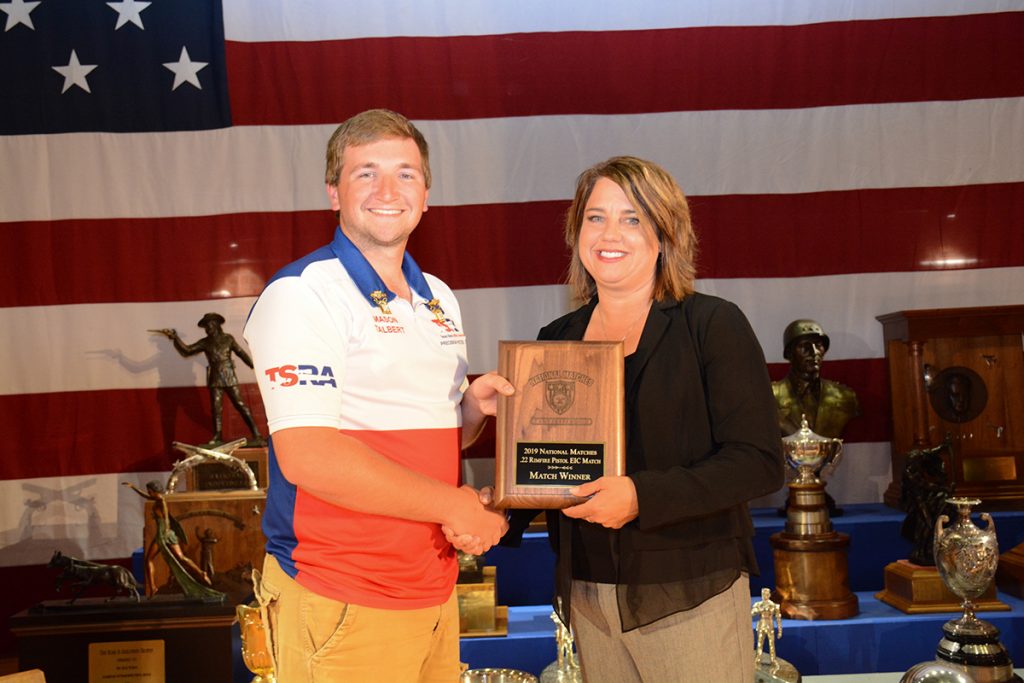 With his win in the Rimfire EIC event, Talbert received his final points needed to earn the Distinguished .22 Rimfire Pistol Badge. In addition to that, his performances in the National Trophy Individual Match and the President's Pistol Match also launched him towards enough points to also be awarded the Distinguished Service Pistol Badge – instantly making him a Double Distinguished marksman, which is an incredible feat even for a lifelong competitor, let alone a fresh one.
"Double Distinguished," he pondered on the phrase. "I didn't even think about that – that's pretty cool."
"A lot of stuff has been happening, and nothing has really hit me yet," he added with a laugh.  "There are just a lot of really good shooters out there and they sure do put up a pretty darn good fight. It's neck-and-neck out here, especially at (Camp) Perry. But it's just a lot of fun."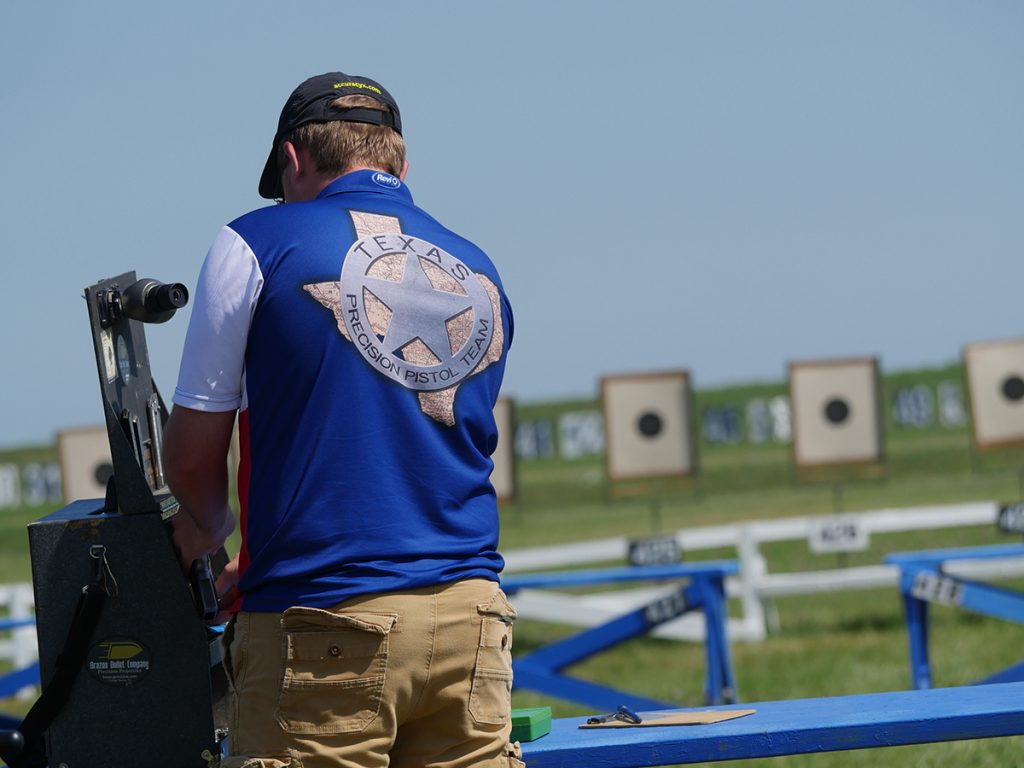 This year was Talbert's first taste of Camp Perry. He came along with fellow Texans Paul Fisher and Steve Lightfoot, his associates at the trio's self-made cast bullet company. The men came to Camp Perry to help promote their business, along with representing Texas as members of the Texas State Rifle Association pistol team (which finished third overall in the National Trophy Team event, with the help of Talbert).
"I just came out to have fun and compete," he said with a smile on his face.
Earlier in the week, he participated in the National Rifle Association's last pistol matches to be held at Camp Perry and won the Hamilton Cup as the overall winner in the Metallic division of the National Precision Pistol Championship. He was also the overall winner of the Open Service Pistol .22 Match at the Canton-McKinley Rifle & Pistol Club Frank Bickar Memorial Regional event, held July 5 in Canton, Ohio – a great warmup to Nationals.
The match in Canton also led him to an advancement in his marksmanship career as he earned himself a spot on the Accuracy X, Inc. shooting team, basically without even realizing he was a contender.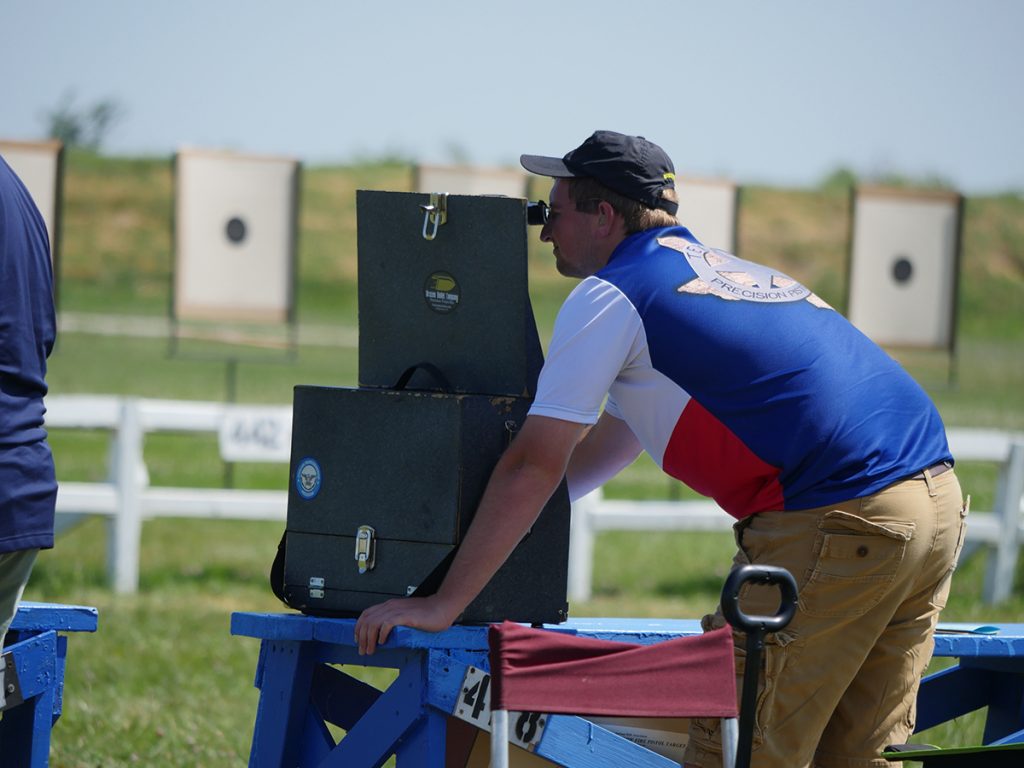 Before Nationals, at a match in Texas, his primary .45 was broken and needed repair, so fellow competitor Lee Fleming, a team member of Accuracy X, lent Talbert his service pistol to use during his matches at both Canton and at Camp Perry.
But while at Canton, Steve Huff, founder of Accuracy X, went up to Talbert and said, "You've probably figured it out by now, but it's no coincidence that you have one of our guns in your hands – we wanted to see what you could do with it."
Talbert's smile returned to his face, "And I got really excited. I just thought I got lucky and had a good backup pistol to use."
Huff was impressed by Talbert's performance and said to meet him on Commercial Row at Camp Perry during the National Matches. The two walked and talked, not just about shooting, but spirituality and other personal characteristics.
"He wants good shooters, but most of all he wants good people on his team, so he wanted to feel me out." he said. "And in the end, he told me that he wanted me to come shoot for him."
The spot on the team seems like a natural progression for Talbert, who has grown up with a fondness of marksmanship.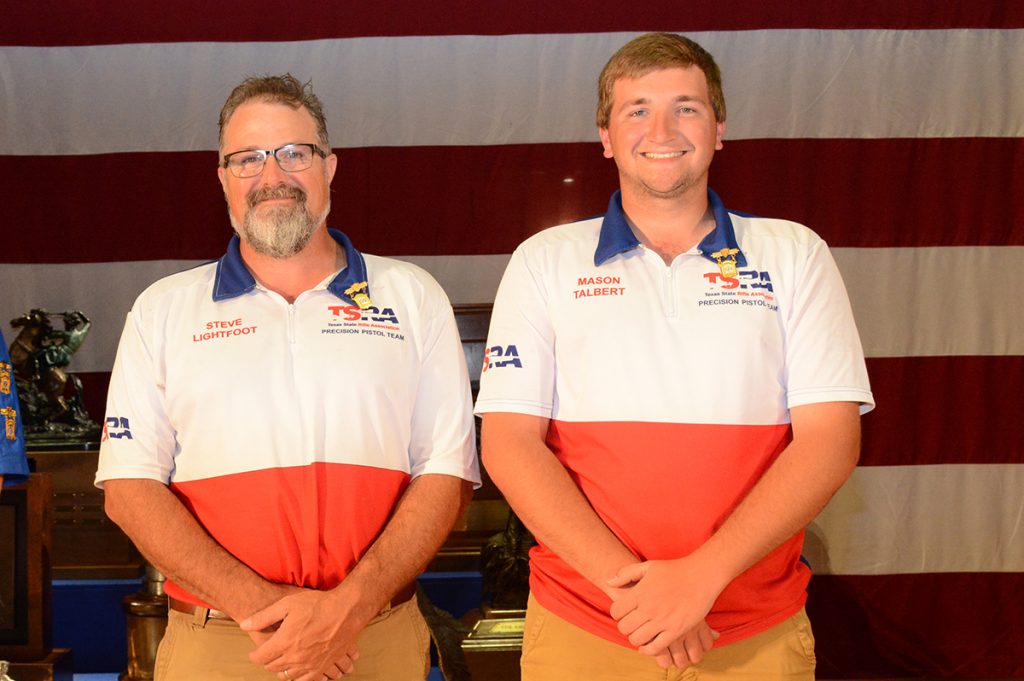 "I just love shooting as much as I possibly can," he said. "Ever since I was younger, I was always fascinated by how I could have this object in my hand, and there's something out there, the target, and I can use something here to affect something out there."
He started out with bird hunting and playing with a BB gun in the backyard. Later on, he went to college at Texas A&M and tried out for the pistol team where he remained for a year and a half. He's also done a little International shooting with USA Shooting and began bullseye pistol only about a year and a half ago, after Lightfoot loaned him the necessary equipment to get started.
"I didn't have any guns to shoot for it," he said. "So Steve helped me out and kind of got me going in it."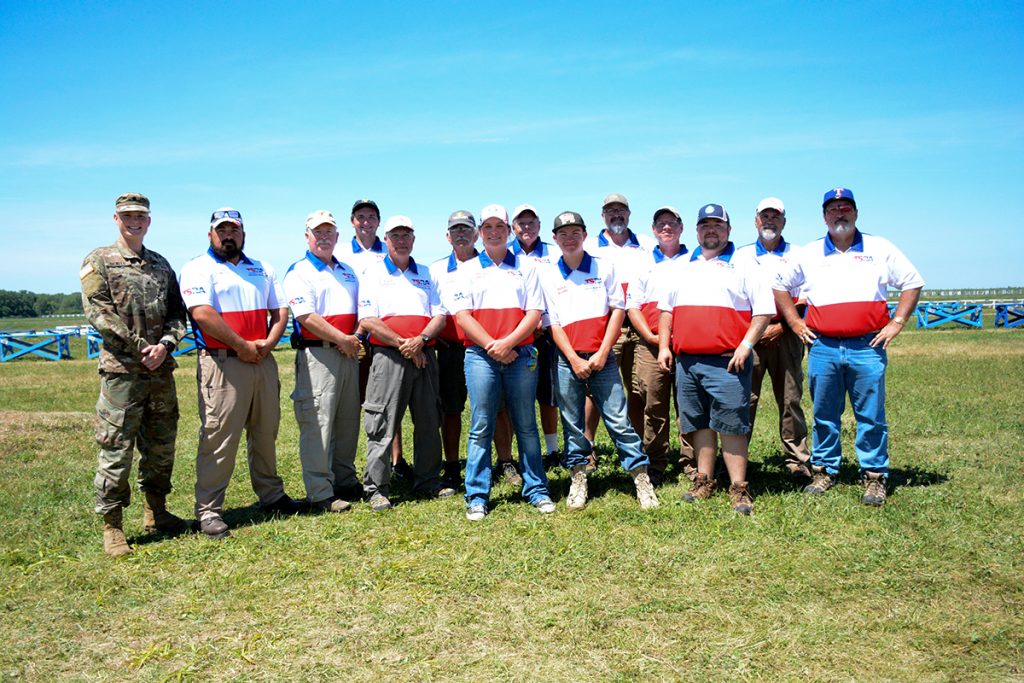 It's the kind of generosity and support Talbert has received from many members of the Texas State Rifle Association since his involvement. Made up of adults and juniors, the group is on the rise, with nearly 20 members competing at Camp Perry this year – a lofty number compared to other years.
While at National Matches, Talbert got the chance to get to know more members he had never met before – sightseeing with teammates at the local hibachi joint, the famous Andy's Ice Cream in Port Clinton and even a few stops at Waffle House along the way. It was all a part of the memories of his first trip to the National Matches and being a member of the encouraging team that he'll never forget.
"If it weren't for these guys, I wouldn't be here because they've all helped me through," he said. "They've pushed me through it and have been there since the beginning. They're a good bunch of friends for me, and we're like a big old happy family."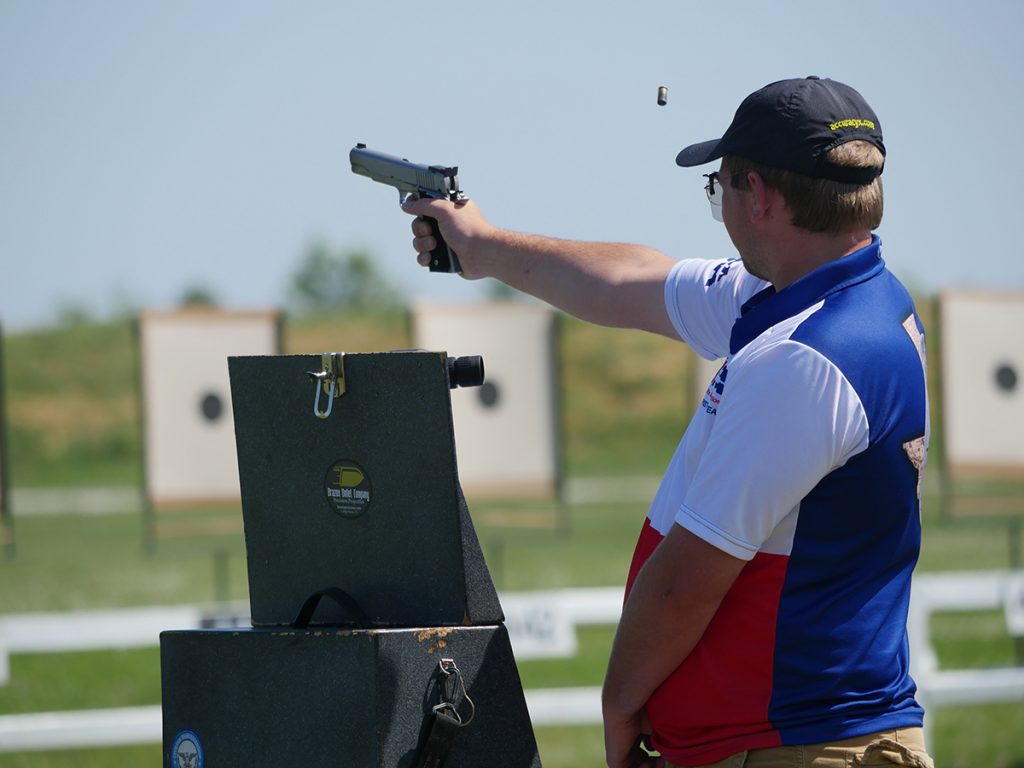 With a new, exciting future in front of him, Talbert is now looking forward to all he'll do with Accuracy X – eager to see the places it will take him, which hopefully includes another trip to Camp Perry.
"I would like to come back," he said. "Either way, I'm going to be having fun. Any time that I'm pulling the trigger, I'm a happy guy."
Want to get involved in Marksmanship? Check out the CMP website to find a local club near you at https://ct.thecmp.org/app/v1/index.php?do=clubSearchor find a local clinic or match at https://ct.thecmp.org/app/v1/index.php?do=match&task=search. CMP State Directors are also located throughout the U.S. to help you get started – visit https://thecmp.org/cmp-state-director/.