CMP's Talladega Marksmanship Park to Host Televised National Event
December 1, 2016
Civilian Marksmanship Program
▸
The First Shot
▸
CMP's Talladega Marksmanship Park to Host Televised National Event
By Ashley Brugnone, CMP Writer
TALLADEGA, Ala. – The Civilian Marksmanship Program (CMP) is excited to announce that its innovative Talladega Marksmanship Park will play host to the American Marksman National Championship Jan. 6-8, 2017. This is the first year for the event, and the CMP is thrilled to be chosen as the site of its inaugural National Championship.
American Marksman is an amateur-only competition. Participants compete and advance through three levels: local, regional and national. Adding an unprecedented excitement and uniqueness to the program, the American Marksman is set to be filmed and turned into a television show at its conclusion – with the CMP's Talladega Marksmanship Park serving as the prominent backdrop.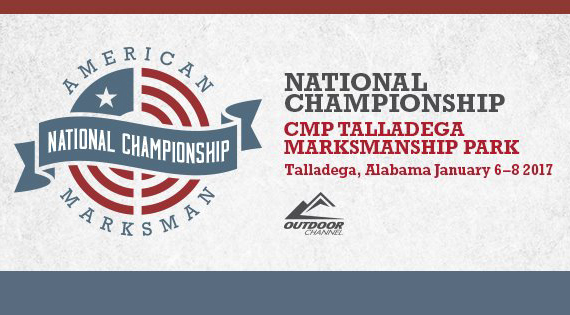 Top competitors from the nine designated Regional Championships, including Northeast, Mid-Atlantic, Rocky Mountain and Southwest, are eligible to compete in the National Championship. Competitors are split into one of four divisions of their choosing: Men's Open, Women's Open, Military/Law Enforcement and Juniors.
The Course of Fire for the National event at Talladega will not be released until competitors arrive at the venue. Eligible participants receive a sheet outlining a list of skills to practice during the fall leading up to the match. The National Championship competitor will be awarded a check for $50,000, a prize package and the honor of being named the first American Marksman.
For more information on the event at Talladega Marksmanship Park, visit the American Marksman Website at http://ammarksman.com/contentplain?content-id=38618.
Please Note: The CMP Talladega Marksmanship Park will be closed to the public on January 5-8th.
About Talladega Marksmanship Park:
The 500-acre CMP Talladega Marksmanship Park is one of the most advanced outdoor facilities in the country. Boasting the latest technological advances in the realm of marksmanship, including electronic targets and scoring monitors, it is a must-see destination for firearm supporters. Featuring 50-, 100-, 200-, 300- and 600-yard ranges, as well as a 5 Stand Shotgun Field, Sporting Clay Field and Action Pistol Bays, the park is open to the public, year round. For more info on the park, visit https://thecmp.org/competitions/talladega-marksmanship-park/.