A Memorable Site: My Unexpected Encounter with a Colonel and His Wife
January 19, 2022
Civilian Marksmanship Program
▸
The First Shot
▸
A Memorable Site: My Unexpected Encounter with a Colonel and His Wife
A Personal Account by CMP Writer, Ashley Brugnone
It's hard to believe that just a few months ago, Camp Perry was filled with guests, coming and going during the summer's annual National Matches. The event has been a staple at the Camp Perry National Guard Training Facility since 1907 – welcoming thousands of rifle and pistol competitors from around the country to Ohio each year. It's hallowed ground for those in the marksmanship realm. A place where incredible memories are made and unbelievable stories emerge.
I've been a writer for the Civilian Marksmanship Program for almost a decade, based at our headquarters office at Camp Perry in Port Clinton, Ohio. The location is gently placed between a few of the small towns that make up northwest Ohio and is nuzzled up against the sands of the Lake Erie shoreline. The base is quiet most of the year – few visitors cross its threshold during the fall and winter months. Yet, once the National Matches roll around, Camp Perry transforms into, essentially, its own bustling community.
I've witnessed many remarkable things and have been able to gain an abundance of rare experiences working the National Matches, all embroidered into my memory. They bring me warmth during these cold months, especially one unique encounter during the pistol portion of the event in 2021 – one that started as a typical project and turned into so much more.
It was July. I was sitting in my office, escaping the heat of the day and catching up on the mountain of work that piles up during our busiest season of the year when I was tipped about an interesting Civil War-era tent resting on the base campground. It sounded like it could be a worthwhile story – maybe a quick interview and some fun photos to post on our website.
I decided to check it out, so I jumped on a golf cart and took the short drive over to the campground, set just behind our office building. It didn't take long for me to pick out where the tent was located. It was the only period-style dwelling on the entire lot and sat in a corner by itself.
As I pulled up, a woman emerged from the tent. I asked her if she owned it, and she said, "Yes, it's my husband's."
I could tell by her eyes that she was thinking I was about to tell her to pack up and move, but, as it turned out, I was the one about to be moved.
I introduced myself and quickly stated my business. The woman introduced herself as Allston, and I told her I had heard about her tent and was interested in learning more. She was delighted and knew her husband would be too. Just as "I'm not sure when he'll be back" crossed her lips, right on cue, her husband arrived. A gentleman walked up who I had seen before at other events – it was Col. Greg Kitchens, a retired U.S. Marine.
Kitchens is no stranger to the National Matches or marksmanship, having been a member and the Officer in Charge of the Marine Corps pistol team during his near 37-year military career. He now lives in Charleston, South Carolina, with Allston.
He first came to the National Matches in 2013. Though he has shot both rifle and pistol in the past, he has mainly focused on pistol since his military retirement in January 2017. He went Marine Corps Distinguished with pistol the following year in 2018 – a rare feat for a busy Colonel.
I introduced myself to Kitchens and asked him if it would be alright if I wrote a story about his tent.
"Certainly!" he said. "Have a seat, would you like some coffee?"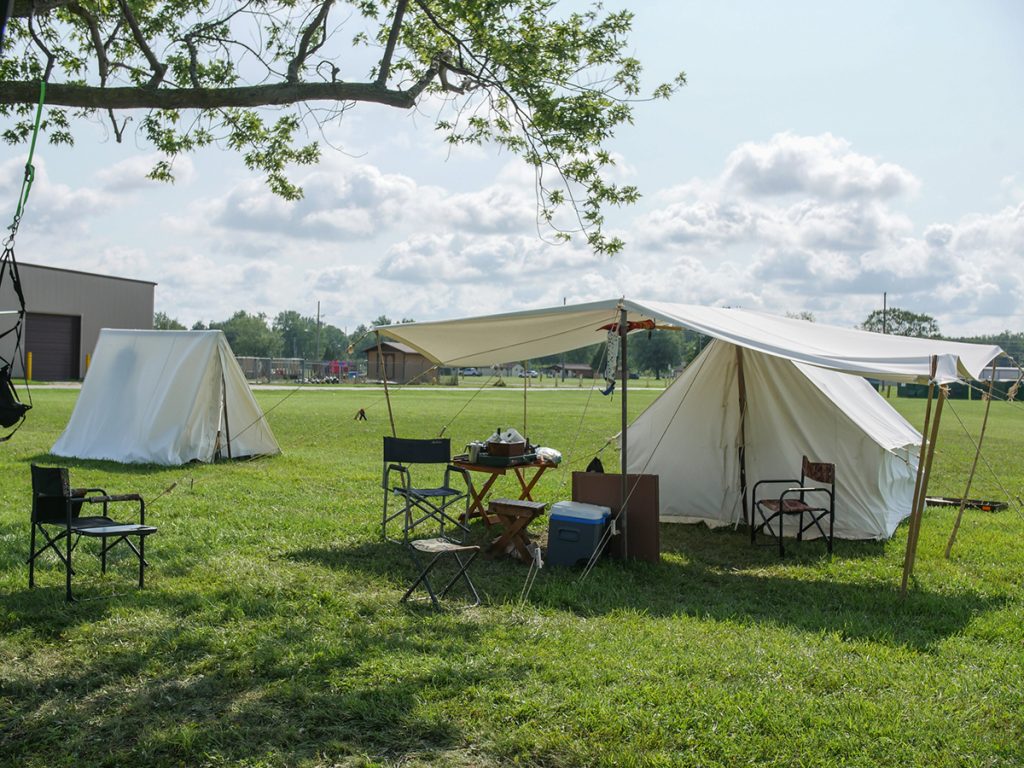 He was jovial and kind, with a warm smile that made me feel instantly welcomed. Kitchens approached a wooden table set in front of the tent and heated up his small gas camping stove, pulling out a percolating coffee pot. I suddenly felt as if I were in the comfort of his home rather than simply standing in a grass field in the middle of a National Guard base.
I sat down in one of the lawn chairs placed just outside of the tent and listened intently to the Colonel.
"Bullseye shooting is a humbling experience," he said as he continued to ready his coffee. "I've been shooting all my life. It's something I love."
"The first year I came to Camp Perry, I thought there was a real, real good chance that I'd want to keep coming," he explained. "I wanted to see if I could come to Camp Perry every year after retiring, and I have."
Being the Colonel, he was offered a per diem for a nearby hotel while attending the National Matches, but he wanted to create his own place to stay. He thought back to his teenage years when he participated in Civil War and Revolutionary War reenactments and recalled staying in canvased tents during the events. He immediately thought it would be the perfect accommodations for Camp Perry – cheap and within walking distance to where he would be competing each day.
"I found them wonderfully comfortable compared to a nylon tent," he said. "They breathe real well, and not a drop of rain comes in. They're roomy, you can stand up in them. If you find a nice shady spot, it's just real comfortable living."
The tent is an authentic reproduction of a wall tent – where the military slept at field. Kitchens also keeps an enlistment tent on the Camp Perry grounds for storage during his stay.
The tent had been specially made for Kitchens by a company in New Hampshire years before, while he was on deployment in Iraq. It originally served as the sleeping space for the annual road trip he would take with his daughters, Elizabeth and Ellen, out west, where Kitchens participated in Cowboy Action shoots.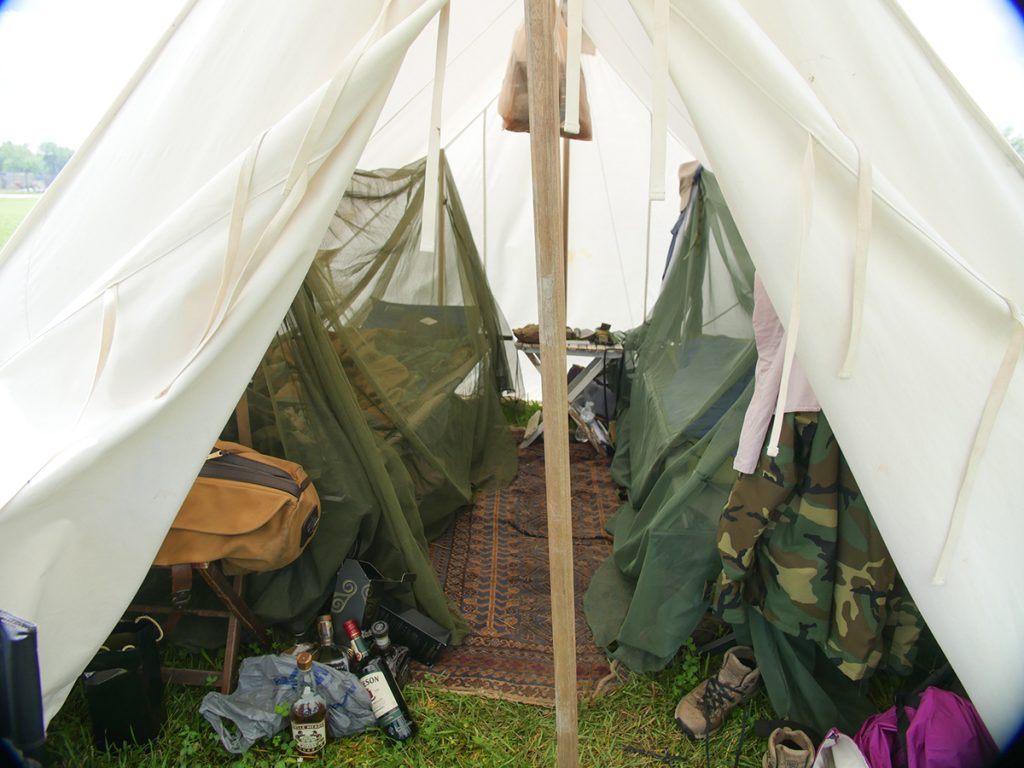 According to him, the tent took a little over an hour to assemble. The main tent area was filled with two cots, draped with mosquito netting. A colorfully patterned rug ran between the cots to create a flooring, and a plastic grocery bag of essentials rested on the ground. Outside of the tent was a canopy that added extra covered space to move around. A hook for food was secured at the top, and a plank table with coolers underneath served as the dining area.
"It's quite difficult to put up. It has wooden beams," Allston said. "We had to adjust things for the wind, poles were falling down, had to get a bread bag to fix the bamboo."
Yet, it's robust. It can even withstand the strong Camp Perry storms that are almost guaranteed during the National Matches. In fact, a powerful one had rolled through the night before my visit.
"It rained all night and I slept like a baby," Kitchens said. "It was really wonderful."
The tent was dry, thanks to the higher-ground location where he always sets up camp. The site is also near a tree where Kitchens is able to hang a chair swing, complete with a foot sling for added comfort.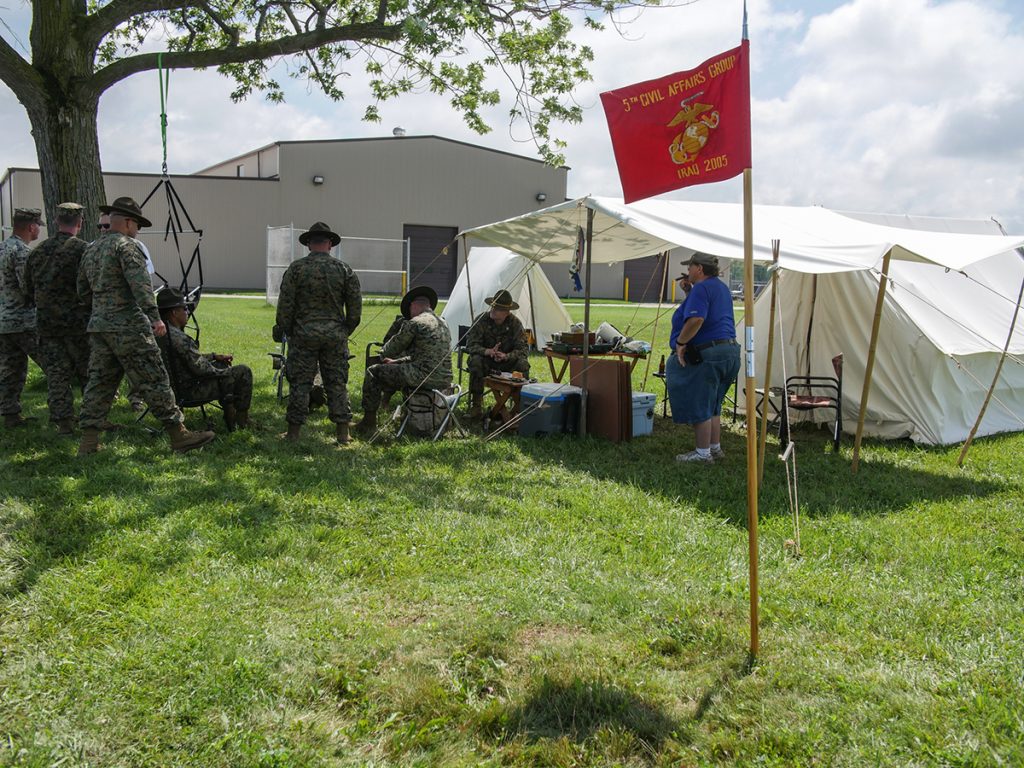 Our conversation broke momentarily when Kitchens walked to the side area of the tent to stake a red unit guidon flag into the ground – a military symbol that signifies guests are welcome to the campsite.
"A lot of people stop by to say 'Hello,'" Kitchens told me.
I didn't think much of the comment until about 10 minutes later, when company really did begin to show. First to arrive was a Marine who had just finished shooting for the day. I assumed that to be the only person to visit when one, two, three more – a whole gaggle of Marines and other comrades – appeared at the campsite.
One by one they appeared, with their own chairs in tow. Some grabbed beers from the coolers while others had wine. Suddenly Allston appeared with a plate full of venison summer sausage and cheese, offering samples to each person. Kitchens even pulled out a humidor, crammed with cigars.
I was no longer a participant in a casual conversation but a guest at an improvised dinner party.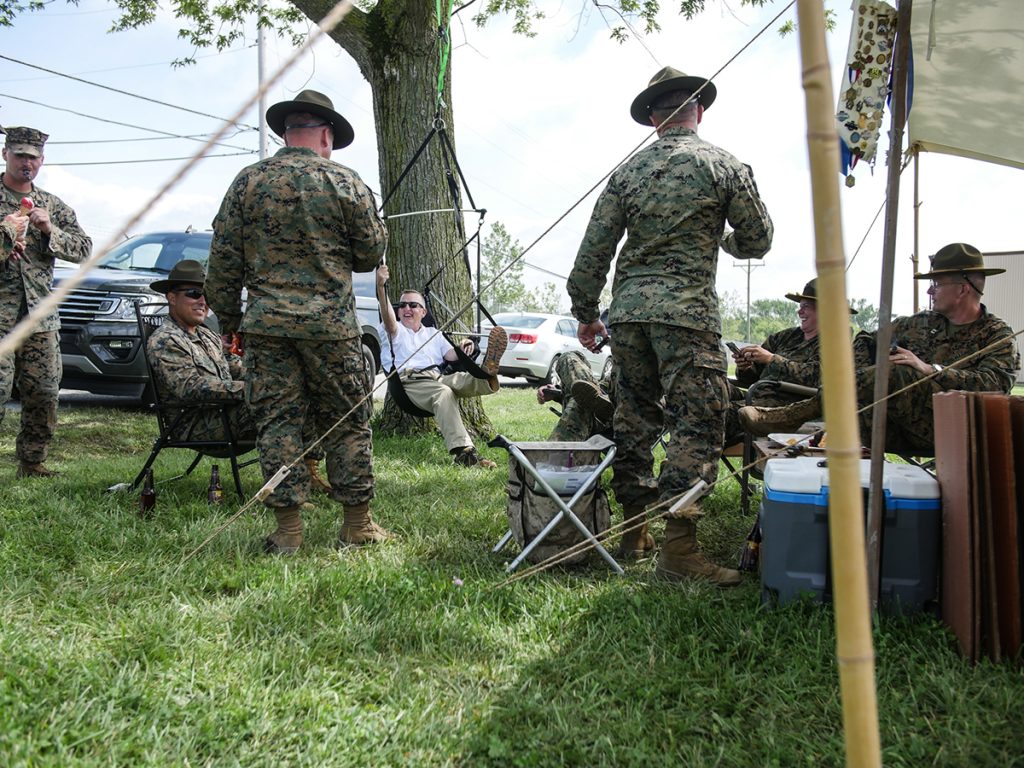 "It's part of what we do," Kitchens said. "It's a social gathering place."
The Marine Corps members made themselves at home, asking each other how they had done in competition that day.
"Did you get yourself something to drink? How did you shoot?" Kitchens asked as more visitors arrived.
"Find a chair! Sit down and relax! Anybody want a cigar?" he went on.
Kitchens then insisted that I try out the infamous chair swing. It took me a minute to settle into the thing, but once I did, I completely melted into the fibers of its soft, easing material.
"I'll be back to check on you in a minute. I need a cigar," Kitchens said.
He went off to greet and entertain the other guests in attendance – telling them stories of Marine Corps history, which he assured were "all true."
"I hope you're prepared to be here for the next two hours," one of the Marine Corps Reserve Team members leaned over and said to me as he smiled.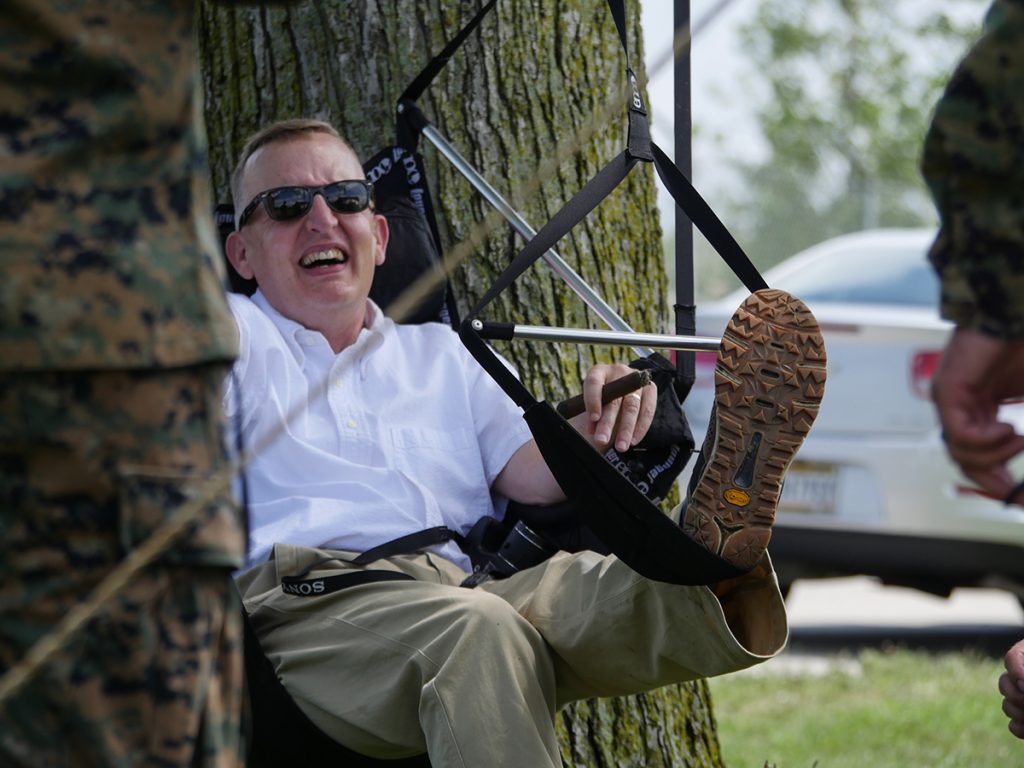 He wasn't kidding. I spent the next hour listening to several Marine Corps shooting tales, some from the present and many of the past. I soon learned that what I was witnessing wasn't a fluke occasion. The tent gathering had become a tradition for the Marines during the National Pistol Matches, and I was enchanted by it all.
I also had the pleasure of getting to know the gracious Allston during my visit. I learned that she was a recently retired physician of internal medicine. Her demanding work schedule left her too busy to visit the National Matches in previous years. Others had made the trip with the Colonel in the past, including both daughters and a few family friends, but 2021 was Allston's year – her inaugural trip to the renowned event.
"I've always heard stories – lots of stories over the years," Allston explained. "I've seen lots of pictures, and several of these folks I've met before, but this is my first time here, and it's really been so much fun."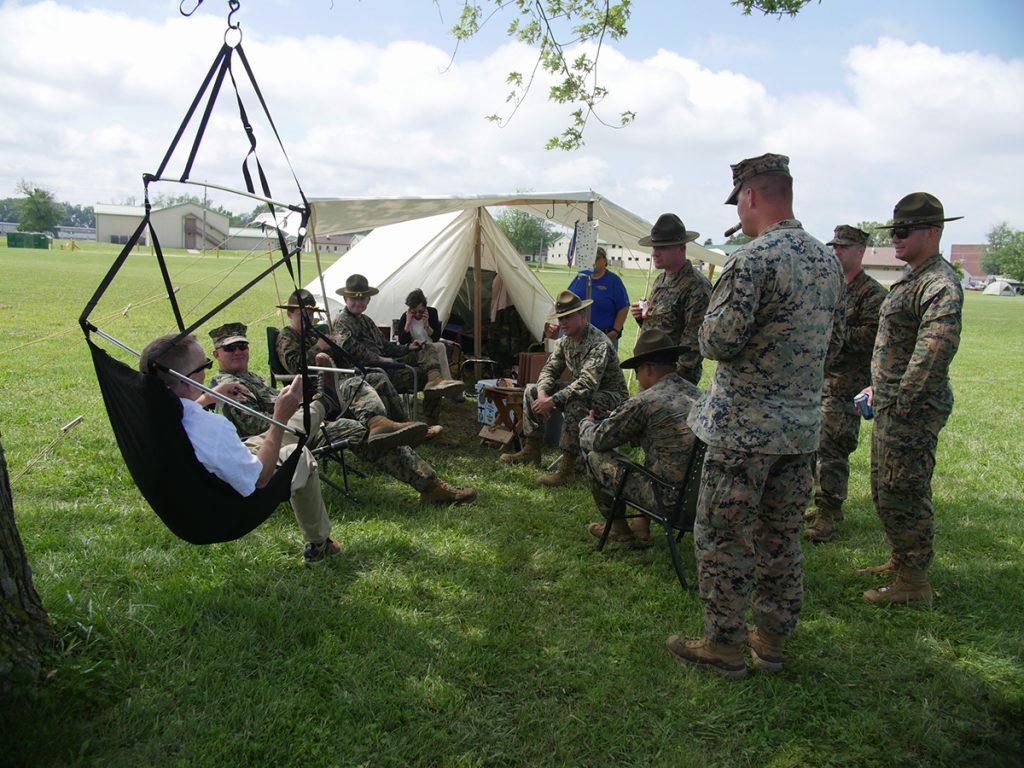 She admitted that she really didn't know how to shoot, but she still participated in some of the competitions during her National Matches excursion, at the prompting of her husband.
"He threw me into the deep end of the pool," Allston joked.
While at the Matches, she took part in the Small Arms Firing School, led by military marksmanship members, and also participated in the .22 pistol events. She admitted she had fired a revolver before, but never a 9mm, which is what's used during the Small Arms course.
"Those poor people having to shoot next to me…" she joked again.
Though she may not have been at the top of the leaderboard, Allston described how many others around her were so nice, patient and helpful on the range – eager to support a newcomer. It's a common practice for the marksmanship crowd.
"We've all had a good time up here," she said of her Camp Perry trip.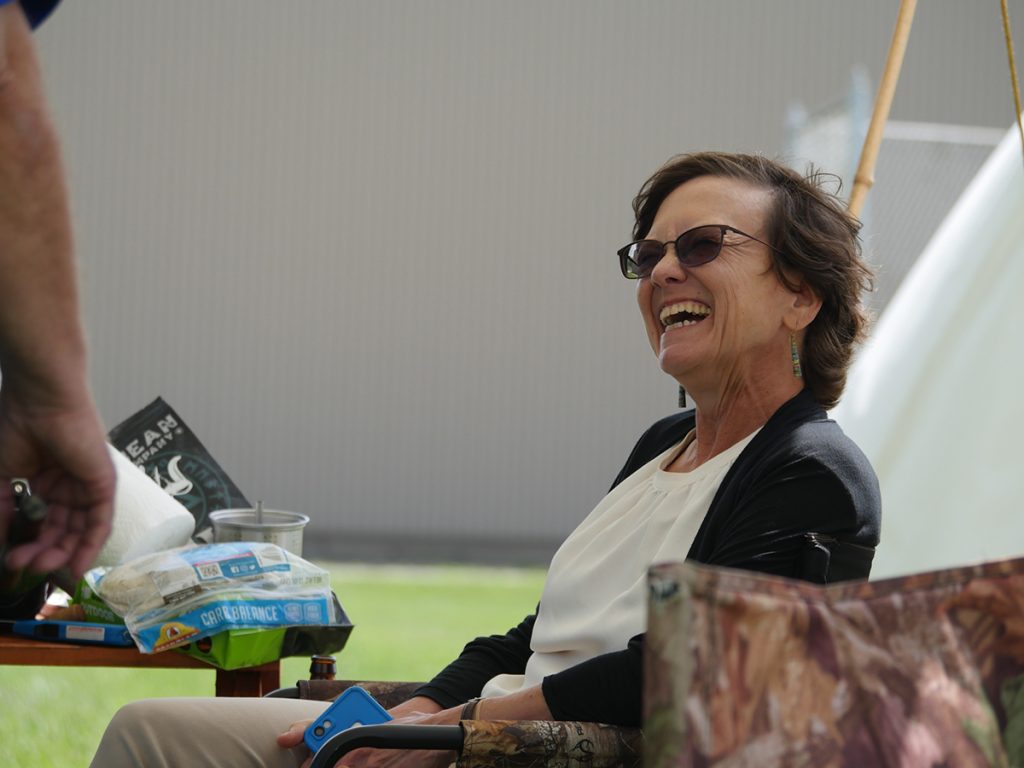 The story I thought I was gathering was certainly becoming more than I had originally anticipated. It was shaping up to be not just a story about a fascinating tent, but rather, a narrative that truly shows the heart of the National Matches – the people who attend.
As I was beginning to wrap up my stay, Colonel Kitchens came up to me, thanked me and handed me a cookbook from his church in Charleston – a parting gift for attending their shindig.
"I submitted two recipes – neither made the book," he said with a smile, his cigar still smoldering and tucked under his pointer finger.
I stood up to leave when an ice cream truck seemingly manifested and pulled up to our group, because, why not? At this point, nothing surprised me.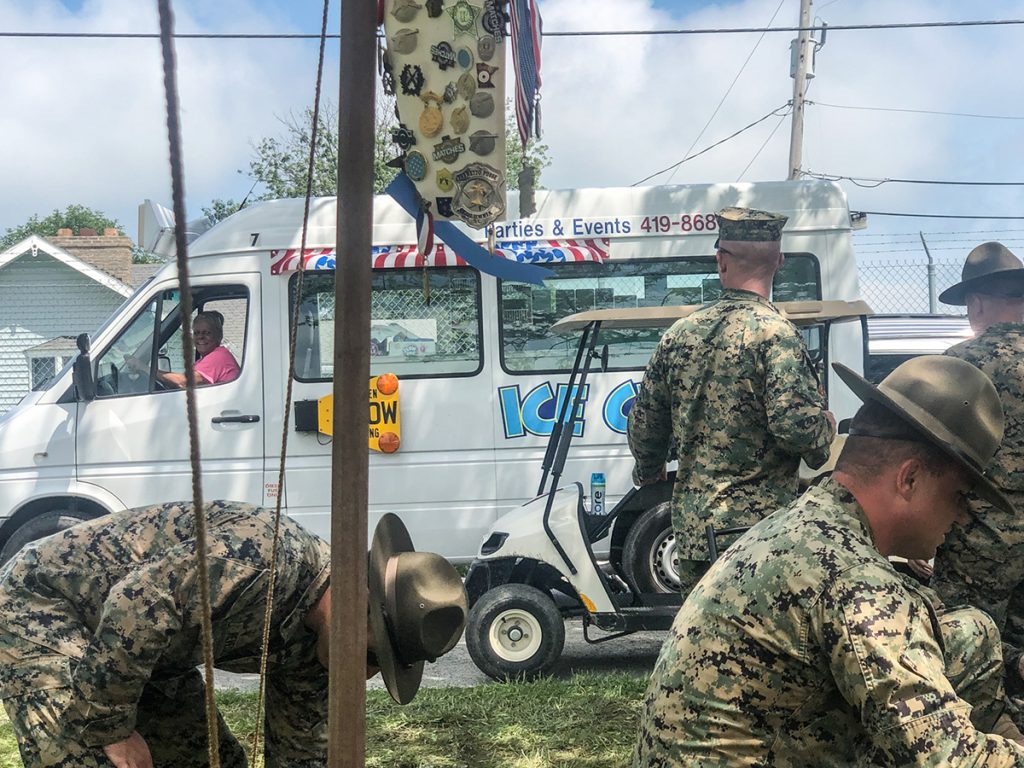 The Marines in the group asked if I would take their picture before I parted ways, and I was happy to oblige. It was a beautiful snapshot that not only encased a memory that I nor they would ever forget, but it also celebrated a distinctive attribute of the National Matches – the human connections that materialize simply from being there. Their stories help us remember just how special it is to be a part of Camp Perry's heritage.
"One of the social things about Camp Perry, you have a lot of friends here, and it's always good to see each other," Kitchens said. "They know where to find me."
About the National Matches
The CMP National Matches are open to the public and take place in July/August each summer at Camp Perry in Port Clinton, Ohio. Registration opens March 1st. You can find the schedule and details on the CMP website at https://thecmp.org/competitions/matches/cmp-national-matches/. If you have questions, please feel free to reach out to our Competitions Department at competitions@thecmp.org or (419) 635-2141, ext. 724 or 714.