Zion Benton's Hernandez Leads Sporter Athletes in CMP's Air Rifle Postal Event
April 13, 2021
Civilian Marksmanship Program
▸
The First Shot
▸
Zion Benton's Hernandez Leads Sporter Athletes in CMP's Air Rifle Postal Event
Saylet Hernandez, 17, of Zion Benton High School in Illinois, was the overall leading athlete of the sporter class during the Civilian Marksmanship Program's (CMP) 2020-2021 Three-Position Postal Competition. Her score of 280-12x bested the field of over 500 other junior sporter competitors from around the country who participated in the national remote-style event.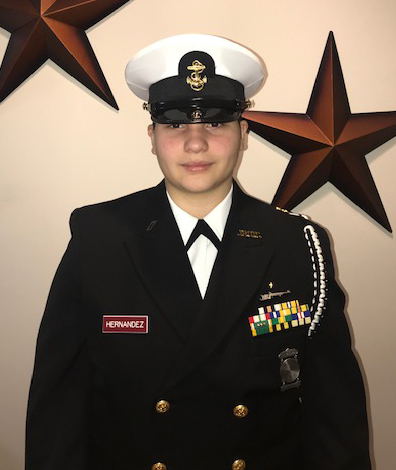 Hernandez is currently in her Junior year and is a member of the Varsity rifle team. She has truly taken initiative toward enhancing her marksmanship skills, focusing hard during team practice and even spending many hours during the week and weekends training on her own rifle and backstop at home in her basement.
"As chaotic as this season has been, I plan to keep doing the best that I can and improve in my shooting skills," she said.
Playing an important role on the Zee-Bees air rifle team since her freshman year, the COVID-19 pandemic put Hernandez's 2020 season on hold for a few months, until June, when the school allowed athletes to resume practice.
Once back in the range, the new scene inside eventually became routine. Instead of the usual full firing line, now, Hernandez and her team members set up on every-other firing point and wear masks to stay socially distant and safe. She and her teammates are also given health checks before attending school and practice.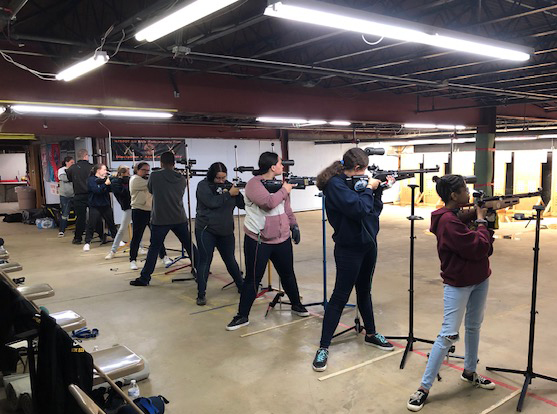 Despite the evolving procedures, Hernandez has been able to stay effectively motivated. Her exceptional performance in the Postal Competition will allow her to move on to CMP's Virtual Championship – a second round postal competition that stands as substitute for the traditional CMP Regional event fired each year. Top performers of the Virtual event will move on to Nationals, scheduled for the summer of 2021 at CMP's air gun facilities in Ohio and Alabama.
If Hernandez stays consistent with her scores, Nationals is exactly where she'll find herself for the second time during her marksmanship career.
Her initial interest in air rifle came somewhat by chance. While at her school's orientation, where clubs and other extra-curricular programs were being displayed, she approached the Junior Reserve Officers' Training Corps (JROTC) table and decided to find out what offerings were available within the program.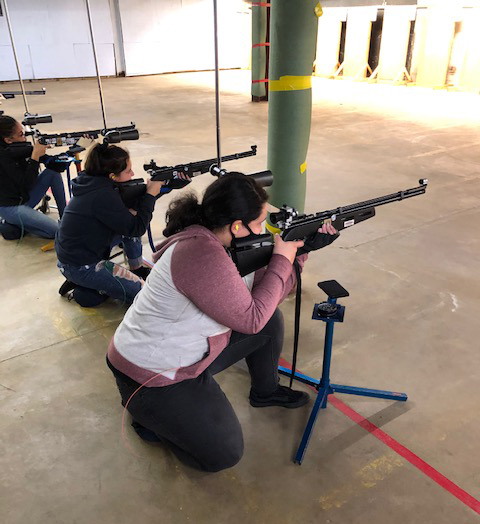 "I had already signed up for ROTC, but at their booth, I was able to learn more about the program – which is when I learned that they had a rifle team," Hernandez explained. "I instantly got interested and joined later on."
Her coach, Master Chief Dan Hackstein, started off new cadets with Daisy Avanti air rifles before moving up to the Crossman PCP Challenger rifle, which is what Hernandez currently uses in practice and competition.
"Saylet works hard on the range as well as in the classroom," said Coach Hackstein. "Her scores have really taken off this year."
Hackstein went on about his enjoyment in watching his young cadet grow, saying Hernandez has embraced a leadership role on the team this year. He says she has stepped up to become a training officer and is constantly staying after her own practice to help out the new shooters with all aspects of marksmanship.
"Saylet just seems to have a knack for teaching while on the range or in the classroom. She loves helping others out, no matter what it is," Hackstein said. "I couldn't be more proud of her for her accomplishments."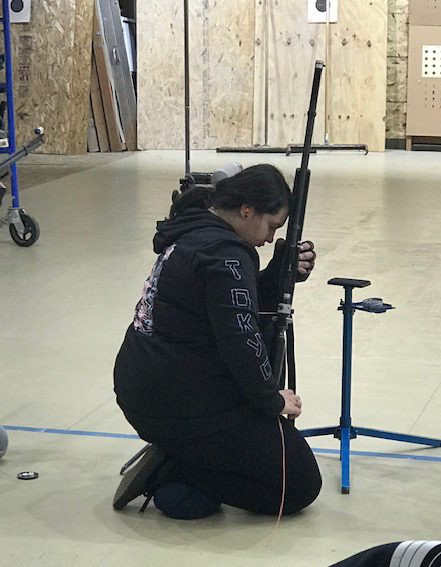 Outside of air rifle, Hernandez enjoys drawing and painting a hodge-podge of subjects on canvas and in her sketchbook. She also crafts art out of cans. When she isn't using her hands for creativity, she picks up the gaming controller to plunge within Tomb Raider, Zelda: Breath of the Wild and several other virtual adventures.
For the future, Hernandez has a goal in mind of finishing her senior year with an improved personal best high score. She plans to continue marksmanship after graduation and, as a lover of dying and styling hair, is aiming to join the cosmetology field.
"With all I do, I hope to do well and live without too much stress," she said.
Good luck to Saylet and all of the other athletes moving on to compete in the CMP Virtual Championships! Learn more about the match and the accompanying CMP Three-Position National event by visiting the CMP website at https://thecmp.org/youth/three-position-national-postal-competition/.