Women Learn Pistol Tips and Tricks at Babes with Bullets Course at Talladega Marksmanship Park
October 25, 2016
Civilian Marksmanship Program
▸
The First Shot
▸
Women Learn Pistol Tips and Tricks at Babes with Bullets Course at Talladega Marksmanship Park
By Ashley Brugnone, CMP Writer
TALLADEGA, Ala. –  To kick off the fall season of marksmanship training, the Civilian Marksmanship Program (CMP) brought an enlightening program to its female shooters by hosting the Babes with Bullets Handgun Camp at its Talladega Marksmanship Park, Sept. 30 through Oct. 2, 2016.
Babes with Bullets is a traveling firearms academy for women, taught by national and world women's shooting sports champions, that has produced successful camps across the country for the past 12 years. The all-female staff is talented, proficient and patient with the new and experienced markswomen that pass through the camp.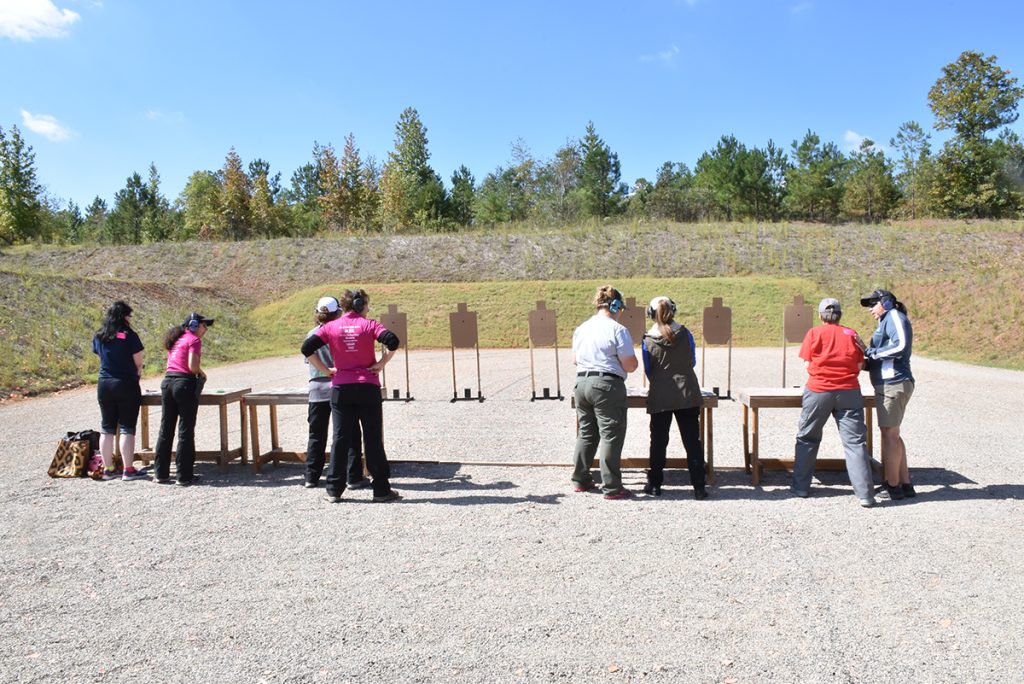 Many testimonials from the Talladega camp raved on the "world-class" instruction and on the information that was able to be utilized by both novice markswomen as well as trainers wanting to learn more for their own classes.
CMP staff member, Melissa Smith, who is the customer relations/sales supervisor at CMP South in Alabama, attended the Babes with Bullets event held recently at CMP's Talladega Marksmanship Park. As a new markswoman, she recounts the valuable skills she absorbed during her incredible experience at the camp, saying:
"I had the best time and learned so much! I had no training or experience other than shooting my pistol in the backyard. However, I did not know how to load it and did not realize that I did not know how to properly hold it.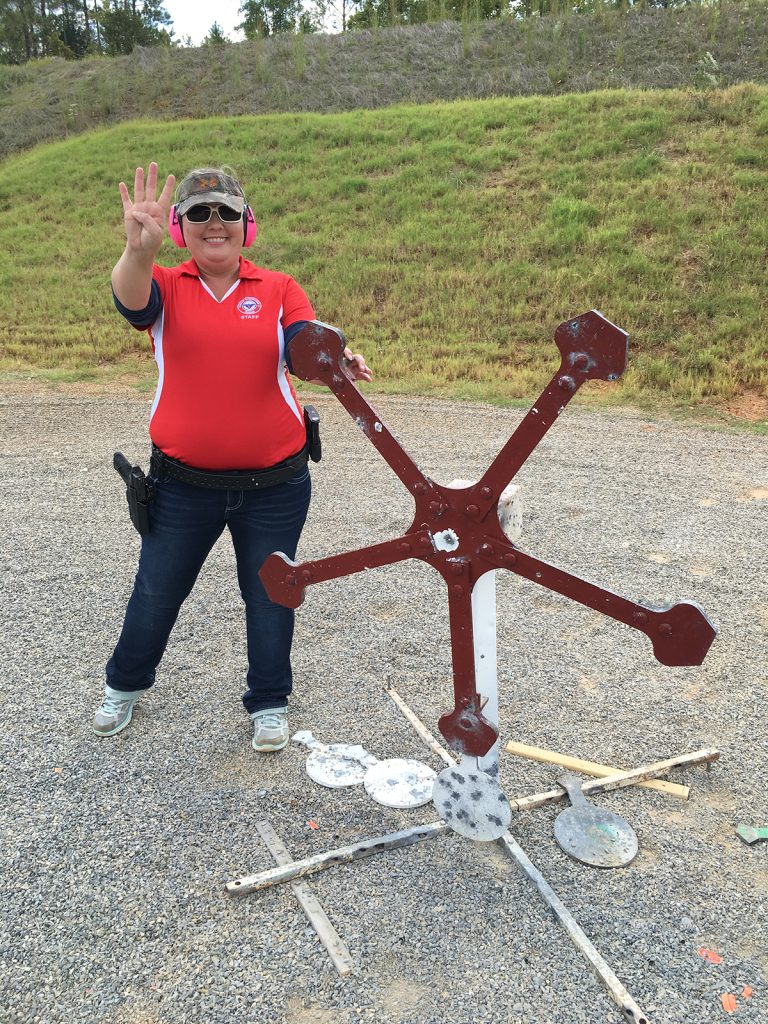 They were excellent teachers who worked one-on-one with us at our own pace. They taught us how to properly handle the pistol and the safety steps to use while doing it. I went from not knowing how to load or clear the pistol to learning how to properly insert a magazine, draw from a holster, shoot the target accurately and clear it.
My biggest problem was making sure my pistol grip was not weak and my trigger press was relaxed, but they helped me figure out what areas I needed to improve on and how to get there.
I was amazed by all I learned in just three days. I shot 4/5 of the steels from the Texas star. I also won the Novice Goddess in which they separated the girls that have competed in matches from the girls that have not.
There were some ladies that had taken classes or competed in matches but said they didn't know some of the stuff that the ladies taught them. Then there were some like me that didn't have much experience at all. We learned so much and met a lot of great people that will stay in touch. I actually met a local girl that is planning to meet up with me at the range some so we can practice our shooting."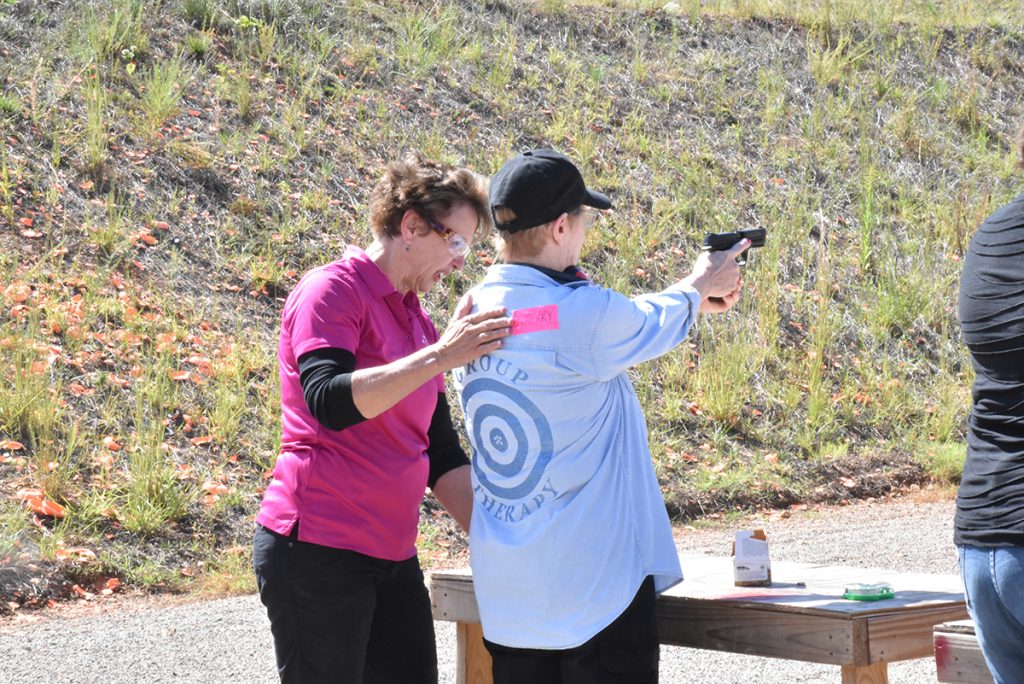 The camp at Talladega covered novice beginner instruction all the way up to advanced handgun program material. Lead trainer of the event in Talladega was senior instructor, Lisa Munson, who is a multi-time national and world champion. She was assisted by camp director, Deb Ferns, who also holds a national 3-gun title for handgun, rifle and shotgun. According to Ferns, the camps now have 5,000+ alumnae with ages spread from 16 to 78.
"I do shooting events literally around the world, and the Talladega CMP Range is by far one of the most beautiful and well designed multi-use ranges that I have enjoyed working with," said Ferns. "The physical beauty of the 500 acres of the range, along with the ability to meet every need from shotgun, to rifle, to handgun, is remarkable."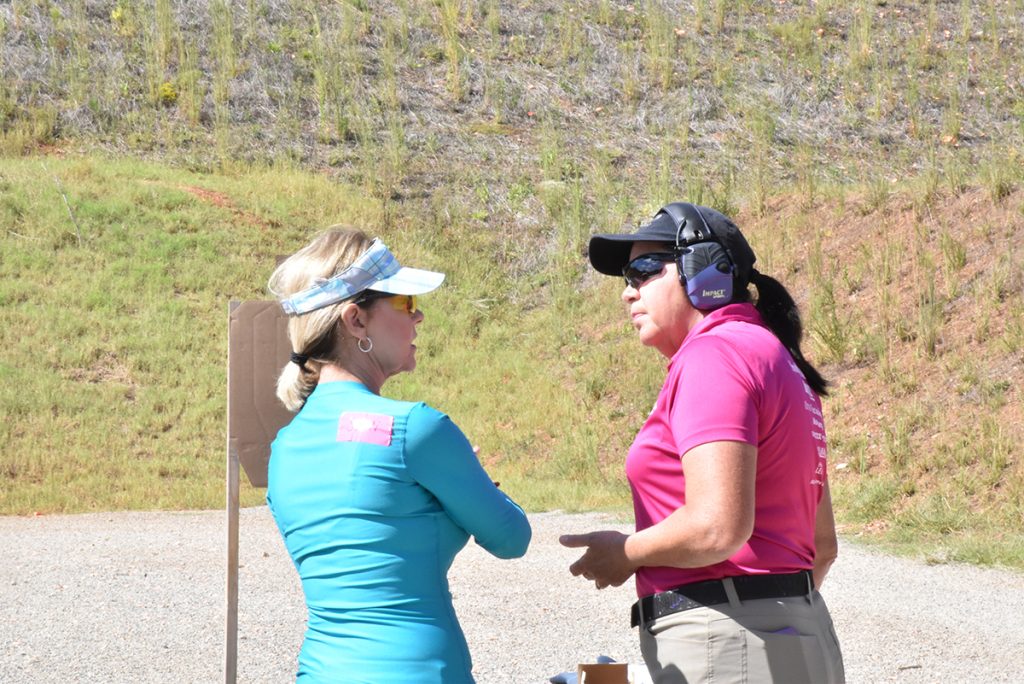 She went on to say, "Add in the 'resort club house' with a user-friendly kitchen and education rooms, plus a pro shop. The planning committee was on top of it all as this shooting complex was being built!"
"We look forward to our return to the Talladega CMP Range in 2018!" Ferns added.
About Talladega Marksmanship Park: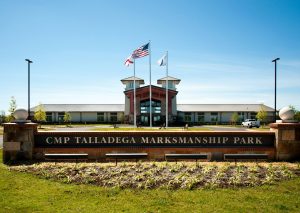 The CMP Talladega Marksmanship Park is one of the most advanced outdoor facilities in the country. Boasting the latest technological advances in the realm of marksmanship, including electronic targets and scoring monitors, it is a must-see destination for firearm supporters across the country. The park is open to the public, year-round, and offers pistol, rifle and shotgun opportunities.