Women in Conservation Series Visits CMP's Air Rifle Range
May 22, 2015
Civilian Marksmanship Program
▸
The First Shot
▸
Women in Conservation Series Visits CMP's Air Rifle Range
By Ashley Brugnone, CMP Writer
CAMP PERRY, Ohio – In April, the Civilian Marksmanship Program (CMP) played host to a group of 15 sharp-shooting women involved in Ottawa County's Women in Conversation Series. The ladies made the trip to Camp Perry to learn more about the National Guard base's history as well as to fire in the world-class Gary Anderson CMP Competition Center air rifle range.
The Women in Conservation Series is an opportunity for women in the Ottawa County area to become more engaged with area recreations, both indoor and outdoor, for an evening of socialization, fellowship and, of course, fun. Some activities in which the women of the group participate include arts and crafts, creating their own natural skin care and much more. Recently, the women enjoyed an evening of canoeing on one of the area's beautiful natural creeks.
Becky Simpson, education specialist at the Ottawa Soil and Water Conservation District, was in charge of putting together the entire Women in Conservation series. The women meet the third Wednesday of every month, through October.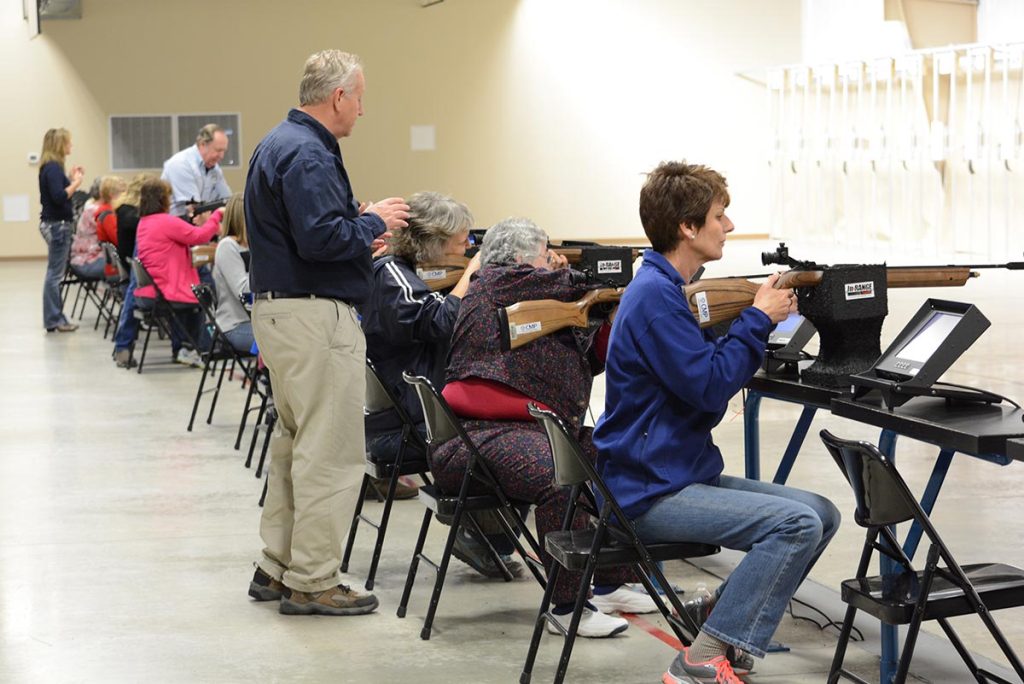 "I'm fairly new to the county, I've been here six years now, and there are so many great resources available in Ottawa County," she said. "But when I was going through, I didn't see a lot of women I could talk to, so I thought it would be a good idea to start a workshop to get women involved, and hopefully get their families involved, to really enjoy what we have to offer here."
At another Ottawa County event, she toured the CMP's air gun facility and knew it would be perfect for the Women in Conversation project – giving other women in the area the chance to hone their own marksmanship skills in a safe and engaging environment.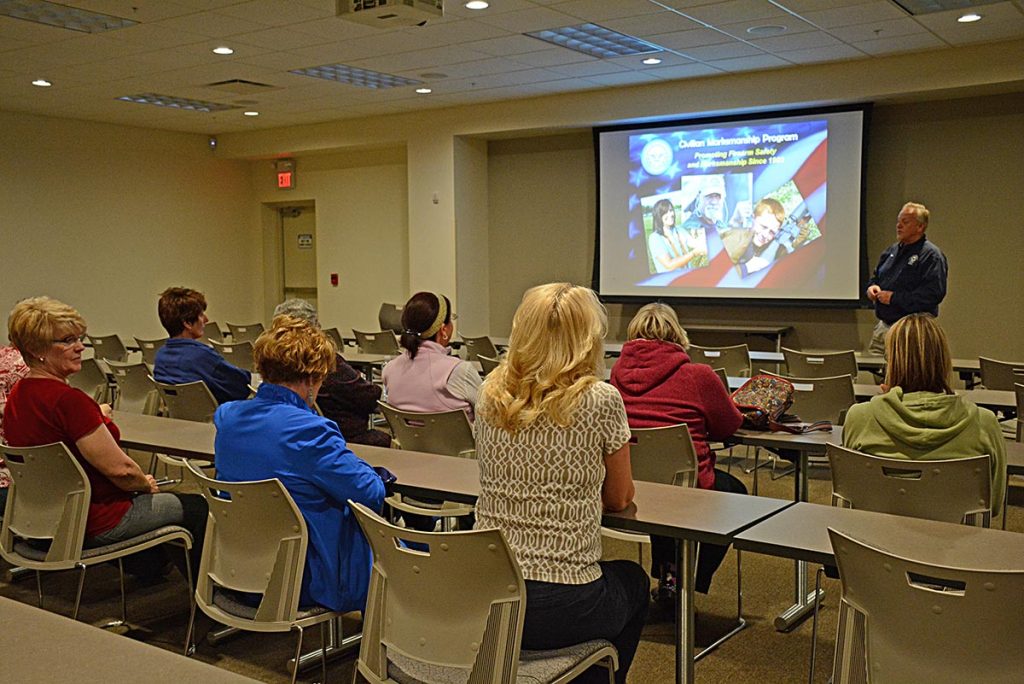 "I love it. I definitely want to bring my kids here, especially my eight-year-old. She would love this," said Simpson. "I think it's a great introduction to guns because they aren't scary, and they don't have a big recoil."
"We had a good turn out, and everyone loved it," she added. "A lot of the women said they're wanting to come back and bring people they know."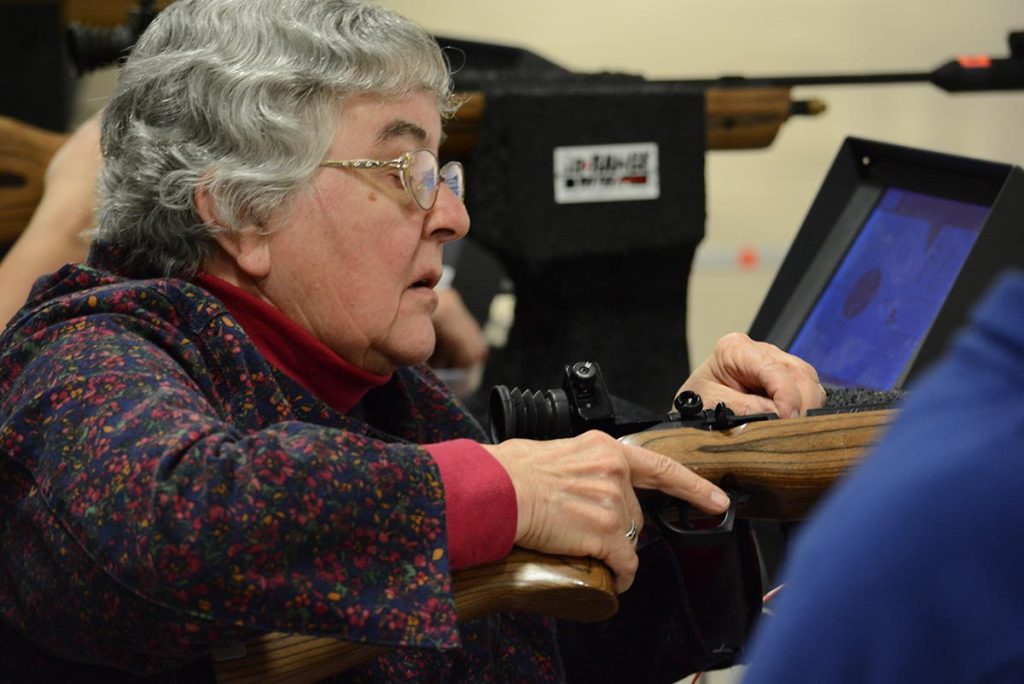 Sandy Zenser, 70, of Oak Harbor has lived in the Ottawa County area her entire life. She remembers swimming at the beach as a young girl and also going to the old mess hall at Camp Perry. Now, through the Series, she was able to see what the present day Camp Perry has to offer.
"I've lived here a long time, and I was amazed when I came back here and saw this," she said. "I hadn't been down here in years. It's nice – clean. And you're not out in the weather."
She added, "This is kind of fun! I've got a pellet gun to scare birds away at home, but this is pretty neat. It's easier than I thought. The hardest part is trying to get the little pellets in there."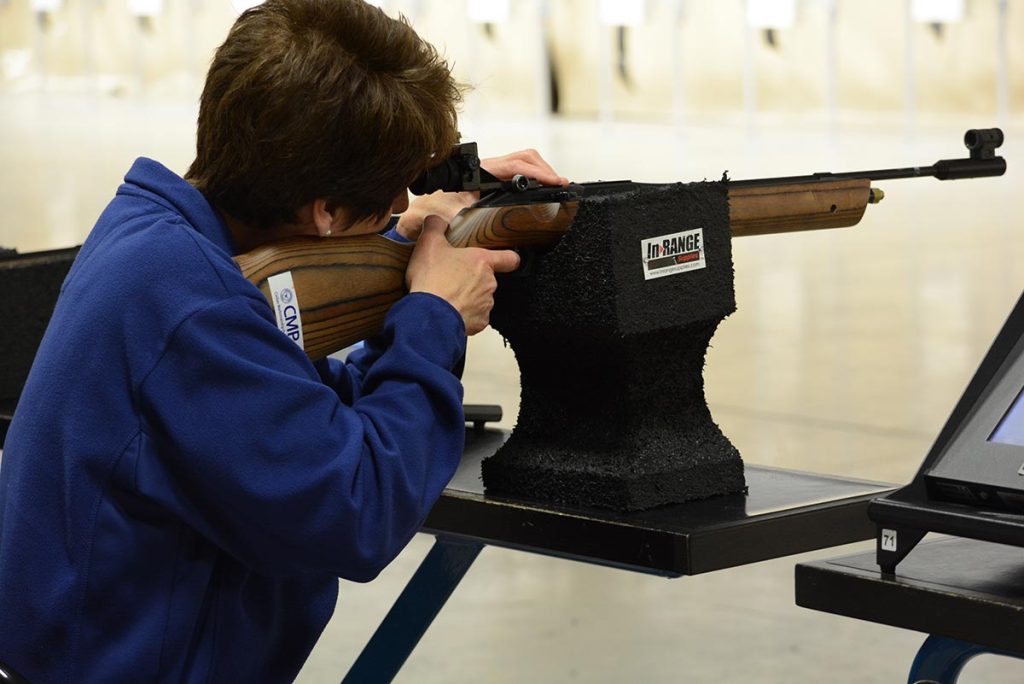 Linda Twarek, 59, of Marblehead, was a veteran of the air rifle range at Camp Perry, having fired at many open public nights.
"I've shot here before, several times. You set your own goal – get a 10.9! But with all of the other people here, it's fun," she said.
The next stop for the Women in Conservation Series is Moore Orchards, where participants will have an opportunity to learn where food comes from and its journey from the soil to the kitchen.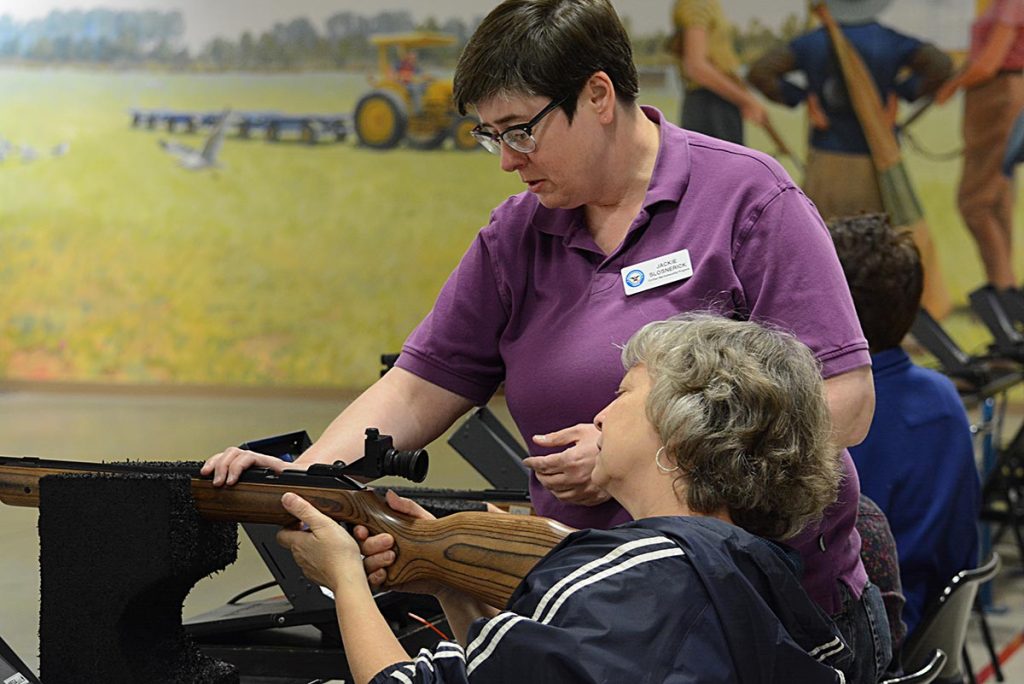 For more information on the Ottawa Soil and Water Conservation District as well as the Women in Conservation Series, visit http://ottawaswcd.wix.com/ottawaswcd.
The Gary Anderson CMP Competition Center is open to the public Tuesday and Thursday evenings from 5:30 to 8:00 p.m., September through June, except for holidays and special events. The range can also be rented for a fee for your next company or business/family outing.
The lightweight, easy-to-use air guns are available for loan at the range. The Competition Center houses an open reception and common area, fully equipped classrooms, cylinder filling room and CMP retail store. It also includes projection screens and flat-screen television sets throughout the building, as well as authentic Olympic and other memorabilia from the career of the most decorated marksman in U.S. history, Gary Anderson.