Winner of Talladega's "Secret Shot" Match Named
August 7, 2015
Civilian Marksmanship Program
▸
The First Shot
▸
Winner of Talladega's "Secret Shot" Match Named
TALLADEGA, Ala. – Henry Donaldson, 58, of Gainesville, FL, was the winner of the one shot match during the Talladega Dedication day on June 5, 2015, at CMP's new Talladega Marksmanship Park. Donaldson won by firing a shot closest to the "secret point" designated prior to the event. For his win, he received a M1 Special, presented by CMP's chief operating officer, Mark Johnson.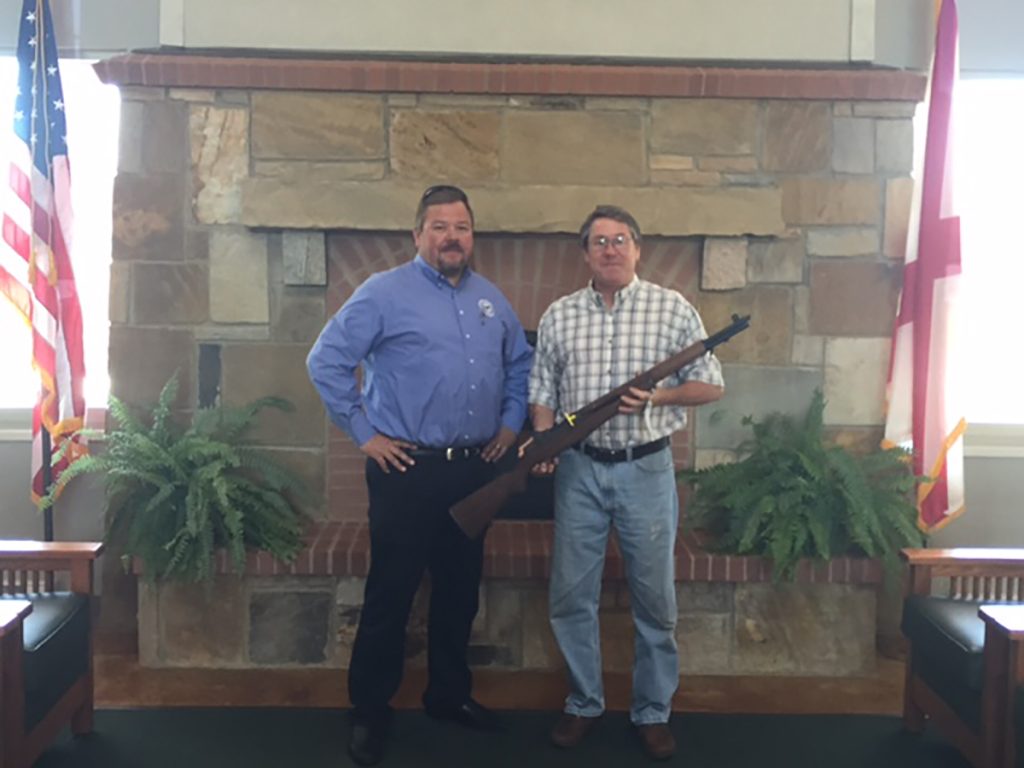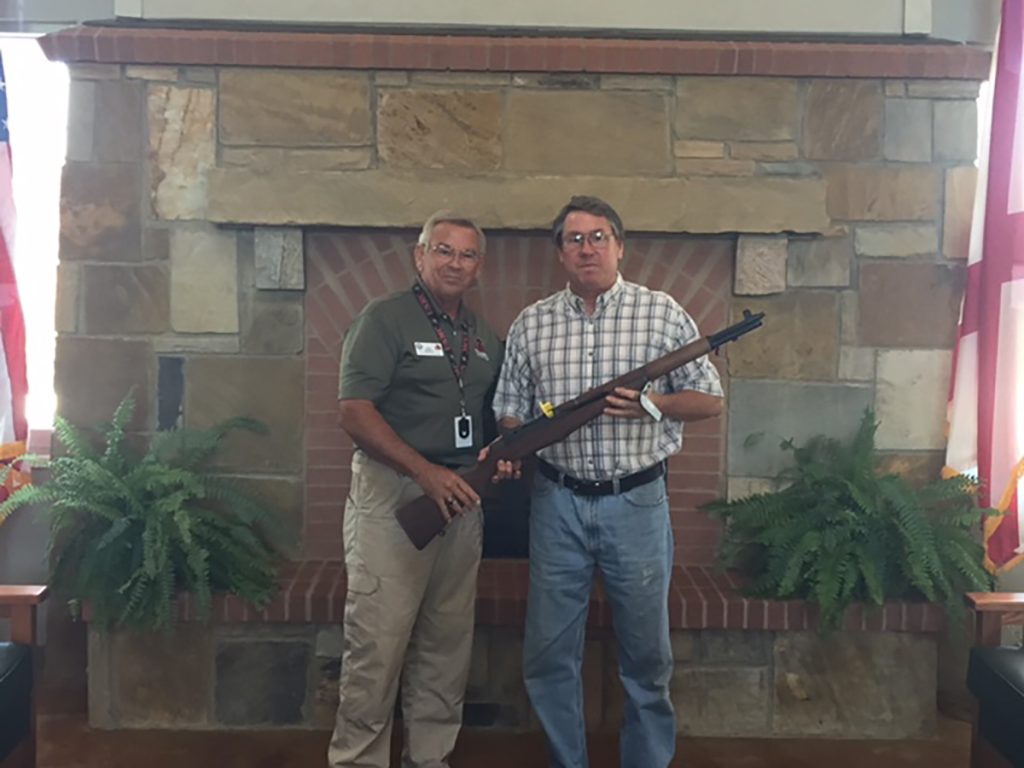 Congratulations, Henry!
Be sure to join us at Talladega for exciting Upcoming Events, including the always popular M1 Carbine Match! Please register now, as space is limited.
August 22: USPSA Match hosted by Talladega Practical Shooters
USPSA registration begins at 8:00 am. A range safety briefing will be given at 8:30 am. Firing will begin at 9:00 am. For more information, call (256) 474-4408, ext. 460 or email cmptalladega@thecmp.org.
August 29: Top's Basic Instruction Highpower Competition Clinic
Donnie "Top" Heuman, park manager and range master of the Talladega Marksmanship Park, along with assistance from Talladega Range Officers, will be providing one hour of classroom instruction and an afternoon of one-on-one range time.
The class portion begins at 8 a.m., with the clinic firing on the 200- 300- 600-yard range from 9:00 a.m. to 5:00 p.m. – practicing various competition techniques, including rapid fire drills and a practice 800 aggregate match, with sighters.
Entries are limited to 20 participants. Lunch and ammunition will be provided. Entry fee is $250.
Or call 256-474-4408 ext 460
September 5: M1 Carbine Match
For those looking for a fun and unique challenge, the M1 Carbine Match is the perfect event. All competitors in the Carbine Rifle Match use a M1 Carbine and fire 40 shots at a distance of 100 yards. The Course of Fire is 15 shots slow-fire prone (first 5 shots are sighters), 10 shots rapid-fire prone, 10 shots rapid-fire sitting and 10 shots slow fire standing. The match is always a favorite at CMP Games events and is sure to provide an afternoon of enjoyment to competitors at Talladega.
Fee for the match is $25.00.
September 25-26: CMP-GCA Clinic Talladega
The GCA Convention Match will take place at the Talladega Marksmanship Park in Talladega, Alabama on September 25-26, 2015.  During the convention the CMP will host a Vintage Sniper match on September 25 and a John C Garand match on September 26. The matches are limited to GCA convention members only.
October 17: Alabama State High Power Championship This is a non-EIC 800 aggregate match. 20 shots slow fire prone, 200 yards, 20 shots rapid fire sitting, 200 yards, 20 shots rapid fire prone 300 yards, 20 shots slow fire prone 600 yards. This match is open to the public. Firing will begin at 9:00 am, competitors must arrive no later than 8:30 to the Talladega Marksmanship Park Club House for orientation. This is a NRA registered tournament. The NRA classification system will be used and appropriate NRA points will be given. Appropriate championship awards will be given to Alabama residents only.
About Talladega:
The new CMP Talladega Marksmanship Park is one of the most advanced outdoor facilities in the world – unlike any other. Boasting the latest technological advances in the realm of marksmanship, it is a must-see destination for firearm supporters across the country. The park is open to the public, year round, offering many opportunities to marksmen of all ages.
Each firing point at the 500-acre facility is equipped with a state-of-the-art, KTS electronic target and scoring monitor. Located beside the shooter on the firing line, each monitor allows the competitor to see what he or she fired in a matter of seconds.
For those not competing but wanting to stay in the action, monitors within the 13,000 square feet of the Garand Clubhouse display scores from the matches held outside, as they are being fired – creating a more spectator-friendly atmosphere for all visitors.