Williams, Grace Overtake Rifle and Pistol Events as Entries Double at 2017 New England Games
October 17, 2017
Civilian Marksmanship Program
▸
The First Shot
▸
Williams, Grace Overtake Rifle and Pistol Events as Entries Double at 2017 New England Games
By Ashley Brugnone, CMP Writer
JERICHO, Vt. – Brian Williams, 43, of Granby, MA, followed up his record-setting Vintage Match showing at the 2017 National Matches by heading to the New England Games to sweep even more events – coming out on top of the Springfield, Vintage Military, Three Gun Aggregate and Four Gun Aggregate competitions.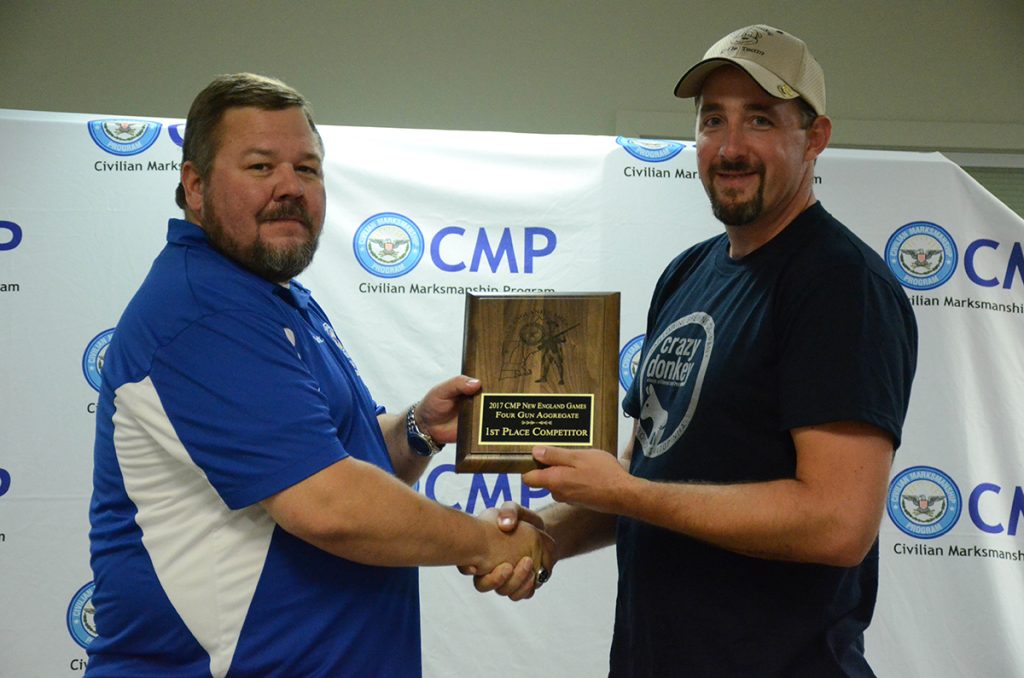 "I try not to set too high of expectations, but I'm definitely pleased with how I shot this year at the New England Games," he said. "My goal this year in Vermont was to win the Four Gun Aggregate – that's an award that I respect a great deal. It's hard enough to perform well in any one match, but to be able to put together four good matches with four different guns puts a shooter in a unique position, where one bad match with any given gun can take you out of contention."
Williams, a Massachusetts boy, also bragged on the location of the New England Games, saying, "That facility is so beautiful. I think it's definitely my favorite venue, and it doesn't hurt that it's relatively close to my home."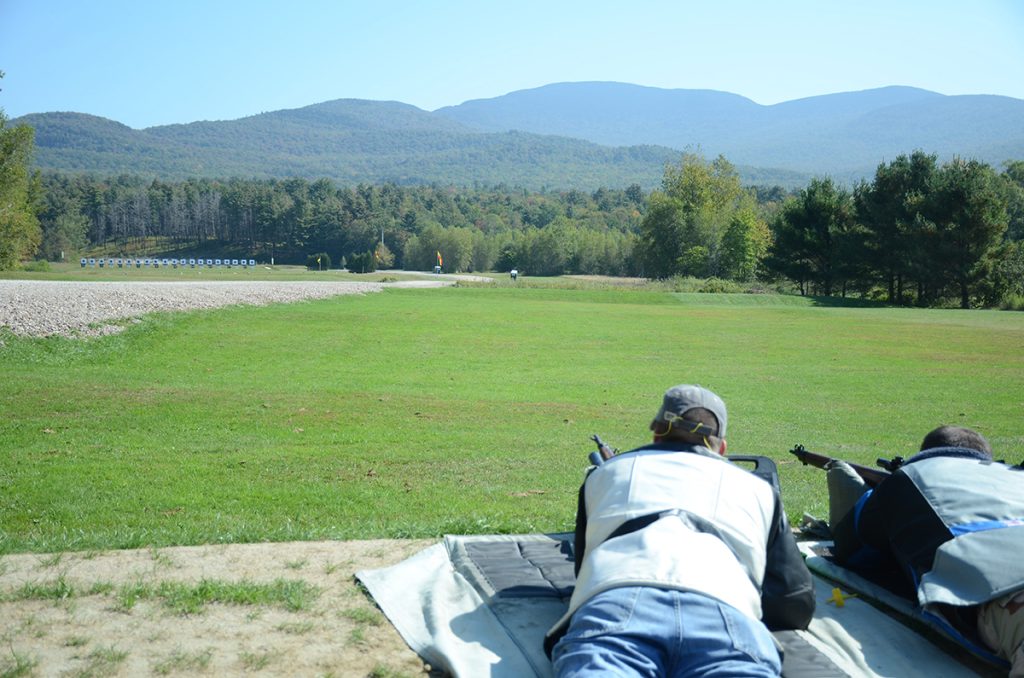 Combining service rifle and pistol matches with classic vintage rifle competition, the New England Games was held for the second year by the Civilian Marksmanship Program (CMP) as a Northeastern addition to its annual CMP Travel Games lineup. Hosted at the Camp Ethan Allen Training Site in Vermont, the late September setting gave jaw-dropping views of the transforming mountainside in front of the firing line.
Cascading over the pops of the powerful rifles were brighter pops of red, orange and gold hues from the trees in the distance. It was a spectacular backdrop to the growing event in New England – as the number of entries more than doubled from the previous inaugural year with over 600 in total.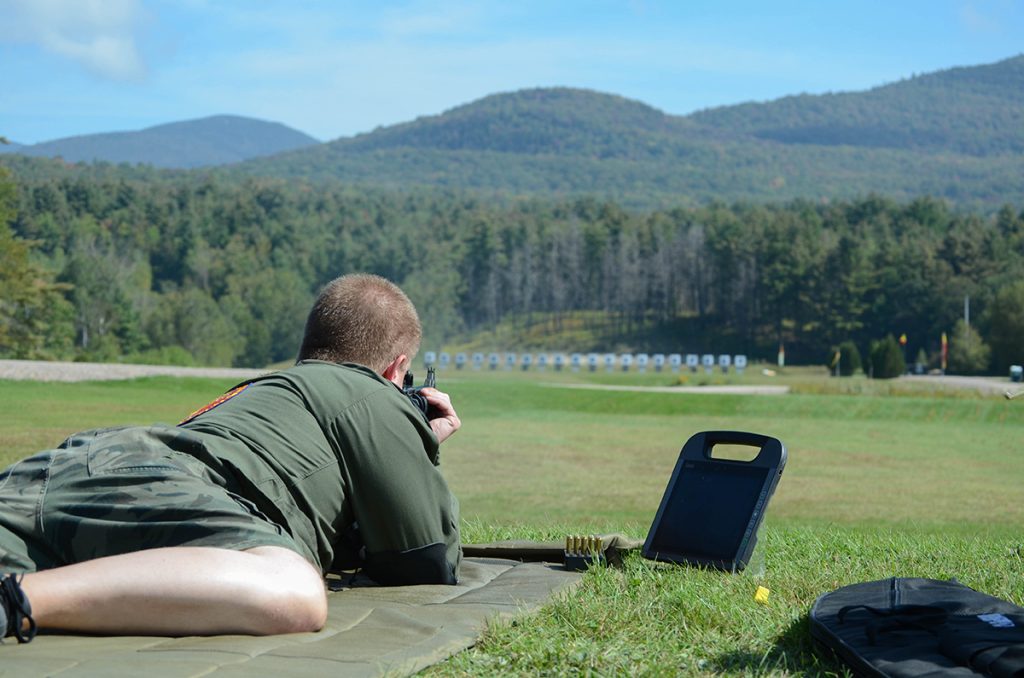 Featured this year at the New England Games were CMP's exclusive electronic targets – designed specifically for the organization by Kongsberg Technology Systems. The targets were used during every rifle event of the Games, drastically speeding up match times through prompt, accurate scoring and the elimination of pit duty and allowing more opportunities for guests to shoot and to explore the surrounding areas in Vermont.
"That was one of the biggest surprises here – the electronic scoring. I really think it's a neat aspect and actually allows shooting to move along at a more rapid pace," said Malcolm McIntyre, 48, of Penn Laird, VA, who fired in his first CMP event during the New England Games.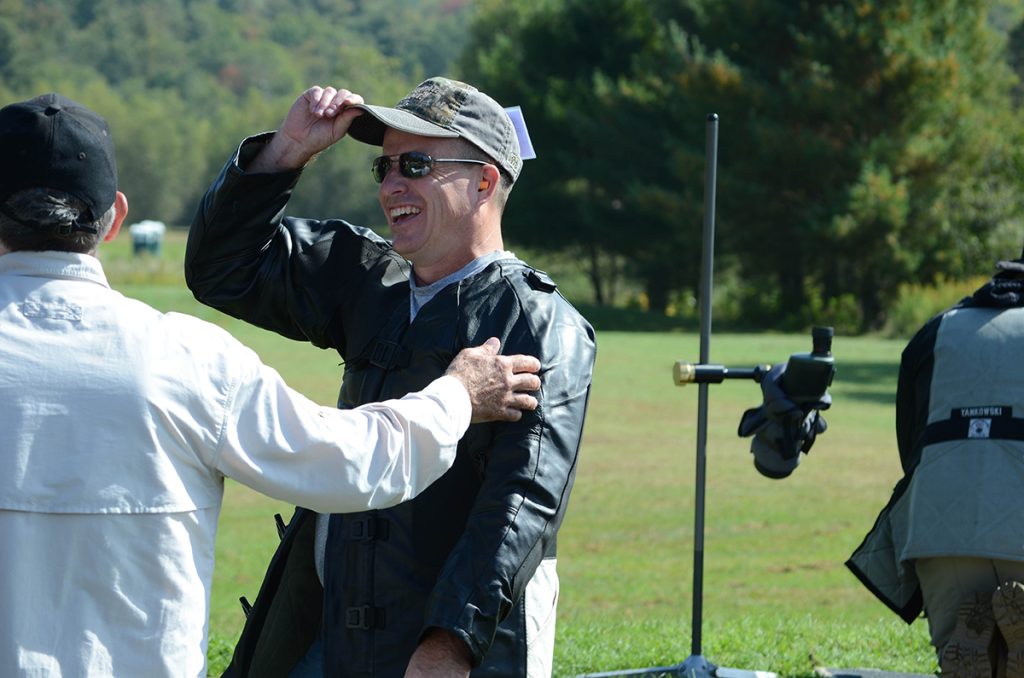 "I think it's an excellent idea. It'll involve younger and older shooters and will allow them to stay in competition longer. They won't have to go down and pull butts," he went on to say. "I thought it was extremely easy to use. In fact, I was surprised at the ease of use. To see your shot immediately allows you to adjust your gun, if you choose."
McIntyre, a Marine Corps coach and instructor for over 25 years, was intrigued to see the way technology has changed since his past shooting days. Coaxed into coming to Vermont with a small group of other Marines, his nerves set in as he took the firing line, but, overall, he was excited to be back to join in on the camaraderie that comes with attending marksmanship events.
"Persistence got me here," he said. "Beautiful setting at Ethan Allen Camp. Couldn't ask for better weather, better setting to do this event, so I hope that in the years to come, CMP will keep it here."
McIntyre also hopes to compete in other CMP events during the year and to return to the New England Games, maybe even bringing along his 16-year-old son, Trey – someone he believes will really enjoy seeing the electronic targets utilized on the line.
"I think it's a wonderful thing. Electronic scoring is definitely the wave of the future. If you all (the CMP) keep that up, it's definitely going to bring in more people."
He added, "I think CMP did a wonderful job, from lodging, to food, to the event itself, couldn't ask for more. Overall, I couldn't ask for a better event than what the CMP staff put on. That's awesome."
One of the instrumental forces in getting matches to the New England area was Bruce Reid, a long-time CMP competitor who passed before being able to see his dream realized. To honor his devotion, the Bruce D. Reid Memorial Aggregate award was created by the Vermont State Rifle and Pistol Association and is presented each year to the top competitor in the Carbine, Garand, Springfield and Vintage Military matches. Now, Reid's name will forever live on through the feats of other talented competitors.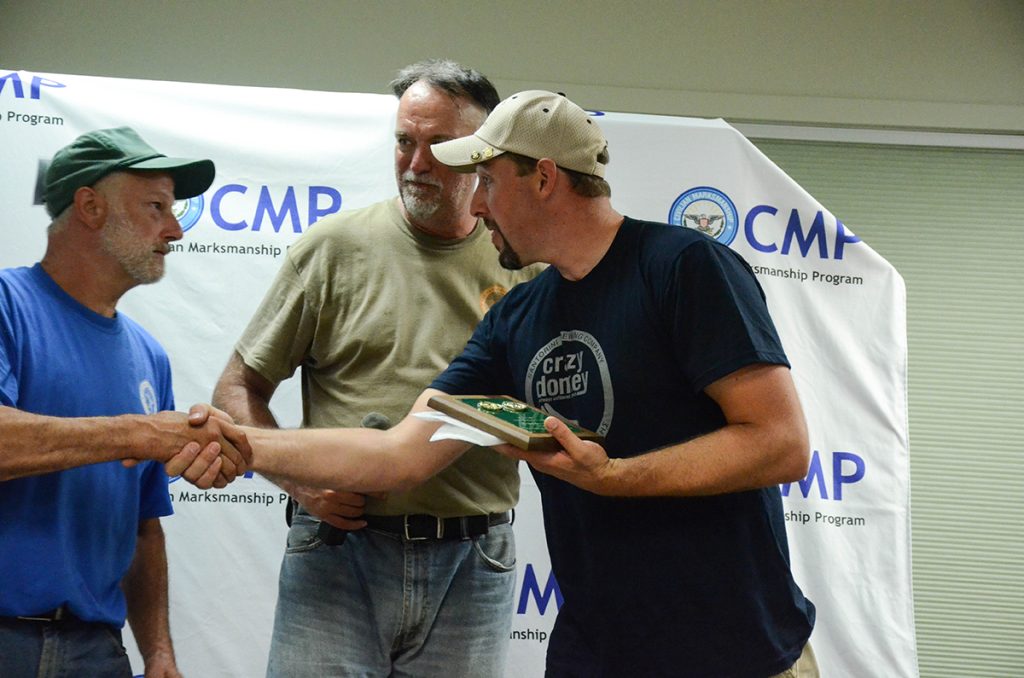 This year's Bruce D. Reid Memorial award recipient was, of course, Brian Williams, who accepted his plaque with true gratitude.
"That was a great accomplishment, and I'm glad to be a part of the legacy of a man that did so much to promote the shooting sports and help bring the CMP to Vermont," he said.
In other match results, winning the opening M16 EIC Rifle competition, held during the rifle Small Arms Firing School, was CMSgt Michael Grady, of the U.S. Air Force, with a score of 374-7x.
CMSgt Grady, who drove nearly four hours from the Boston area, says, as a military member, he's grateful for the CMP's new presence in New England, since it's so tough to make it to Camp Perry and other Games matches held around the country. After attending last year's event, he knew he wanted to make the same trip again this year.
"We had such a great time last year. We met so many nice people, the level of competition was excellent, so we said we're definitely coming back – because there aren't that many competitions in New England," he explained. "Very, very happy about CMP Games coming up here."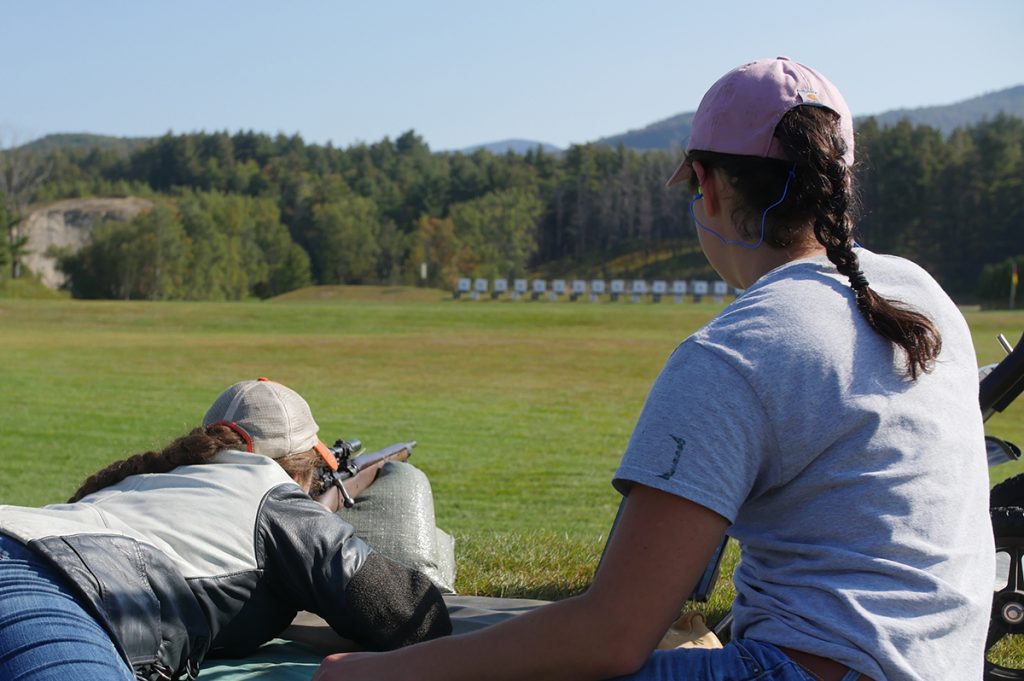 Clinching the Garand Match at the New England Games was Mike Speary, 43, of Cortland, NY, with a score of 289-3x. Speary was also the overall winner of the T-Class in the Rimfire Sporter competition.
Also winning in the Rimfire Sporter event was MAJ Lynette Farnham, 45, of the Army Reserve National Guard, with a score of 563-10x. Bill Ellis, 52, of Langley, England, came across the pond to top the Tactical Class, with a score of 572-17x.
Shawn Handy, 38, of Williston, VT, finished up the Garand-Springfield-Military rifle award winners as the highest Modern Military competitor, with his score of 293-8x – only one point above the second place individual. Like the Modern Military event, Handy also overtook the EIC Rifle Match, again by only one point, with a score of 481-16x
CDR Thomas Lowry, 54, of the U.S. Navy, claimed the Carbine Match – firing a score of 366-3x.
Winning the Vintage Sniper team match in the manual category was Hard Leg #2, James Horton and Jack Chomko, with a score of 386-14x. PA-West Virginia, Randy Ent and Daniel Fiora, led the semi-auto class, with a combined score of 337-2x.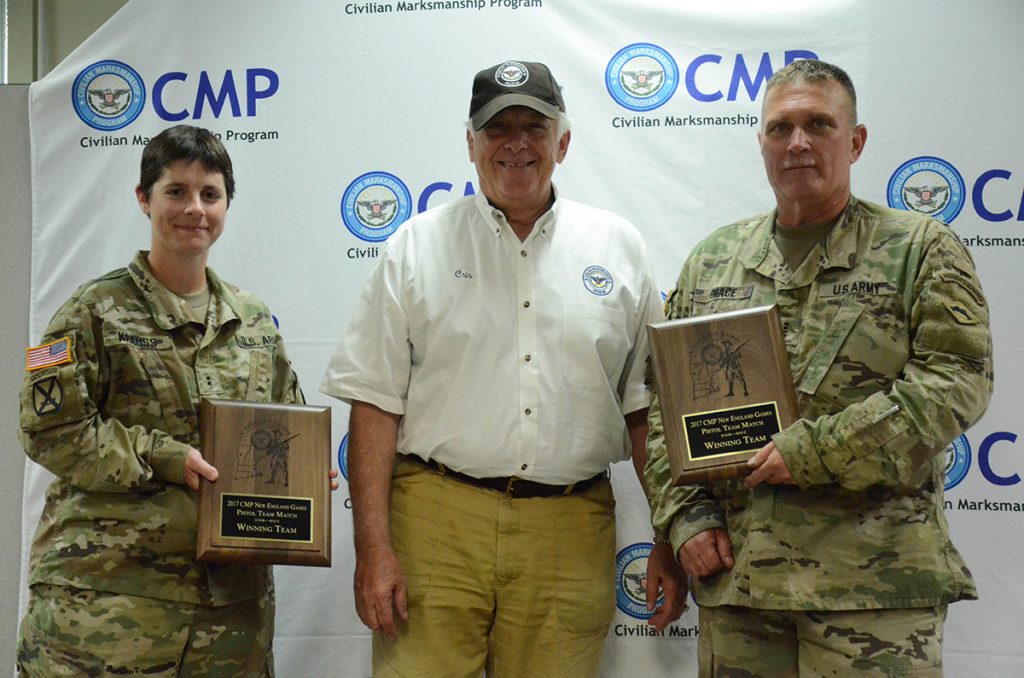 In pistol action, CW4 Lawrence Grace, 56, of the Army Reserve National Guard, dominated the schedule – winning overall in the As-Issued 1911, 40 Shot and Pistol EIC matches. CW4 Grace and his shooting partner, CW2 Cara Krauss, joined forces to win the Pistol Team Match with a score of 522-11x.
Following close behind in second place of each match was GM1 Charlie Petrotto, 33, of the U.S. Coast Guard, who managed to secure wins of his own in the Military & Police Service Pistol and .22 Rimfire Pistol EIC matches.
The CMP extends a sincere "thank you" to the Vermont National Guard, Vermont State Rifle and Pistol Association and the Burlington Rifle and Pistol Club for being gracious hosts and generous partners in the New England Games event – everything was an overwhelming success.
We hope to see everyone next year!
For a complete list of results, visit http://ct.thecmp.org/app/v1/index.php?do=match&task=edit&match=15010&tab=results.
Photos of the event can be found on the CMP Zenfolio page, where they can be downloaded for free: http://cmp1.zenfolio.com/f8781745.