Williams and Betzold Nearly Sweep Games Events at 2019 National Rifle Matches
August 28, 2019
Civilian Marksmanship Program
▸
The First Shot
▸
Williams and Betzold Nearly Sweep Games Events at 2019 National Rifle Matches
By Ashley Brugnone, CMP Writer
CAMP PERRY, Ohio – Victor Betzold, 64, of Bel Air, MD, and Brian Williams, 45, of Granby, MA, were nearly unparalleled during the Civilian Marksmanship Program's (CMP) Rifle Games Matches – collectively overtaking seven of the 10 challenging events on the schedule.
Betzold and Williams have been sharing the firing line as well as the top of the results list for several years now. The two are regulars at CMP vintage rifle matches and have made themselves known as both seasoned competitors and sought-after opponents.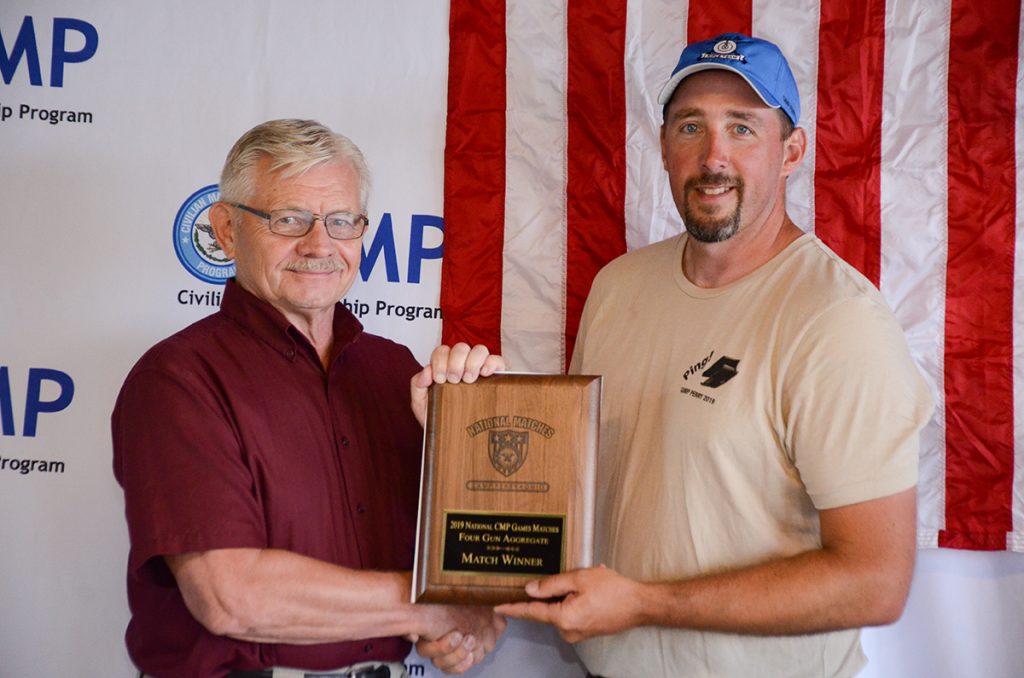 "There's always three or four guys, and it's the same three or four guys that we chase," said Williams. "It's a good time. You become pretty good friends with those guys. I chased Victor for a long time – we've created a good relationship."
Betzold returns the feelings for Williams as a competitor, saying, "Oh, what a challenge. He's just a phenomenal standing shot, and that's really where the games are won and lost – in standing. Any time I can challenge Brian, that's a real big deal."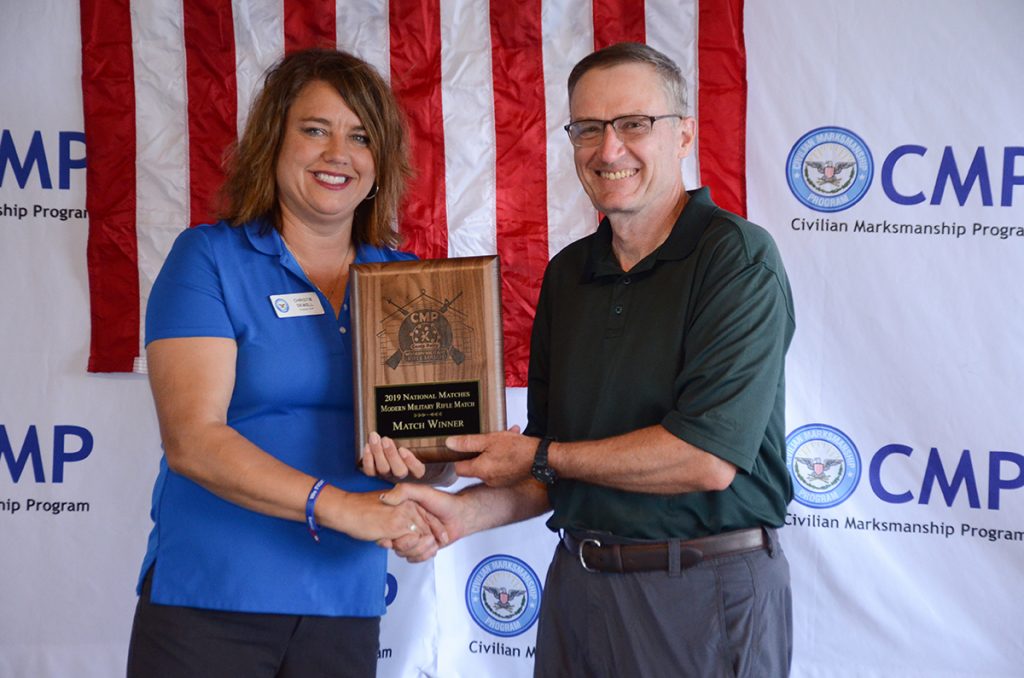 Williams, sticking close to Betzold, led in the John C. Garand Match with a score of 291-9x, along with overtaking the 3- and 4-Gun Aggregates during the 2019 National Matches. Williams has proven himself a talented marksman with the vintage rifles, having gone unbeaten in the 4-Gun Aggregate (winning each year the competition has been in existence).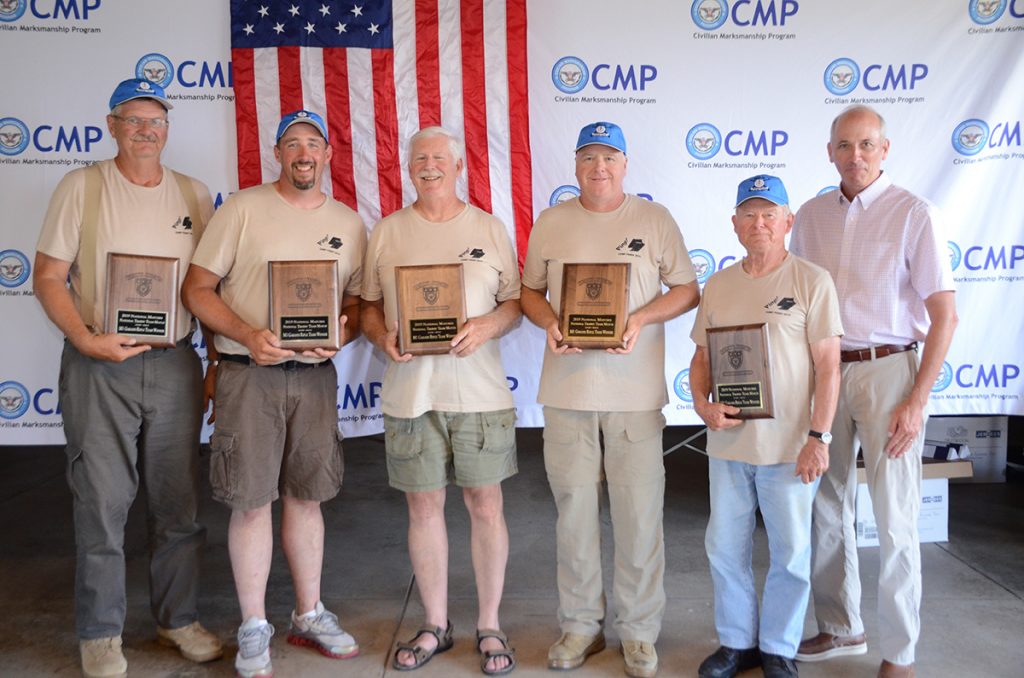 "My goal for the last three years has always been the 4-Gun Aggregate, so in order to do that you've got to do well in a couple of different things. That's always the focus," Williams said. "This year, I just got lucky. I got lucky with the Garand and ended up scoring a little better than everybody else. But, it's keeping those high scores across the whole week – one or two shots can take you out of it. It's difficult."
Betzold, a multi-time past winner of the 3-Gun Aggregate and always on Williams's heels during Games events, was the overall winner of M1 Carbine (377-15x, only beating Williams in x-count), Modern Military (by one "x," with a score of 293-12x) and the Vintage Military matches (292-12x, two points above Williams, who currently held the National Record in the event).
Betzold stayed humble about surpassing Williams in a few events, remarking on his win margins by smiling and saying, "Ehhh, not by much."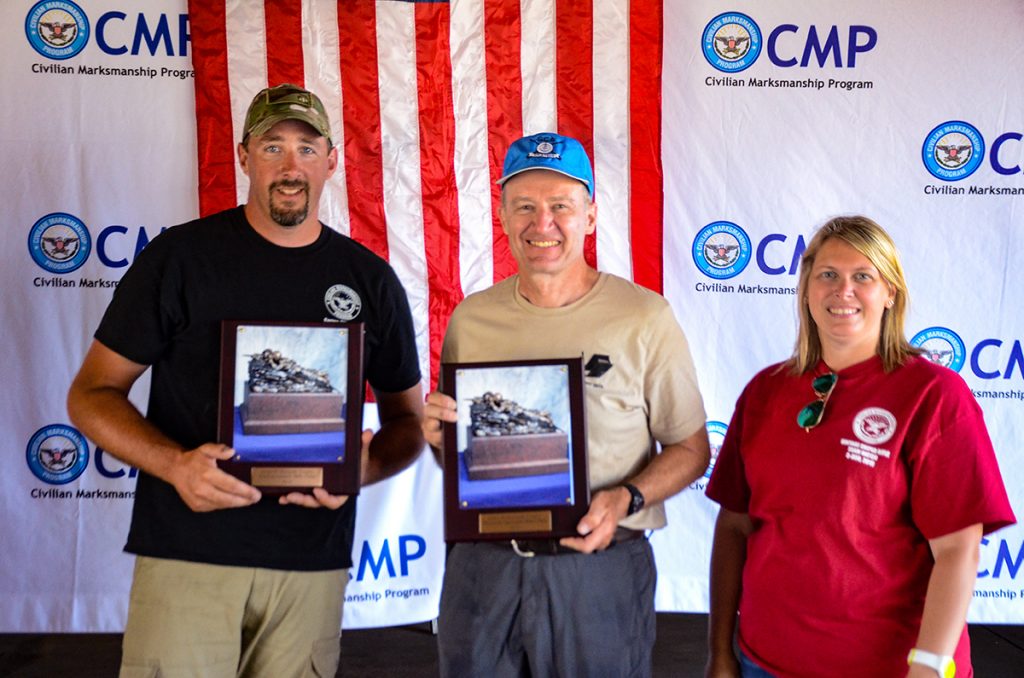 Eventually, Williams and Betzold paired up during the Matches in the Service Rifle Hearst Doubles event and created a super team for the Vintage Sniper event. The duo earned the overall win in the Semi-Auto class with a score of 382-9x – Williams using a 1903 and Betzold a 1941 Springfield.
"We enjoy each other's company," Betzold said, warmly.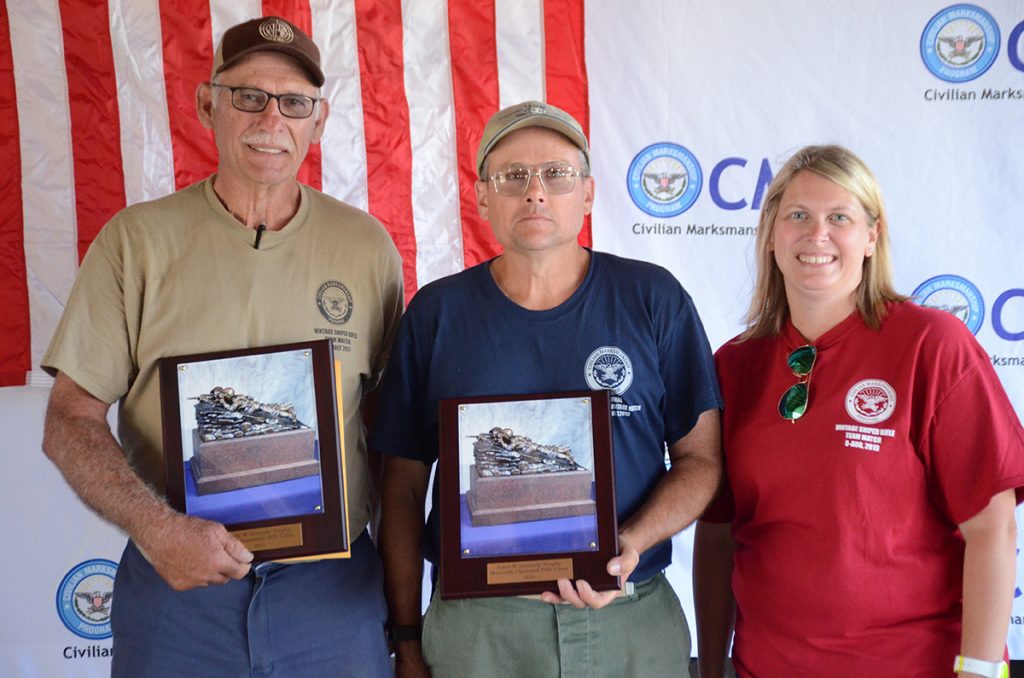 Also using a 1941 Springfield was Glendale Rutherford, 67, of Tallapoosa, GA, who was the High Individual in the Sniper Match – cleaning both slow-fire prone stages with a combined score of 200-6x. Rutherford and his teammate, Doug Armstrong, 59, of Lexington, NC, topped the Manual class with a score of 395-15x. The men have won the event multiple times together in the past and currently hold the Vintage Sniper National Record (398-23x) that they set back in 2014, which they had previously set before in 2012.
Armstrong was also the winner of the Roosevelt Commemorative Match, with a score of 289-4x.
Keith Schachle, 61, of Brooks, GA, was the overall competitor of the Springfield Match, with a score of 293-6x, just one point above Brian Williams. Schachle was also the High Senior of the Modern Military Match and the Vintage Military event.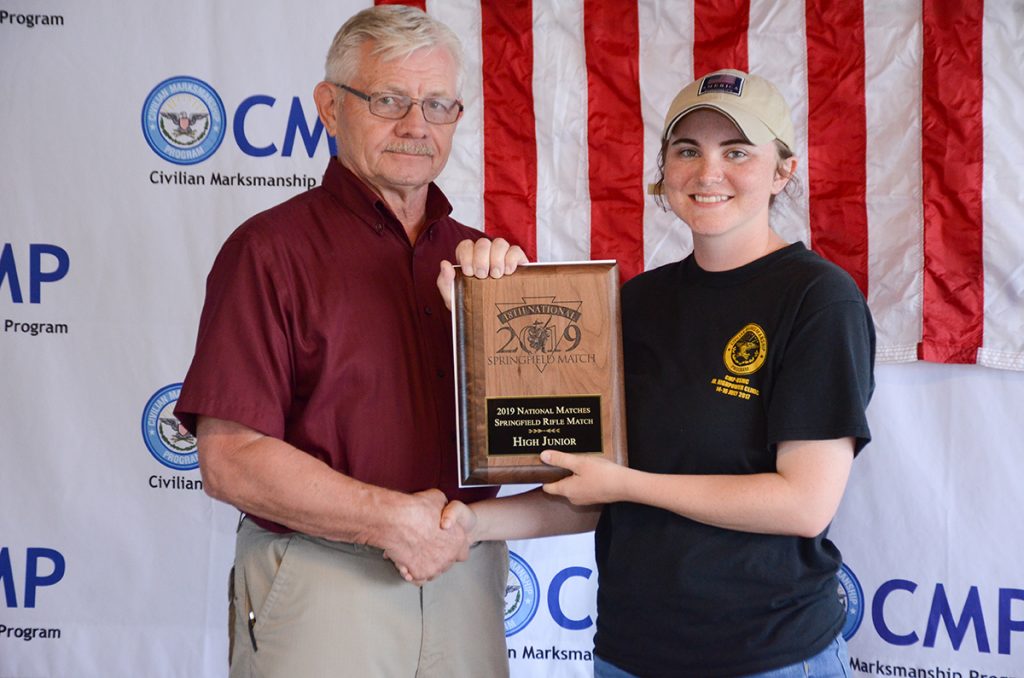 Others earning "High" honors were Meghann Beaver, 20, of Indianapolis, IN, who nabbed the High Woman title in the Modern Military Match, along with High Junior titles in the Springfield and Roosevelt Commemorative matches. Her brother, Andrew, 17, was the High Junior of the Modern Military Match.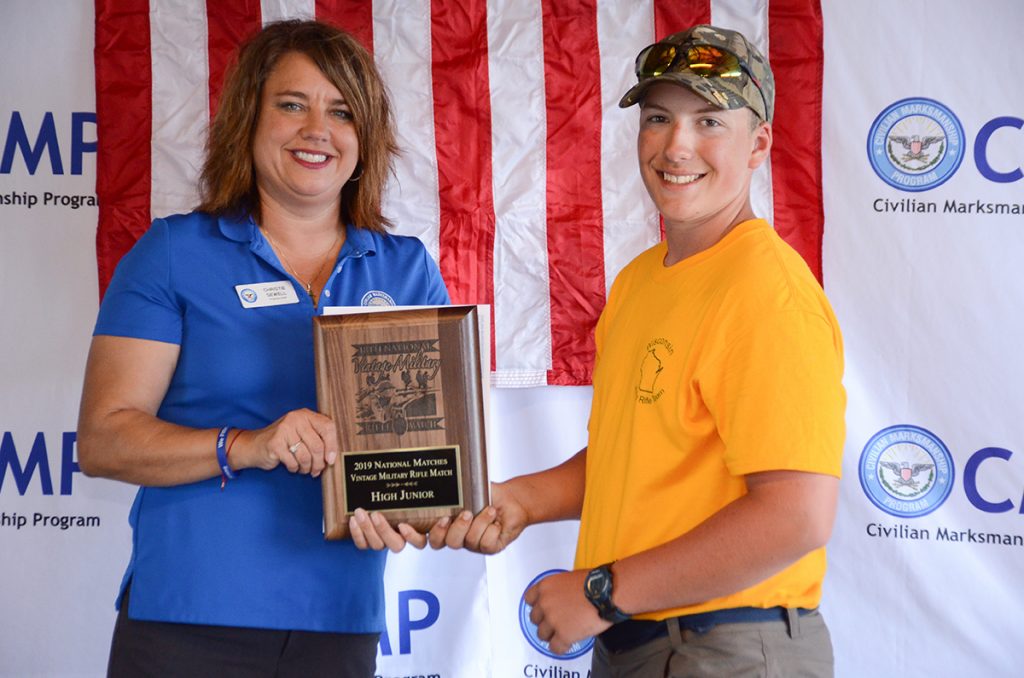 Thomas McGowan, 14, of Hortonville, WI, coming off of successes in the Trophy Rifle Matches, was the High Junior of the Vintage Military, Garand and Springfield M1A events.
More honorable mentions include:
Carbine:
High Junior: Connor Stout, 17, of Waterford, MI
High Woman: Cindy Bailey, 47, of North Ridgeville, OH
High Senior: Daniel Fiora, 65, of Charleston, WV
High Grand Senior: Danny Jackson, 71, of Oakland, MD
Roosevelt Commemorative Match:
High Senior: John Triol, 62, of Jeffersonville, PA
Garand:
High Woman: Cindy Dunfee, 41, of Oak Harbor, OH
High Senior: Jerry Hixenbaugh, 59, of Massillon, OH
High Grand Senior: Raymond Diaz, 72, of Austin, TX
Springfield:
High Woman: Kerri Lewis, 43, of Middletown, RI
High Senior: Harold Mauck. 66, of Hutchinson, KS
High Grand Senior: Robert McKenzie, 70, of Vineland, NJ
Vintage Military:
High Woman: CPT Jennifer Creasy, 40, of Montgomery, AL
High Grand Senior: Robert McKenzie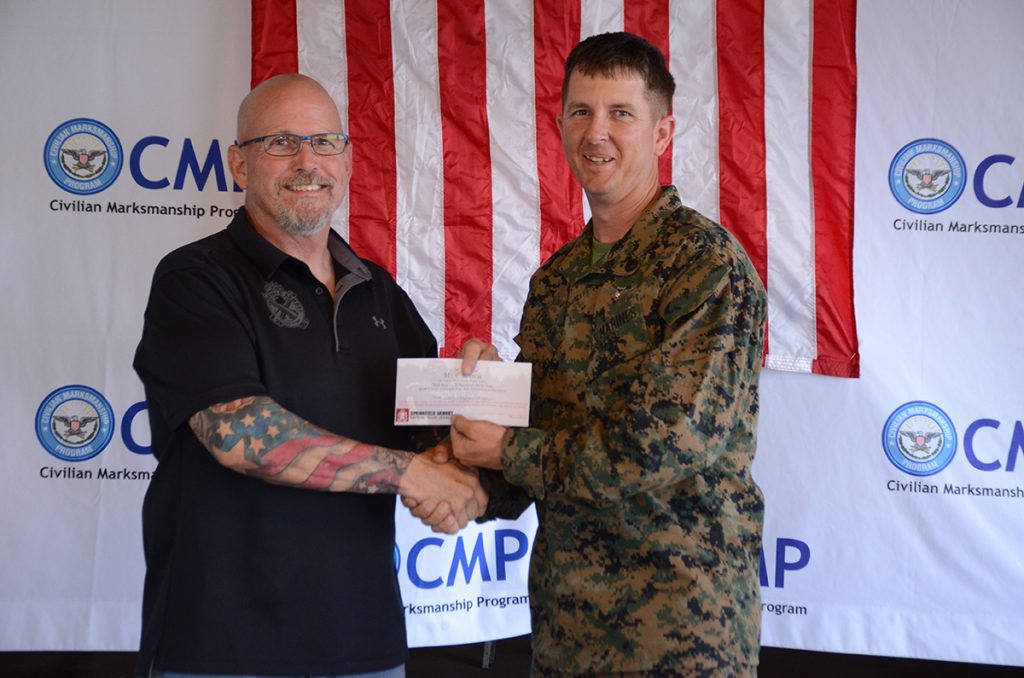 Springfield M1A Results:
Overall, High Service Member: SSgt Stephen Ferguson, 37, of Stafford, VA, score of 873-29x
High Civilian: Daniel Duitsman, 44, of Fredericksburg, VA
High Woman: Hanne Brantner, 49, of Waynesboro, PA
High Senior: William Walter, 61, of Ft. Walton Beach, FL
High Grand Senior: Danny Gray, 70, of Manassas, VA
For a complete list of results of the National Trophy Rifle events, visit the CMP Competition Tracker page at https://ct.thecmp.org/app/v1/index.php?do=match&task=edit&match=18060&tab=results.
Photos of the events can be found on the CMP's Zenfolio page: https://cmp1.zenfolio.com/f1003134809.
About the National Matches:
The annual event, held at the Camp Perry National Guard Training Base since 1907, is a four-week long mix of original CMP matches along with traditional pistol, smallbore, highpower rifle and long range rifle competitions and clinics. Off the firing line, Commercial Row features dozens of vendors suited to an assortment of marksmanship material needs. Whether competing for the first time, a seasoned athlete or simply coming to see what's happening, the National Matches has something for everyone.
About Camp Perry:
Camp Perry is located six miles west of Port Clinton. For those looking for lodging, housing is available on base on a first-come, first-serve basis, and a campground is also located onsite. Other area accommodations are only a short drive away and only minutes to beautiful Lake Erie.