What It's Like to Shoot in College – And How to Get There Part 3 Jonathan Hammond, Head Coach, West Virginia University
May 11, 2016
Civilian Marksmanship Program
▸
The First Shot
▸
What It's Like to Shoot in College – And How to Get There Part 3 Jonathan Hammond, Head Coach, West Virginia University
For some juniors, moving their shooting careers from high school into college is an indispensable goal. It's the chance to compete at an even higher level of competition, while also gaining a worthwhile and valuable education. But a lot of juniors, coaches and parents have absolutely no idea where to start in getting their athletes onto college teams – or what to expect when they get there.
The following series highlights questions asked of current college student athletes and coaches – some of whom are alumni of the Civilian Marksmanship Program. The series will cover how juniors can gain college attention, what they can expect in college as both athletes and students, as well as the sort of qualities coaches look for in their athletes – answered by those with first-hand experience.
Jonathan Hammond, Head Coach, West Virginia University:
 1) How long have you coached your current team? Have you coached anywhere else?
"This is the 10th year I have coached the team, and this is the only coaching job I have had."
What have been some of your successes while coaching?
5 NCAA Championships
7 GARC conference championships in a row
7 individual NCAA Championships
at least 4 current and former team members will be competing at the Rio Olympics this summer
approaching 100 All American honors and
most importantly, seeing almost every team member receive their degree!
2) What is your background in shooting?
"I started the sport around 1990 at a small school in Scotland. I began to represent Scotland and Great Britain at different age levels as a teenager, highlighted by winning the World Junior Championship in prone at age 17. I have competed internationally for close to 20 years now, including the 2008 and 2012 Olympics, both while I have been coaching the WVU team. Shooting brought me to the USA on a scholarship to WVU and the last 14 years have been an amazing experience!"
3) What do you look for in shooters when recruiting?
"We look for a lot of characteristics. Someone's drive and commitment to the sport is very important, as it leads to their motivation and work ethic. We have created a team atmosphere around hard work and commitment to be the best you can be. You have to love the sport in order to put the amount of hours in needed to do that.
Strong academics are also important, mainly so they can survive the time demands of being a college athlete, but also so they are not overwhelmed with their studies.  However, skills such as discipline and goal setting, and being somewhat of a problem solver, are very important in our sport and they tend to come with students with strong academics."
4) What steps should juniors take if they are thinking of shooting at the college level?
"There are many steps they can take. Firstly, train hard! Get as much range time as possible and then find a way to train at home also.
Take care of school work, study hard and get good grades and prepare for the tests.  GPA and test scores are what gets you accepted to college, but they are also how academic scholarships are awarded. Which incidentally is often a lot more than rifle scholarships.
Juniors also need to start contacting college coaches. Coaches will not always come to them, we don't know every recruit and junior shooter, nor do we know if they have an interest in our school. Juniors should create resumes, and from there, email or send their info to coaches expressing an interest. From there, the recruiting process will often begin.
On a shooting side, compete in many different competitions. Coaches need to see scores and progress, so shooting many matches, around the country, gives the juniors good experience, but also shows commitment to the sport."
5) What do you feel they should look for in a school or coach to make sure it's the right fit for them?
"That's a hard question, and depends a lot on the individual and what the want out of their college experience. They should look for a school that provides them the academic programs they are interested in. Their career will more likely be based on their degree and not their shooting accomplishments. As for a coach and shooting program, finding somewhere their goals can be met, and somewhere that shares the same values – often that will provide the best fit."
6) Is there anything you feel juniors overlook when they think about collegiate shooting?
"Probably the effort that is required and the time commitment of being an NCAA athlete.  While there are great rewards, there is a lot of sacrifice and hard work that comes before that."
7) Smallbore is sometimes a discipline that not many juniors have experience with. Do you ever have any challenges with student athletes when they first begin to shoot smallbore? How do you go about introducing it and implementing it into their practice/competition routines?
"It would be very rare for us to have a team member with very little smallbore experience. In NCAA shooting, you shoot both smallbore and air rifle, so someone with little to no experience in either event will be at a huge disadvantage in the recruiting process. If someone did have a little less experience and was on our team, there wouldn't really be an introduction period – it would be full on training!"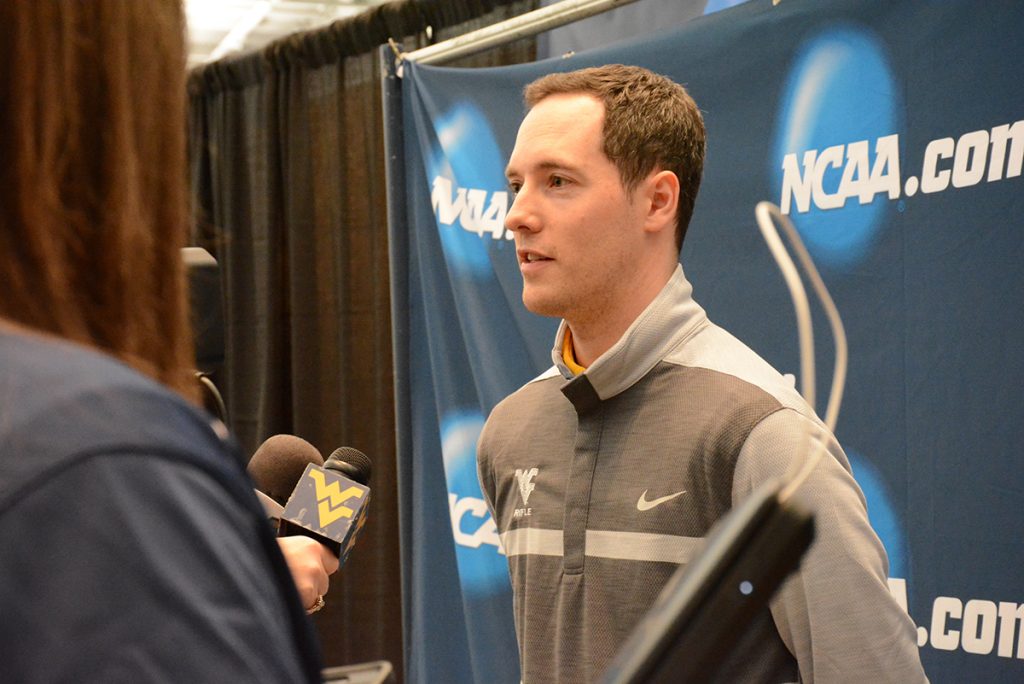 The 2015-2016 Season…
 1) What expectations did you have for your team going into the season this year?
"My expectations were all process and not outcome based. I expected them to work hard every single day, support each other as a team each day, and commit to their training plans and goals. If they worked hard on being better each day, with the quality of team members we had, I knew we would have good results."
2) Your team just won its FOURTH consecutive NCAA National Championship. Wow! What do you think sets your team apart from the rest? What do you do for your athletes to help them maintain that tradition of excellence?
"That's hard to answer as I simply don't know what other teams do! We are fortunate to be able to recruit some excellent students, with good shooting skills, good academics and strong work ethics. After that, I believe we provide them all the resources and a good environment for them to flourish. However, it's on them how much they commit to that and utilize the resources made available to them. I know they work incredibly hard, and from a staff perspective, we work hard to keep them focused on getting better each and every year and not dwelling on previous success."
3) Your freshman, Ginny Thrasher, won both the smallbore and air rifle competitions. If you could, speak a little about Ginny. What did you think about her joining the WVU team, and how do you feel about her sensational performance at NCAA's? Her future?
"The timing of this is excellent as she has just returned from the U.S. Olympic trials after winning a spot on the 2016 USA Olympic team – an incredible accomplishment!
Ginny came to many of our junior camps, so we knew the type of person we were getting. I was very excited for her to join the team, as I knew she was very motivated to improve and would work really hard to make that happen. All we had to do as a staff is steer her in the right direction and give her the tools to be successful, and she did the rest.
Her performance at NCAAs was just excellent, for anyone, never mind a freshman. She has an excellent approach to the sport and a very positive attitude, which allows her to block out all distractions and just focus on the things she needs to. She is not afraid of the outcome, good or bad, which allows her to focus on just shooting and doing her best, each and every time.
Ginny's immediate future will be a busy summer gearing up to the Rio Olympics! This will include some other international matches and training camps, and I'm certain she will learn a huge amount this summer. After that, she will be back at WVU for her sophomore year, majoring in Bio Medical Engineering, so there will be a lot more hard work to come – but I know she is up for the challenge!"
4) What do you look forward to in the future of your coaching career?
"I look forward to many more successful years coaching the WVU team. But mostly I look forward to all the new and different students that I will be fortunate enough to coach and help guide on their college journey. Coaching in NCAA brings so much satisfaction, as you are part of their journey through college. Starting from the recruiting process when they are still in high school, all the way through to them graduating, starting jobs and having families. It's so much more than just helping them become a better rifle shooter, and that is definitely what I look forward to the most for the rest of my career."