What It's Like to Shoot in College – And How to Get There Part 2 Ashley MacAllister, Head Coach, The University of Nebraska
April 27, 2016
Civilian Marksmanship Program
▸
The First Shot
▸
What It's Like to Shoot in College – And How to Get There Part 2 Ashley MacAllister, Head Coach, The University of Nebraska
For some juniors, moving their shooting careers from high school into college is an indispensable goal. It's the chance to compete at an even higher level of competition, while also gaining a worthwhile and valuable education. But a lot of juniors, coaches and parents have absolutely no idea where to start in getting their athletes onto college teams – or what to expect when they get there.
The following series highlights questions asked of current college student athletes and coaches – some of whom are alumni of the Civilian Marksmanship Program. The series will cover how juniors can gain college attention, what they can expect in college as both athletes and students, as well as the sort of qualities coaches look for in their athletes – answered by those with first-hand experience.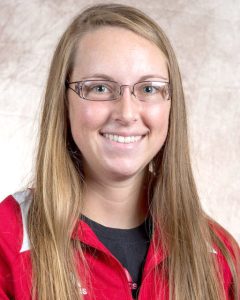 Ashley MacAllister, Head Coach, The University of Nebraska
 1) How long have you coached your current team? Have you coached anywhere else?
"I've coached Nebraksa for 2 years. I was at the University of Kentucky for 1 year and Murray State University as a GA for 1 year."
2) What have been some of your successes while coaching?
Nebraska
4th place team finish at NCAAs 2015
3rd in Air Rifle Team finish NCAAs 2015
4th place finish in smallbore team finish 2015
Rachel Martin individual National Championship Smallbore
Kentucky
3rd Place team finish at NCAAs 2014
Individual National Champion Air Rifle, Connor Davis
3) What is your background in shooting?
"I have shot competitively since I was 12. I started in BB gun competitions, then transitioned to Precision Rifle when I was 14. I also shot competitive Archery. I shot at Murray State University in College."
4) What do you look for in shooters when recruiting?
"Someone who has a good shooting IQ. Someone who is able to problem solve on their own without having to rely on coaches all the time. Coaches are a great resource for all shooters, and I want them to be able to rely on our knowledge, but while they are shooting they need to be able to make adjustments without having to confer with a coach in the heat of the moment.
I look for someone who is going to be a team player. We are a team, and selfishness takes away from where we are headed. It is very important to find someone who is going to fit in with the culture of our team. Someone who is going to be coachable and get along with both myself and my assistant. When there is a bond between coach and shooter, it is easier to give the shooter what they need to succeed.
I also look for coachability. Someone who is going to be able to sit back and listen. When we listen to those around, us we learn. Those who are around us often may have more experience in areas that we need improvement. We can learn a lot from our team."
5) What steps should juniors take if they are thinking of shooting at the college level?
"Unlike other sports that have a database for athletes, we don't. It is important to let coaches know that you are interested in shooting in college. Don't be afraid to email them and let them know a little about you. We often have a hard time determining who is what grade level in school, so be sure that you tell a coach what year you are.
Unfortunately, everything we do is based upon NCAA recruiting rules, so we often don't contact people for fear of violating rules. If this information is given up front, then we are much more willing to respond and work through the process.
I would encourage everyone to shoot high-level matches. This allows college coaches to see you in action. It also puts more pressure on you than local matches. We like to know what contribution you are going to be able to make to the team based upon past experiences."
6) What do you feel they should look for in a school or coach to make sure it's the right fit for them?
"Look at the team. While you are in college, you will spend a lot of time with the individuals that are on your team. It is important that you fit the culture of the team
Be sure you are comfortable with the coaches. These are the individuals that will influence the next 4 years of your life. It is also important that the academics of the school meets your goals.
In reality, 1 percent of all student-athletes 'go pro.' So have a plan for after college if you aren't in the 1 percent that will continue to shoot."
7) Is there anything you feel juniors overlook when they think about collegiate shooting?
"Collegiate shooting is a huge commitment. Often, it is more of a commitment than they have ever experienced in their life up to that point.
All incoming freshmen learn a new level of work when they come to campus. This is all stemmed by how well they use their time. It is very important once you get to college that you properly manage your time in order to accommodate everything. Not only do classes become harder, but you have other commitments. You are no longer going to class from 8-3 everyday. Depending on your schedule, you may go to class longer, then you have to fit in workouts, practice, study hall.
The great thing is that college provides you with the resources needed to be successful, but students often feel like they do not get any down time. Being a student athlete is hard – it isn't as glamourous as TV makes it out to be."
8) Smallbore is sometimes a discipline that not many juniors have experience with. Do you ever have any challenges with student athletes when they first begin to shoot smallbore? How do you go about introducing it and implementing it into their practice/competition routines?
"The reality is in college we need 2-gun shooters. I can only take 5 to NCAAs at the end of the year, and I need them to be able to shoot both guns.
We do have individuals who come in with little to no experience in smallbore. The hardest part about that is the learning curve. While we are spending a year trying to get them to where they need to be, they may or may not be traveling with the team. This can be a hard transition for many athletes. The idea of little fish in a big pond sometimes makes it very difficult mentally when freshmen are used to being the big fish in a little pond.
We train Air Rifle and Smallbore equally, so it wouldn't be weird for the first couple of weeks of training to only spend time in smallbore with those individuals who have little to no experience. We would work everyday to build good positions, and once we are able to get to a point where that individual can replicate the position, we would move on.
Quality positions are the most important part of shooting. Scores will come later if you have a solid foundation. This thought is often hard for shooters to comprehend. Patience is hard for any athlete.
The best thing a new shooter can do when learning a new gun or position is to dry fire. Live rounds are fun, but if you are trying to build muscle memory and really focus on perfecting what you are doing/changing, then dry firing a lot is necessary."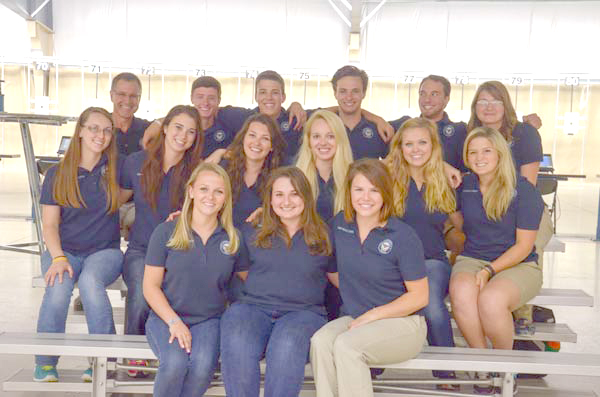 Past involvement with the CMP:

1) How long were you involved with the CMP Summer Camps? Why did you become involved?
"I have been involved for 6 years with CMP Summer camps. I worked every year in college except one and have continued to help after college.
I got involved initially because I had heard about the camps from some of my teammates that had worked them. It sounded like fun, so I thought I would try it out.
Every year I came back to work for the people I worked with – for the kids I helped. When you enjoy what you do and the people you work with, work becomes fun. I always loved getting up every day to go work camps."
2) Do you feel that working the Summer Camps helped prepare you for coaching? If so, how?
"Summer camps prepared me for being a coach, but it also helped me as a shooter. My first summer, I encountered some stubborn shooters who didn't like to listen, and it really put my own coach ability into perspective. I vowed from then on to not give my coach a hard time, to listen more and talk less.
It changed how I approached my own shooting and ultimately allowed me to learn more. Any time you are in a position to have to verbalize what you know, it makes you look at the big picture. Shooters often get caught in tunnel vision and don't know how to look at the big picture.
Getting caught up in how things should be done is also a problem. Sometimes you have to be creative in how you talk, approach things or handle situations. I have seen a ton a personal growth happen during summer camps – not only for the campers, but for the counselors."
3) What do you look forward to in the future of your coaching career?
"I look forward to watching my athletes grow every year. I find myself amazed what students learn about life and shooting. They relate in so many ways. I hope that everything I do every day helps their personal growth."