Virginia Juniors Make Challenging Transition From Air Rifle to Highpower
September 1, 2014
Civilian Marksmanship Program
▸
The First Shot
▸
Virginia Juniors Make Challenging Transition From Air Rifle to Highpower
By Ashley Brugnone, CMP Writer
For a group of juniors from Virginia, a routine outing left them thinking outside of the box, or rather, outside of the air range. With open minds and a fearless leader, they stepped outside and into the unknown – the domain of highpower.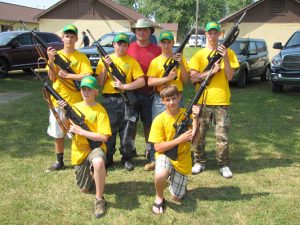 Maj. Mike Darnell is the junior highpower program director for the Virginia Shooting Sports Association (VSSA). He began as the air rifle coach for the Brooke Point High School Navy Junior Reserve Officer Training Corps (NJROTC) in Stafford, VA, before a trip to the United States Marine Corps base in Quantico, VA, with four of his shooters for a community service project opened an entirely new marksmanship perspective.
The team traveled to the base to help with hospitality aspects of the Remember the Brave Match – filling water, pulling targets and other small tasks. While there, they took notice of the service rifles the competitors were firing and quickly became intrigued, asking their coach how they could get involved in the world of highpower.
"It peaked their interests a bit," said Darnell. "The ones that wanted to do it, they didn't even test the waters. They just jumped. They were encouraged by a lot of the other shooters they saw at that first match, and the community was very receptive to them."
From there, the VSSA loaned the team four rifles within a week. Within the month, Darnell packed up his group of shooters to participate in a junior highpower clinic at Camp Butner, NC. Despite the sweltering days of 100-degree heat, the kids still found themselves hooked to their new venture.
"They really enjoyed it, even though it was in brutal conditions – very hot," he explained. "A couple of them even suffered the effects of it, and they still wanted to come back and shoot again."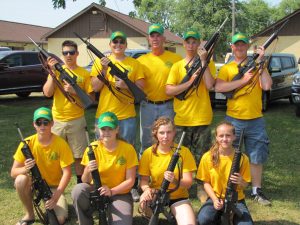 Fortunate enough to be so close to Quantico, the group decided to take advantage of the facilities. The Quantico Shooting Club soon began to support the team with scheduling time in the indoor range for dry firing and instruction.
"It's ideal," said Darnell. "Quantico has been fantastic. I can't really imagine trying to find another facility we could do all of this with. We're lucky to have them right next door."
The local American Legion Post #290 has also given the team additional support, offering a covered pavilion where the juniors can dry fire and perform maintenance.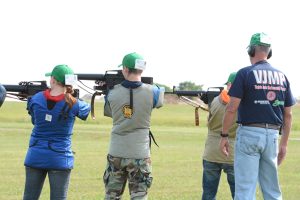 As the team began to find its structure, other area schools also wanted to join the club, including nearby Colonial Forge High School, Mountain View, Stafford and North Stafford. With its gained popularity, the team has now grown from its original four members to 20, with ages ranging from 12 to 19.
"I was surprised with how much interest there was," said Darnell. "We could've had more kids, but we ran out of coaches and equipment. We just couldn't support it, logistically. It kind of caught us off guard."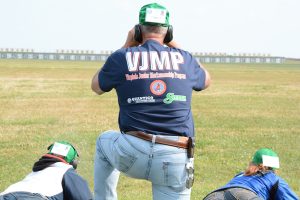 Gathering equipment for his shooters was one thing, but actually conveying the fundamentals of highpower shooting was another. After research and practice, Coach Darnell's team quickly found that though the basics are the same, there are certainly unique differences between air rifle and highpower – both mentally and physically.
"With air rifle, it was basically just position and patience. The mental discipline, sight alignment – those things are the same. There's a physical burden of hauling the gear up and down the line and being able to maintain your focus. It's a challenge," said Darnell.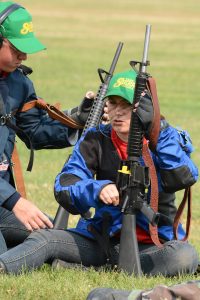 Anne Slota, 19, was one of the original four members who told their coach they wanted to make the transition into highpower. After giving the new rifle a try, she finds that her heart still lies within the air range, but highpower has become an enjoyable challenge.
"Air rifle is a lot more finicky, but if you figure it out then it's really easy to maneuver. Highpower is a lot harder," she said. "I'm a lot better at air rifle, but highpower is fun. There are a lot of nice people you meet."
Having personally made the switch from one discipline to another, Slota's advice to others thinking of doing the same is simple.
"Try it out before you invest, and listen to all of the advice that you get. It's helpful," she said. "I think everybody should try it. It's fun."
Teammate Jessica Kelley, 16, believes that her three years of air rifle has prepared her for the realm of highpower.
"Air rifle teaches you the foundation of the positions, and it helped me especially with standing, because air rifle is a lot more precise. You have to have a lot more consistency," she said. "If I didn't do air rifle, I would've been pretty bad at highpower. It really helps a lot."
Kelley has fired at the CMP's world-class air gun range twice in her lifetime: once for a NJROTC match and also during one of CMP's summer air rifle camps. She now uses what she learned from the summer camp in her every day shooting, both in air rifle and highpower.
"It carries over really well. It's important to set goals and always try to break your personal best. I learned that in camp," she said. "Eventually you'll break your personal best, and it feels really good to do that. It gives you something to work for."
Adversely, she says highpower has enabled her to learn things that she can carry over into air rifle as well. With having to read wind, account for other outside conditions and shorter prep times and changeover periods, highpower shooting has led her to become more organized.
"Highpower is definitely intimidating to air rifle shooters, and it's also intimidating when you do it because there's a lot more stuff, like pulling targets, and you're outside. You have to take care of a lot more," she added. "The transition from air rifle to highpower was hard, but it was definitely worth it."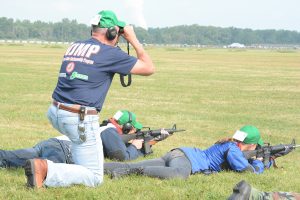 Last year, Darnell brought a group of eight shooters to Camp Perry. This year, with the growing attention the team has received from other young area marksmen, the Camp Perry bunch nearly doubled – growing to 14.
The young rifleman worked hard to earn their trip to the World Series of Shooting by selling raffle tickets, pulling targets at charity events, as well as participating in other fundraising endeavors. The newer marksmen are strategically housed with the more experienced ones in order to set up a sort of mentoring system.
"For the diversity, the age span and being from different schools, they've really come together well," said Darnell.
Anthony Kissik, 12, is one of the youngest marksmen on Darnell's team. His first year in highpower and his first trip to Camp Perry, he enjoyed the full experience – including his stay in the base's famous living quarters.
"It's really cool staying in the huts. It's basically like camp, with guns," he said, with a smile. "It's really fun. Highpower is a lot more mature than air rifle because you have to do more. Out here, you have to deal with the wind – the mirage, the distance. You actually have to be conditioned to it."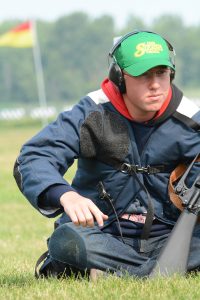 John Reinboldt, 17, celebrated his second year at Camp Perry. He agrees that highpower can be more difficult than air rifle – with the movement back and forth between yard lines, unlike air rifle's static position – yet he still finds the latter to be more of a challenge.
"Honestly, I think, in a lot of cases, I find air rifle a lot more difficult than highpower," he said. "You have to be really pin-point accurate, as opposed to highpower where center is a couple of inches across. That was a big change."
His experience with air rifle has also expanded his understanding of marksmanship, in general, saying the transition between the two has helped him in more ways than one.
"I gained a huge appreciation for marksmanship, especially because I'd never really taken it seriously before. But air rifle showed me I should take it seriously, and it made highpower a lot better for me," he said. "You've learned all of the positions and all of the things that help you out before you go into highpower."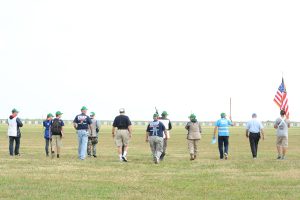 Still, there are things that highpower can offer that air rifle can't. For that reason, Reinboldt says all junior marksmen should get out on the line and try the sport for themselves.
"Honestly, if you've done air rifle, you already know how to shoot highpower. I think air rifle shooters are already well prepared for it, almost overly prepared for it over other juniors," he said. "People in air rifle are nice, but out here, there's so many years of experience, and they're just great people. Definitely go for it. It's a lot of fun."