USA Shooting Athletes Dominate the Board at 2017 Dixie Double Air Gun Event
November 14, 2017
Civilian Marksmanship Program
▸
The First Shot
▸
USA Shooting Athletes Dominate the Board at 2017 Dixie Double Air Gun Event
By Ashley Brugnone, CMP Writer
ANNISTON, Ala. – Over a beautiful Southern opening weekend of November, Anniston's Annual Dixie Double air gun competition welcomed a gathering of air rifle and air pistol competitors to the Civilian Marksmanship Program's (CMP) South Competition Center. While the sun blanketed warmth on the colorful foliage of the Alabama mountains, competition heated up inside the 80-point electronic range as the talents of decorated marksmen and newcomers from around the country were displayed during the two-day aggregate event.
Attending her first match at the South Competition Center was Alexis Lagan, 24, of Colorado Springs, CO. Currently a member of the USA Shooting pistol team, Lagan not only got to know the CMP facility but also made her name known around the building as she earned the overall win in the Open Air Pistol competition, with a score of 1166-39x.
"This match for me was really about coming and seeing this range. Everyone always talks about it, so this was a good opportunity for me to come see it before any selection matches or anything are held here," she said. "It's great. I love the lighting, and it's a fun place – and I got to see all of my friends. It's a fun place to be."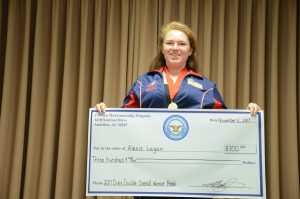 Lagan traveled to the event after hearing the regretful news of USA Shooting's loss of funding for its pistol initiatives in 2018. Uncertain of her future as an athlete at the Olympic Training Center in Colorado Springs, she has decided to keep on traveling and competing as much as she can to stay involved as long as possible in the sport she loves.
"I wanted to kind of prove to myself that I could still shoot even with bad news happening. It really kind of puts a damper on my life plans right now," she said. "I'm currently living at the Olympic Training Center, so it's a risk that I might not be a resident any longer. Even with that happening, I shot a couple of personal bests and even came close to the National Record, so I can't really complain."
The Dixie Double features Open and Junior air rifle and air pistol matches, held simultaneously, where athletes fire 60 shots standing, international style, on each day of competition. The aggregate individual scores of the two days of 60-shot matches are calculated to determine overall winners of each matchup.
During the weekend, up-and-coming junior athletes are given the opportunity to meet and fire beside some of the most notorious names in the shooting world, including former and current NCAA athletes and coaches, members of the Army Marksmanship Unit (AMU), distinguished members of the USA Shooting team and Olympians.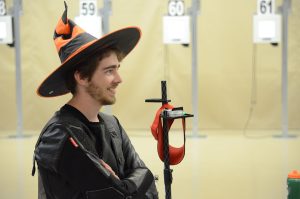 Winning the Open Rifle competition was Olympian Lucas Kozeniesky, 22, of Fairfax, VA, with a two-day aggregate score of 1264. Kozeniesky has previously won the USA Shooting National Championship and competed last summer at the Rio Olympics in the Men's 10m Air event as the first North Carolina State University rifle team athlete to earn a place on the U.S. Olympic Team.
A positive role model for upcoming marksmen, Kozeniesky has embraced his role as an impressionable figure in the competitive shooting community by being a present mentor whenever possible.
"Coming here, I get to do two things," he said. "The first thing is to go out and perform well – make sure the stuff I'm working on in practice applies to a match. The second thing is I get to connect with kids."
Kozeniesky said he talked to nearly 30 kids while at the Dixie Double event, answering questions and giving them tips along the way.
"That's what I really like doing – talking with them, making sure they're on the right track for whatever they're doing, give them a role model since I didn't really have one growing up," he said. "I'm just trying to be the shooter that they need to look up to and then hopefully guide them on their path."
Along with coming out on top of the overall rifle matchup, Kozeniesky was also the champion rifle competitor in the exciting Super Final, fired for the first time this year at the Dixie Double. He not only garnered everyone's attention with his scores, but also with the fashionable black and orange witch's hat he donned during the entertaining match.
"That was really cool," he said with a smile. "The witch's hat, honestly, didn't bug me. I was just having fun with it."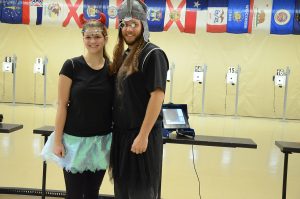 In the pistol Super Final match, CMP's James Hall, 33, of Anniston, outshot the other competitors, conquering the firing line in his Viking helmet and black tutu.
The Super Final match was added to the 2017 Dixie Double schedule as a way of giving competitors the chance for additional practice in a finals setting and to provide an easing break to the tense competition atmosphere. Emulating the Super Final event fired each year during the Camp Perry Open air gun competition, athletes on the line wore unorthodox headgear such as horns, a fluffy pink angel halo and even a far out hippie ensemble, while crowd members hooted and hollered and even joined the dress-up game by molding tin-foil hats in the stands.
"The Super Final is crazy," said rifle champ Alexis Lagan, who wore a sparkly headpiece during the match. "My dad texted me immediately after and was like, 'What just happened?' and I texted him back, 'I don't really know!' But it was a lot of fun, and I hope I can participate in something like that again."
The Top 36 competitors from each discipline were chosen to compete in the Super Final match, with an unknown random Course of Fire chosen before competition began.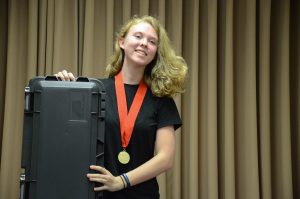 In the Junior aggregate competition, Angeline Henry, 17, of Fort Worth, TX, fired a combined score of 1238.9 to earn the top spot in the air rifle match, as Katelyn Abeln, 16, of Douglasville, GA, accrued an overall score of 1112-19x to win the air pistol event by a one-point margin.
A team match was also held concurrently with regular competition over the weekend, combining the skills of one Junior and one Open competitor. Winning the rifle team matchup was e-LEMON-ators, junior Angeline Henry and the AMU's SPL Patrick Sunderman, who accrued a combined score of 2470.9 – three points over the second place finishers. Team Money Pit, junior Charles Platt and Alexis Lagan, stole the pistol competition with an excellent aggregate score of 2262-64x.
Thank you to everyone who came to the CMP South Competition Center to compete in the annual Dixie Double event. The CMP would also like to give a sincere "thank you" to the AMU for hosting a fun and informative question-and-answer session with athletes after practice day of the event. We hope to see everyone, and more, next year!
A complete list of results for the 2017 Dixie Double can be found by visiting http://ct.thecmp.org/app/v1/index.php?do=match&task=edit&match=16160&tab=results.
Photos of the event can be found on the CMP Zenfolio at http://cmp1.zenfolio.com/f1038923931.