United South High School Wins 11th Annual Tri-City Three-Position Event
April 6, 2017
Civilian Marksmanship Program
▸
The First Shot
▸
United South High School Wins 11th Annual Tri-City Three-Position Event
By Ashley Brugnone, CMP Writer
The United South High School MCJROTC Panther Air Rifle Team from Laredo, Texas, earned first place overall in the sporter team competition during the 11th Annual Tri-City Three-Position Tournament, Feb. 17-18, 2017. The 3×10 event was hosted by the Pharr-San Juan-Alamo High School JROTC. Competitors in the match fired 10 record shots at each position: prone, standing and kneeling.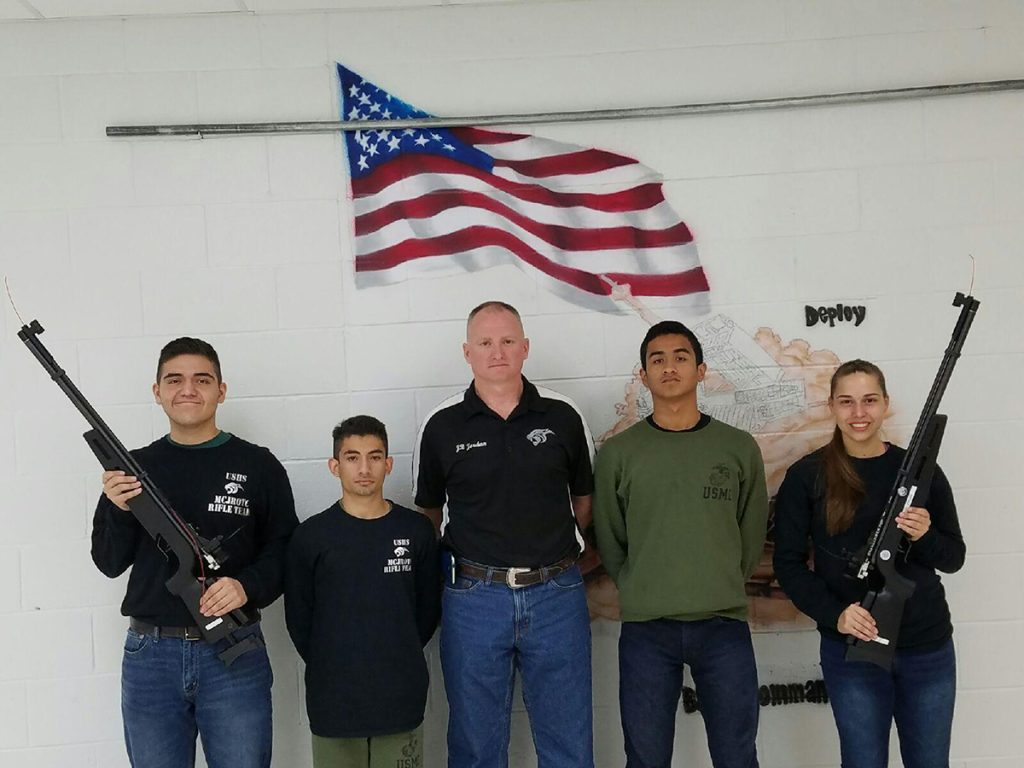 A total of 14 competitors took the line during the event, with the Pharr-San Juan-Alamo Early College High School Army JROTC Bear Rifles from Pharr, Texas, and the Marine Military Academy from Harlingen, Texas, teams competing against United South.
Along with the team win, United South members Brian Villarreal, 16, and Bethany Jordan, 16, both earned first place awards in the sporter individual boys and girls competitions, respectively. Villarreal fired a total score of 258-5x, while Jordan recorded an overall score of 244-1x. The pair also took first and second place overall in the match.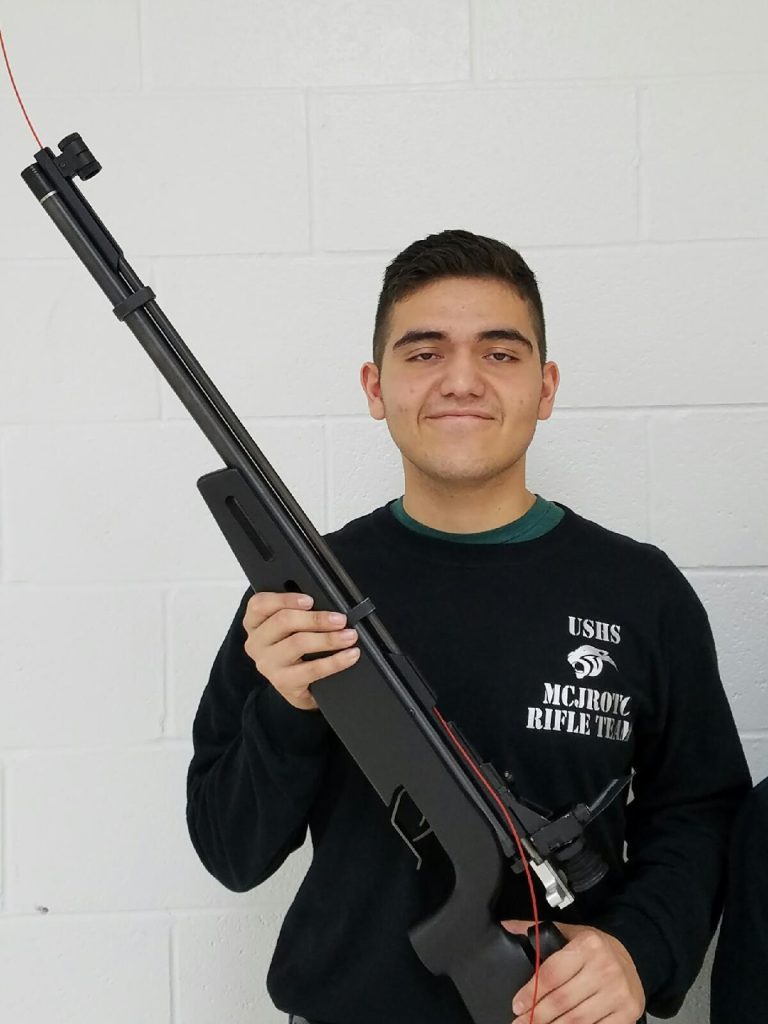 Other firing members of the team were Abdiel Lara, who scored 227-2x, and Joe Reyes, who added another 219 to the overall winning score of 948-8x. The team was coached by MSgt James Jordan.
"Being new to air rifle competitions, the kids spend two hours a day, four days a week practicing. That's one hour before and after school," said MSgt Jordan. "The CMP (Civilian Marksmanship Program) has been great at supporting young marksmen – we use the book, 'Coaching Young Rifle Shooters' by Mr. Gary Anderson as the foundation for all of our practices – and I get to watch their confidence grow with each competition."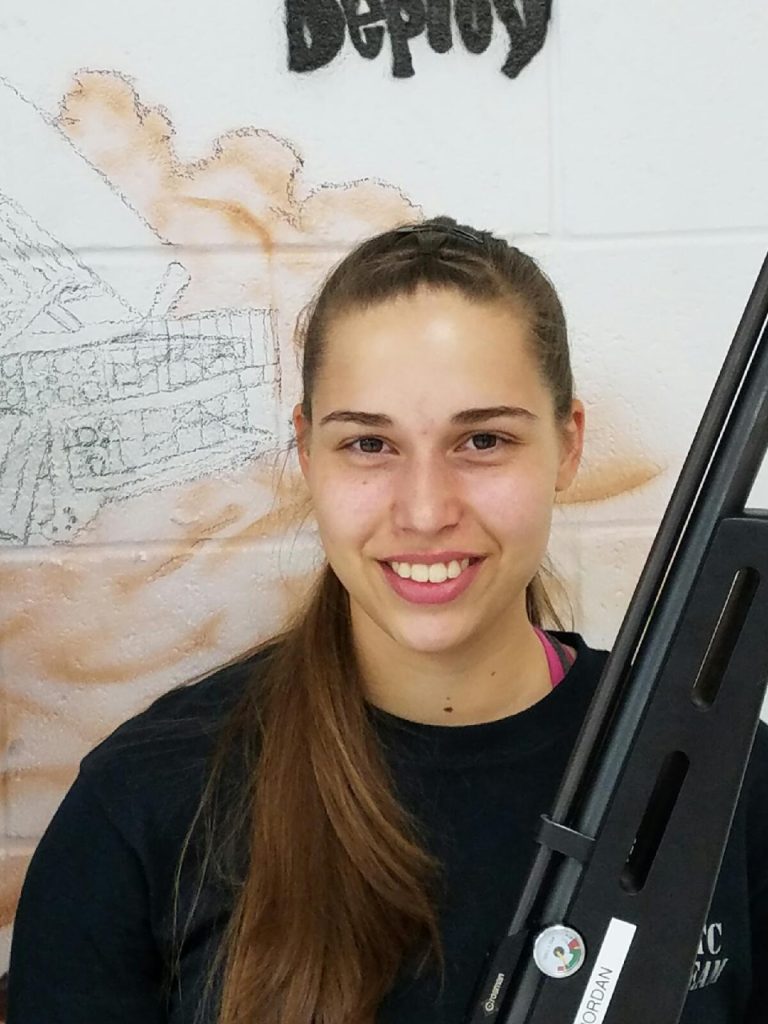 The team is made up of mostly first-year shooters, with the exception of one four-year shooter and two two-year shooters, as well as one special needs student who is known to the team and the student body as "Precious Panther," after the school's mascot. According to MSgt Jordan, the cadets have welcomed him with open arms, and he really enjoys being a part of the team.
Due to limited funds, MSgt Jordan rotates the 10 total team members to ensure everyone gets to participate in tournaments. United South has been to five tournaments this year, earning two first- and second-place finishes each.
The most recent win came on April 1, 2017, during the NRA Three-Position Air Rifle Sectional and NRA Individual Standing Sectional in San Juan, Texas. First place honors went to the team in overall competition as well as to Brian Villarreal, who again earned the top spot in the Individual Three-Position match. Mario Delgado, 16, earned second behind Villarreal and Bethany Jordan, the MSgt's daughter, followed in third. Jordan also earned first in the Individual Standing Sectional.
Congratulations, United South, and keep up the good work!