Unanticipated Crowd Fires at Inaugural GLOCK Match at Camp Perry
July 14, 2017
Civilian Marksmanship Program
▸
The First Shot
▸
Unanticipated Crowd Fires at Inaugural GLOCK Match at Camp Perry
By Ashley Brugnone, CMP Writer
CAMP PERRY, Ohio – The Inaugural GLOCK Sport Shooting Foundation (GSSF) Camp Perry National Challenge enormously exceeded all expectations. The match, fired July 1 at the Civilian Marksmanship Program's (CMP) National Trophy Pistol Matches, saw a total of 244 entries throughout the day – an unprecedented number for the GLOCK team members.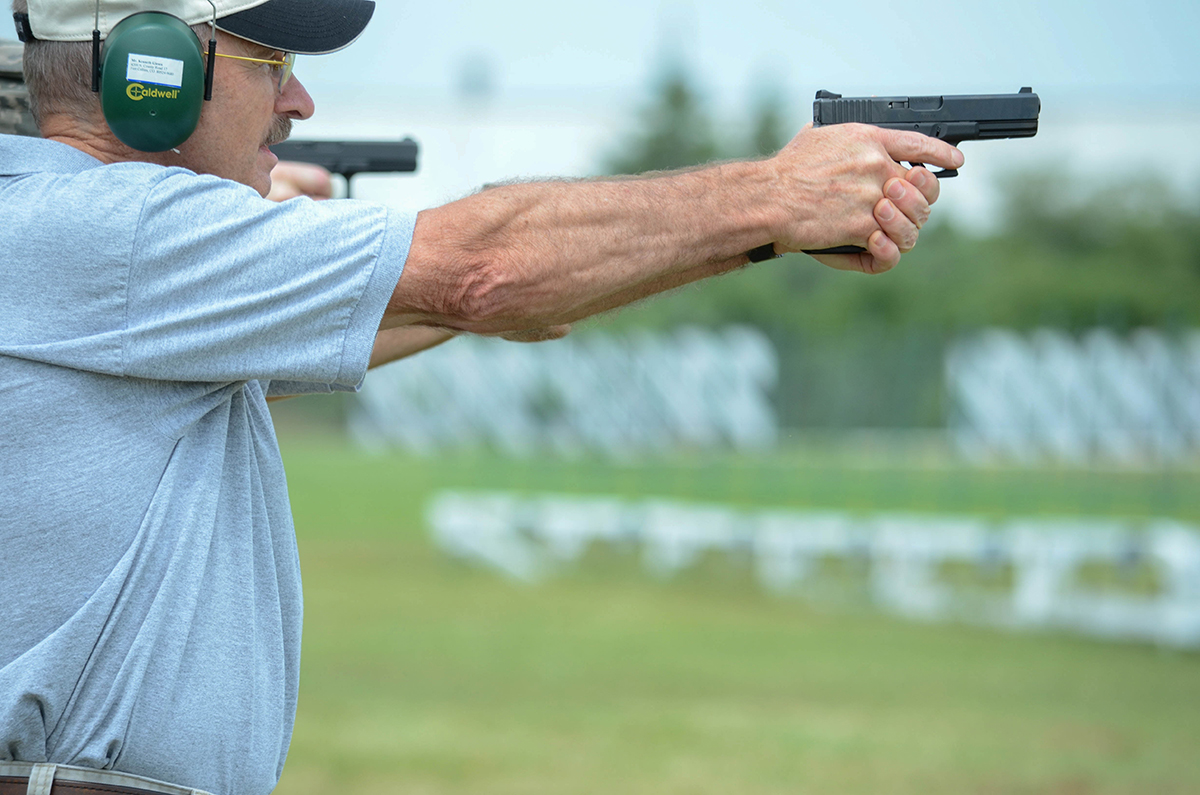 "I mean, we ran out of targets!" said Joseph "Willie" Parent, the director of GSSF training at GLOCK who was ecstatic about the turnout for the event. "We honestly didn't know what to expect bringing GLOCK to Camp Perry and not having any sort of fingerprint here. It blew everyone's expectations away."
Before GLOCK arrived to the shores of Lake Erie in July, they kept a close eye on the number of entries in order to be able to appropriately prepare for the event. Though only about 50 people had entered the match by the time they took off on their journey, the crew of sales, marketing and GSSF team members came prepared with targets for around 200 competitors – just in case.
By the end of the match, GLOCK was out of targets, forcing them to begin using pasters to cover the shot holes. It was a shocking and encouraging sign for everyone involved with the event.
"Next year, we'll come back bigger and better. We'll be better prepared because now we know what to expect," said Parent. "We set a standard, and next year we're going to exceed it."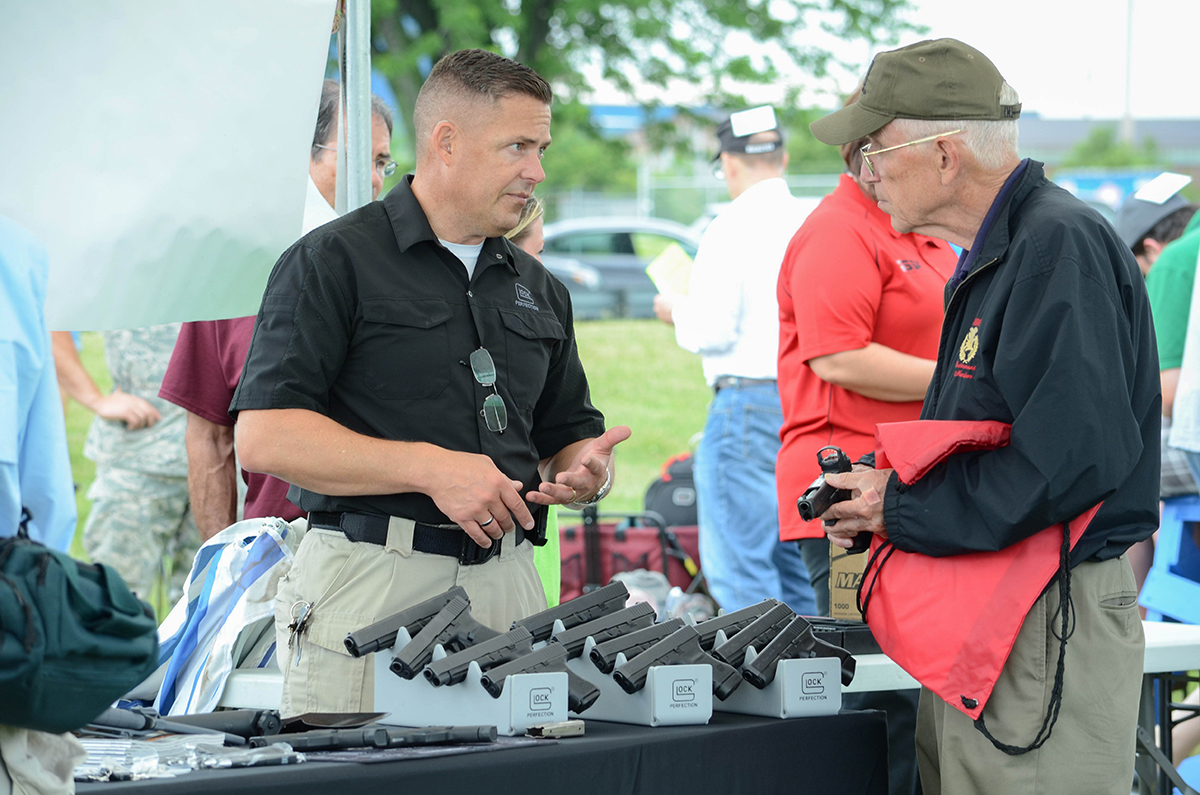 The GSSF Match at Camp Perry was introduced to the public in April 2017. In late June, GLOCK announced that the crew would be bringing along loaner pistols for anyone who wanted to fire in the event and didn't have a GLOCK of his/her own at an attempt to provide even more opportunities to guests of the Matches. In total, GLOCK loaned out pistols 62 times – undoubtedly adding a greater participation to the competition.
Even CMP programs chief, Christie Sewell, who stayed present on the range during the entire event, borrowed a pistol and felt compelled to compete after observing the joy on the faces of competitors throughout the day. She was delighted to see the number of men, women and juniors who continuously stepped up to the firing line and was also pleased with the efficiency with which the match was conducted.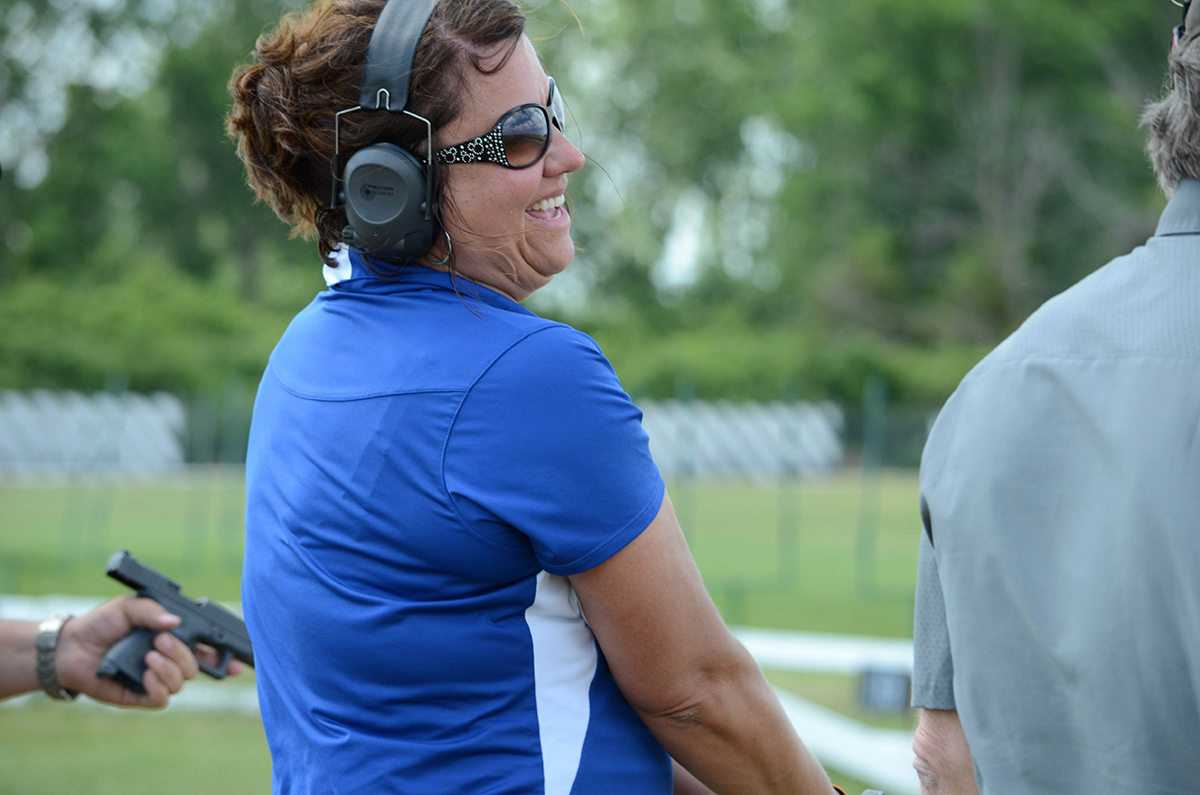 "All of us at the CMP were as excited as GLOCK for the overwhelming turnout of the inaugural match at Camp Perry," said Sewell. "GLOCK has always been a generous contributor to our matches, and we are happy that we could help facilitate an event that combines our forces to further the promotion of marksmanship."
"The unbelievable amount of participation from our competitors at this event was a tremendous start to what we hope will be a lasting competition at the National Matches," she added.
The Course of Fire for the match was set at distances of 5, 7, 10, 15 and 25 yards – 10 rounds at each in a time limit of 15 seconds. The close proximity and rapid-fire sequences gave the match a structure that allowed new marksmen to feel comfortable in a competitive setting, while also providing a unique challenge for the more experienced crowd.
Two classes were set during the event: Stock Class and Unlimited. GLOCK firearms were considered stock if all firearm components are or ever have been available from GLOCK, Inc., with certain additional allowable modifications as stated in the match rules. Other specific modifications were placed in the Unlimited Class. GSSF awards are determined by dividing the results into thirds – with the top-third considered "A Class," and so on.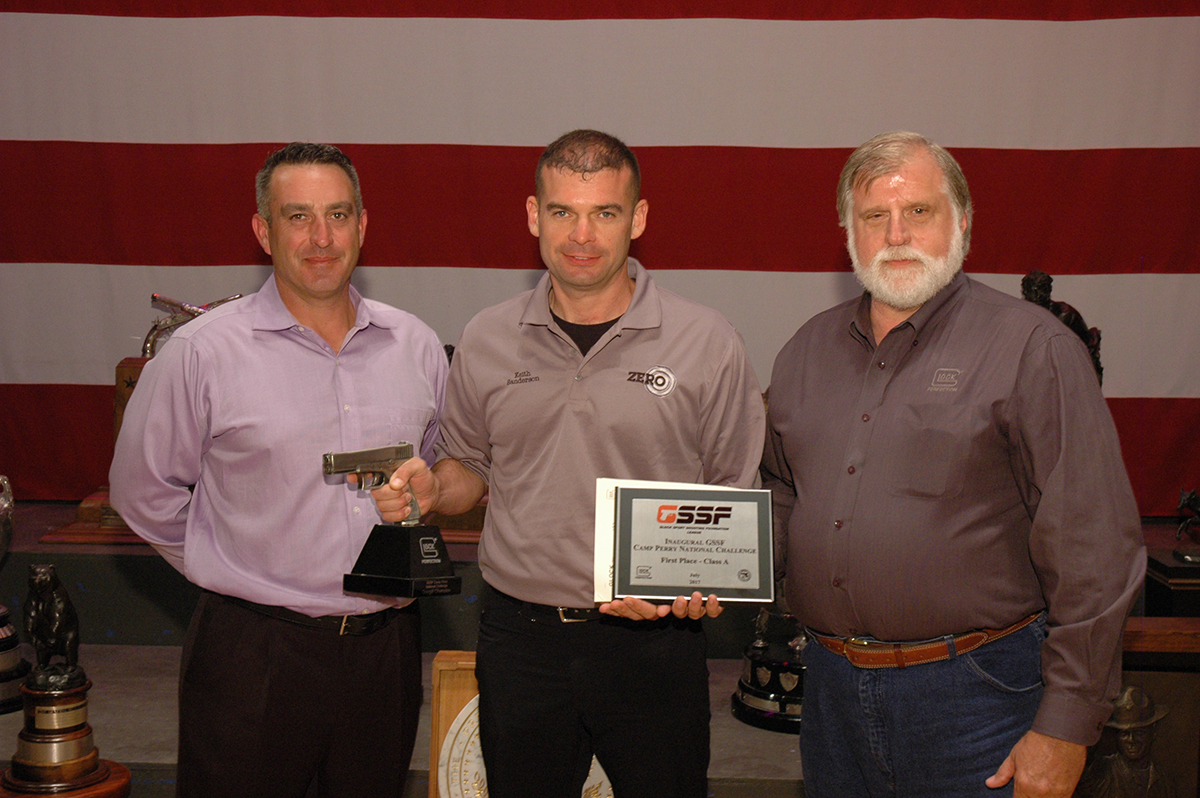 Winning the High Guardian and Overall Stock GLOCK match A Class and setting an outstanding precedent was SFC Keith Sanderson, 42, of the U.S. Army Reserve, who fired an incredible score of 500-47x. Also recording an exceptional score was Sgt. Carl Clegg, 31, of the U.S. Marine Corps, with 498-44x for second place, followed by civilian Craig Odom, 56, of Du Quoin, IL, who earned an aggregate score of 496-41x to take third. Odom was also the High Senior of the match.
First place B Class was Keith Raisor, 48, of Lawrence, IN, with a score of 479-27x, as John Ball, 44, of Brunswick, OH, overtook the C Class category, with an overall score of 436-26x.
Securing the High Lady title was Lois Kaminski, 50, of Lansing, MI, who fired a score of 484-33x. Derek King, 18, of Raymond, OH, claimed the High Junior honor by only two x's, recording a score of 477-28x to top past and current National Junior champion, Sam Kwon, 17, of New York, NY.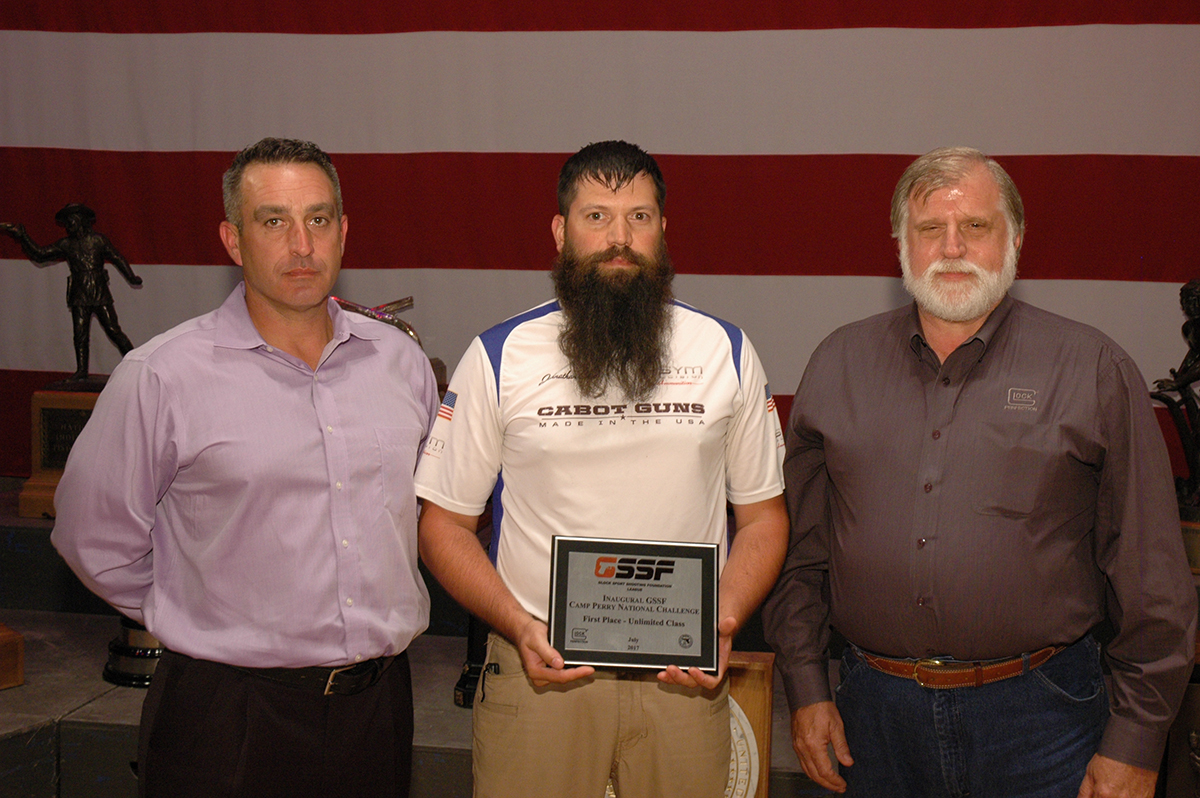 Also contributing a remarkable string of scores during the event was Jonathan Shue, 35, of Mebane, NC, who fired an aggregate of 500-44x to win the Unlimited class. SPC Anthony Heinauer, 21, of the U.S. Army, trailed just behind Shue in the 500 Club with a score of 500-37x, followed by George Gustafson, 68, of Potterville, MI, with a score of 498-45x for third.
Each overall and category winner in the match was presented a certificate for a GLOCK pistol along with his/her award. Additionally, GLOCK donated another pistol to be awarded at random draw. Mark Lucas, 65, of Marblehead, OH, was the lucky winner of the pistol prize.
The CMP would like to thank GLOCK for all of their hard work and dedication to shooting sports and to the organization. The CMP would also like to thank all of the competitors for setting an outstanding first year. The GSSF Camp Perry National Challenge already has its place reserved on the schedule for the 2018 National Matches, so plan ahead and come experience it for yourself!
For a complete list of results of the 2017 GSSF Camp Perry National Challenge, visit http://ct.thecmp.org/app/v1/index.php?do=match&task=edit&tab=results&match=15609&tab=results.
Photos of the event can be found on the CMP's Zenfolio page at http://cmp1.zenfolio.com/p124251138.