U.S. AMU Members Claim Top Events at 2017 CMP National Trophy Pistol Matches
July 13, 2017
Civilian Marksmanship Program
▸
The First Shot
▸
U.S. AMU Members Claim Top Events at 2017 CMP National Trophy Pistol Matches
By Ashley Brugnone, CMP Writer
CAMP PERRY, Ohio – The U.S. Army Marksmanship Unit (AMU) swept the 2017 National Trophy Pistol Matches, held July 1 and 2 at Camp Perry, with its members claiming overall wins in each of the prestigious events, along with capturing the National Trophy Team (NTT) Match for the eleventh year.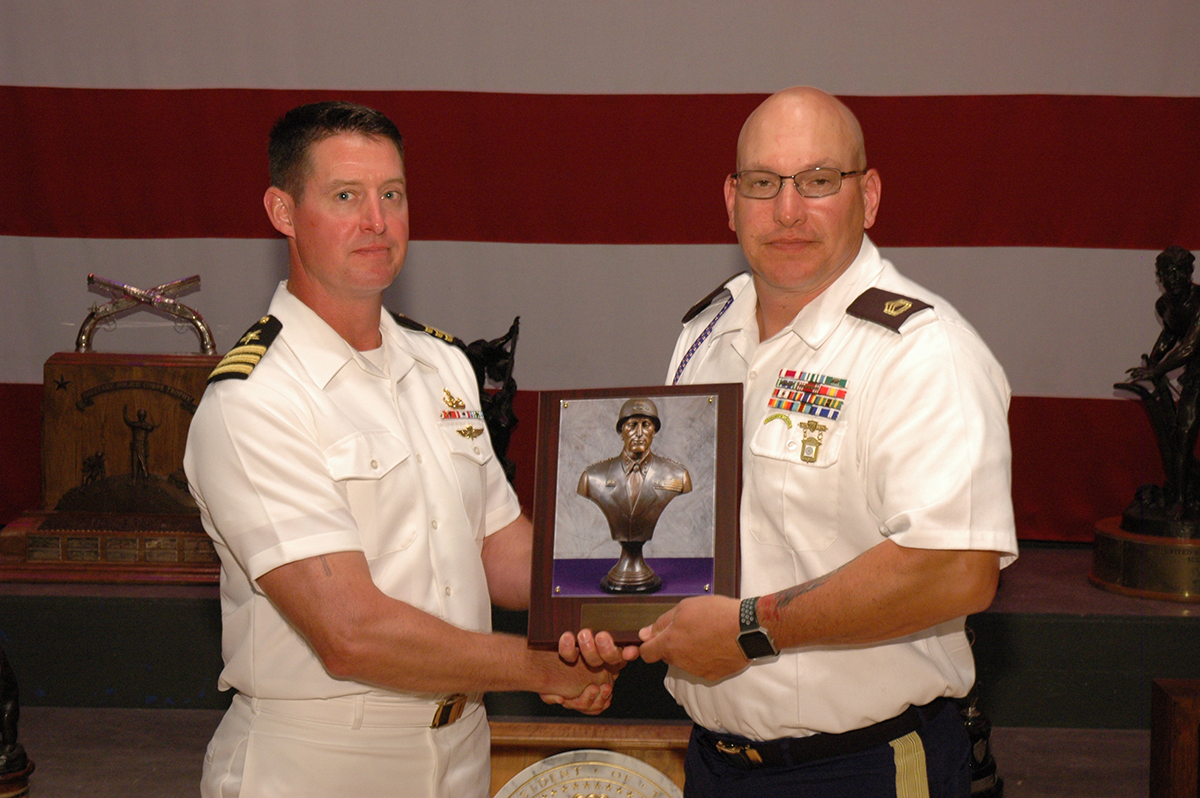 Helping to lead the charge was SFC James Henderson, 50, of the AMU, who fired a score of 392-16x to win the President's Pistol Match for the eighth time over his career. Henderson is also the current record-holder of the match, along with holding the overall record for the National Trophy Individual (NTI) event.
"I try not to think about outcomes – I just do what I do, shot by shot. Winning's not really up to you," he said. "You can shoot an amazing score and someone can one-up you. I just try to do the best that I can for that day and see where it falls."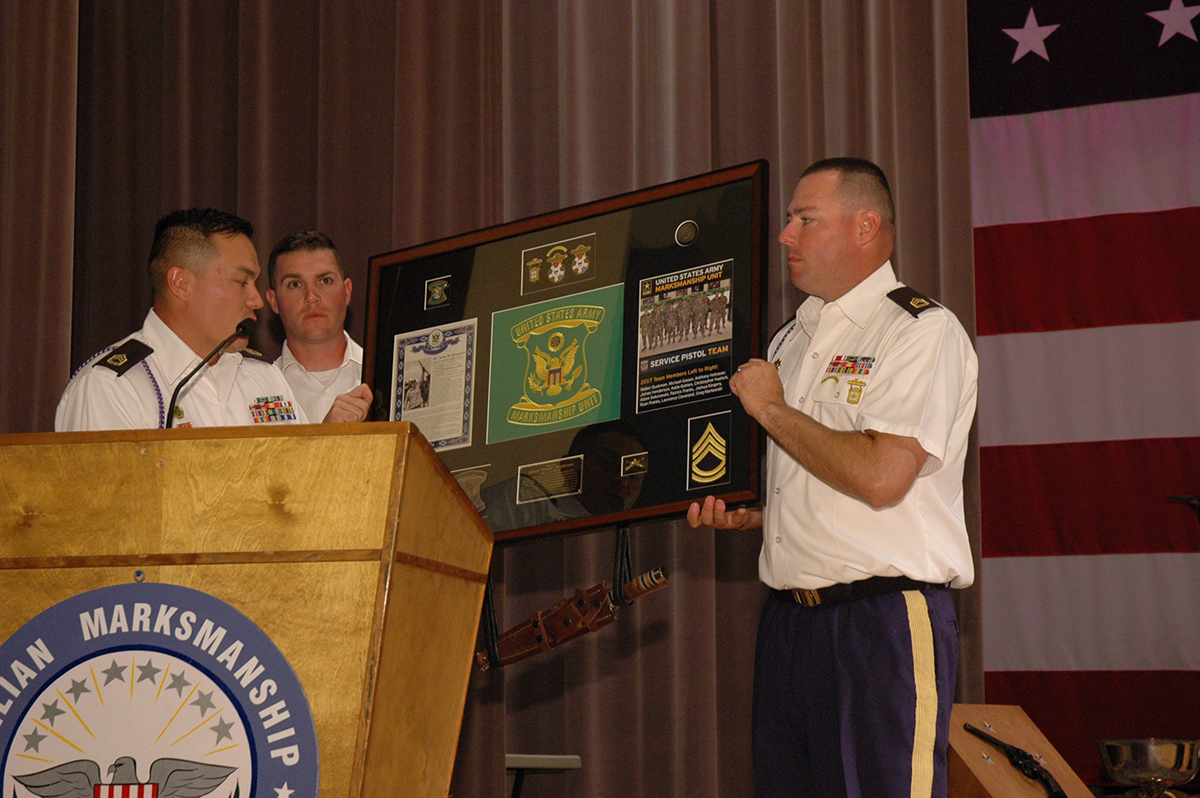 The 2017 National Matches stood as Henderson's last as a member of the AMU after he decided to retire with 32 total years of service in his lifetime – 12 Reserve and 20 Active. His team members, led by SFC Lawrence Cleveland, presented Henderson with a commemorative plaque during the Pistol Awards ceremony to show their heartfelt appreciation to him for his dedication over the years.
"I am humbled by the gratitude, friendship and love I have been shown by this group of soldiers. They have become family," Henderson said in tribute to his teammates. "I have taught them all I can, and I will always answer their calls."
For his win in the President's 100, SFC Henderson also received a Colt Gold Cup Pistol, donated by Colt Manufacturing.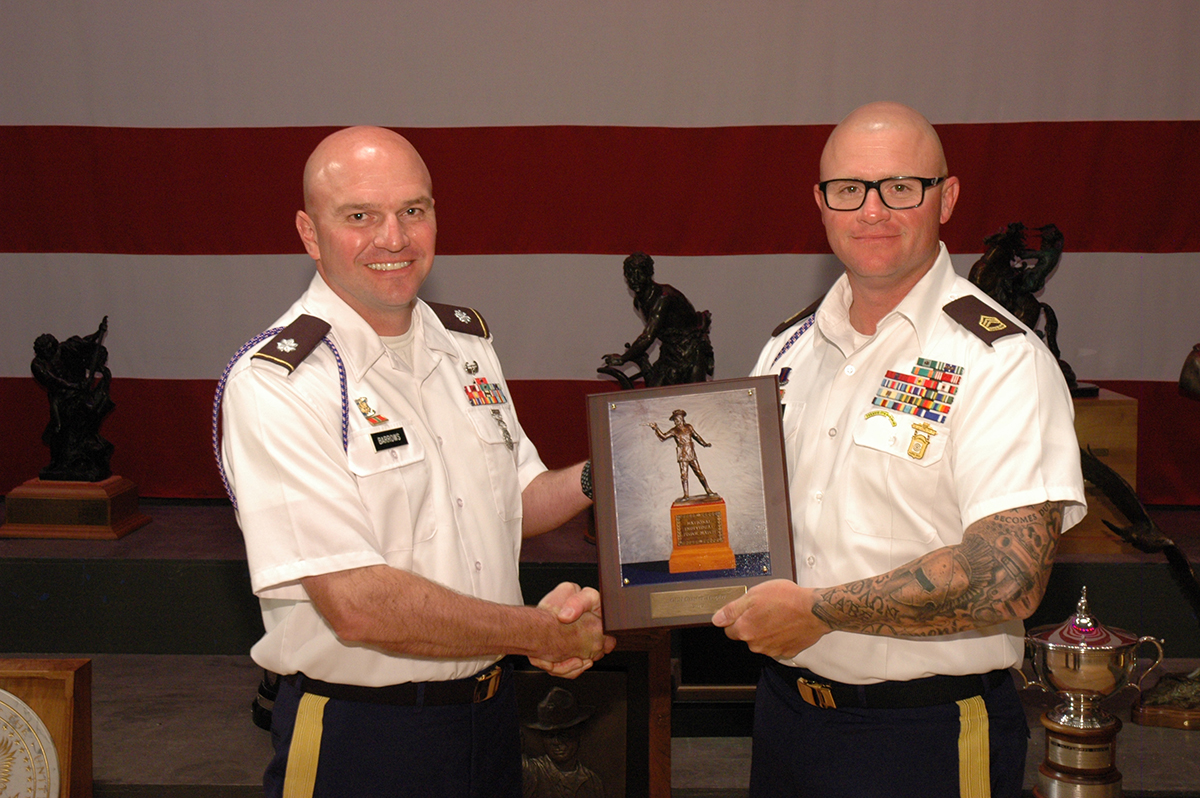 Teammate SFC Patrick Franks, 39, of the AMU, was the overall winner of the NTI Pistol Match with a score of 289-10x. Now a multi-time winner of the event, Franks keeps a mental game similar to that of Henderson – saying although practice is important, sometimes, winning just depends on the day.
"I don't really train to win it all. I hope for the best. If it works, that's good, but if it doesn't, oh well. I try to treat it the same as every other match," he said. "I think you can't really prepare too much for Camp Perry because it's so unorthodox with the weather, the timing – holding up the line because there's an eagle downrange or boats in the impact area. So I just try to keep it as simple as possible and do what I know how to do."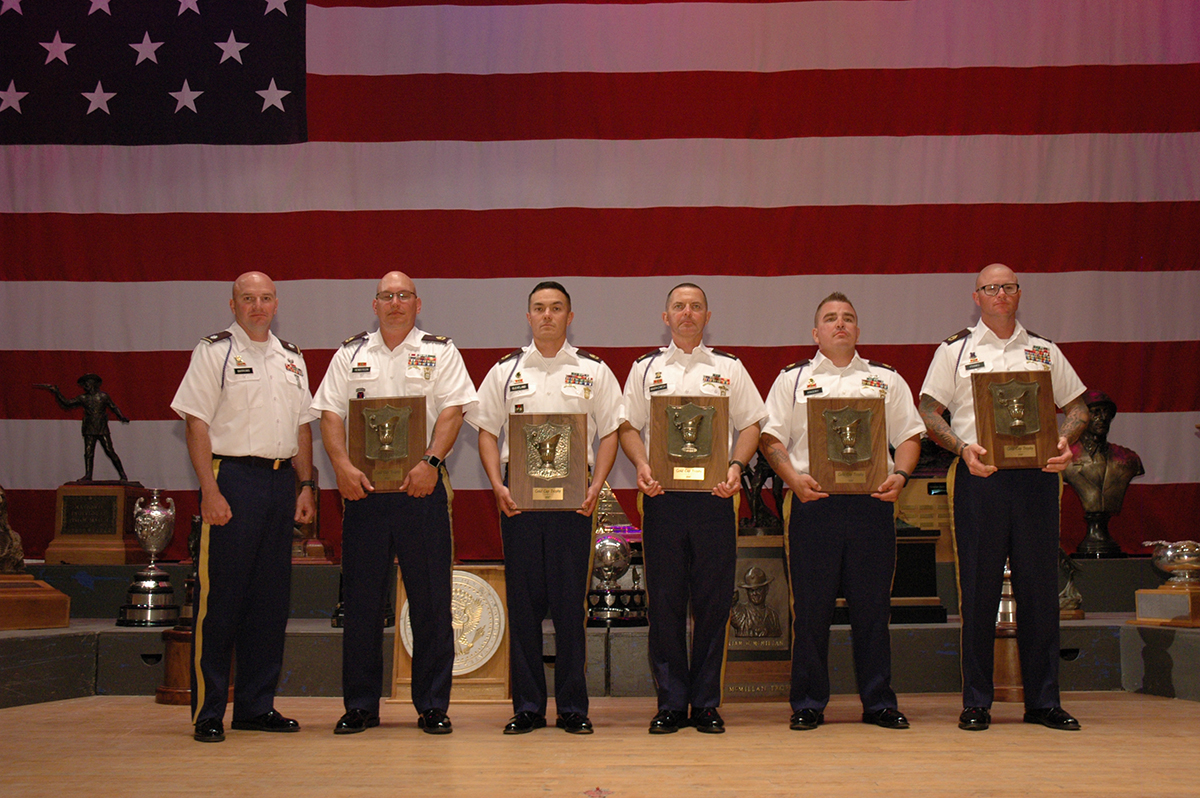 SSG Ryan Franks, 29, of the AMU, brother of SFC Patrick Franks, overtook the EIC Pistol event by one point over team member SSG Greg Markowski – firing a score of 289-7x. Markowski, Henderson and teammates SSG Joshua Kingery and SFC Lawrence Cleveland combined talents to win the NTT competition with a score of 1112-26x.
SFC Franks served as captain of the winning team and spoke positively of the success of the AMU as a whole during their 2017 CMP National Match performances, saying, "I think it's amazing that everything that could be won with the CMP was won by a different person on our team. It just shows that we have a good program."
He went on to say, "We gain our successful outcomes at each one of our matches by feeding off of each other. If one person isn't maybe shooting up to par, another person's going to pick up the slack, and I think this is a pure example of exactly that happening."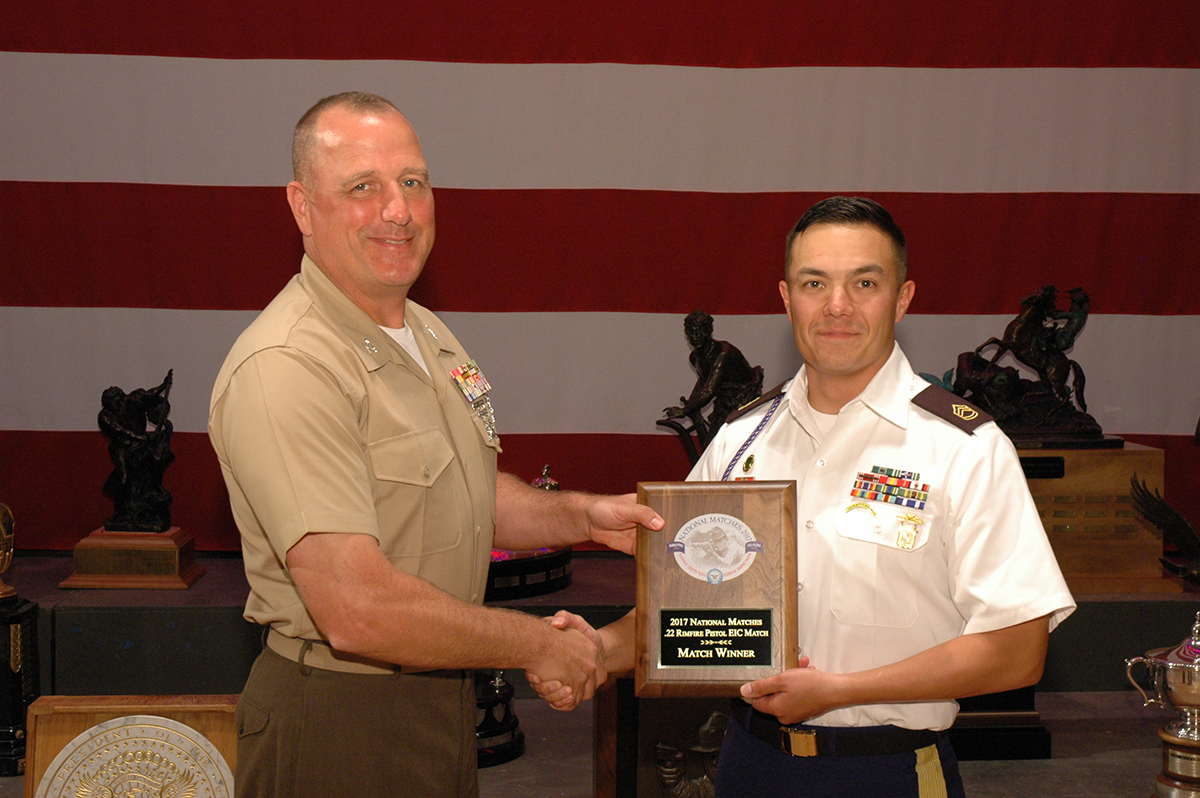 Continuing the AMU winnings, SFC Lawrence Cleveland, 32, overtook the .22 Rimfire Pistol EIC Match was with a score of 291-9x. Sgt. Mack Williams, 30, of the Army Reserve National Guard, was the high non-distinguished competitor of the .22 event, with a score of 274-3x.
High Junior of the .22 Rimfire Match was Derek Rodriguez, 19, of Mount Pleasant, SC.
Other noteworthy showings during the Matches were given by Susan Fries, 54, of Lainsburg, MI, who earned the High Woman honor in the President's Pistol Match, and Greg Abraham, 64, of Lake Crystal, MN, who was the High Senior of the event. Both received a Super Smoker, donated by Ray-Vin.
Sgt. Gregory Brown, 26, of the U.S. Marine Corps, received a Multi-Sight PRO Plus Series 1911 Pistol, donated by Accuracy X, for firing the High Non-Distinguished score in the President's 100 Match.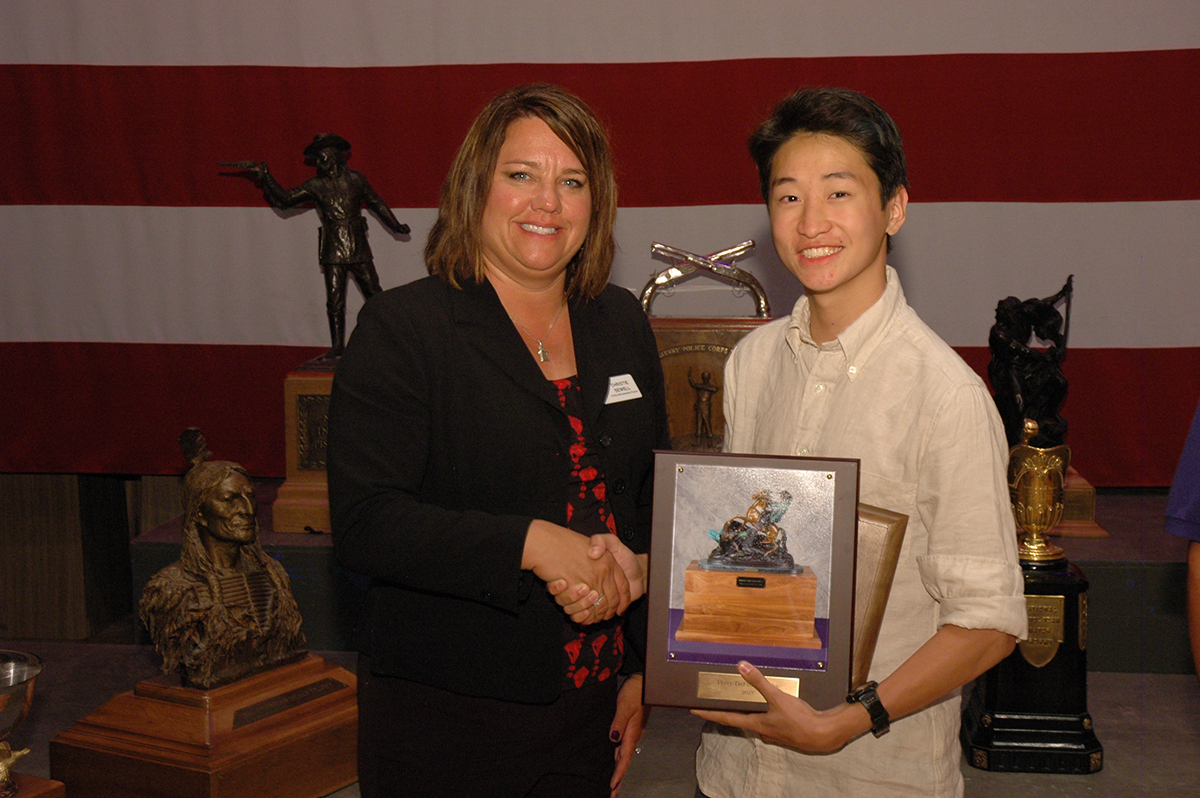 Samuel Kwon, 17, of New York, NY, was the overall winner of the Junior President's Pistol Match with a score of 330-3x. Kwon also went on to win the Junior Pistol Trophy as the High Junior in the NTI competition.
GLOCK also awarded a "Top GLOCK" to a competitor firing a GLOCK in the President's 100 Match, which was given to SFC Jeffrey Olcsvary, 35, of the U.S. Army.
Judy Tant, 67, of East Lansing, MI, received the National Women's Pistol Trophy. For her win, Tant also earned a 1911 Pistol, donated by Springfield Armory. Tant was previously a six-time winner of the award before receiving her seventh at this year's Matches.
Springfield Armory also gave away five new Springfield XDM 5.25" pistols to the top competitors who fired a Springfield XD or XDM in the President's 100 Match.
In the NTI event, SSG Jonathan Rosene, 41, of the U.S. Army Reserve, was the High Shooter with an M1911 and was awarded a special M1911 Pistol by Springfield Armory.
Jonathan Shue, 35, of Mebane, NC, earned the Citizen's Military Pistol Trophy as the High Civilian of the NTI and received a Super Smoker, donated by Ray-Vin. Shue was also the High Civilian of the NTI and National Trophy Team (NTT) aggregate.
In the M9 Excellence-In-Competition (EIC) Match, Brannon Sickels, 19, of Frisco, TX, was the winning competitor with a score of 264-2x. Sickels has not yet earned his Distinguished Rifleman's Badge and earned his introductory four of 30 necessary EIC points.
The CMP would like to extend a sincere thank you to our sponsors and to everyone who attended the 2017 National Trophy Pistol Matches. We hope to see you next year (July 14-15, 2018)!
For a complete list of results, visit the CMP Competition Tracker page at http://ct.thecmp.org/app/v1/index.php?do=match&task=edit&match=15033&tab=results.
Photos can be found on the CMP's Zenfolio page here: http://cmp1.zenfolio.com/f308381592.