Tokyo Olympians Take the Podium at CMP's 2021 Camp Perry Open
June 9, 2021
Civilian Marksmanship Program
▸
The First Shot
▸
Tokyo Olympians Take the Podium at CMP's 2021 Camp Perry Open
CAMP PERRY, Ohio – SP4 Alison Weisz, 26, of the U. S. Army Marksmanship Unit was one of two Tokyo Olympic athletes who claimed wins at the Camp Perry Open marksmanship event (held Friday, May 21, to Sunday, May 23) – overtaking the 60 Shot Rifle Match with an outstanding score of 1261.9.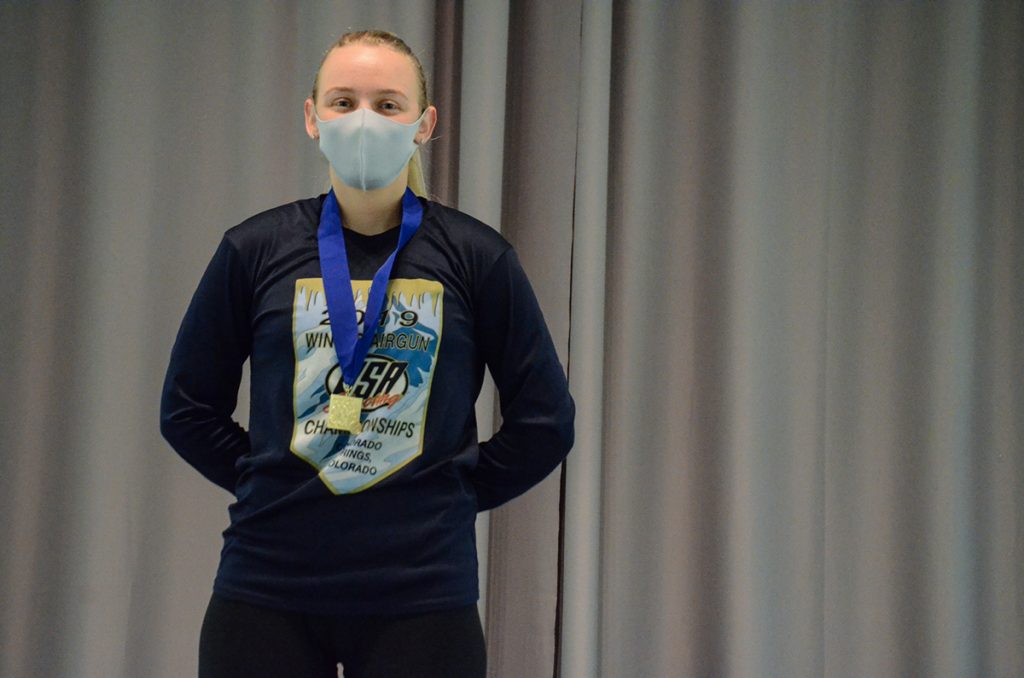 The 2021 Camp Perry Open attracted more than 250 athletes from around the nation in Three-Position and 60 Shot Air Rifle, 60 Shot Air Pistol and 3×40 Smallbore Rifle competition. The annual event is conducted by the Civilian Marksmanship Program (CMP) at the Gary Anderson CMP Competition Center, located on the Camp Perry National Guard Training Base (also CMP Headquarters) in Ohio.
"The goals and expectations I had coming into this match were, really, to just perform and focus on performance – whatever the outcome was, it was going to be, at the end of the day," Weisz said. "A lot of the things I've been working on is mental training and technical training skills. Ultimately, I just wanted to come in and put those into action."
She also admitted that the Camp Perry Open served as an avenue to work on her mindset and nerve control before she heads to this year's Olympic Games in Tokyo as a member of the U.S. Women's Air Rifle team.
"I'm so excited," she said about her Olympic debut, with a smile behind her mask. "I'm so honored and blessed to have the opportunity."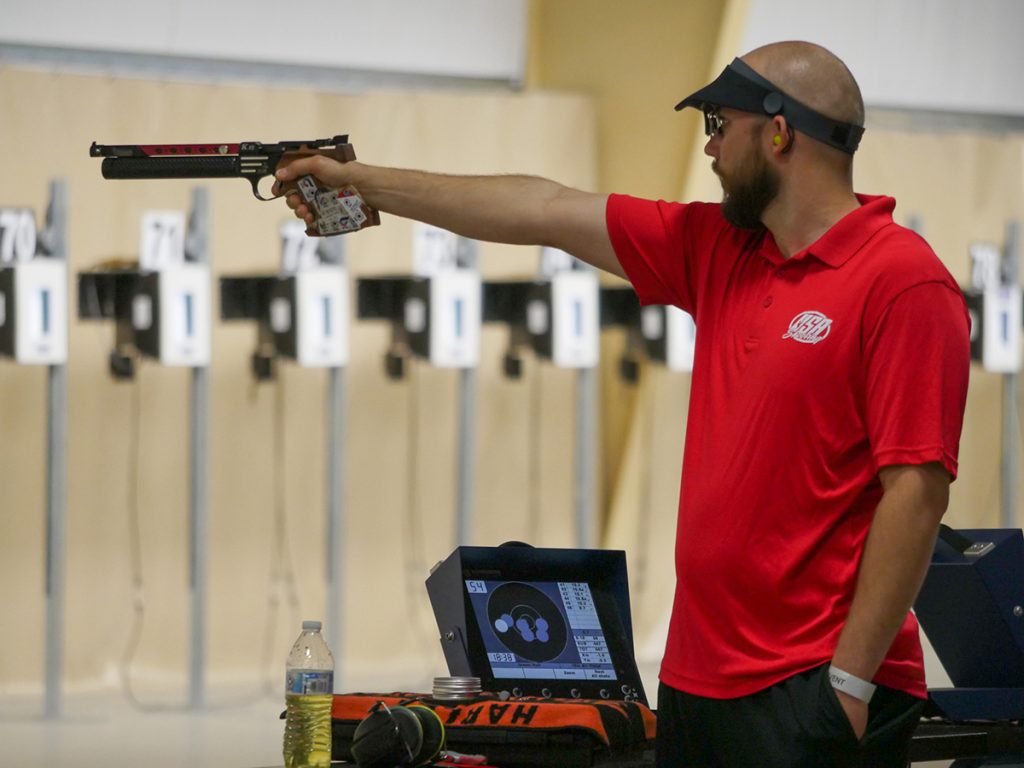 Another member of Team USA heading to Tokyo in 2021 who happened to also be at Camp Perry in May was James Hall, 37, of Columbia, Missouri. Hall was the overall winning competitor in the air pistol 60 Shot event at the Camp Perry Open, with a commanding score of 1156-39x. He'll represent the United States in Air Pistol at the Olympics this summer.
Other Camp Perry Open competitors representing Team USA this year were Alexis Lagan and Sandra Uptagrafft, who will both be competing on the Women's Sport Pistol team.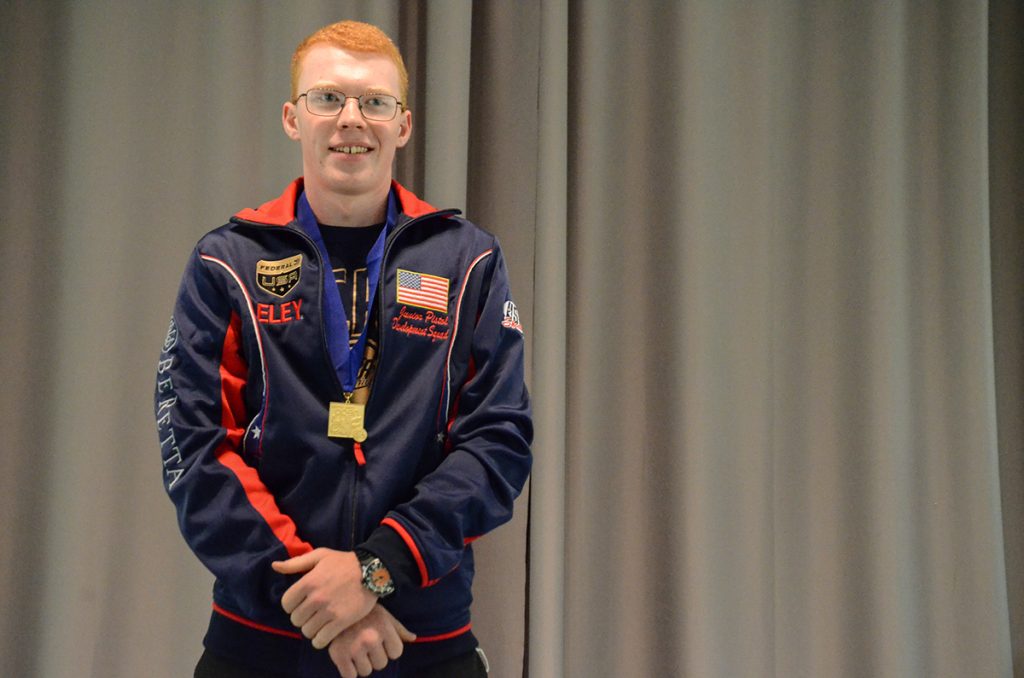 Earning second behind Hall as the top junior air pistol competitor was Remington Smith, 16, of Ashburn, Georgia. Smith had never been to Camp Perry but said its reputation certainly precedes itself.
"All I knew about Camp Perry was that it's legendary and that it's the Zenith of shooting complexes in the country," he said with a grin. "Frankly, it was such an honor to get to shoot at such a range."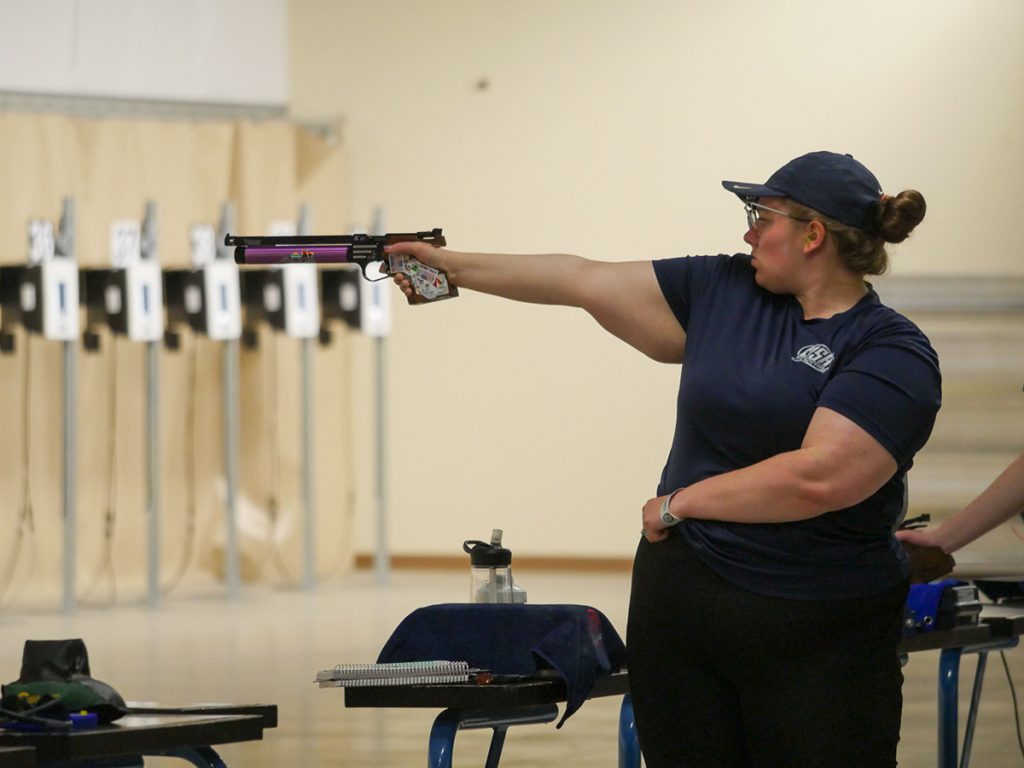 Speaking of his performance over the weekend, Smith went on, "I wanted to continue shooting my average and raise it if I could. I've never shot at this range before, so I didn't have any expectations, I would say. I was just hoping to take what I've learned at past matches and continue to grow upon that."
Typically fired in January, the 2021 Camp Perry Open was strategically moved to May in order to allow the 3×40 Smallbore Rifle portion to be added to the schedule for the first time. Over 60 competitors took to the firing line on Camp Perry's Petrarca Range to take advantage of the additional competitive opportunity.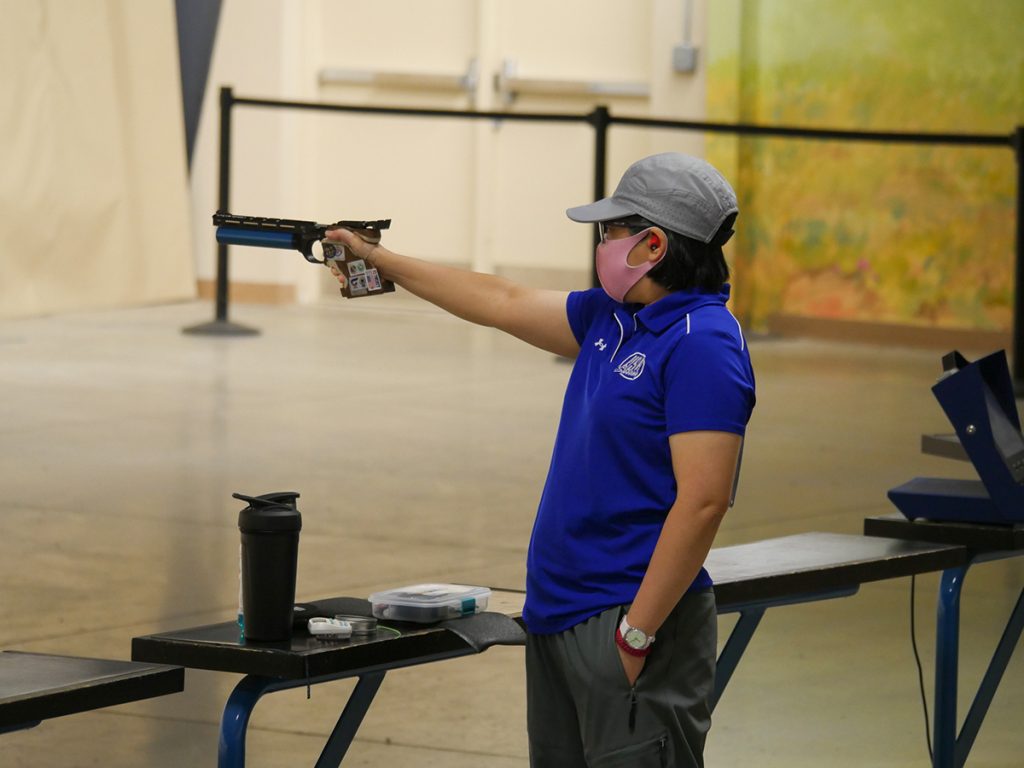 Standout competitors of the Camp Perry Open included:
3×40* Smallbore (Open and Junior):
Bremen Butler, 16, Eel River Gun Club – 969-42x
M'Leah Lambdin, 18, Team Winning Solutions – 965-36x
Lara Spanic, 19, Southport Xception – 960-33x
*Due to a range scheduling matter, competitors did not fire the last 20 shots of the 3×40 match. Results are based on the fired portions of the event.
Three-Position Air Rifle Individuals:
Sporter:
Halie Creekmore, 17, Zion, Illinois – 555-24x
Amarissa Jackson, 17, Winthrop Harbor, Illinois – 553-20x
Jeremiah Vonzell, 18, Wadsworth, Illinois – 549-16x
Precision:
Bremen Butler, 16, Fort Wayne, Indiana – 598-53x
Natalie Perrin, 18, Coopersville, Michigan – 596-52x
Katrina Demerle, 16, Hamilton, Ohio – 594-46x
Three-Position Air Rifle Team:
Sporter:
Zion Benton High School Team 1 (Halie Creekmore, Amarissa Jackson, Jeremiah Vonzell, Saylet Hernandez) – 2197-71x
Zion Benton High School Team 2 (Cortney Berry, Kimberly Rico, Santiago Salazar, Nikolas Jackson) – 2089-48x
Zion Benton High School Team 3 (Andrew Yoshii, Jasmine Butler, Kalinn White, Giovanni Salgado) – 1991-35x
Precision:
Deep 10's (Bremen Butler, Lillian Warren, Adrianna Beard, Braden Michalak) – 2330-140x
Taunton Marksmanship Unit Ring Leaders (Mia Lee, Ashton O'Connell, Clara Lowe, Alok Joarder) – 2324-140x
Reading Rebels (Andrew Duross, Henry McCurry, Olivia Reilly, David Clark) – 2316-133x
60 Shot Individuals:
Rifle Open:
SP4 Alison Weisz, 26, U.S. AMU – 1261.9
Molly McGhin, 19, Griffin, Georgia – 1250.2
Emme Walrath, 15, Kenosha, Wisconsin – 1249.9
Rifle Junior:
Molly McGhin, 19, Griffin, Georgia – 1250.2
Emme Walrath, 15, Kenosha, Wisconsin – 1249.9
Rylan Kissell, 19, Lakewood, Colorado – 1246.8
Pistol Open:
James Hall, 37, Columbia, Missouri – 1156-39x
Remington Smith, 16, Ashburn, Georgia – 1141-34x
Anthony Lutz, 32, Orient, Ohio – 1138-30x
Pistol Junior:
Remington Smith, 16, Ashburn, Georgia – 1141-34x
Hunter Battig, 19, Colorado Springs, Colorado – 1131-28x
Katelyn Abeln, 20, Douglasville, Georgia – 1128-27x
60 Shot Teams: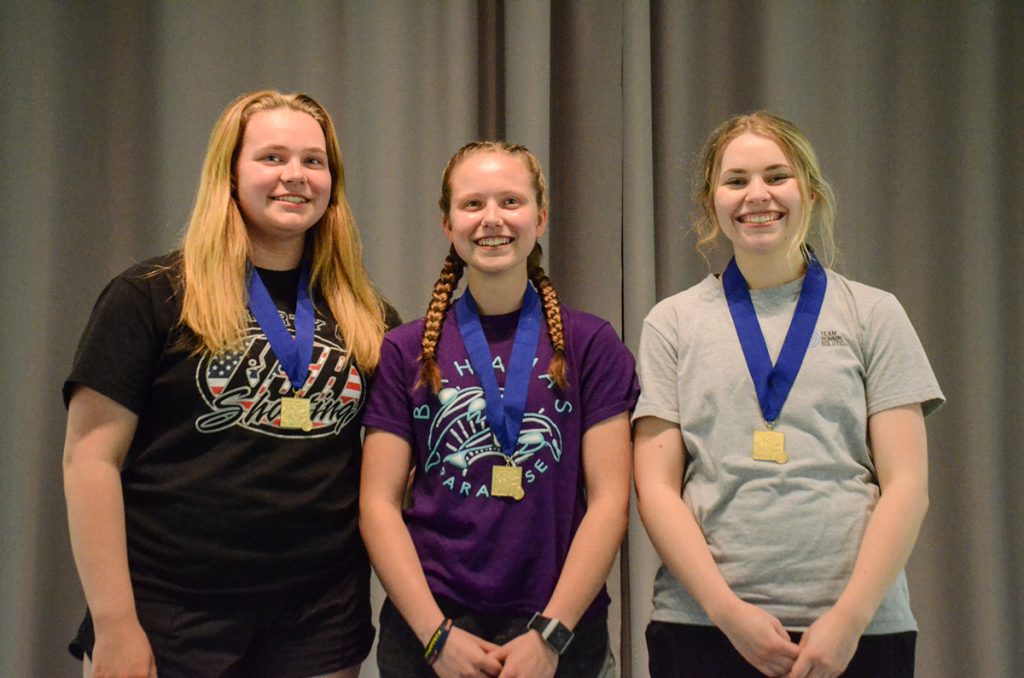 Rifle Open and Junior:
The Unadoptables (Katrina Demerle, Natalie Perrin, Rylie Passmore) – 3722.5
Akron Zips (Gavin Perkowski, Samantha Shultz, Kayla Andreoli) – 3705.0
Southport Xception (Emme Walrath, Dylan Gregory, Anthony Hotko) – 3694.6
Pistol Open:
We Luv Emil Milev (Anthony Lutz, Samuel Gens, Katelyn Abeln) – 3401-86x
Sharp Shooters (Hunter Battig, Suman Sanghera, Bhavjeet Sanghera) – 3345-67x
Tri-State (Remington Smith, Johnathan Dorsten, Brennan Laing) – 3285-60x
For a complete list of results, visit the CMP Competition Tracker page at https://ct.thecmp.org/2021CPOresults.
An online photo album, with free downloadable photos, can be found on CMP's Zenfolio page at https://cmp1.zenfolio.com/f402330048.
– By Ashley Brugnone, CMP Writer