Thompson Repeats Record-Breaking 3×20 Performance to Win Overall at the 2017 Camp Perry Open
January 19, 2017
Civilian Marksmanship Program
▸
The First Shot
▸
Thompson Repeats Record-Breaking 3×20 Performance to Win Overall at the 2017 Camp Perry Open
By Ashley Brugnone, CMP Writer
CAMP PERRY, Ohio – At the Civilian Marksmanship Program's (CMP) 2017 Camp Perry Open, Emma Thompson, 16, of Freeport High School, astoundingly broke her own 3×20 sporter air rifle qualification National Records (notably, for the third time) that she had previously set only a month ago at the Gary Anderson CMP Competition Center air gun range.
In December, Thompson fired a qualification score of 577-28x on her way to becoming the overall sporter competitor during the Gary Anderson Invitational event – where she incredibly also set nine total sporter National Records, some of which were already hers.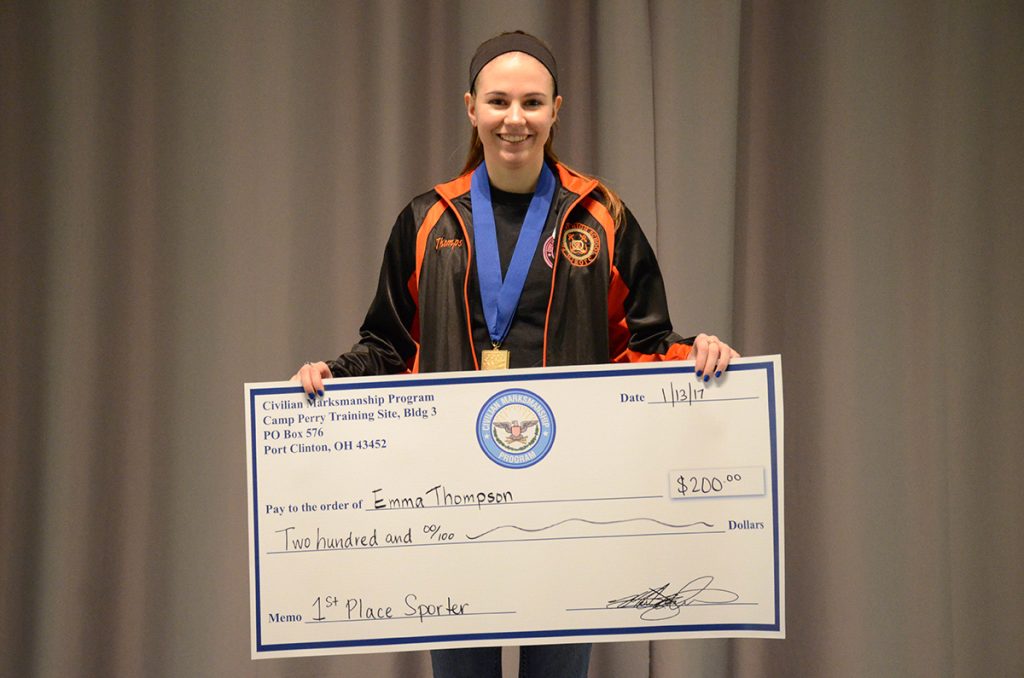 At the Camp Perry Open, fired Jan. 13-15, Thompson recorded a remarkable score of 578-31x to reach the new qualification record as well as a new kneeling record (197-13x) that adjacently resulted in new Navy JROTC, Age Group II and Overall records in another incredible win.
"It's just a normal day at work," she said. "Coming in and shooting with the same mindset, getting in the zone and hoping that I have a good day. I keep following fundamentals and doing the normal stuff."
She says that she aims to do the best she can for her team by shooting her average or above every time she competes. She also has her sights set on a goal that she is quickly approaching with each record-breaking performance.
"There's a dream of 580 (overall 3×20 score) somewhere out there. I think I can do it," she said with a smile.
With her performance, Thompson's team, Freeport High School, rose to the overall win in the 3×20 team competition along with the help of teammates Alyssa Hornung (who finished second overall), Lindsay Strohacker and Makiah Stacy.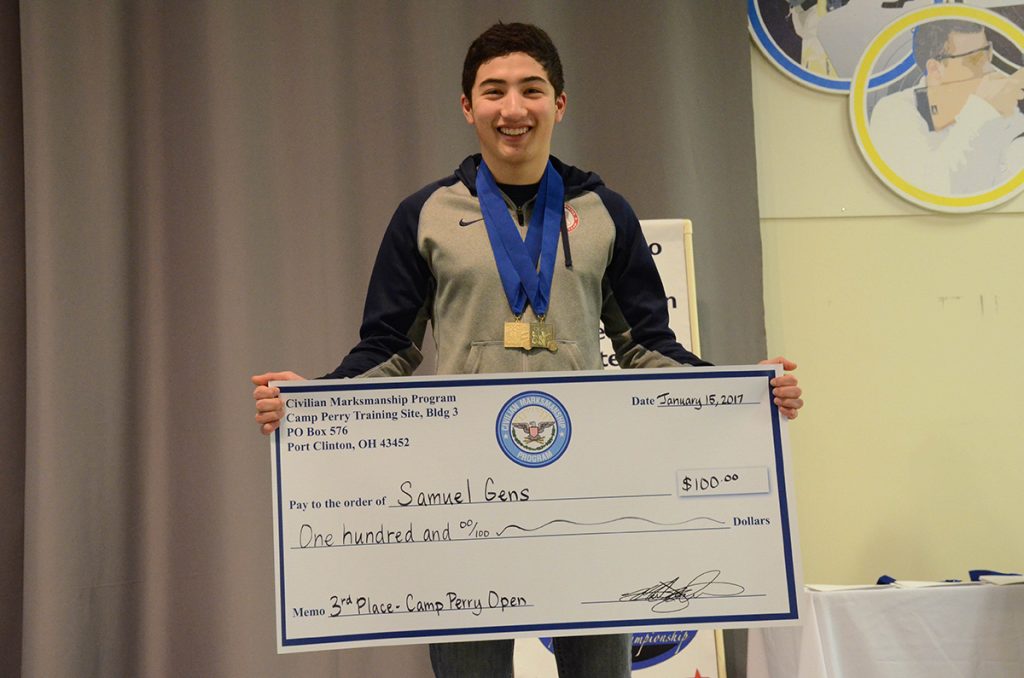 Freeport coach, SgtMaj Michael Dechy, is quick to acknowledge Thompson's excellent work ethic that he believes is a result of her involvement in other activities, such as the school play and dressage (English-style horse riding). He says being involved in a variety of interests causes her to be more attentive in air rifle.
"She never misses a practice, and she does a lot of the physical parts other than shooting. She keeps herself in good physical condition. She's really focused on nutrition and all of the other aspects of shooting," he said. "She does a lot of things other than just this (air rifle) which makes her very focused when she comes to shoot."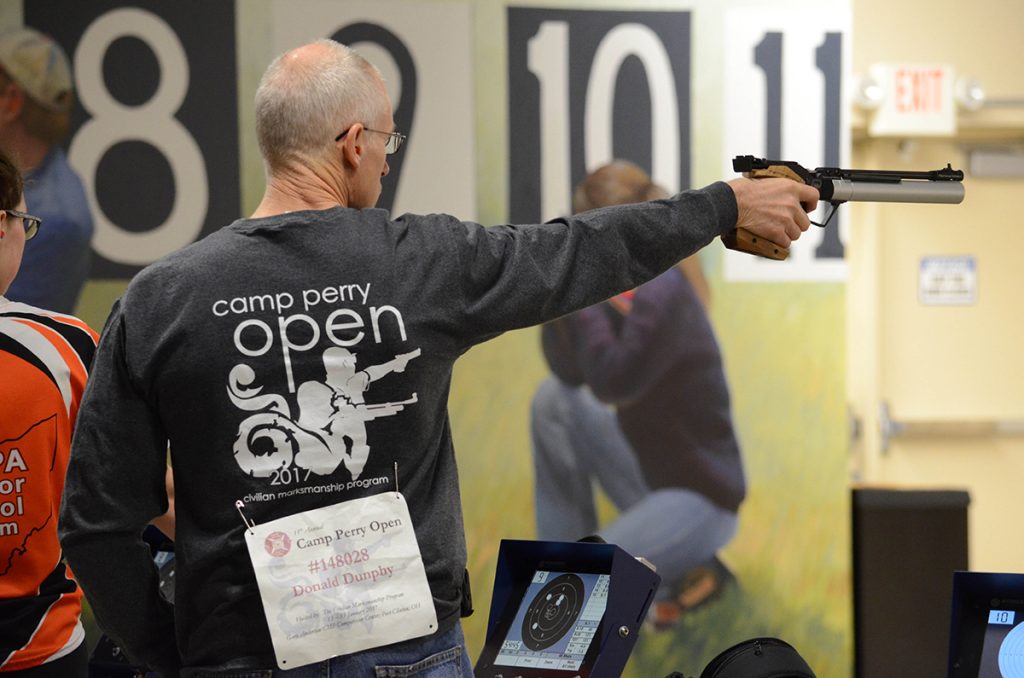 SgtMaj Dechy looks to Thompson as a natural mentor to her teammates. The drive, respect and generosity etched into her personality are the characteristics that make her a highly appreciated member of the team.
"She's a very nice person, very humble and she is a leader on the team," he said. "She doesn't just come in, shoot and takes off. She helps other kids if they want help, but she doesn't push them, and she's well liked."
Thompson said with a laugh, "This is my third year, so I hope I look like I know what I'm doing and am responsible. But I try to help out the freshman and new kids as much as I can, give them pointers and calm them down at these big meets."
"I wouldn't be here without my team," she added. "These records are the first of many. Freeport's name will be up in lights for a long time, I'm hoping."
The Camp Perry Open is an air gun competition that combines both junior and adult competitors in a shoulder-to-shoulder 60 Shot match. Air rifle and air pistol events are fired concurrently, with a 3×20 competition preceding the two-day Open match.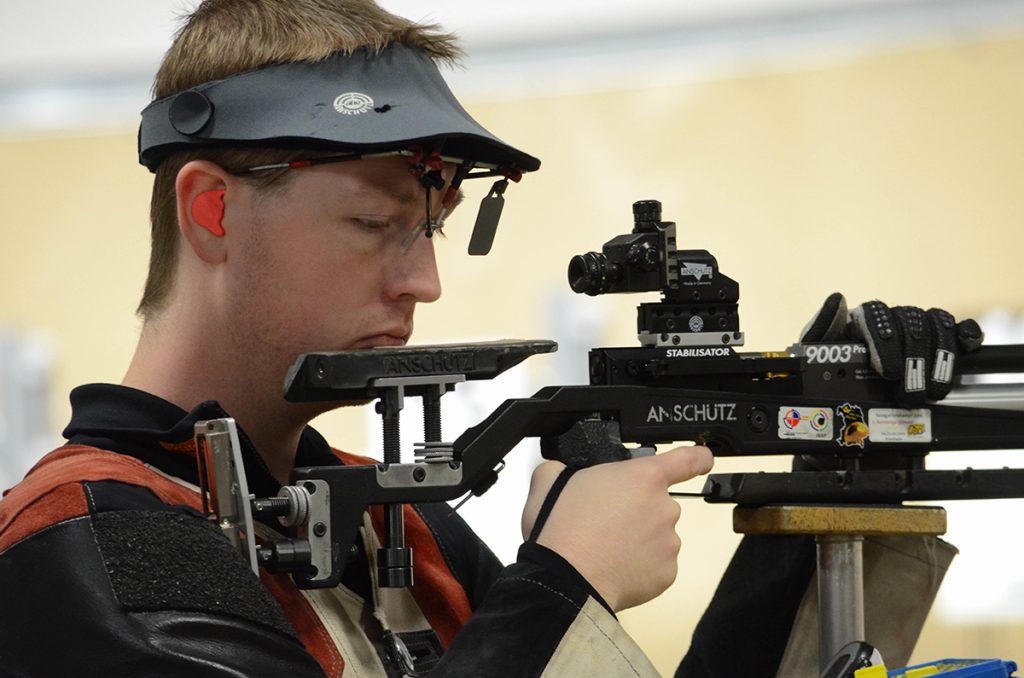 Richard Gray, 45, of Fredericksburg, VA, led overall in the 60 Shot Open Pistol match, as Samuel Gens, 17, of Andover, MA, was the overall high junior of the competition – landing in third place overall amongst the Open competitors.
Also winning during the Camp Perry Open was Karly Potts, 18, of the Palmyra Jr. Rifle Team, who outshot her junior air rifle competitors for the overall win in the match, and Antonio Gates, 17, of RRC Juniors, who led the precision class in the 3×20 competition.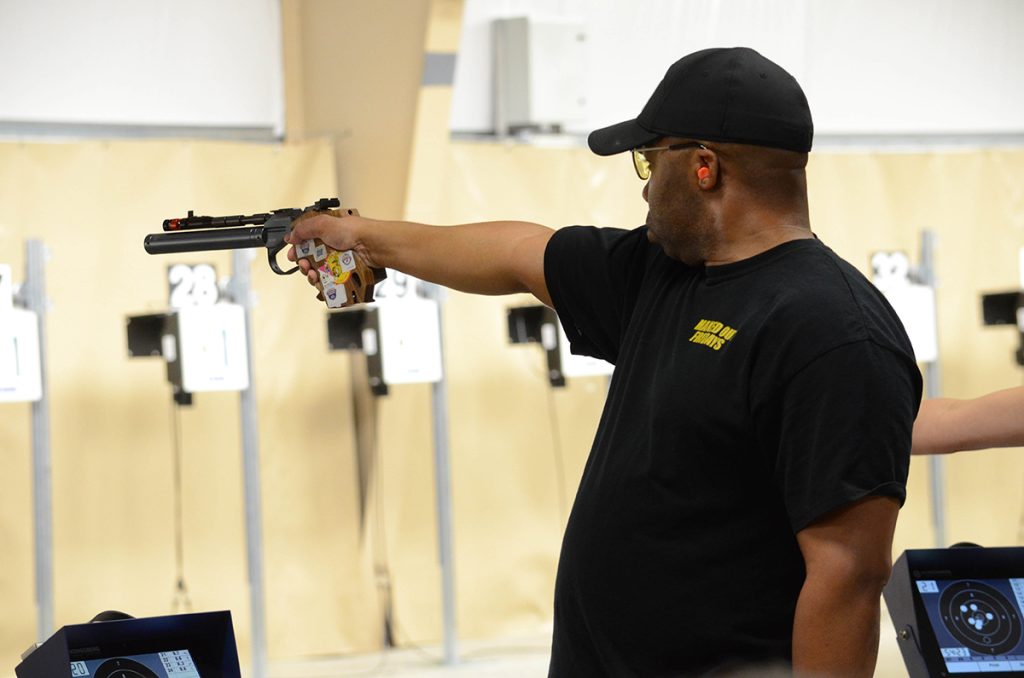 Dempster Christenson, 26, of the USA Shooting team, topped the 60 Shot Rifle Open competition and was also the winner of the wild and rowdy Super Final.
On the pistol side, Margaret Delnoce, 20, of the University of Akron, withstood the challenging Super Final to secure first place in the fun Camp Perry Open staple.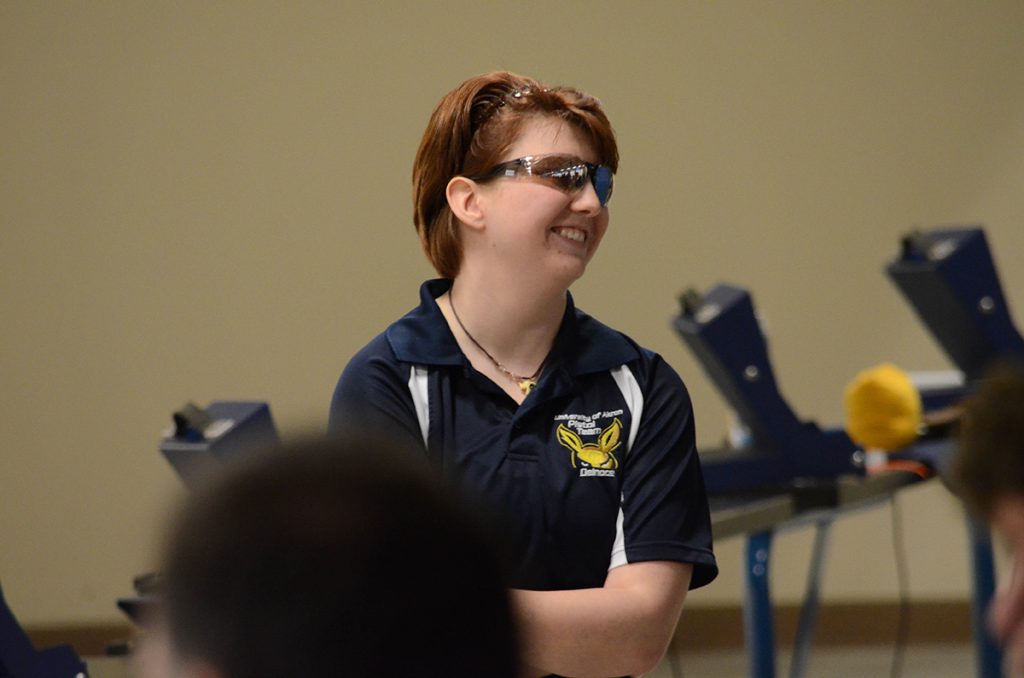 The Super Finals, which has made the Camp Perry Open unlike any other air event throughout the year and arguably the most widely attended by fans, features costumes, booming music from the overhead speakers, cheering fans, clappers, cow bells and other commotions – all echoing simultaneously throughout the range as the competitors fire their shots. This year, the Top 36 air rifle and pistol overall competitors, respectively, took the firing line in the event.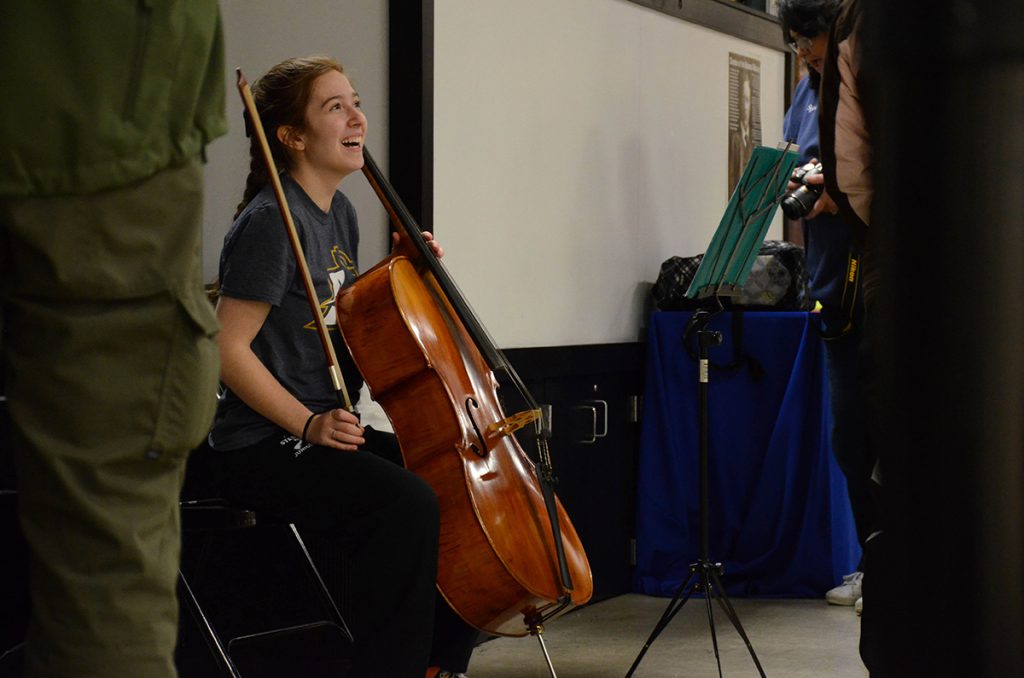 Other winners of the 2017 Camp Perry Open include:
60 Shot Rifle Open:
Dempster Christenson, 26, of USA Shooting – 1247.1
SSG George Norton, 32, of the U.S. Army Marksmanship Unit – 1243.8
SPC Daniel Lowe, 24, of the U.S. Army Marksmanship Unit – 1238.9
60 Shot Pistol Open:
Richard Gray, 45, of Fredericksburg, VA – 1117
Kara Petracek, 38, of Atlanta, GA – 1109
Samuel Gens, 17, of Andover, MA (Mass. Rifle) – 1094
60 Shot Junior Rifle:
Karly Potts, 18, of Ephrata, PA – 1230.4
Martina Gratz, 14, of Sigel, IL – 1221.9
Kaitlyn Kutz, 17, of Darien, CT – 1218.8
60 Shot Junior Pistol:
Samuel Gens, 17, of Andover, MA (Mass. Rifle) – 1094
John Marrinan, 19, of Oakdale, CT – 1072
Stuart Burns, 17, of Kilbride, ON – 1058
60 Shot Team Results:
Open Rifle:
USAMU – 3703.1
Central Illinois Precision Shooting – 3612.2
South Eastern Rifle Team – 3606
Junior Rifle:
Central Illinois Precision Shooting – 3612.2
South Eastern Rifle Team – 3606
Niantic Sportsmen's Club 10x Terrors – 3603.9
Open Pistol Team:
Massholes – A – 3241
Massholes – B – 3161
Niantic Sportsmen's Club 10x Terrors – 3127
3×20 Precision Rifle:
Antonio Gross, 17, of RRC Juniors – 691.1
Elizabeth Dutton, 17, of Hudson Fish and Game – 685.6
Caleb Moxley, 18, of Dallastown MCJROTC – 683.8
3×20 Sporter Rifle:
Emma Thompson, 16, of Freeport High School – 671.2
Alyssa Hornung, 17, of Freeport High School – 651.7
Matt Cress, 17, of Zion Benton High School – 648
Thanks to all who competed or attended one of the CMP's most enjoyable events of the year at the Camp Perry Open. We hope to see everyone back again next year – with some new faces too!
For a complete list of results, visit the Camp Perry Open Competition Tracker page at http://ct.thecmp.org/app/v1/index.php?do=match&tab=results&task=edit&match=14602.
Photos of the Camp Perry Open are available for free viewing and download on the CMP's Zenfolio page at http://cmp1.zenfolio.com/f556459568.