The CMP Gary Anderson Invitational Junior Air Rifle Event is Almost Sold Out
October 12, 2020
Civilian Marksmanship Program
▸
The First Shot
▸
The CMP Gary Anderson Invitational Junior Air Rifle Event is Almost Sold Out
CAMP PERRY, Ohio; ANNISTON, Alabama – Registration is now open, though nearly filled, for the Civilian Marksmanship Program's (CMP) annual Gary Anderson Invitational, set to be held Dec. 5-6, 2020, at the electronic air gun ranges located within the Gary Anderson CMP Competition Center in Ohio and the South Competition Center in Alabama. Very few slots are still available in Ohio, with Alabama expected to quickly fill to capacity in the coming days – so register soon!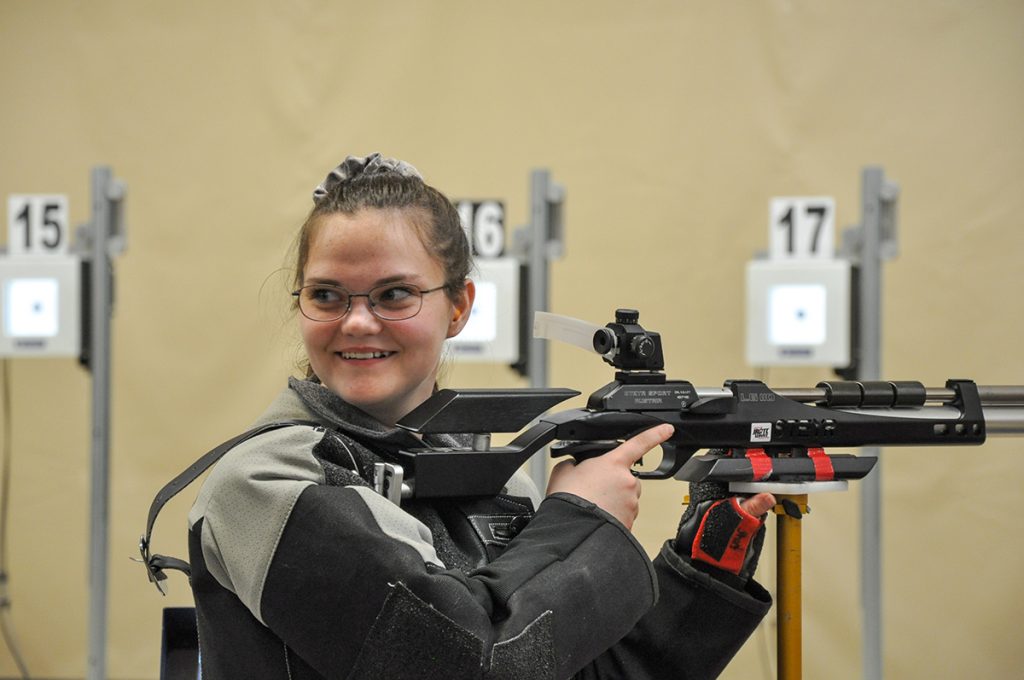 Traditionally held the first weekend of December, this year's Gary Anderson Invitational (GAI) will open a few weeks leading up to the event during allotted times, Nov. 16 to Dec. 4, in order to accommodate the number of entries and the 25-firing point relay capacity social distancing requirements.
Visit the 2020 Gary Anderson Invitational page on CMP's Competition Tracker at https://ct.thecmp.org/GAI20 to view current registration openings or call 419-635-2141 ext. 704 to schedule a GAI Match shooting time. If the match reaches full capacity, teams and individuals may also be placed on a wait list by emailing Lue Sherman at lsherman@thecmp.org.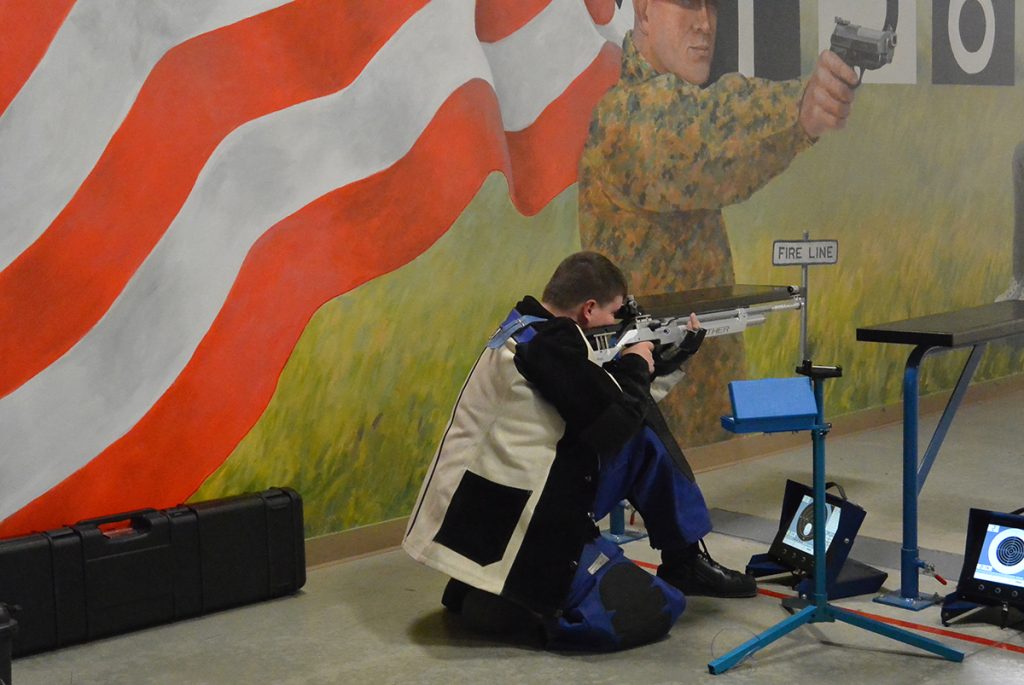 The GAI is designed for junior schools, clubs and individuals of all experience levels, using sporter and precision rifles in a 3×20 course of fire (20 shots at prone, standing and kneeling positions). Adaptive junior competitors are also welcome to compete in this event. Winners are determined overall from 3×20 qualifying scores and an extra 10 shots fired to simulate finals scores, recorded at both Camp Perry and Anniston. Top four-member teams are also awarded based on each member's combined scores.
Athlete check in will be held at the entrance of each facility, and participants will not be permitted within the building until their relay is called. Changing areas, classrooms, common areas and drinking fountains will be closed, with limited restroom use. Only participants with one coach or parent will be allowed into the range – no other spectators will be authorized to enter the building. Temperatures will also be checked upon arrival.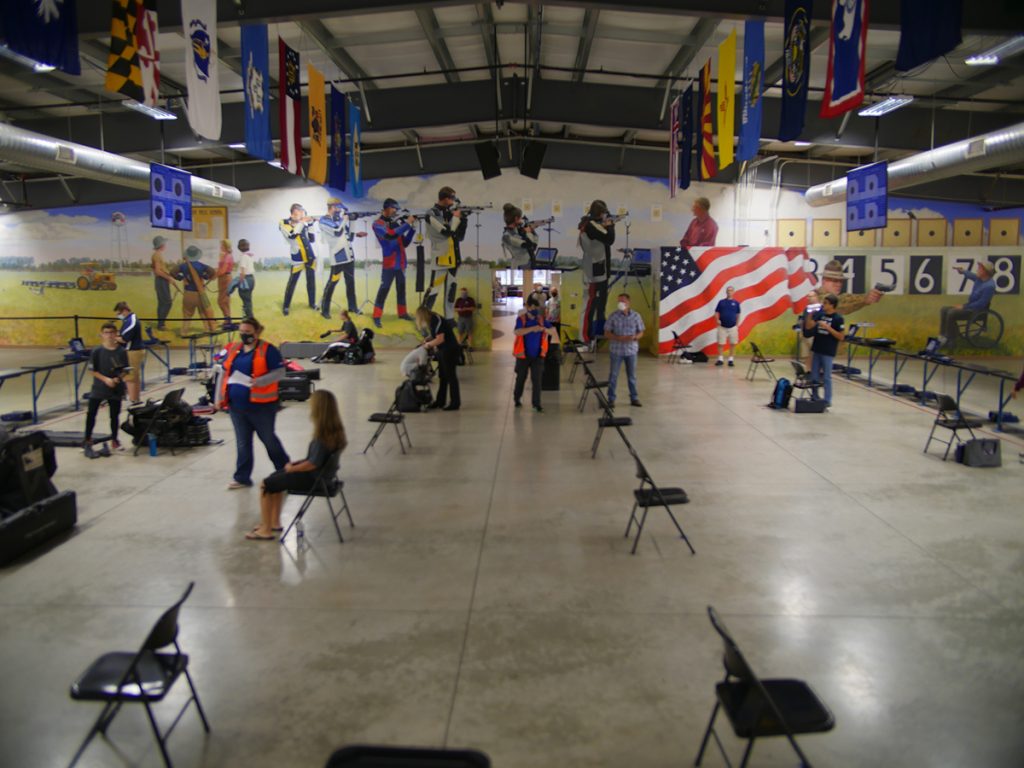 Firing points will be cleaned and sanitized between each relay. To further ensure the safety of all guests to the CMP air gun ranges, the following precautions will also be enforced:
Masks will be required while within the facility until on the firing line;
Those not competing must wear masks at all times;
Bleachers normally placed within the ranges have been removed, with limited chairs available to parents/guardians or coaches.
For more information about the Gary Anderson Invitational, visit https://thecmp.org/cmp-matches/gary-anderson-invitational-air-rifle-championship/.
– By Ashley Brugnone, CMP Staff Writer
About Gary Anderson:
Mr. Anderson is a two-time Olympic gold medalist and also holds seven world championships, six world records and 16 national championships. He has won more Olympic and world championship three-position titles than any other American in history. In 1999, Anderson began a 10-year reign as Director of Civilian Marksmanship and retired in December 2009. Today, he serves as DCM Emeritus and remains a mentor for new and experienced, old and young shooters around the country.
The Civilian Marksmanship Program is a federally chartered 501 (c) (3) non-profit corporation. It is dedicated to firearm safety and marksmanship training and to the promotion of marksmanship competition for citizens of the United States. For more information about the CMP and its programs, log onto www.TheCMP.org.