Granbury, Nation Ford Teams Again Lead 2022 JROTC National Air Rifle Championship
March 22, 2022
Civilian Marksmanship Program
▸
The First Shot
▸
Granbury, Nation Ford Teams Again Lead 2022 JROTC National Air Rifle Championship
CAMP PERRY, Ohio – Granbury High School Marine Corps JROTC from Texas and Nation Ford High School Marine Corps JROTC from South Carolina know how to win. At the Civilian Marksmanship Program's (CMP) Gary Anderson CMP Competition Center in Ohio, Granbury marked its fifth consecutive national precision title at the 2022 JROTC National Three-Position Air Rifle Championship, held March 17-19. Nation Ford MCJROTC claimed the sporter team division title for the fourth consecutive year, with five wins overall. Those win counts include the 2020 matches, when the JROTC Service Championships were used in place of the Nationals event.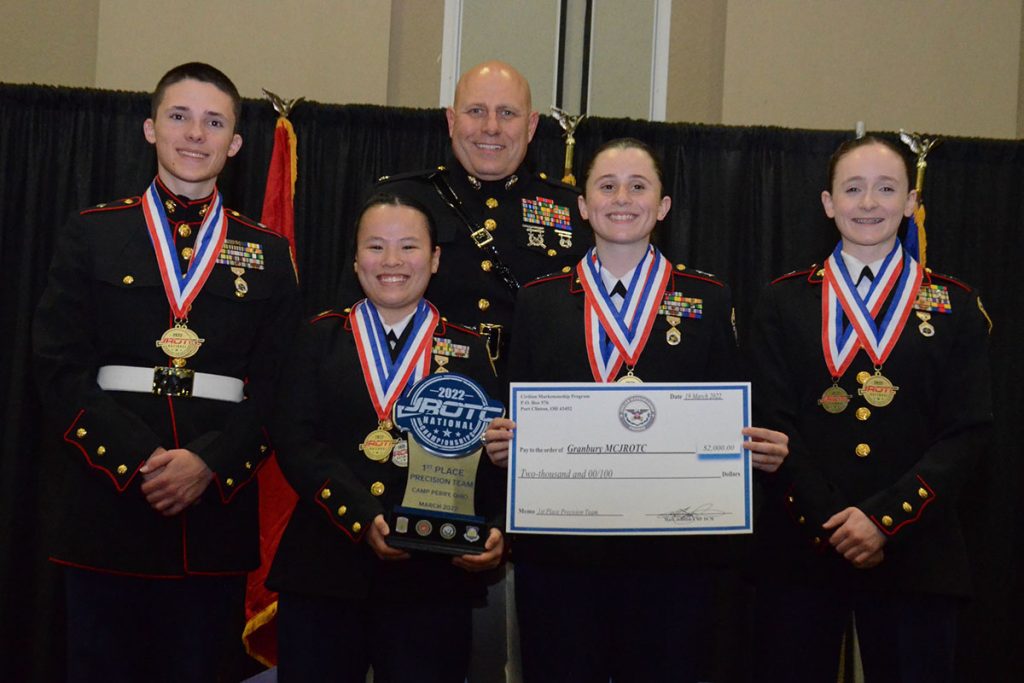 This year was the first time since 2019 that athletes were again able to compete in-person for the event. The two-day, three-position competition features both precision and sporter class high school athletes from all JROTC service branches (Army, Navy, Marine Corps and Air Force). The 2022 Championship included a training day along with two days of qualifying scores and a concluding finals match for the top eight leading athletes in each discipline. 
Breaking from the traditional 10-shot final, this year's final followed a three-position elimination format. Participating athletes accumulated scores at three different positions: three, five-shot series at kneeling and prone and two, five-shot series in standing. Once the last standing series was completed, the lowest two places were eliminated, followed by single shots for single eliminations of the remaining athletes – ultimately determining the overall winners.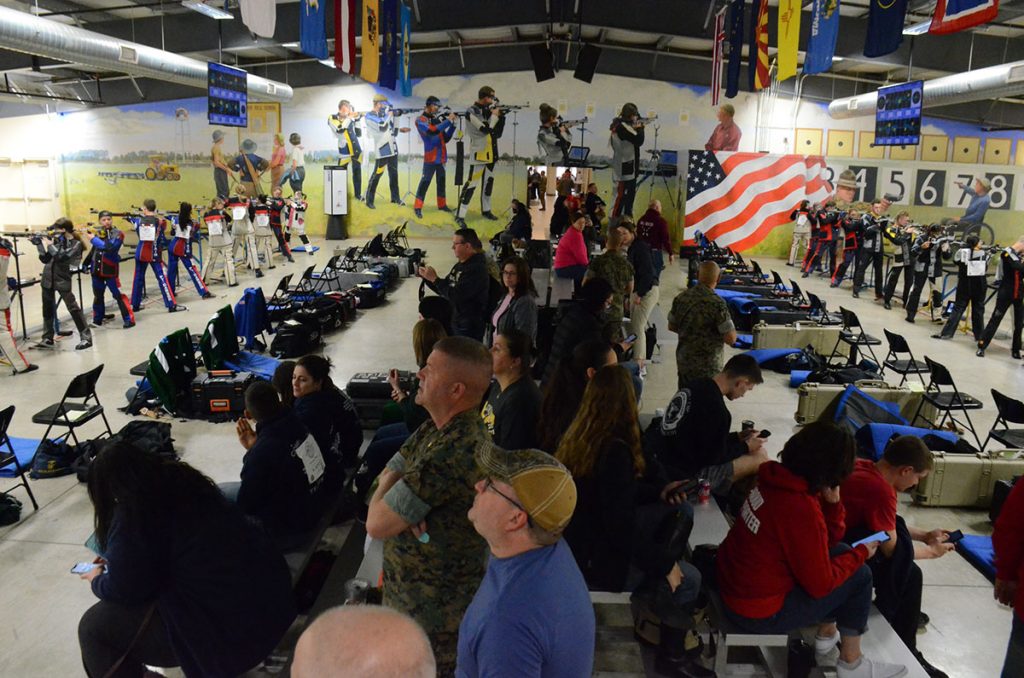 Five of the eight athletes on the line during the precision final represented Granbury High SFive of the eight athletes on the line during the precision final represented Granbury High School, including members of the four-person winning team, Sunnee Schumann, Sarah Folsom, Ashton Arlington and eventual overall individual winner, Parker Haydin.
"I was not taking second place for an answer," said Haydin, 18, a senior. "This is my last year, and it's been my goal since I was a freshman. I told myself when I become a senior, I'm going to win this. First place – not taking second."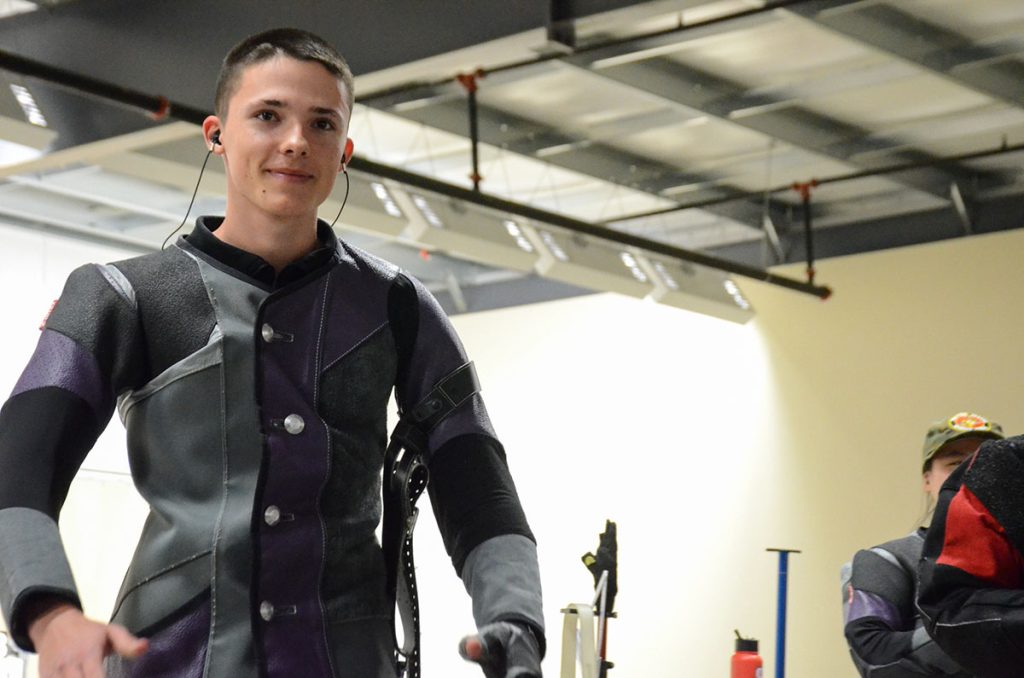 Though he carried the ambitious goal going into the competition, he admitted that he wasn't focused on winning during the final. Instead, he kept the simple mindset of doing his best while proudly being surrounded by his teammates on the line.
"I think we work the most," he said of his Granbury team. "We put in more hours – we're in there five days a week, about two hours every day, and we'll come in on the weekends before big matches like this. We host clinics where Olympians and other college shooters will come in, and they'll teach us all about this stuff. It really helps a lot."
Haydin's two-point lead going into the last shot of the JROTC Championship final gave him confidence. He knew what he had to do to succeed and thought back to his training to carry him through to the end.
"Work, work, work, work got me to where I want to be," he said. "I'm just going to do my best and put everything I've learned into the work and let it go out."
Haydin will be carrying his skills on to the U.S. Naval Academy after graduation, where he'll perform as a member of the school's rifle team.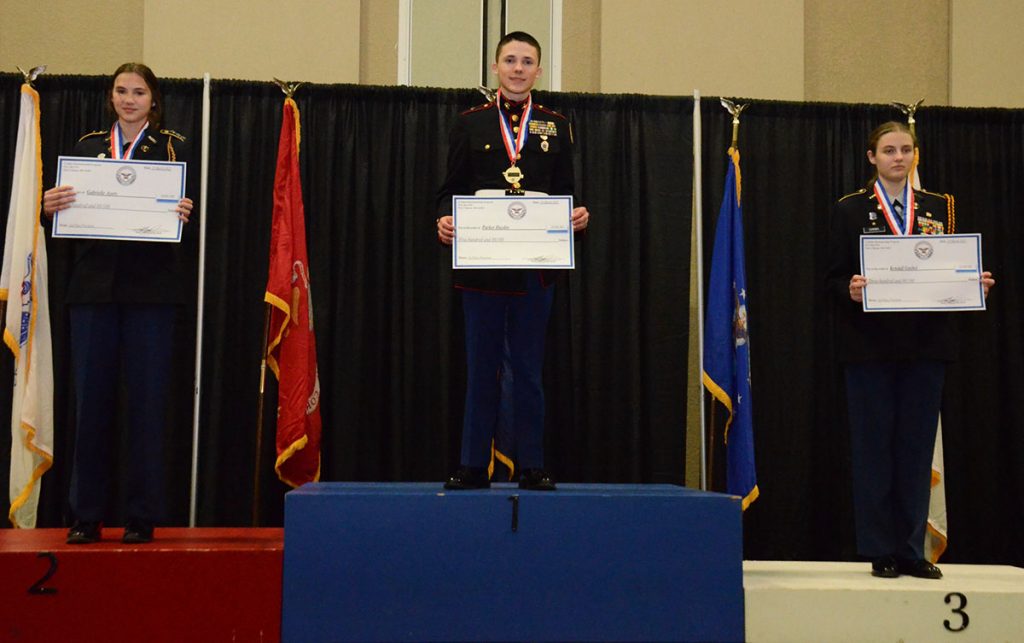 Earning second behind Haydin in precision was Gabrielle Ayers, 16, of Sarasota Military Academy Army JROTC from Florida, followed by Kendall Goebel, 17, also of Sarasota.
Likewise, two members of the winning Nation Ford team also made the final. Maya Cameron and Kyle Orr earned fourth and fifth overall, respectively, as national-title teammates Samantha Zermeno and Isabelle Fetting watched on.
Leading the sporter individual match was Kyler Boyce, 17, of Lebanon High School Army JROTC from Oregon.
After a disappointing first day of competition that picked up on day two, Boyce wasn't sure he was going to make the final. Once he did, he jumped off to an early lead in the kneeling portion and ended the stage with a five-point margin over the next closest competitor. He held his lead throughout the remainder of the final to claim the overall win.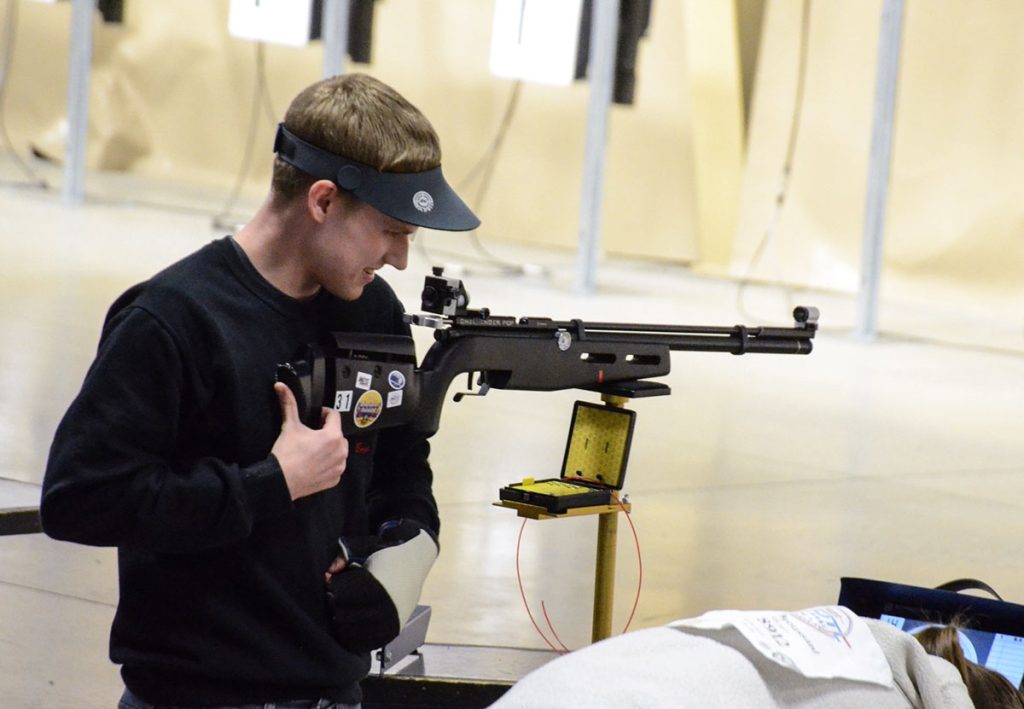 "It was surprising when I did good in kneeling, and after that I did pretty decent in prone," he said. "I was pretty proud of that, and that's what helped me stay in the lead. It helped boost my morale for standing and helped keep me calm."
Boyce said he likes to use visualization in high-pressure situations – picturing himself bringing the rifle to the target and imagining his aim and shot. Although he only has a few matches left during his senior year, he hopes to continue shooting for fun after graduation.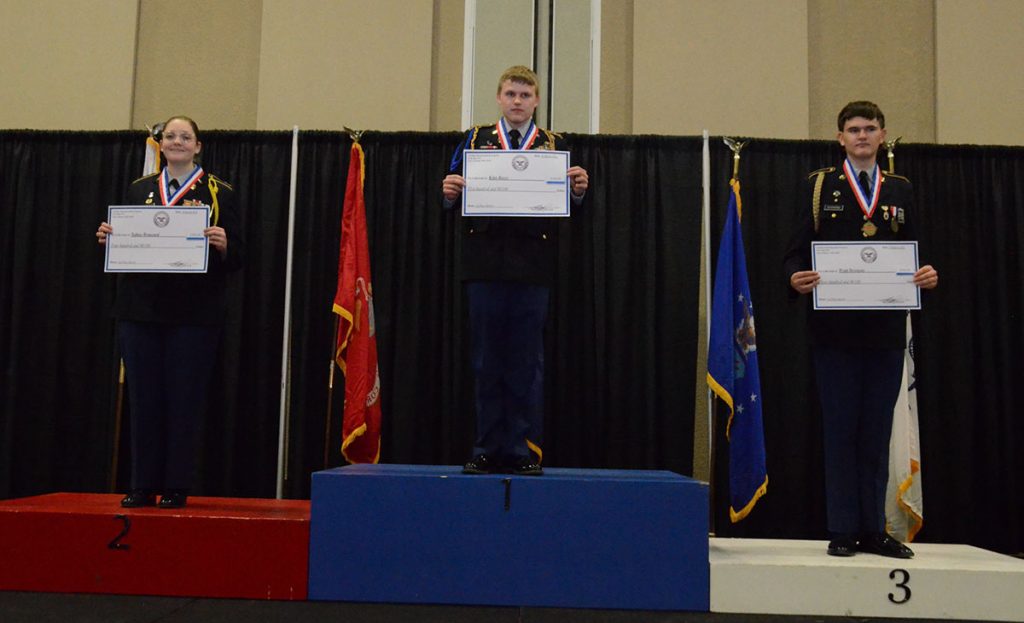 Following closely behind Boyce in the final was Sydney Broussard, 17, of Ozark High School Army JROTC from Missouri, as Wyatt Devenyns, 18, of Pueblo County High School Army JROTC from Colorado, took third.
The top five individuals earned money for placing in the competition: $100 for fifth, $200 for fourth, $300 for third, $400 for second and $500 for first. Additionally, placing teams earned monetary awards from the CMP for their outstanding performances – $500 for fifth, $750 for fourth, $1,000 for third, $1,500 for second and $2,000 for first. As in previous years, Larry and Brenda Potterfield of the MidwayUSA Foundation provided additional funds towards winning teams of the JROTC Championship.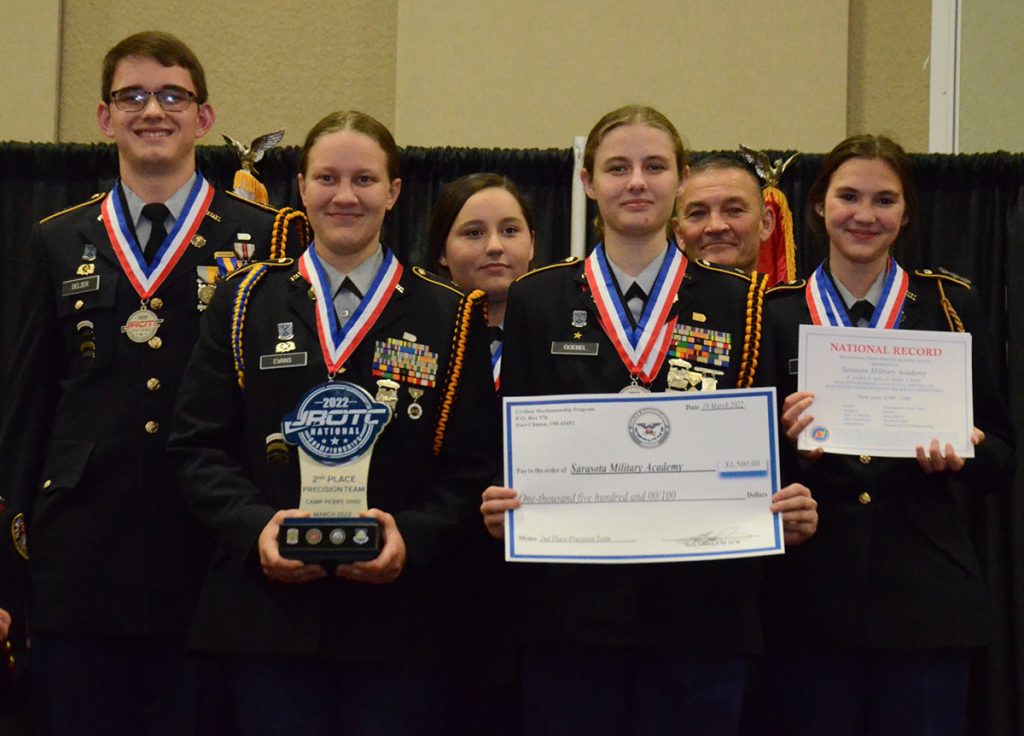 Sarasota Military Academy set a new precision Army JROTC team four-person 3×20 national record, with a score of 2348-158X, to take second in the overall precision team event. Eldorado High School Marine Corps JROTC from New Mexico landed in third.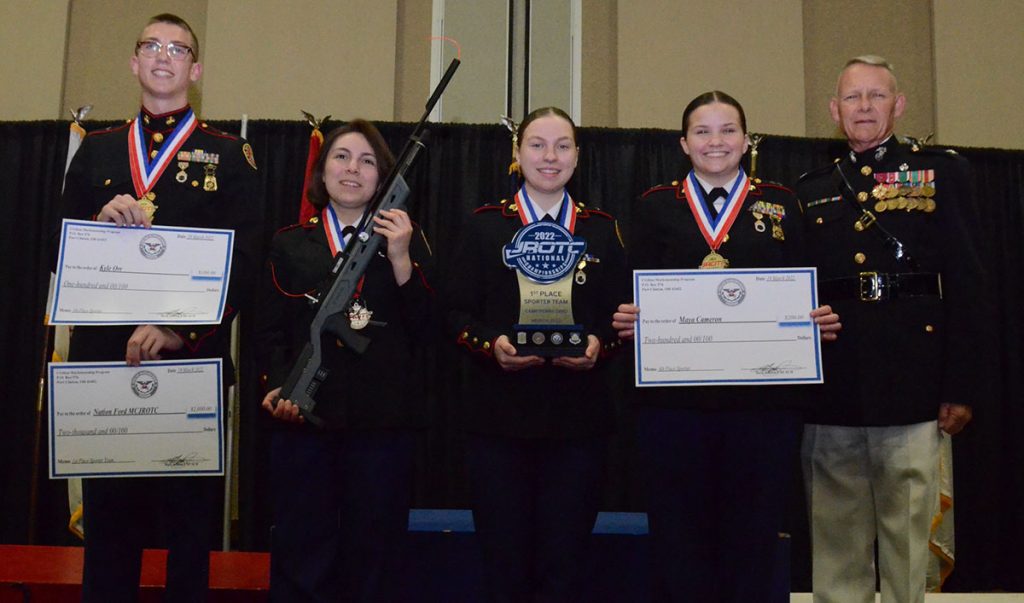 Ozark High School also earned an Army JROTC national team record at the event, firing a new four-person 3×20 sporter score of 2226-85X and claiming second behind Nation Ford. Des Moines Central High School Marine Corps JROTC from Iowa secured third overall.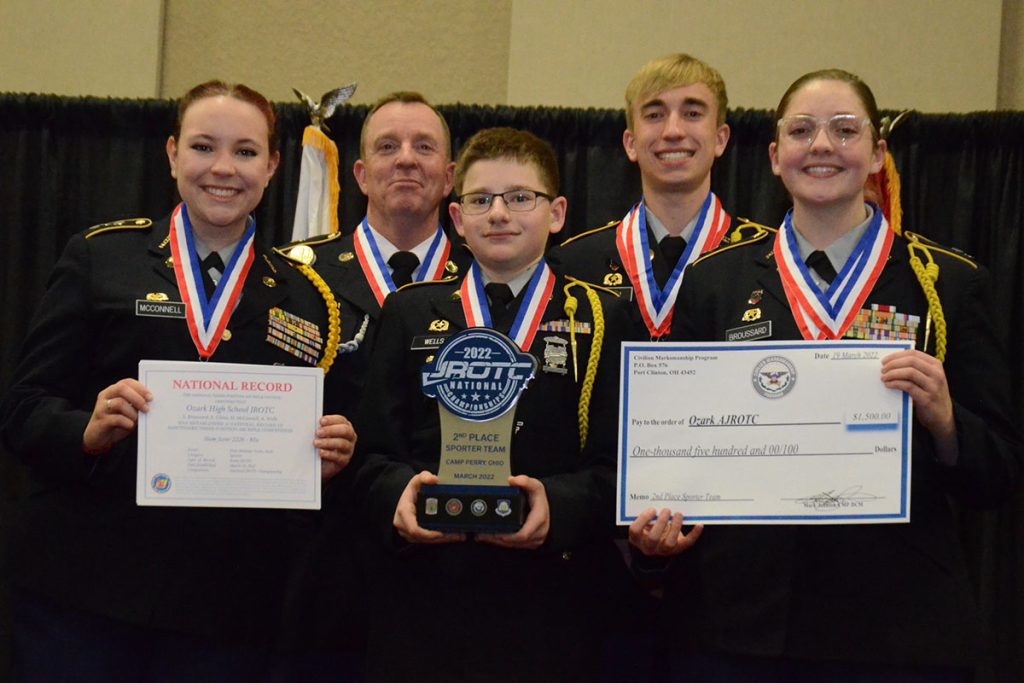 Congratulations to all participating athletes!
For a complete list of results, visit the CMP Competition Tracker page at https://ct.thecmp.org/2022JROTCNationalResults. Photos from the event may be viewed at https://cmp1.zenfolio.com/f748127640.
Find more information on the JROTC Championships, including a closer look into the preceding JROTC Postal and Service Championships, by visiting https://thecmp.org/youth/jrotc-air-rifle-national-championship/.