Team Double D Sets New Record in Fan Favored Vintage Sniper Match
August 1, 2014
Civilian Marksmanship Program
▸
The First Shot
▸
Team Double D Sets New Record in Fan Favored Vintage Sniper Match
By Ashley Brugnone, CMP Writer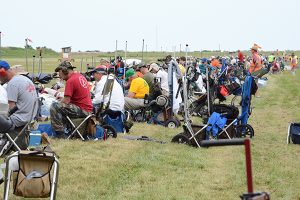 CAMP PERRY, OH – On July 18, neatly placed sand bags greeted hundreds of competitors at each firing point as they readied themselves to compete in the CMP Games Vintage Sniper Match. A group of 470 individuals fired in the event.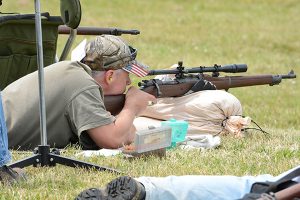 Brad Sodders, 49, and his son Davis, 15, have shot the Vintage Sniper Match since it began. Last year, the pair nabbed a silver medal in the event, while taking home a bronze this year.
"We like that we get to do it together," said Brad.
"I like the sandbag," added Davis. "I like that you don't have to do the different positions here like you do in other events. I enjoy it more that way."
Michael Wallace, 57, of Stafford, VA, fired in the match for the first time by sheer happenstance. After Jeff Green's partner couldn't make it to Camp Perry as planned, Wallace was more than happy to step in.
"I'm really glad I did," said Wallace. "This is the best."
"This match is absolutely fantastic," added Green, 60, of Midlothian, VA. "And the wind was really steady. I was surprised. It wasn't too bad out there."
For Paul Patel, 54, of Damascus, MD, the Vintage Sniper has more to offer than the usual National Match events. Having finished in third in the match, he says, here, everyone has the same chance to come out of top.
"It's got action," he said. "It's more than just marksmanship, since you're part of a team. And it's great that all ages can come out and compete against each other. Getting to use the scope kind of evens things out for everyone, competitively."
Two-person teams fire 10 rounds each from 300 and 600 yards, with scoped vintage military rifles in the prone position. Each team member alternates turns as shooter and spotter. The match requires quick accuracy and precise communication between partners.
Team Double D, consisting of Douglas Armstrong, 54, of Lexington, NC, and Glendale Rutherford, 62, of Tallapoosa, GA, fired a record-breaking score of 398-23x. Armstrong was also the individual leader of the match, cleaning each stage with perfect scores of 100 at both the 300 and 600 yard lines.
In second place was Bob's Gun and Ammo. Team members William Van Treeck, 28, of Racine, WI, and Shawn Steliga, 47, of Wauwatosa, WI, fired an impressive aggregate score of 397-19x. Rounding out the top three teams was Hard Leg #1, with a score of 392-19x. Firing members were Paul Patel and Howard Burrill, 53, of Mt. Airy, MD.