Team CMP Feature – Sara Rozanski
April 7, 2017
Civilian Marksmanship Program
▸
The First Shot
▸
Team CMP Feature – Sara Rozanski
By Ashley Brugnone, CMP Writer
The Civilian Marksmanship Program's (CMP) Travel Games event season is now underway, as the first of the match series fired April 5-9 at the Oklahoma City Gun Club in Oklahoma City. CMP Travel Games, featuring a variety of rifle and pistol competitions and clinics, are scheduled throughout the year around the country to allow civilian and military enthusiasts of all ages and from all areas to take part in the fun and challenging matches exclusive to the CMP.
Competing at each Travel Games event are members of Team CMP – composed of accomplished rifle marksmen, hand-picked by the CMP to serve as ambassadors to the sport.  Team CMP was assembled in May 2016 by CMP's Talladega Marksmanship Park range master Sara Rozanski in an attempt to build a group of elite civilian competitors. Along with a knack for competitive shooting, Team CMP members are carefully selected from individuals who want to inspire and guide other civilians on and off the firing line.
Recently, members of the team sat down and answered questions about themselves to give us a better look into their journeys as riflemen. Read below to find out more about the individual talent taking the firing line for Team CMP!
And if they're taking the line next to you at the next Travel Games event, feel free to ask them questions of your own!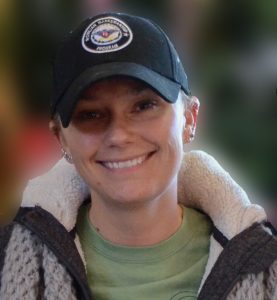 Name: Sara B. Rozanski
Age: 38
Hometown: Toledo Ohio, originally
Home Range: Adams Conservation Club and now Talladega Marksmanship Park
Past or Current Affiliated Clubs?
I've been a member of ORPA (Ohio Rifle & Pistol Association). I was an associate member at Washtenaw Gun Club in Michigan, Sandusky Rod & Gun Club and Adams Conservation Club in Toledo.
What is your background in shooting? How did you get started?
I grew up around my dad shooting shotguns, and I typically went to the local gun club (Adams Conservation Club) with him on the weekends. When he was finished shooting, he would take me to the plinking range to shoot .22s at detergent bottles or cans. I liked doing that, and when I turned 11, my dad enrolled me into the junior Friday evening .22 program, which I did until I was 16-17. From there, my dad and coach (Frank Piasecki) got me into highpower, starting with shooting the M14/M1A. Frank coached his granddaughter (Brooke) and me for many, many years. Brooke and I's first match experience was shooting the DCM Program in late April/early May, which was equivalent to SAFS at the Nationals. We both liked the experience, so we started practicing at Adams Conservation Club and began competing that summer at the ORPA matches at Camp Perry. We made our way onto the ORPA junior team and did fairly well for ourselves, especially being newbies. I continued to shoot the M14 or M1A until everyone started to switching to the AR15 around 2000, which I did apprehensively. I became distinguish in September 2000. I received all but four of my Distinguished points with the M14. That's probably my only regret in my shooting career – not finishing up getting my points with the M14. Once I started competing as a junior, I never really stopped. Since beginning highpower in the mid-1990's, the only Nationals I did not compete in was the summer I worked for the NRA.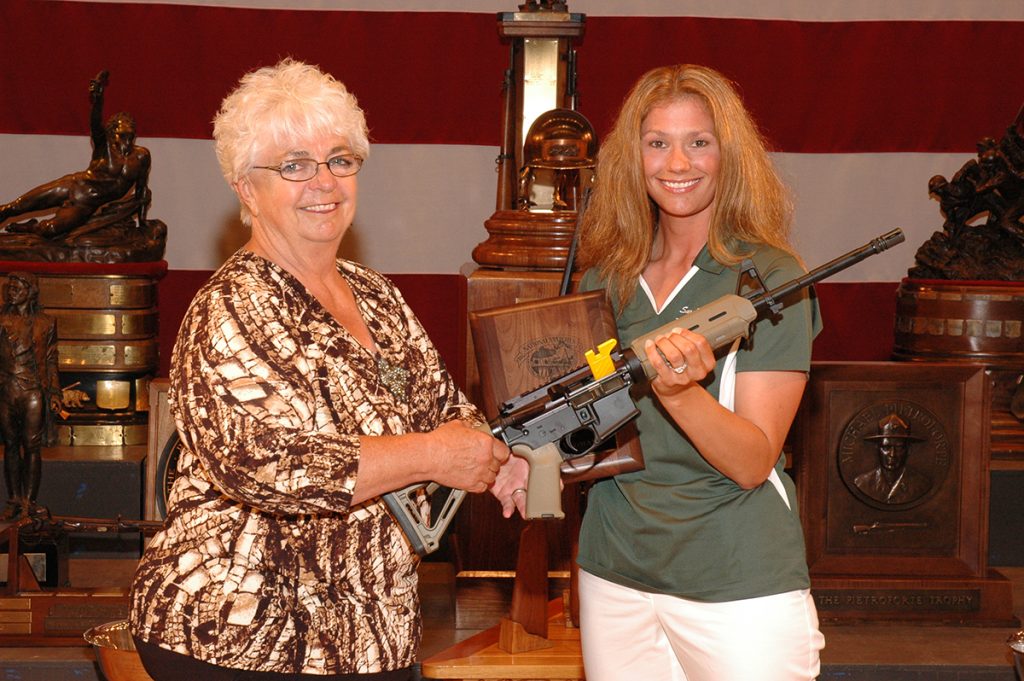 Awards/Honors/Certifications/Recognitions?
I've won a few awards throughout the years. My greatest accomplishment, and the one I'm most proud of, is winning the NRA Nationals High Civilian Award/Trophy in 2012. My next greatest accomplishment was winning the Western Creedmoor Overall in 2013, with a score of 2366-83x. Besides that, I've made it into the President's 100 a few times, with the highest being fourth overall, which was also a great accomplishment. I've won the High Woman in the President's 100, NTI, and the NRA National Matches. I've won the Western Creedmoor the last three years. As I said above, I became rifle Distinguished in 2000.
Any rituals or superstitions you have when competing?
One weird thing I think I do is I use the same two magazines for rapid fire and load them in between strings during an 800 aggregate. I'll only load them before getting called up to the line. I do not pre-load magazines at the beginning of the day. Other than that, I think I'm just very meticulous in how I do things, so I no longer see them as superstitions or rituals, they are now a part of my routine.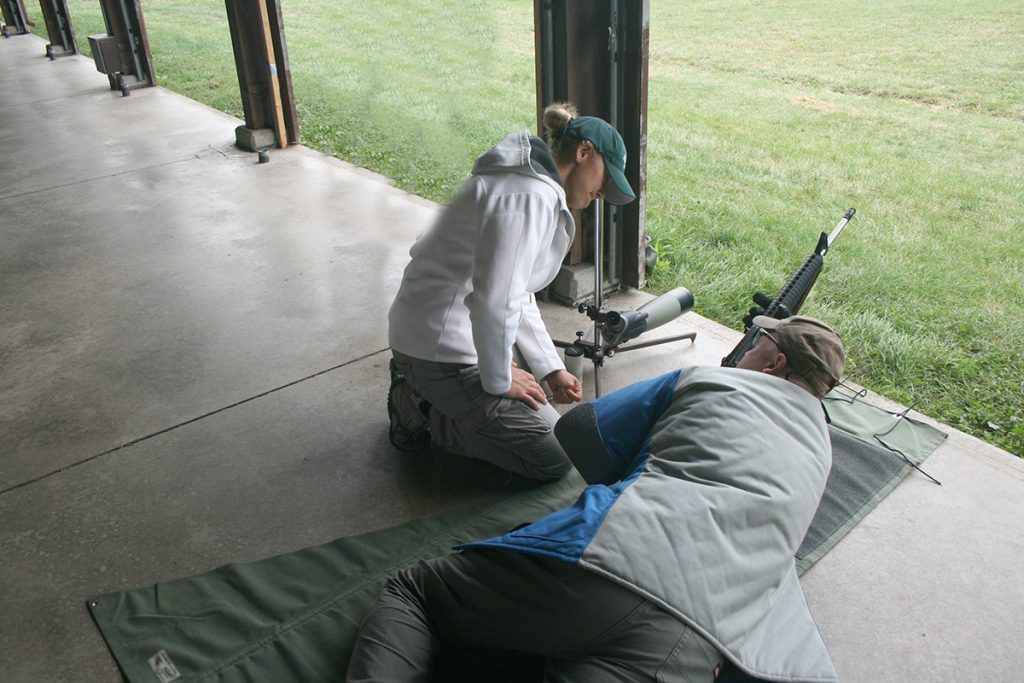 Any interesting stories from the firing line?
I'm sure there are plenty but none I can think of now. J
You always learn or experience something different or interesting at every match you attend.
How did you become involved with the CMP?
I've been involved since I began shooting competitively. CMP was known as the DCM (Director of Civilian Marksmanship) until they became privatized in 1996, when they then became known as the CMP. Pretty sure I still have a t-shirt (or two) with DCM on them hidden in the closet.
What do you enjoy about competitive shooting?
Highpower is its own little community. You have friends all across the U.S. that you get to see and hangout with at the various matches you attend, the biggest one being the National Matches at Camp Perry. It's a very social sport in the fact that you shoot around a group of people all day and then pull pits with them as well. It's also a very welcoming community for the most part. Most shooters are willing to help the newbies in any way they can. I've built a lot of lasting friendships throughout the years through shooting.
Favorite match/event to fire in, and why?
Hmmmm. I like almost all of them. If I had to pick one, it'd be 4-Person Team Matches. I like pair firing, especially during offhand. Trying to not let the three other people down and also firing in rotation with someone just pushes me to do better. For me, that's something I feel internally, so it's a general unconscious effort of wanting to do your absolute best and making sure you're taking good shots.
Future goals?
Throughout my shooting career, I've been fortunate enough to meet a great deal of my goals. One I've had for a long time is trying to go double and/or triple Distinguished, but haven't found the time to do this and still compete in highpower matches as I do. I would love to place in the top three overall at Nationals and maybe even win the Presidents 100. I would love to see more junior clinics and teams like I grew up with. This is something I hope having the CMP will help change by eventually offering clinics to just juniors.
Personal Details (significant other, kids, pets, hobbies, etc.):
I work for the CMP. I am currently in charge of running the rifle ranges and working on developing the CMP Highpower Team made up of other civilians like myself. I have a daughter and three dogs. I'm fairly lucky that my daughter gets to travel with me to a good majority of the matches. Not sure she'll become a shooter, but we'll see.