Strickland tops CMP 800 Aggregate and EIC Rifle Matches at Camp Perry
July 18, 2018
Civilian Marksmanship Program
▸
The First Shot
▸
Strickland tops CMP 800 Aggregate and EIC Rifle Matches at Camp Perry
By Serena Juchnowski, Feature CMP Writer
Four a.m. – that is the time many Ohio competitors awoke in time to drive to Camp Perry for the June 23 Civilian Marksmanship Program (CMP) 800 aggregate and subsequent EIC match.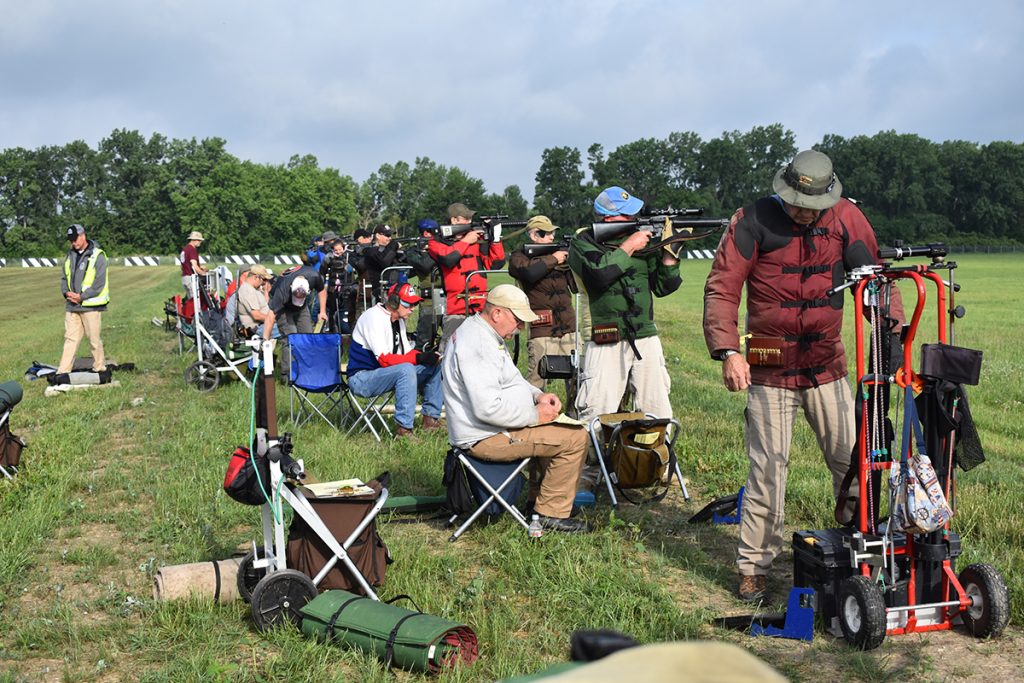 With everyone ready to go and at the 200-yard line by approximately 6:45 am, it seemed that the impending rainstorms may be just narrowly avoided. Firing was to commence at 7:00 am, but a miscommunication with range operations delayed the start until 8:00 am. Many used the extra time to visit with friends, load magazines, check zeroes, and to cover their gear in case of rain.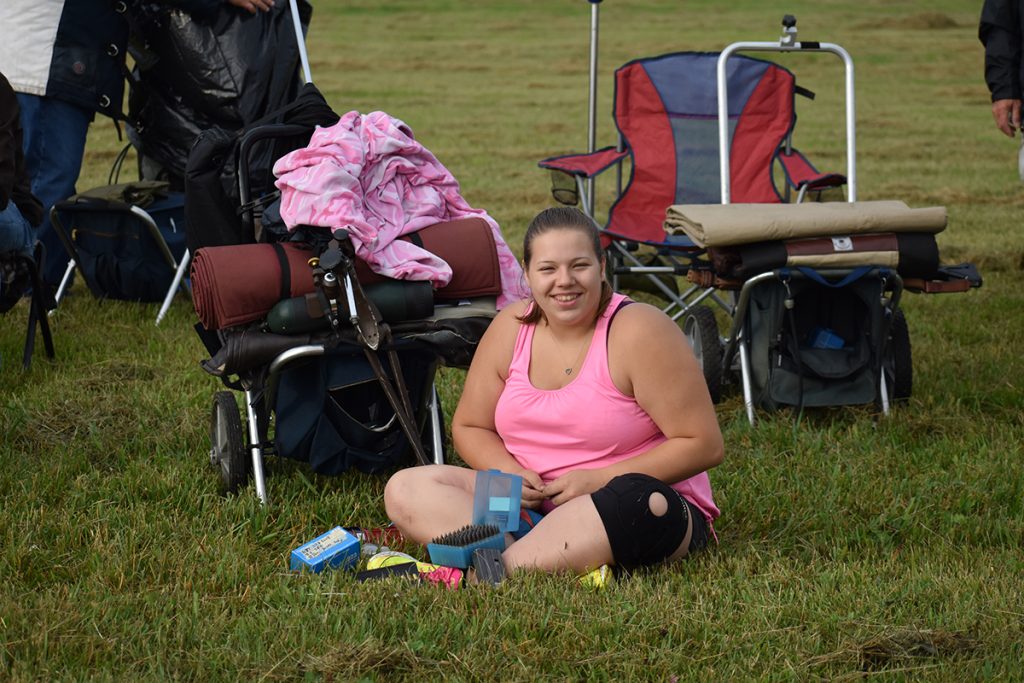 The delay inspired a wonderful observation by competitor Matt Eden. At the conclusion of the matches, still finishing far ahead of the pace of a traditional match with paper targets, he noted that perhaps electronic targets could have another role in changing matches. Eden suggested occasional later start times for matches. With the reduced match durations, the start time could be pushed back to 8 or 9am to allow more travel time for competitors (and possibly a little more sleep!). Many competitors who decided to attend all three weekend matches opted to drive to Camp Perry early Saturday morning to stay one night instead of two.
The late start allowed everyone to wake up a little more and familiarize themselves with the CMP electronic targets the matches were to be fired on. The first offhand string commenced at 8:00 with two sighter shots followed by 20 shots for record. Two relays were squadded for the day, one relay shooting while the other verified the shots displayed on the monitor. Rapid-fire sitting, two sighter shots and two strings of ten for record immediately followed standing. This meant that competitors had to be ready to take their position on the firing line right away, lest lose valuable preparation time.
Slight rain showers persisted throughout the morning, lasting only a few minutes and hardly warranting hauling out the foul weather gear. A new and formerly invisible challenge posed itself on the trek from the 200-yard line to the 300-yard line and continued with any travel through the grass. Hundreds of mayflies flew from the grass as competitors moved between yard lines, landing on every inch of shooters and their gear. Lacking mouths, they luckily did not bite but the tenacious creatures proved quite the nuisance. Mayflies claimed center stage as nearly everyone was talking about them and trying to find new ways to get them off and to keep them off. No amount of bug spray, sun screen, or rainwater seemed to do the trick.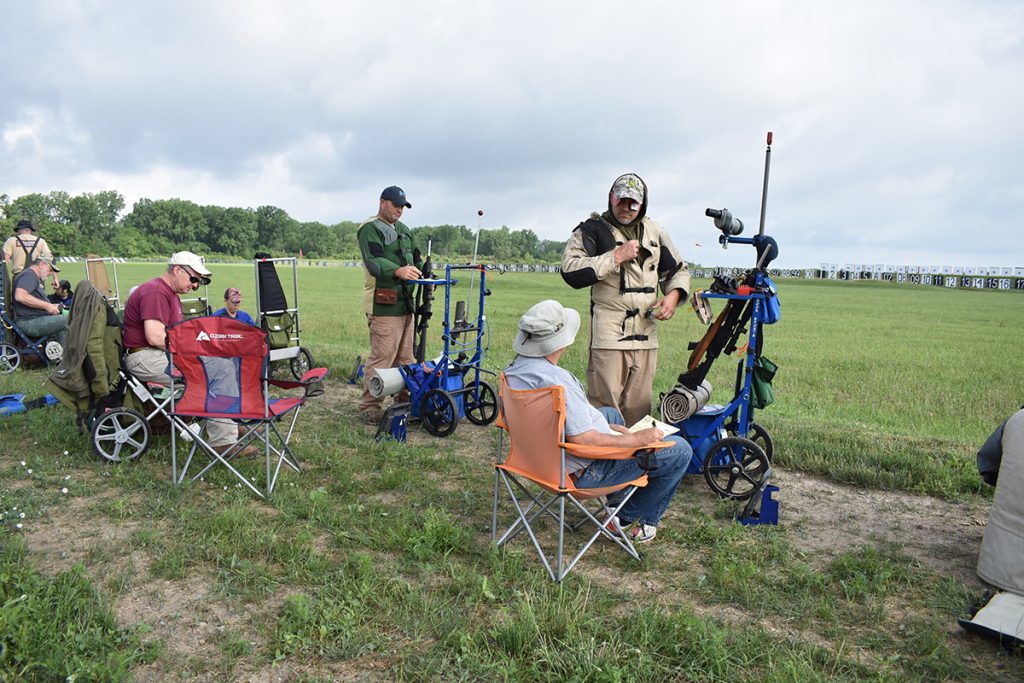 Two strings of prone rapid-fire in addition to two sighters at the 300-yard line went rather smoothly, though with an alibi or two. The monitor challenge at this yard line was making sure that each monitor was set to the correct caliber and to the correct target. This had to be confirmed and reset at every yard line. Once targets faces were reset to the 600-yard face and everything was ready for the last stage of the aggregate, the skies opened up. Rain poured sideways, water pooling on top of rain covers and leaving competitors without rain gear soaked. Competitors were called to the line, but were soon asked for a show of hands of who would want to wait twenty minutes. The vote was nearly unanimous. A short delay followed before the first relay once again took their position on the firing line. It was wet and muddy, but at least the rain had quelled the mayflies. The target monitors held up beautifully in the rain, having no water damage issues, only a little bit of mud on the monitor to clear off.
Dave Strickland topped out the service rifle class with an impressive 790-32x, dropping only two points past the 200-yard line. USMCR SSgt. Jesse Bragg took second in service with a 784-28x. Roy Mitchell beat out Roberto Doss of Zanesville Rifle Club by one x. Mitchell concluded with a 783-27x, Doss with a 783-26x.
Terry Paul won the match rifle class with a 783-36x, followed by James Schieltz with a 775-21x and Kyle Wedge with a 757-17x.
Concerning classification, Dave Strickland won not only the match but the master class, and another from the leaderboard, SSgt Jesse Bragg, USMCR, topped the expert class. Scott Robertson was top sharpshooter with a 746-13x and John Halter was top marksman with a 732-17x.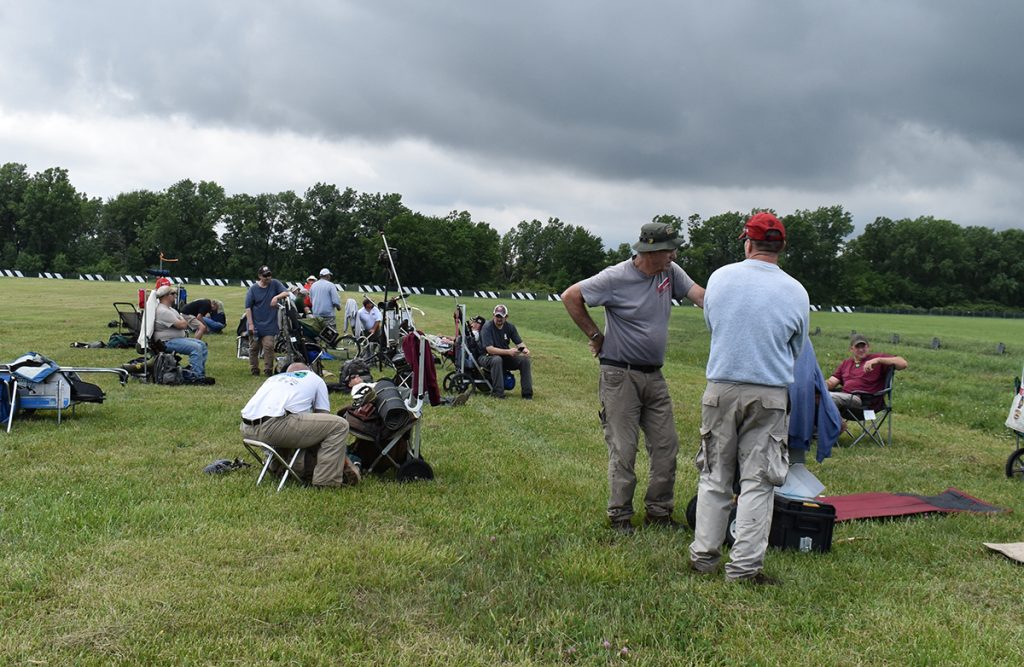 Despite requests from competitors to shoot the second match backwards, starting at the 600-yard line and ending at 200, the second match continued as originally planned, starting at the 200-yard line. With no delay this time, the EIC match started shortly after roll call. The rain had stopped and after the standing stage it seemed that there would be no issues. Relay one competitors took their position on the firing line and after two minutes of preparation time, stood up to start the rapid fire sitting stage. When the command "targets" was given, shooters sat down and began firing – in a torrential downpour. The rain began right about when the string started, and concluded approximately 60 seconds later. By this time relay one was soaked and were disappointed in their 200-yard line rapid-fire scores as the rain had made it hard to see. Relay two followed in much drier conditions. Unfortunately, changing weather conditions is one of the signature challenges to high power that keep the game interesting and the winner hard to determine until the end of the match.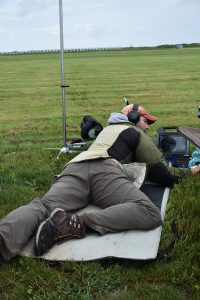 Dave Strickland maintained his service rifle lead in the second match of the day, taking first place in the Service Rifle EIC match with a 488-13x. SSgt Jesse Bragg, USMCR, once again took second place, this time with a 485-18x. Michael King took third place with a 485-14x, and first among non-distinguished competitors, earning a ten-point leg. Timothy C. Ovaert earned eight EIC points with a 483-10x. Daniel Fleshman's 479-11x, Paul Laslo's 478-9x, and Cole Eden's 477-10x each earned them a six-point leg.
Overall the matches were a success. Competitors could have done without the rain and mayflies, but really it made the matches ones to remember.
View full results at http://ct.thecmp.org/app/v1/index.php?do=match&task=edit&tab=results&match=17165. Photos may be viewed at http://cmp1.zenfolio.com/p118789394.