Stonecipher Wins Rifle 3-Gun & 4-Gun Aggregates
April 29, 2015
Civilian Marksmanship Program
▸
The First Shot
▸
Stonecipher Wins Rifle 3-Gun & 4-Gun Aggregates
By Steve Cooper
CMP North General Manager
ARCADIA, OK – Larry Stonecipher, 62, of Ada, OK, won the CMP 3-Gun and 4-Gun aggregate rifle matches at the Oklahoma City Gun Club as part of the 2015 CMP Games Oklahoma Event, which ran from April 8-12.
Stonecipher won the traditional CMP 3-Gun Agg, and also high senior, with a second place finish in the Springfield Rifle Match (286-4x), a fourth place in the As-Issued John C. Garand Match (283-10x) and a sixth place finish in the Vintage Military Bolt Rifle Match (275-3x) for an aggregate total of 844-17x. He placed fifth in the Modern Military Rifle Match (286-6x) to win the 4-Gun aggregate with a total four-event score of 1130-23x and was high senior.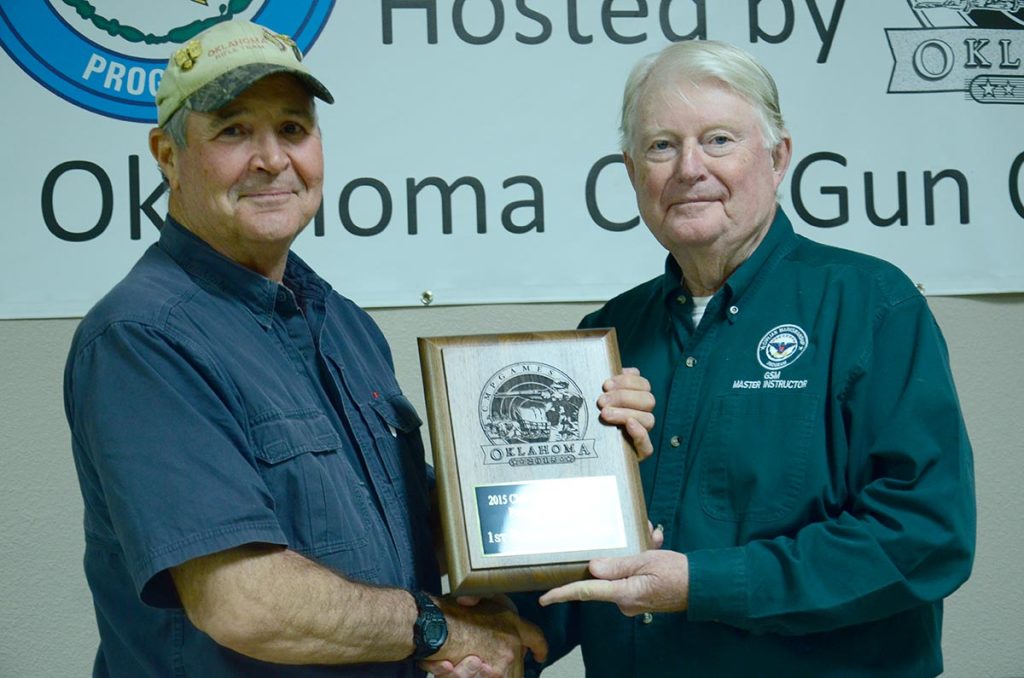 Eric Pauls, 49, of Fenton, MO, placed second in the three-gun chase with an aggregate score of 843-13x. Harold Pate, 53, of Ft. Worth, TX, placed third with a total score of 842-11x.
Charles Hannah, 67, of Skiatook, OK, placed first and was high senior in the John C. Garand Match (287-7x) with prone, prone rapid and standing scores of 99-4x, 98-1x and 90-2x, respectively.  James Fletcher, 63, of Whitney, TX, placed second in an x-count tiebreaker (287-3x) and Silas Fentress, 65, of Oklahoma City, OK, finished third with a score of 285-3x. Hannah also placed first in the Garand Unlimited category (288-7x).  A total of 105 competitors fired in the As-Issued John C. Garand Match.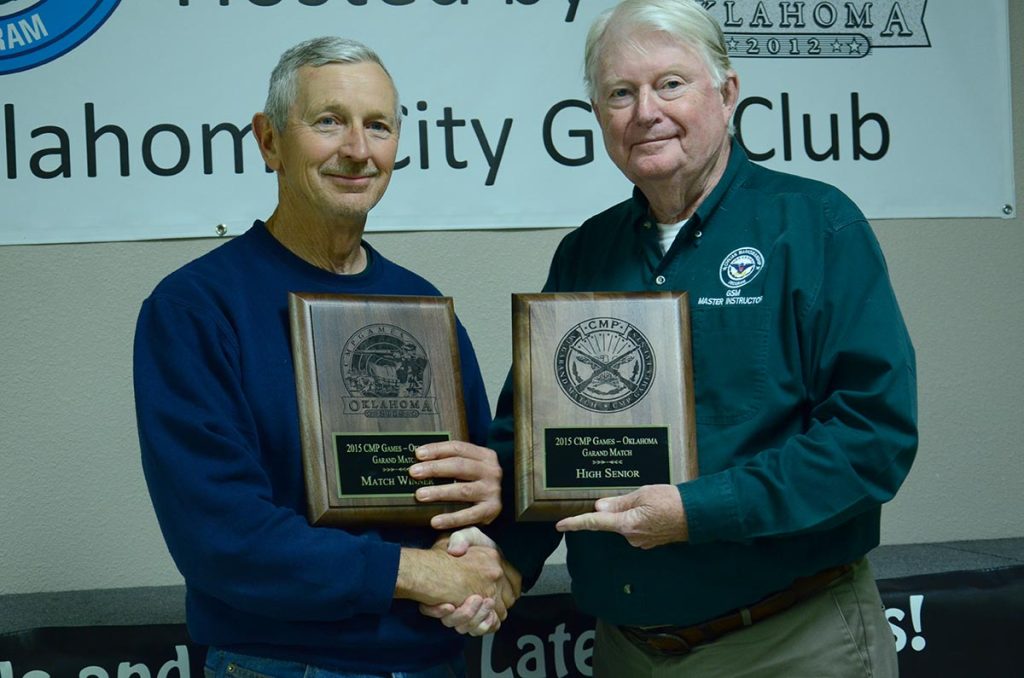 Eric Pauls won the Springfield Rifle Match (287-6x) with stages of 99-3x, 96-3x and 92. Stonecipher (high senior) trailed by one point (286-4x) and William Aten, 63, of Kingwood, TX, placed third with 280-4x. A total of 51 competitors fired in the Springfield Rifle Match.
The Vintage Military Bolt Rifle Match went to Harold Pate (285-3x), with prone, prone rapid and standing scores of 99-1x, 99-2x and 87, respectively. Gere Goodenberger, 51, of Claremore, OK, placed second (284-3x) and William Fairless, 60, of Vienna, IL, finished third (282-7x) and was high senior. A total of 38 competitors fired in the vintage bolt gun match.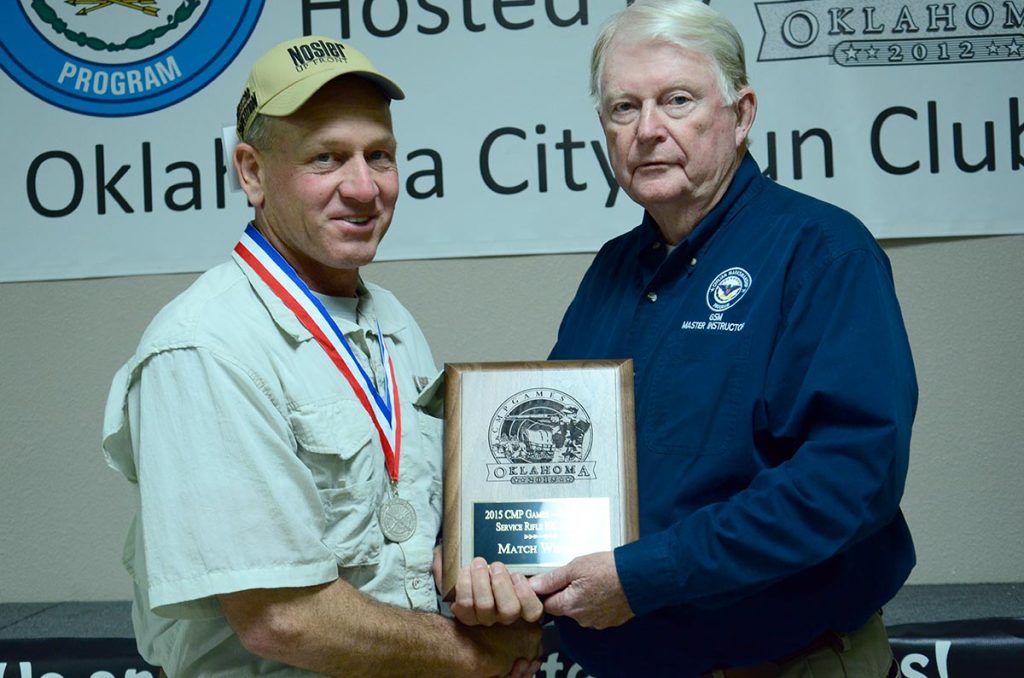 In Modern Military Rifle, William Fairless (high senior) fired a 291-5x, with individual stage scores of 98-1x, 99-1x and 94-3x to place first. Danny Arnold, 49, of Norman, OK, placed second (290-7x) and Robert Spurrier, 54, of Lakewood, CO, rounded out the top three (288-5x) amongst 37 competitors.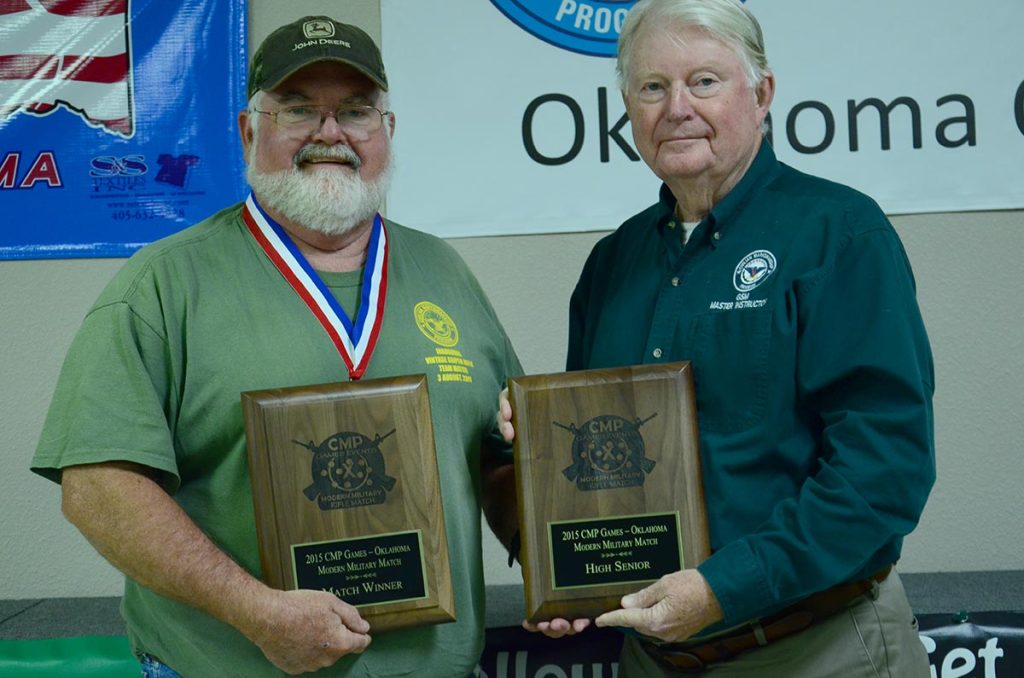 James Hall, 31, of Anniston, AL, earned four introductory EIC points toward becoming a Distinguished Rifle shooter after firing an overall winning score of 376-7x in the four-stage Small Arms Firing School M16 EIC Rifle Match. Hall's prone, rapid prone, rapid sitting and standing scores were 97-3x, 93-1x, 90-1x, and 96-2x, respectively.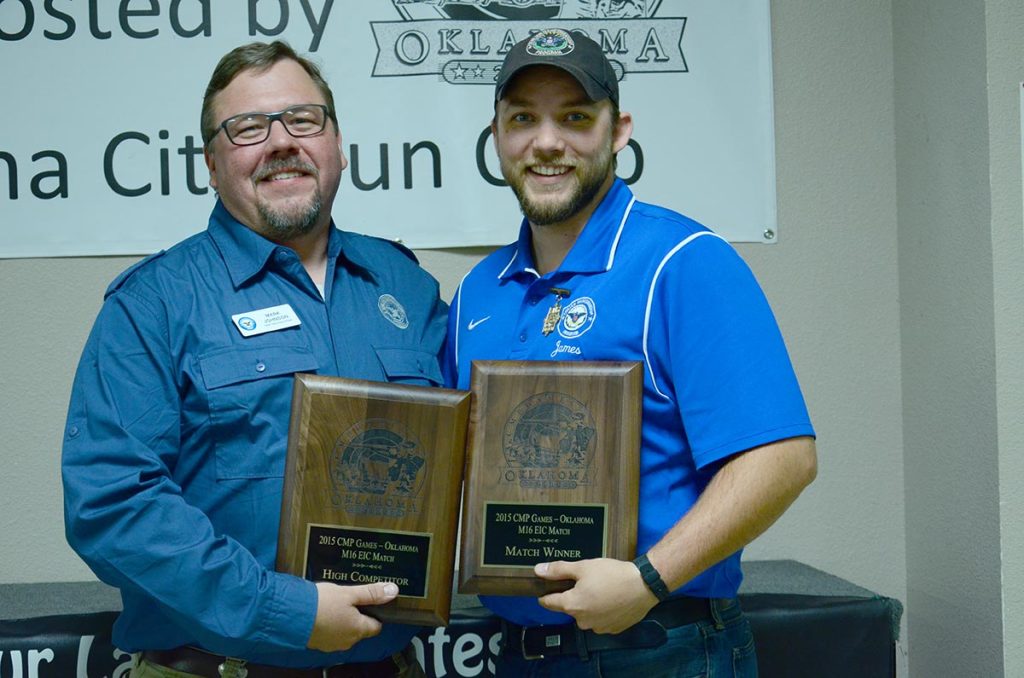 Kara Tritschler, 31, of Thornton, CO, placed second (375-4x) and Matt Shotzman, 31, of Ft. Smith, AR, placed third (372-10x).
The top 10 percent of all competitors in the match with no EIC points were eligible to earn their four introductory points. The CMP SAFS EIC Match is the only event where four intro points may be earned. Tritschler earned her first points in the match as did Darell Brewer III, 17, of Rose Hill, KS, who placed fourth in the match (370-6x), and was high junior. Harry Epperson, 65, of Oklahoma City, OK, was the high senior (363-6x).
In overall scoring in the Service Rifle EIC Match, Kent Shomber, 55, of Guthrie, OK, placed first (480-13X) in the 500-points-possible event. The course of fire for the across-the-course match is 10 shots at 200 yards standing, 10 shots at 200 yards sitting rapid fire, 10 shots prone rapid fire at 300 yards and 20 shots prone slow fire at 600 yards.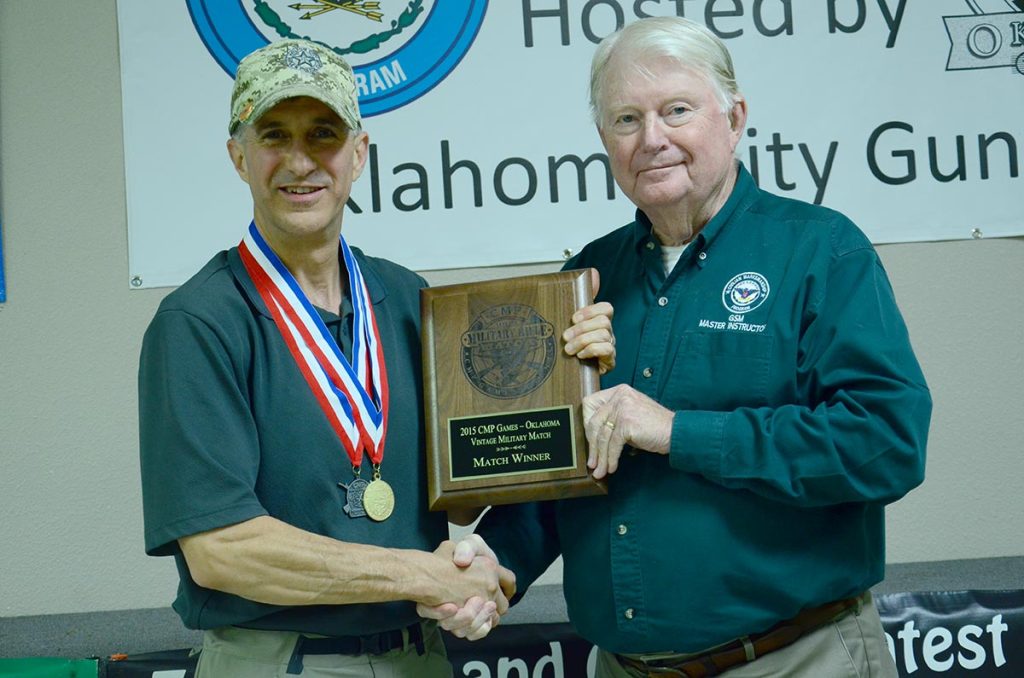 Kent Stonecipher placed second (480-10x) in a tiebreaker with Shomber and Jeffrey Lin, 49, of Ft. Worth, TX, placed third (478-12).  Shomber, Stonecipher and Lin each had earned their Distinguished Badges prior to the match.
In the non-Distinguished group, Eric Pauls (471-12x) placed first with stage scores of 90, 94-1x, 98-3x, 189-8x. Robert Craig, 60, of Las Cruces, NM, placed second with an aggregate score of 464-6x and Robert Davis, 21, of Wichita Falls, TX, took third place with a combined score of 462-5x.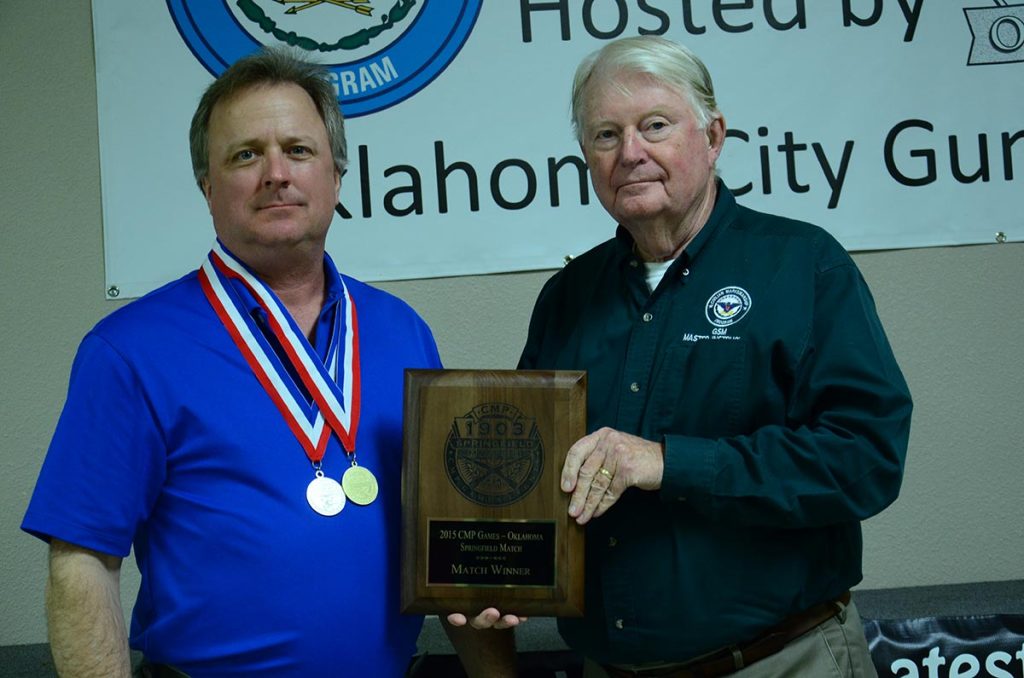 Pauls earned 10 leg points toward his Distinguished Rifle badge and Craig picked up eight points and became Distinguished in Oklahoma.  Davis earned six EIC points, also going Distinguished. Eric Saabye, 42, of Larkspur, CO, (4th place) and Andrew Timmons, 50, of Wichita, KS, (5th place) each earned six leg points in the match.
In the Vintage Sniper Rifle Team Match, the combo of William Fairless and Bob Thomas, 56, of Del City, OK, captured first place in the bolt action class with a team aggregate score of 385-5x, firing under the team name "Billy Bob."  Fairless fired 300 and 600 yard scores of 99-2x and 94, respectively, for an individual total of 193-2x. Thomas posted scores of 97-1x and 95-2x for a 192-3x total.  A total of 24 teams competed in the manually-operated bolt class.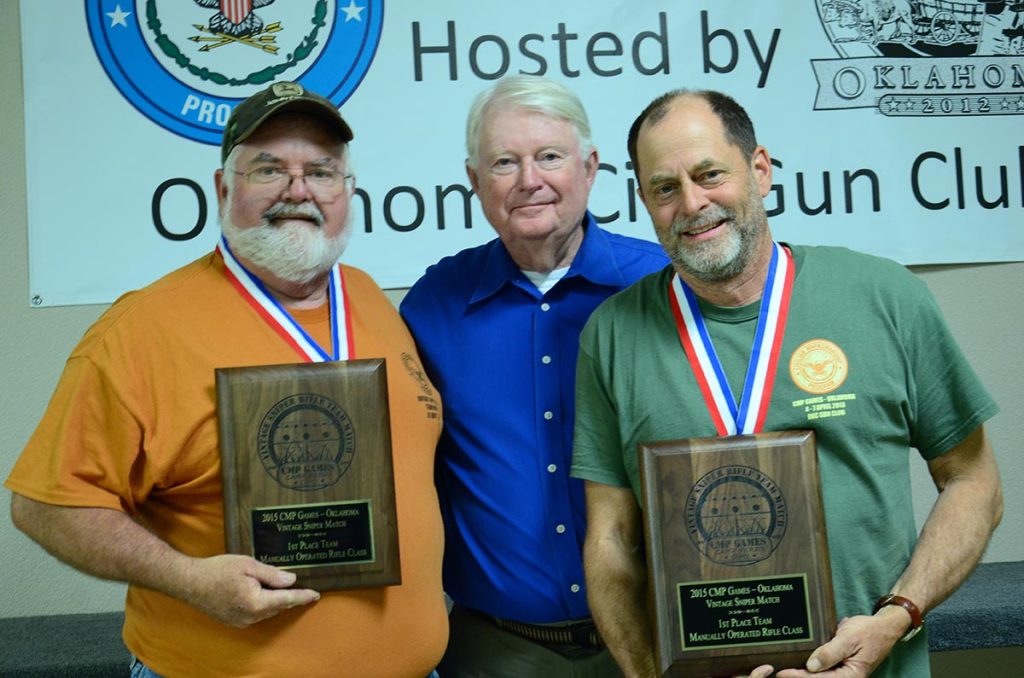 "Sooner Magic," comprised of Jerry Penn, 65, of Edmond, OK, and Kent Stonecipher, placed second in the bolt gun match with an aggregate team score of 383-8x.  Charles Hannah and Kurt Schmidt, 50, of Edmond, OK, placed third under the team name "Hannah Schmidt," scoring a 379-13X. Both teammates fired clean 100s at the 300 yard line.
In the semi-automatic rifle class, with six entries, team "Dos Arnolds," comprised of the father-son tandem of Danny Arnold and Patrick Arnold, 18, placed first with a team score of 343-5x. Dad fired 92 and 89-4x at 300 & 600 yards and son Patrick followed with 88-1x and 74, respectively.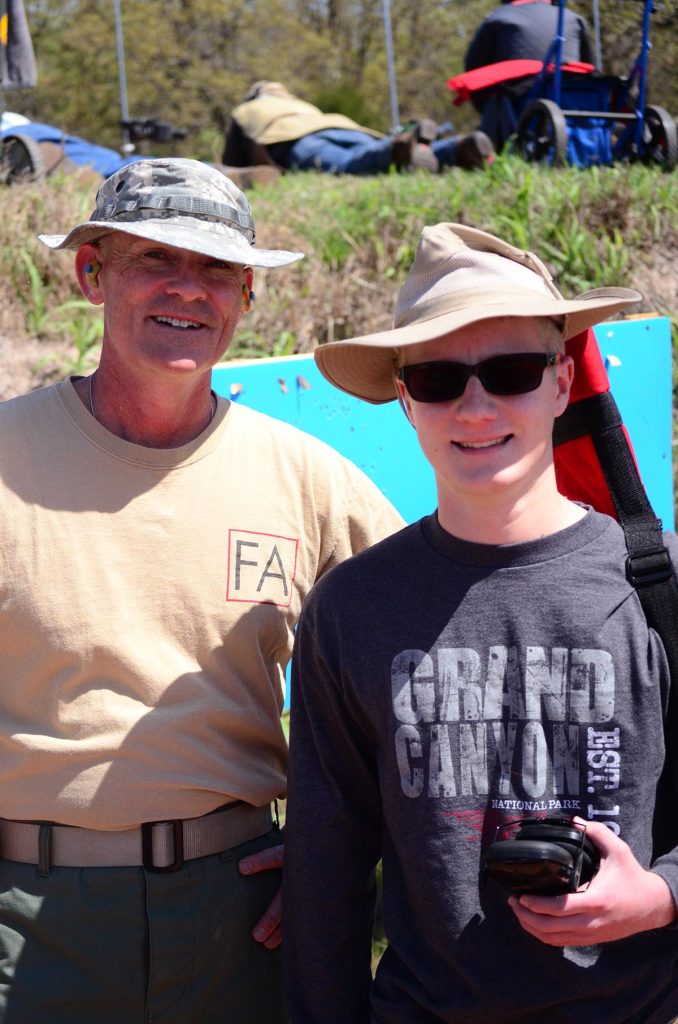 Taking second place was "Hello Kitty Killers," fired by David Shaul, 59, of Jamestown, MO, and Erik Petterson, 55, of Dixon, MO, recording a team score of 330-2x. Third place was awarded to "Team Blue Falcon," with an aggregate total of 303-1x. Firing members were John Colombo, 47, of Gerald, MO, and Craig Powers, 41, of Columbia, MO.
Paul Schmitz, 40, of Battlefield, MO, won the As-Issue M1 Carbine Match with an aggregate score of 358-1x out of 400 points possible. The match features prone, prone rapid, sitting rapid and standing stages and Schmitz fired 86, 91, 86 and 95 in those stages, respectively.
Lee McKinney, 68, of Rio Rico, AZ, placed second in the carbine match, losing a tiebreaker to Schmitz with the only center shot fired by either shooter (358-0x). Schmitz' solo x-ring 10 came in the offhand stage.  Harold Pate placed third with a 356-2x.
A total of 42 competitors fired in the As-Issued M1 Carbine Match.  McKinney was the high senior in the match and the high junior was Patrick Arnold (312).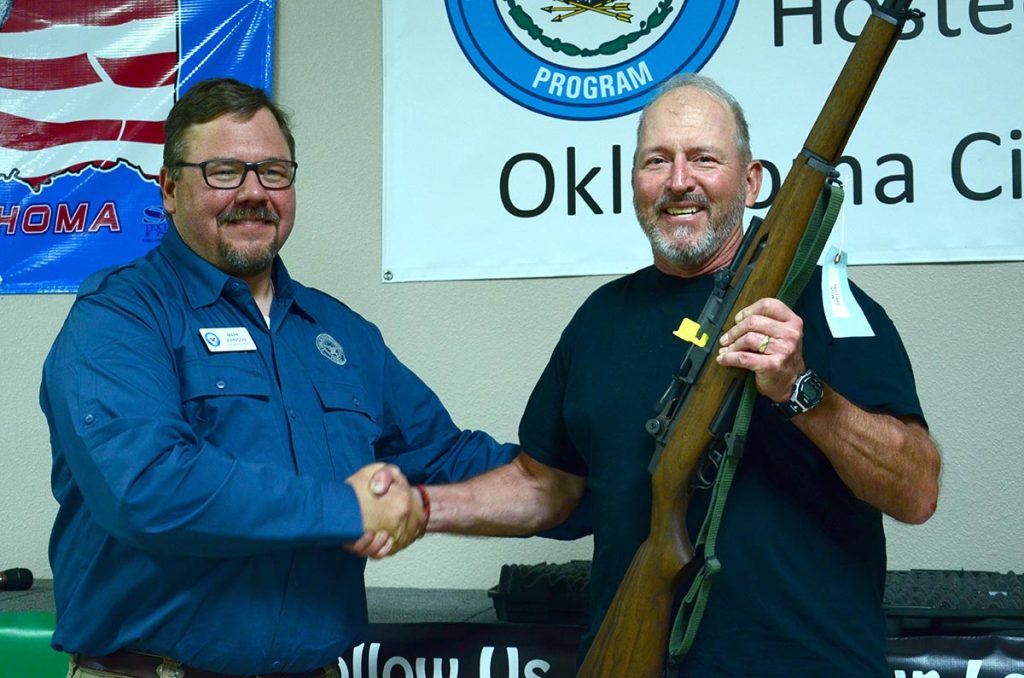 A big surprise during the awards ceremony was an announcement by Chief Operating Officer, Mark Johnson. A raffle prize M1D rifle with scope and mount was given away to one lucky attendee that was present at the awards ceremony. The first name called wasn't present, so the rifle went to the second name called, David Nichols.
View full results at http://ct.thecmp.org/app/v1/index.php?do=match&task=edit&match=12083. Photos may be viewed at http://cmp1.zenfolio.com/f919146205.