Steinel Bests AMU, Junior Girls Lead at 2015 Camp Perry Open
January 22, 2015
Civilian Marksmanship Program
▸
The First Shot
▸
Steinel Bests AMU, Junior Girls Lead at 2015 Camp Perry Open
By Ashley Brugnone, CMP Writer
CAMP PERRY, OH – Junior upsets, power performances from female shooters and an overwhelmingly loud final resonated through Camp Perry during the ninth annual Camp Perry Open, held January 16-18 at the Gary Anderson CMP Competition Center.
The match combines a 3×20 Junior Air Rifle competition with a 60 Shot Open Air Rifle and Pistol event, along with the most distinctive part of the Camp Perry Open that sets it apart from the rest – the Super Final.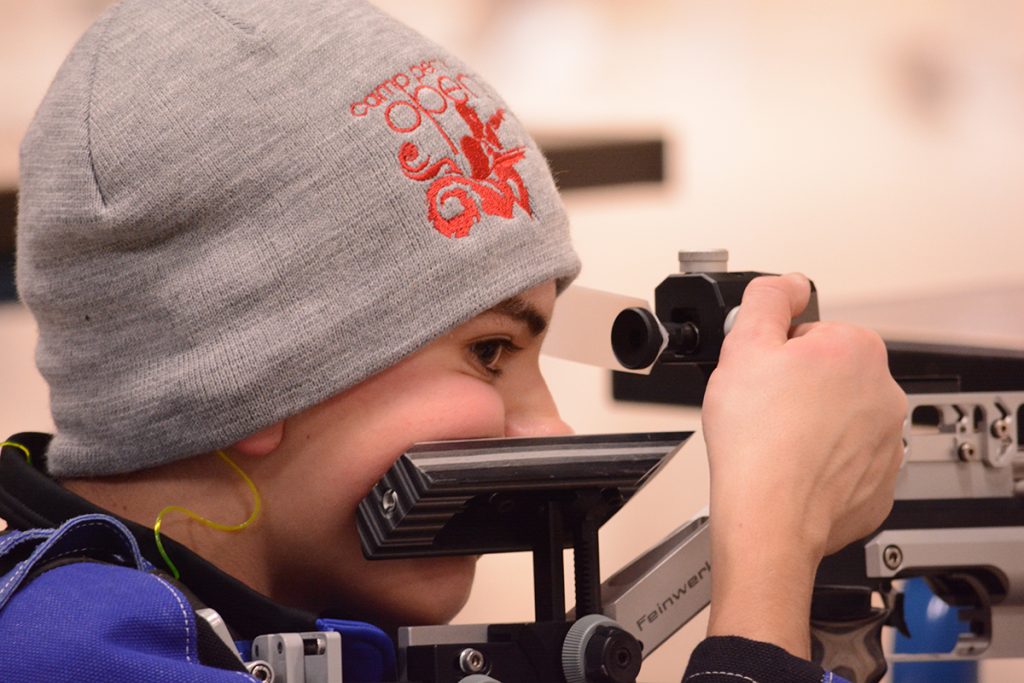 The match began on Friday, January 16, with the Junior Air Rifle 3×20 competition. Three relays of over 130 junior competitors fired in the National Standard Three-Position event, with the top eight shooters in both the sporter and precision classes qualifying for each relay's finals. Top individuals in each division earned CMP medals and Visa Gift Cards worth $100 for first, $75 for second and $50 for third.
MacKenzie Martin, 17, of Taunton Marksmanship Unit, fired an aggregate score of 694.7 to earn first place in the precision competition. Since each of her talented teammates managed to qualify, Martin fired against them all during the final – something that Martin says they routinely rehearse during their practices.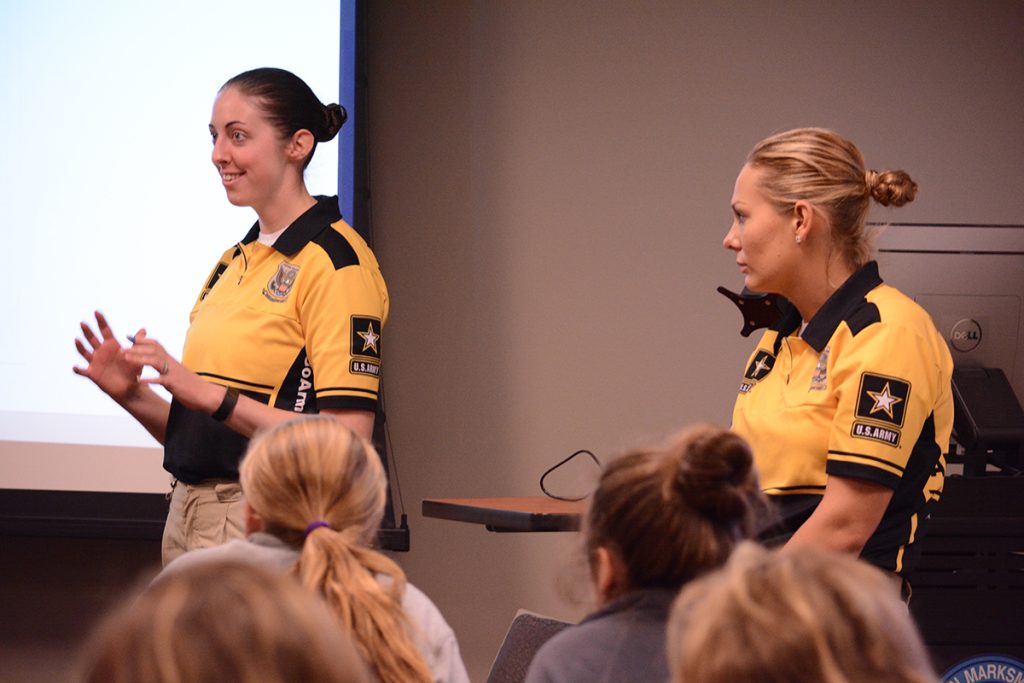 "I train a lot with my team – practice finals and things like that," she said. "It was really cool having them on the firing line during the finals. I went up there, and the next thing I know, half of my team is up there with me. It was actually easier, mentally, because these are the people I shoot with all of the time."
With all of its members contending in the finals and establishing themselves as some of the top marksmen of the competition, the Taunton Marksmanship Unit Diamonds from Massachusetts won the overall team competition, with their combined score of 2347-153x. Team members are MacKenzie Martin, Ruby Gomes, Brendan Whitaker and Margaret Flanders.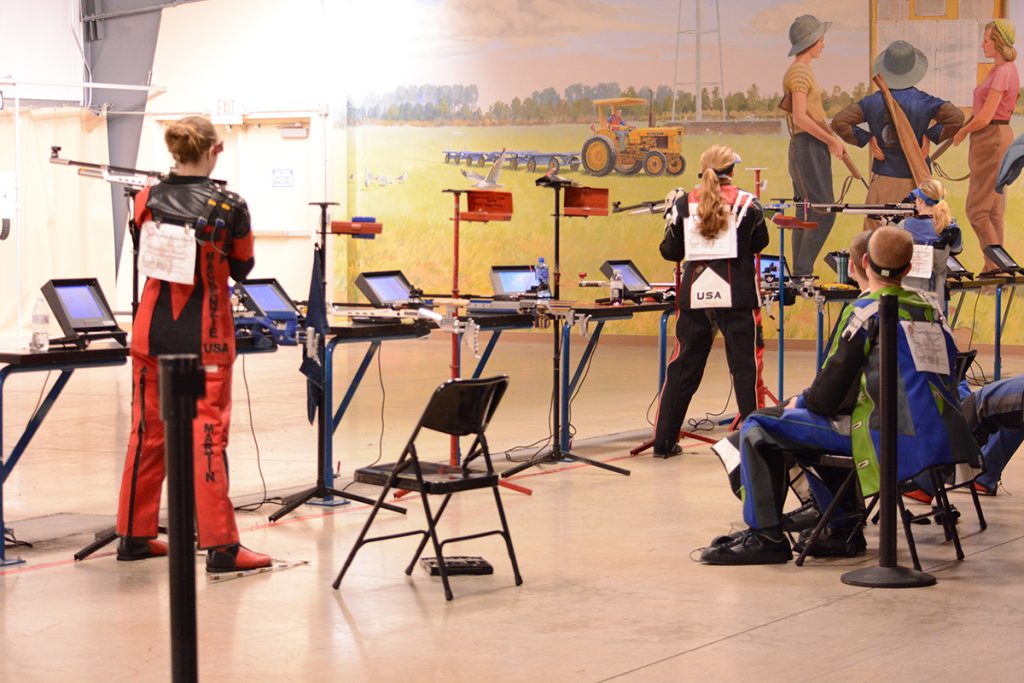 Michael Steinel, 18, of Great Trail Musketeers recorded a score of 691.4 for second place behind Martin in the individual competition, followed closely by Jordan Miller, 17, of Acorns, with her score of 690.1 for third.
Gabriel Palermo, 18, of Freeport High School was the overall sporter competitor, with an impressive score of 651.2. Palermo had a near 20-point lead over Howard Norrish, 16, of Zion Benton High School – who fired an aggregate score of 638.7 for second. Norrish's teammate Justine Hamilton, 17, rounded out the Top 3, with a score of 637.7.
Zion Benton Team Gold was the overall sporter team in the competition, with a combined score of 2160-48x. Team members are Howard Norrish, Hailey Smith, William Newman and Jaycie Hoenig.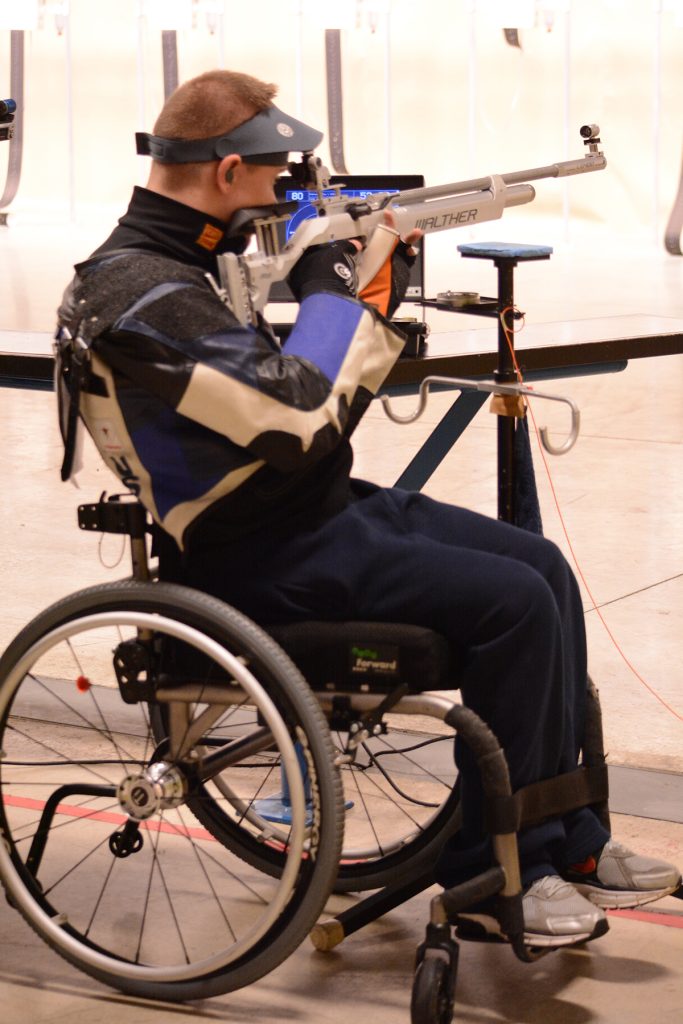 The rest of the weekend brought a two-day 60 Shot Open Air Rifle and Pistol competition, divided into three categories: Junior, Team and Open. All shooters fired 60 record shots in accordance to USA Shooting rules – all from the standing position.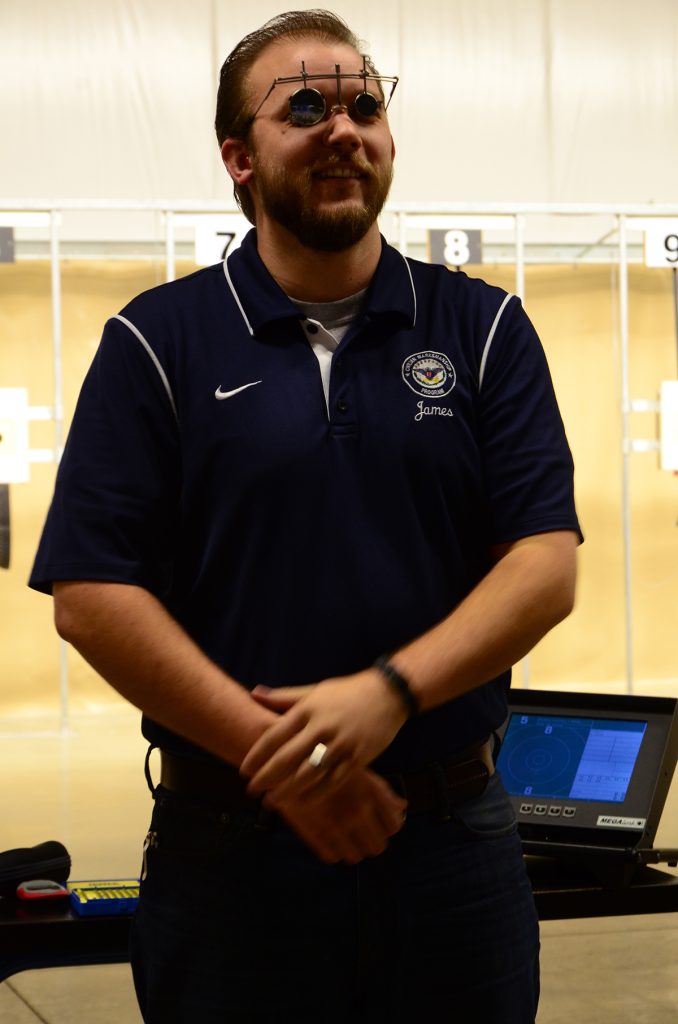 Overall top shooters from the two days of competition in each event qualified for the finals – where all qualifying scores are dropped and each competitor begins with a score of zero. Finals were conducted in three shots series, followed by single shot eliminations.
In the Pistol Open Finals, SFC James Henderson, 47, of the U.S. Army Marksmanship Unit (USAMU), bested the field with his finals score of 198.9. SGT Greg Markowski, 41, of the USAMU, barely trailed in second with a score of 198.5, followed by James Hall, 31, of the CMP, with a score of 174.9.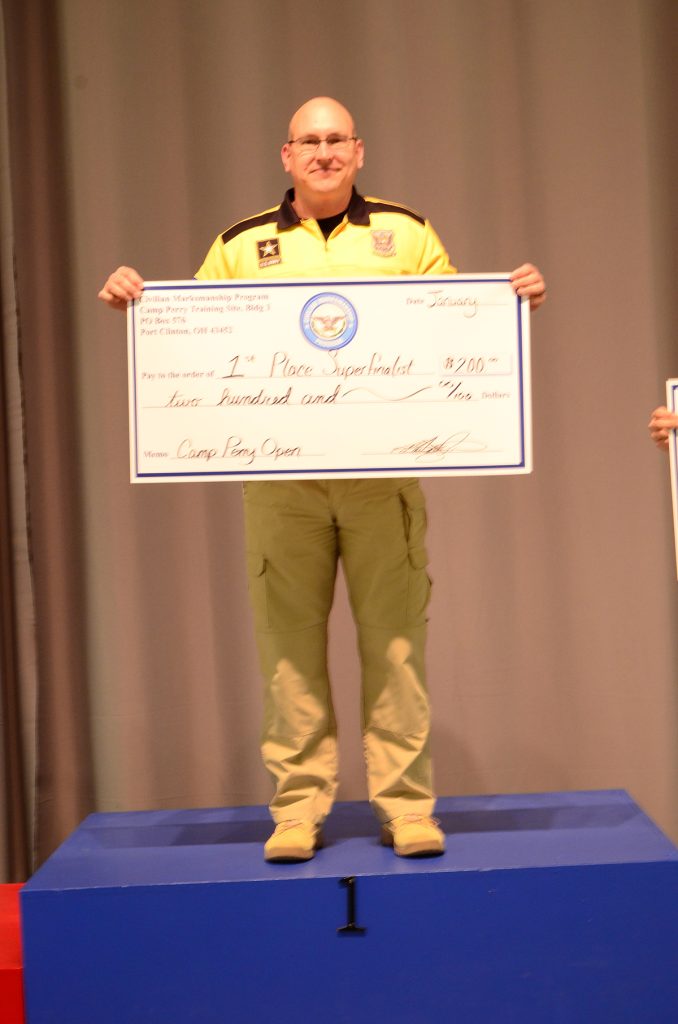 Glenn Zimmerman, 18, of The Ohio State Pistol team, fired a 191 in the final to become the overall Junior Pistol Champion, as Bryce Tucker, 19, of the Akron Rifle team, tallied a score of 188.2 for second. Zimmerman's teammate, Irina Andrianova, 19, came in third, with her finals score of 166.1.
In the Rifle Open Finals, junior Michael Steinel outshot two members of the USAMU – SPC Erin McNeil, 26, who took second, and SSG George Norton, 30, who fired a score of 182.9 for third.
Steinel and McNeil added some excitement to the finals after they both stacked up a score of 203.4 – forcing a shoot-off. With calm confidence, both the experienced McNeil and the promising newcomer Steinel loaded their pellets. With the final shots fired, members of the crowd held their breaths as the scores appeared on the monitors – McNeil, 8.8; Steinel, 9.6.
Wide-eyed, Steinel gave a huge smile of relief – realizing he had just defeated one of the best marksmen in the country.
"My hand was shaking! Honestly I was just thinking, 'I hope nobody sees that,'" he said, jokingly. "The AMU trains full-time – it's their job. I was planning on shooting well, but to beat them . . . I'm really, really happy."
In the Junior Rifle competition, it was the girls who led in the end, as Virginia Thrasher, 17, of Team Thrasher, overtook first place with her score of 203.3 – narrowly beating Samantha Peterson, 16, of Center Shots, who fired a 202.2 for second. MacKenzie Martin returned for the 60 Shot competition to give an outstanding performance with her third place finish – tallying a score of 181.9 in the final.
A three-man team event was also held concurrently with the individual 60 Shot Air Rifle match. Team members combined their two-day aggregate scores to determine the top entrants.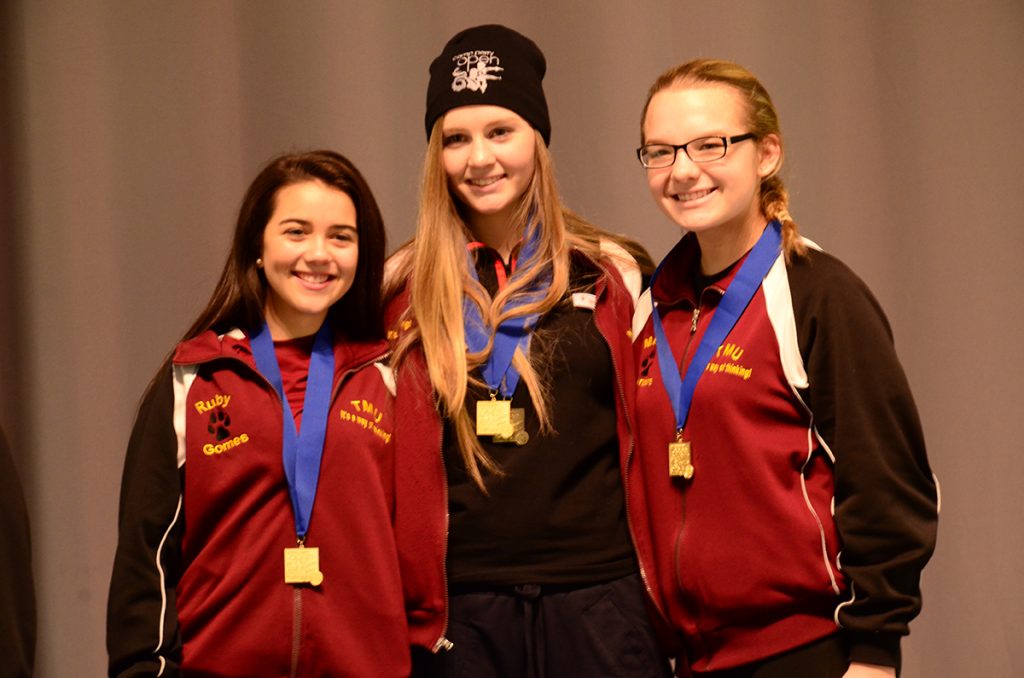 Winning the Open Rifle competition was The Masters, with an aggregate score of 3686.9. Members were Dempster Christensen, Ann Alves and Lisette Grunwell-Lacey. The Taunton Marksmanship Unit Diamonds was the overall Junior Rifle team, with a score of 3616.5. Team members were MacKenzie Martin, Ruby Gomes and Margaret Flanders.
The Ohio State University Varsity Pistol team overtook the Open Pistol competition with a score of 3244-37x. Team members were Glenn Zimmerman, Irina Andrianova and Michael Soklaski.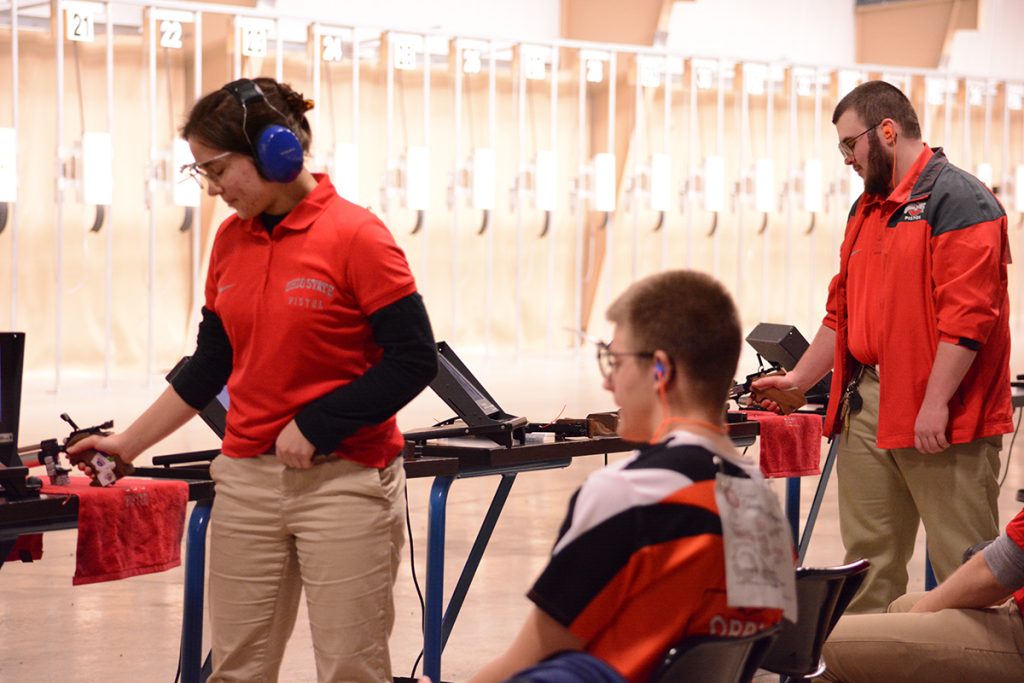 Only one junior team participated in the team competition. The team of Kathryn Roberston, Stuart Burns and Christie MacLennan, a.k.a Range Burlington, fired a score of 3124-28x.
The Super Finals was also fired during the weekend – bringing fun, excitement and laughs with music blaring, fans cheering and blow horns sounding – contrary to the usually silent finals conducted during air events. After a tough internal battle with the external elements, USAMU members SFC James Henderson and SSG George Norton won the Pistol and Rifle finals, respectively.
For a complete list of results from the Camp Perry Open, visit http://ct.thecmp.org/app/v1/index.php?do=match&task=edit&match=11831. Photos from the event can be found at http://cmp1.zenfolio.com/.