SSG Cleveland, SFC Patrick Franks and AMU Lead NTI and NTT Pistol Matches
July 14, 2015
Civilian Marksmanship Program
▸
The First Shot
▸
SSG Cleveland, SFC Patrick Franks and AMU Lead NTI and NTT Pistol Matches
By Ashley Brugnone, CMP Writer
CAMP PERRY, Ohio – SSG Lawrence Cleveland, 30, of the Army Marksmanship Unit (AMU), fired the overall winning score of 294-7x in the National Trophy Individual (NTI) Match at the 2015 National Trophy Pistol Matches.
Along with his name forever etched in National Match history, SSG Cleveland also received an Inland Model 1911, donated by Inland Manufacturing, for his superb performance during the competition.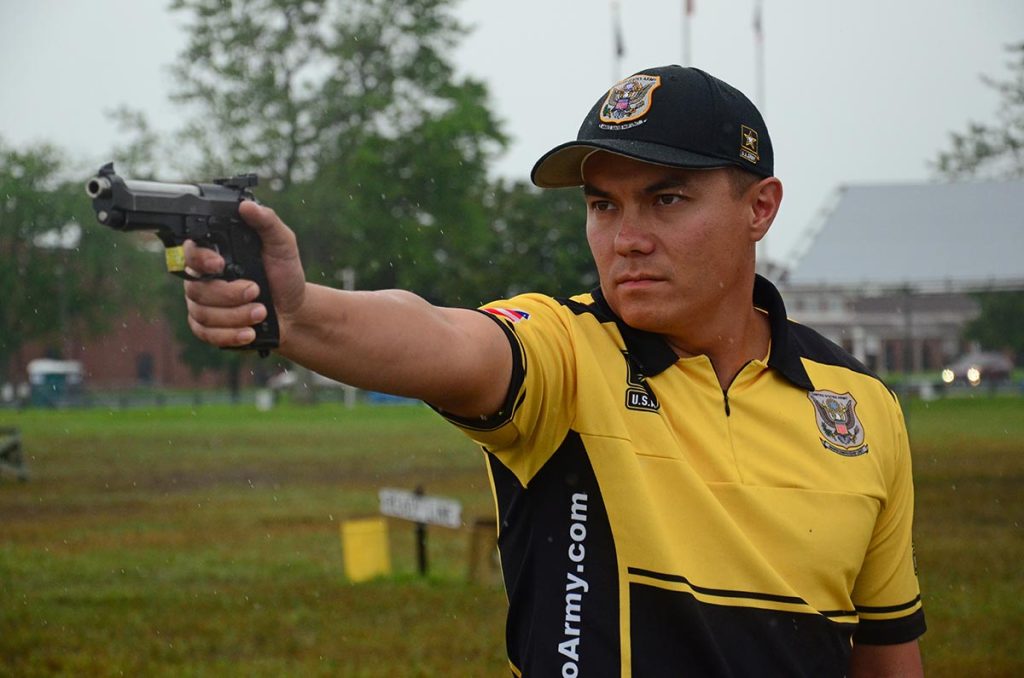 Sam Kwon, 15, of New York, NY, was the winner of the Junior Pistol Trophy with his score of 270-4x. Kwon earned his name attached to the "Perry" DeFino Trophy for his win.
Judy Tant, 65, of East Lansing, MI, was the High Woman of the match with a score of 267-2x. For her outstanding performance, she also received a 1911 Pistol, donated by Springfield Armory, along with the National Women's Pistol Trophy.
Tant also earned the Rose Krelstein Trophy as the High Woman with aggregate scores from the President's and NTI Matches. She fired a score of 637-8x to earn the honor, and was also presented with a Glock pistol of her choice, donated by Glock.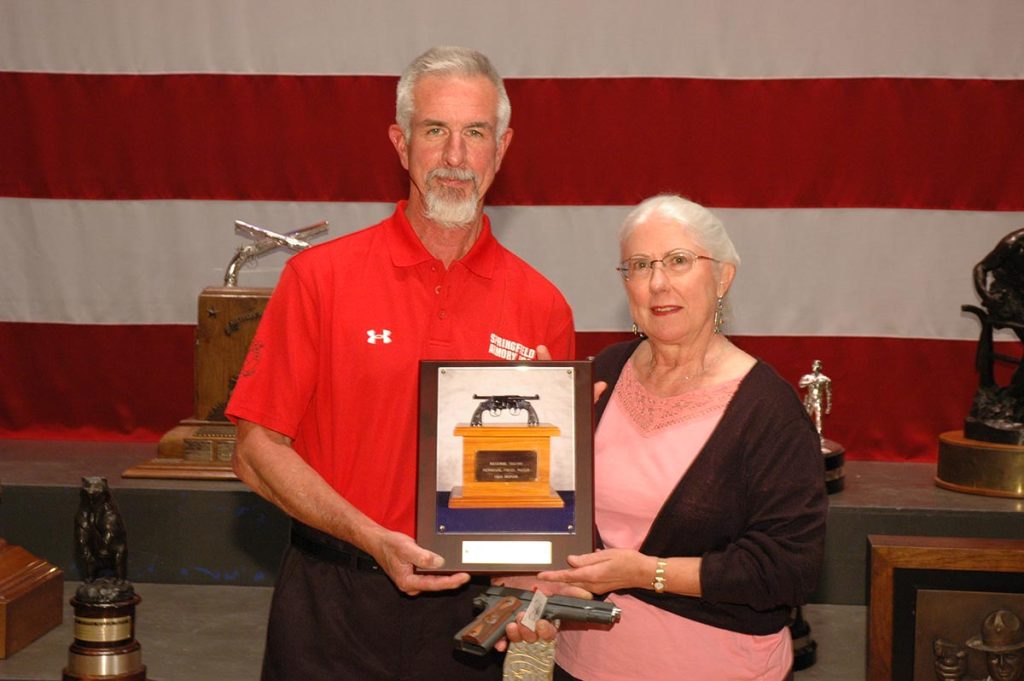 Tony Silva, 61, of Snowflake, AZ, fired a score of 287-6x to become the High Senior of the match. Silva received an EyePal Master Kit, donated by EyePal, as well as the Senior Pistol Trophy.
Others to win National Trophies after firing in the NTI Match include Kevin Vacura, 54, of Red Wing, MN, who shot a score of 286-5x to become the highest scoring law enforcement officer – earning him the National Ancient Archer Trophy.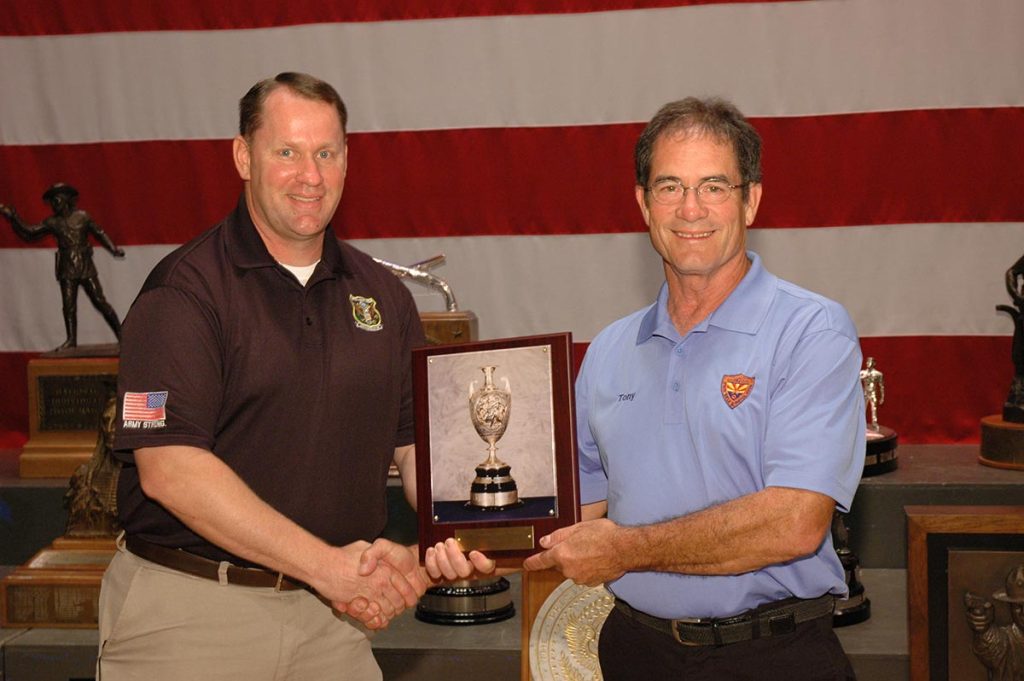 SSgt. Terrence Sears, 30, of Belen, NM, fired a score of 286-8x to make him the highest scoring Air Force (Active, Reserve or Air National Guard) competitor. For his performance, he received the General Curtis LeMay Trophy.
Winning the National Guard Association Trophy for the highest scoring National Guardsman (Army or Air) was SSG Timothy Barber, 32, of Cottondale, FL, with a score of 285-7x.
SFC Keith Sanderson, 40, won the U.S. Army Reserve Memorial Trophy for his score of 291-11x. SFC Sanderson was the highest scoring member of any Reserve branch during the competition.
Shane Clevenger, 47, of Guernsey, WY, was the highest scoring Civilian competitor of the match, firing 289-6x. He earned the Citizen's Military Pistol Trophy for his impressive score.
The high non-distinguished competitor in the NTI was Sgt. Kyle Shriey, 26, of the U.S. Marine Corps with a score of 289-9x. For his performance, he received a 1911-A1 Bulleyes Pistol, donated by Rock River.
As an additional honor this year, Glock donated a very special award in memory of Mike Saporito – CMP legal counsel for seven years and lifelong supporter of the firearms industry. The Mike Saporito Top Glock award was given to a competitor firing a Glock pistol in the NTI Match – Cameron Owens, 27, of Clarksville, TN.
Winning the National Trophy Pistol Team (NTT) Match and receiving the Gold Cup Trophy was U.S. Army Marksmanship Unit Team Blue, with a score of 1150-43x. Firing members were SSG Lawrence Cleveland, SFC Michael Gasser, SFC Patrick Franks and SGT Ryan Franks. Team captain was SFC Adam Sokolowski.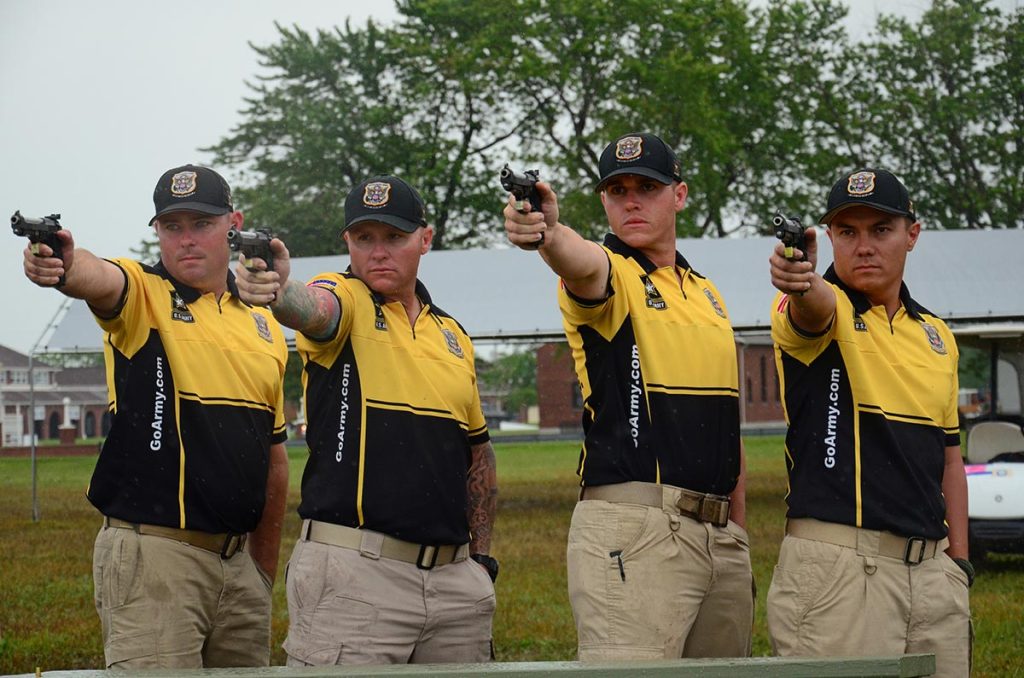 Winning the National Junior Pistol Team competition was New Jersey State Jr. Gold with a score of 523-7x. The two-member team consisted of Michael Soklaski, 18, of Ringoes, NJ (captain); and Nick Bova, 17, of Edison, NJ. The team was coached by Richard Bogath.
The highest scoring Reserve or National Guard team that received the U.S. Coast Guard Memorial Trophy was All Guard – Gold, with a score of 1128-39x. Firing members were SSG Daniel Kupar, SFC Eric Lawrence, SSG Timothy Barber and SFC Travis Zwickle. Captain of the team was MSG Ralph Young, and the team was coached by MSgt Garey Diefenderfer.
The American Indian Trophy is awarded to the highest scoring law enforcement team during the NTT. This year, Coles County Sherriff Gold received the trophy after firing a score of 538-7x. Firing members were MSgt. Shane Duzan and Darrell Cox.
The Civilian team earning the highest score and the Oglethorpe Trophy was the Ohio Rifle & Pistol Team with a score of 1126-35x. Firing members were Brian Zins, Glenn Zimmerman, James Lenardson and James Morman. Team captain was Richard Pozo, and the team was coached by Alan Barcon.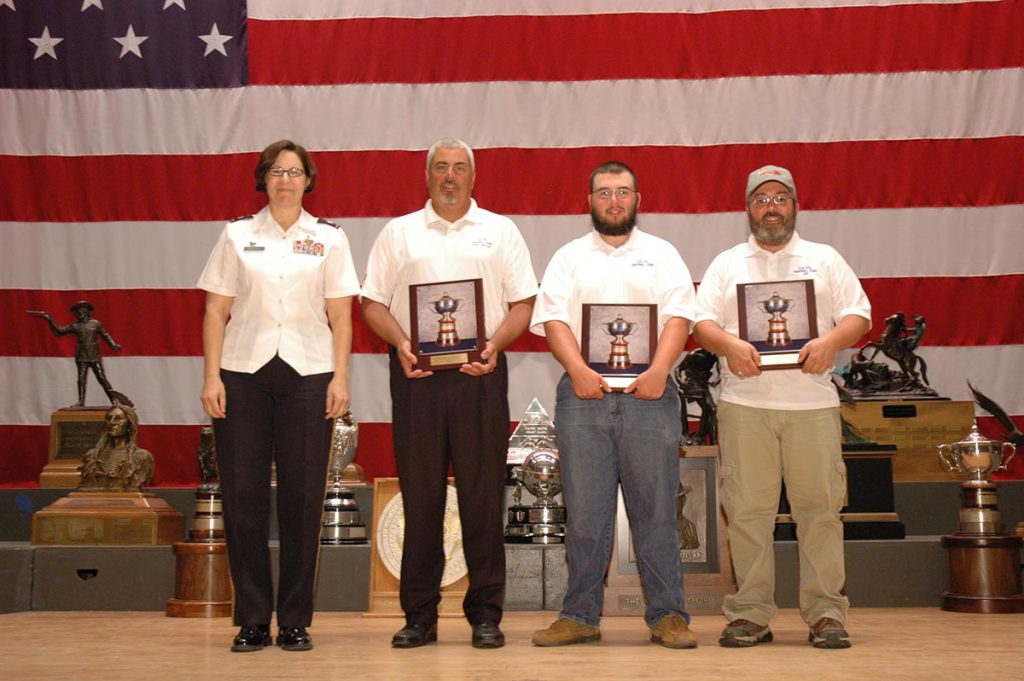 Each year, the four highest scoring Civilian competitors in the National Trophy Team Match are presented Elihu Root gold medals and named as members of the honorary National Civilian Pistol Team. A coach and captain are also named.
This year, team members are:
James Morman, 43, of Wakeman, OH, with a score of 288-10x
Brian Zins, 45, of Girard, OH, with a score of 287-9x
James Lenardson, 64, of Toledo, OH, with a score of 285-10x
Edwin Hall, 58, of Tupper Lake, NY, with a score of 285-10x
Coach and captain are Alan Barcon, 39, of Valley View, OH; and Richard Pozo, 52, of Concord Township, OH.
SFC Patrick Franks, 37, of the AMU, fired a remarkable score of 298-16x to earn the General Mellon Trophy as the highest scoring Army Competitor (Active, Reserve or National Guard). He was also the winner of the Military Police Corps Trophy and set a new record for each trophy with his score.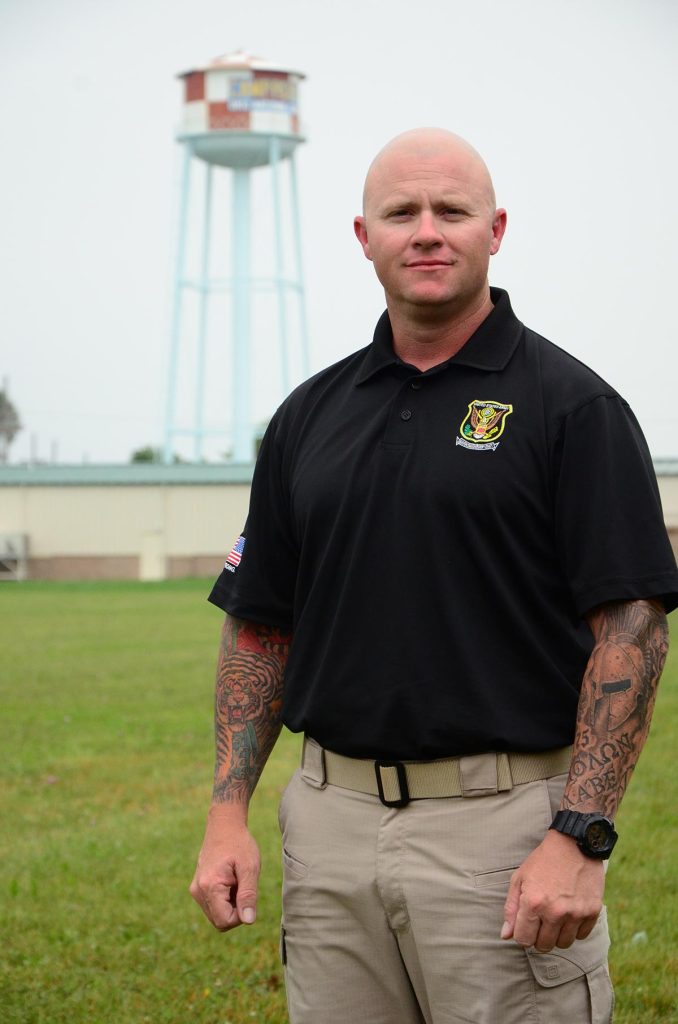 Additionally, SFC Franks received the General Patton Trophy for firing the highest aggregate National Trophy Individual and Team Match Army competitor score and set a new National Record – 588-28x.
SSgt. Jeremiah Jackson, 28, of the U.S. Air Force, was the winner of the General Carl Spaatz Trophy for being the highest scoring Air Force competitor. Jackson fired 283-5x in the competition.
The Anheuser-Busch Trophy is presented to the Civilian shooter with the highest aggregate score in the National Trophy Individual and Team Matches. This year, the recipient of the award was James Morman, with a score of 571-20x.
Morman also received a trophy donated by the West Virginia Pistol Team – given in memory of Mr. Ed Williams, who passed away in April and was a three-time winner of the Anheuser-Busch Trophy.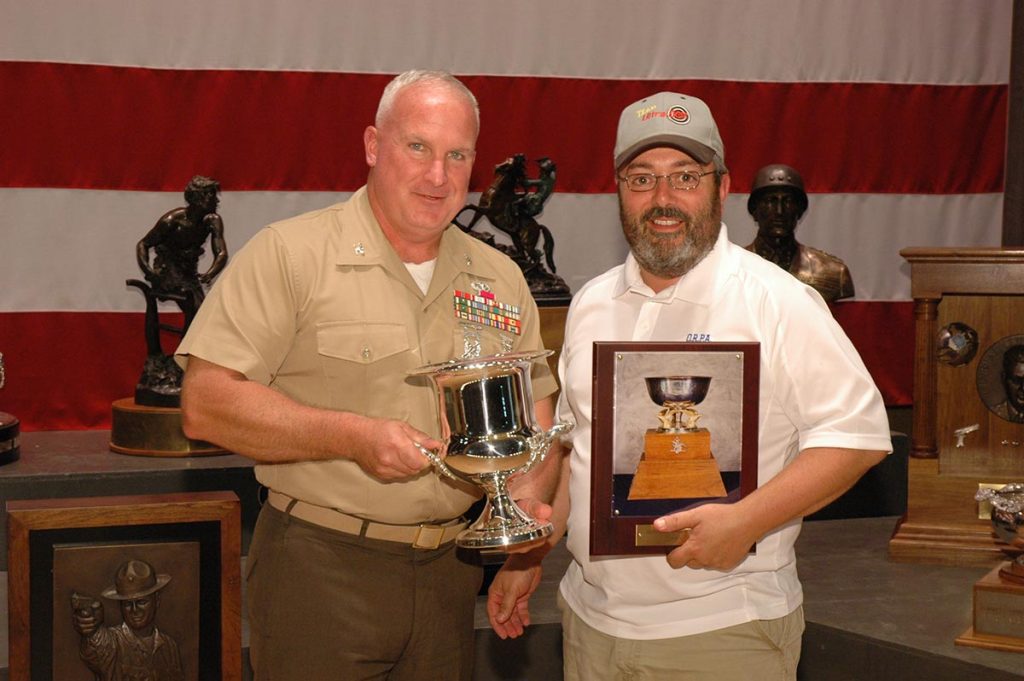 Earning the William McMillan Trophy as the high Marine (Active or Reserve) competitor from and aggregate score of the NTI and NTT Matches was MSgt. Barry Worster, 37, with a score of 573-21x.
CDR Matt Bartel, 42, of the U.S. Navy, fired a score of 535-8x to earn the Fleet Admiral Nimitz Trophy – awarded to the highest Navy competitor in the NTI and NTT Matches.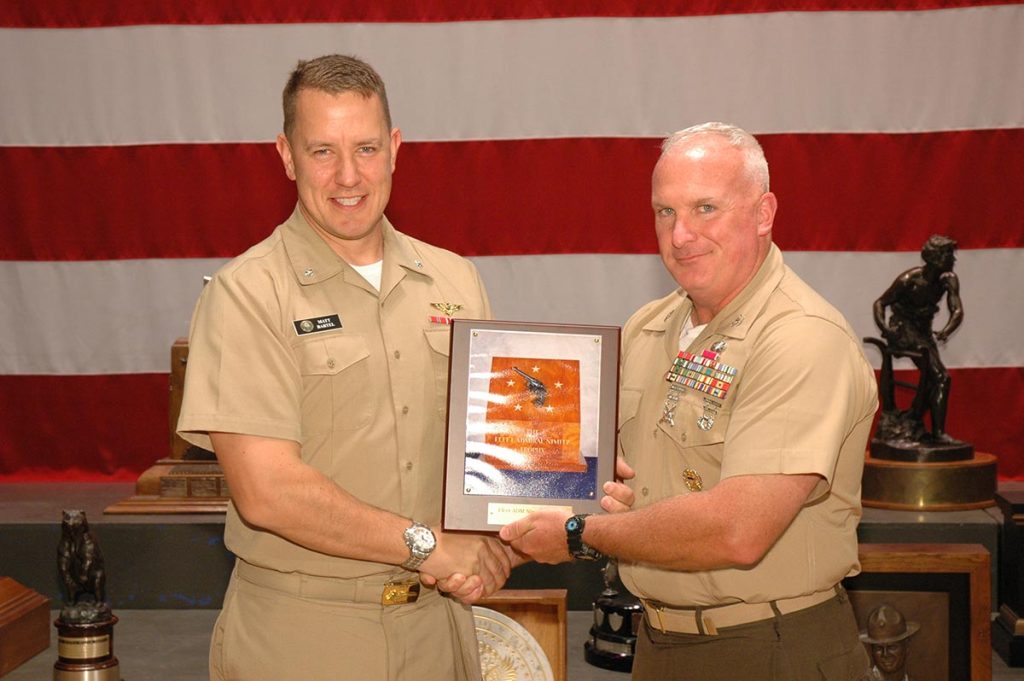 Glock, along with all of its other pistol donations, also provided a Glock Pistol Award to the highest ranking law enforcement competitor of an aggregate score of the President's, NTI and NTT Matches. This year, Kevin Vacura fired a score of 945-24x to receive a Glock pistol of his choice.
For a complete list of results, visit http://ct.thecmp.org/app/v1/index.php?do=match&task=edit&match=12169.
Photos of the event can be viewed online at http://cmp1.zenfolio.com.