Spurrier Wins Three and Four Gun Aggregate at 2015 Western CMP Games
October 21, 2015
Civilian Marksmanship Program
▸
The First Shot
▸
Spurrier Wins Three and Four Gun Aggregate at 2015 Western CMP Games
By Ashley Brugnone, CMP Writer
PHOENIX, Ariz. – A group of over 200 competitors traveled to the sizzling desert of the Ben Avery Shooting Facility Oct. 9-13 to fire in the 12th Annual Western CMP (Civilian Marksmanship Program) Games.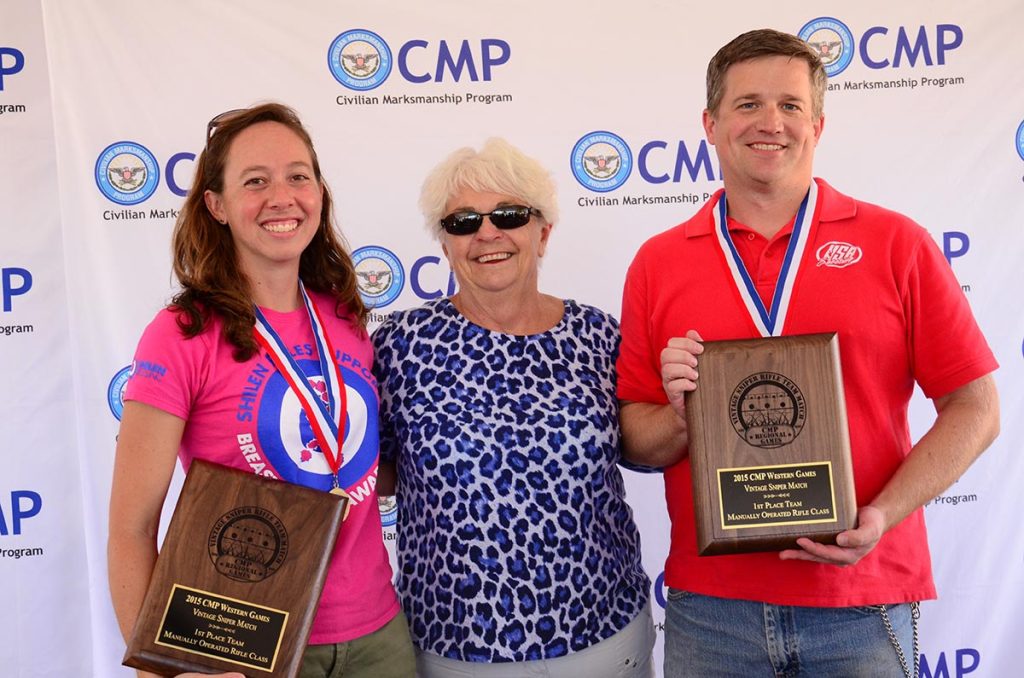 National-level competitions like the Garand, Springfield, Modern Military, Carbine and Vintage Sniper matches were just some of the exciting and challenging events held during the Games. A rifle Small Arms Firing School returned for the third consecutive year, while other informative clinics helped competitors enhance their marksmanship abilities and knowledge.
Though many arrived with dreams of victory, only some were able to take home the honor. Luckily, even through the hot Arizona sun, all left with great memories and the hopes of what may come at the next Games event.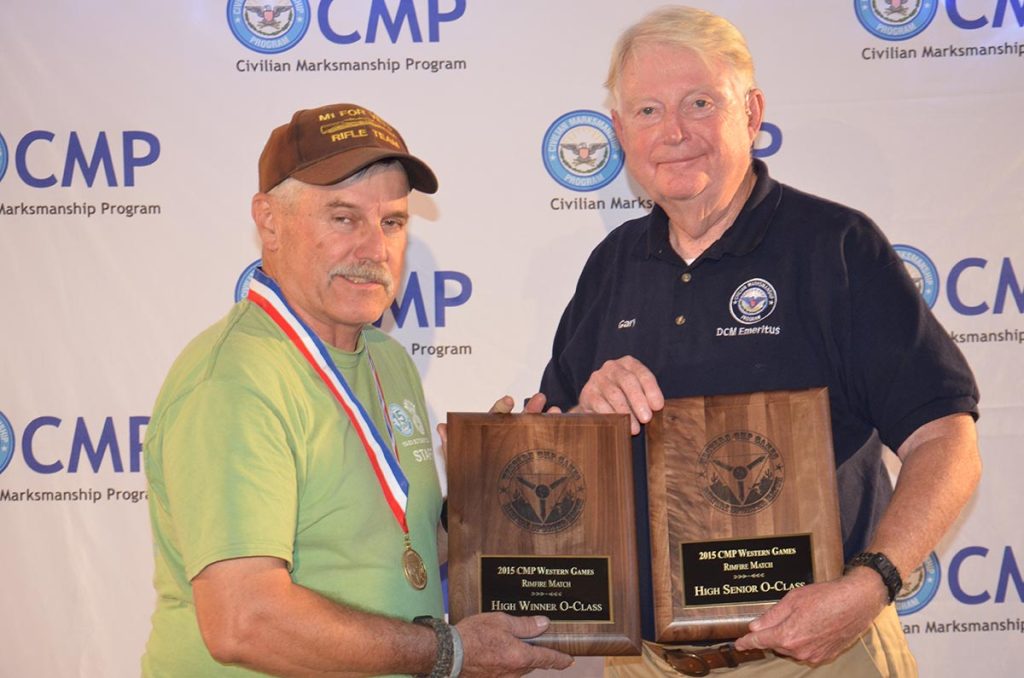 The following is a list of event winners from the Western CMP Games matches. For a complete list of results, visit http://ct.thecmp.org/app/v1/index.php?do=match&task=edit&match=12558.
Photos of the event are available for viewing at http://cmp1.zenfolio.com.
2015 Western Games Results:
M16 Match:
Overall: David Geyer, 40, Phoenix, AZ – 388-8x
High Junior: Alex Krupinsky, 15, Tempe, AZ – 369-7x
High Senior: Kim Wood, 60, Tucson, AZ – 367-8x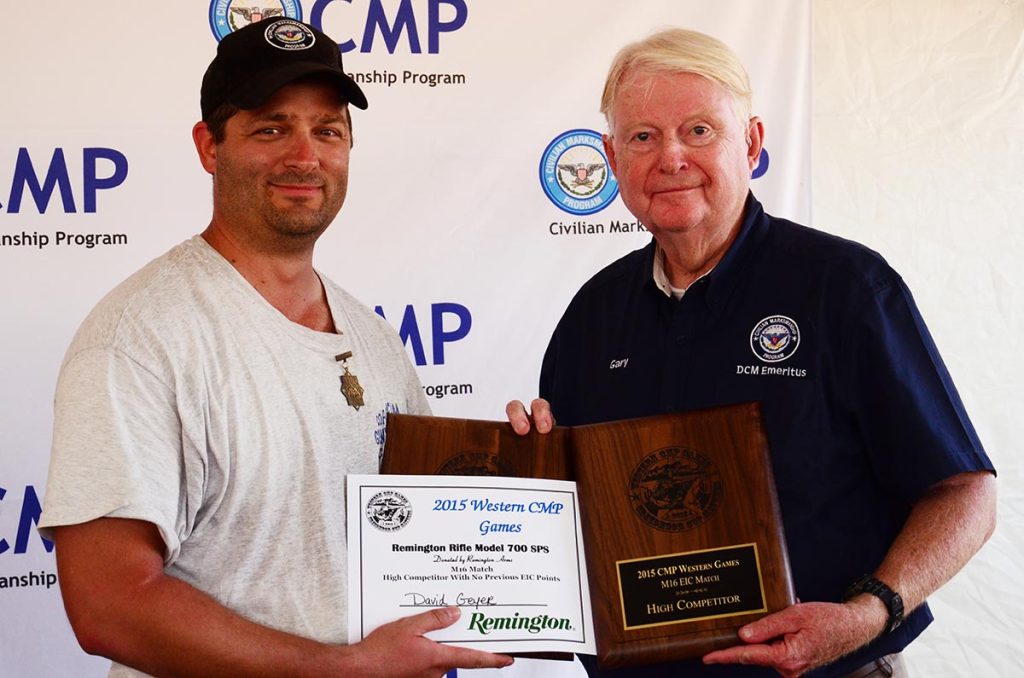 Garand:
Overall: Robert Spurrier, 54, of Lakewood, CO – 290-7x
High Junior: Cameron Hauser, 15, Pensacola, FL – 249-2x
High Senior: Larry Stonecipher, 63, of Ada, OK – 287-4x
Springfield:
Overall, High Senior: Lee McKinney, 69, Rio Rico, AZ – 286-6x
Vintage Military:
Overall: Randall Watson, 59, Farmington, NM – 287-5x
High Senior: George Gaskill, 69, Prescott Valley, AZ – 283-6x
Modern Military:
Overall, High Senior: Jeffrey Schneider, 64, Tuscon, AZ – 291-9x
Three and Four Gun Aggregate:
Three Gun: Robert Spurrier, 54, of Lakewood, CO – 846-19x
High Senior: James Fletcher, 64, Whitney, TX – 838-12x
Four Gun: Robert Spurrier, 54, of Lakewood, CO – 1130-27x
High Senior: James Fletcher, 64, Whitney, TX – 1120-18x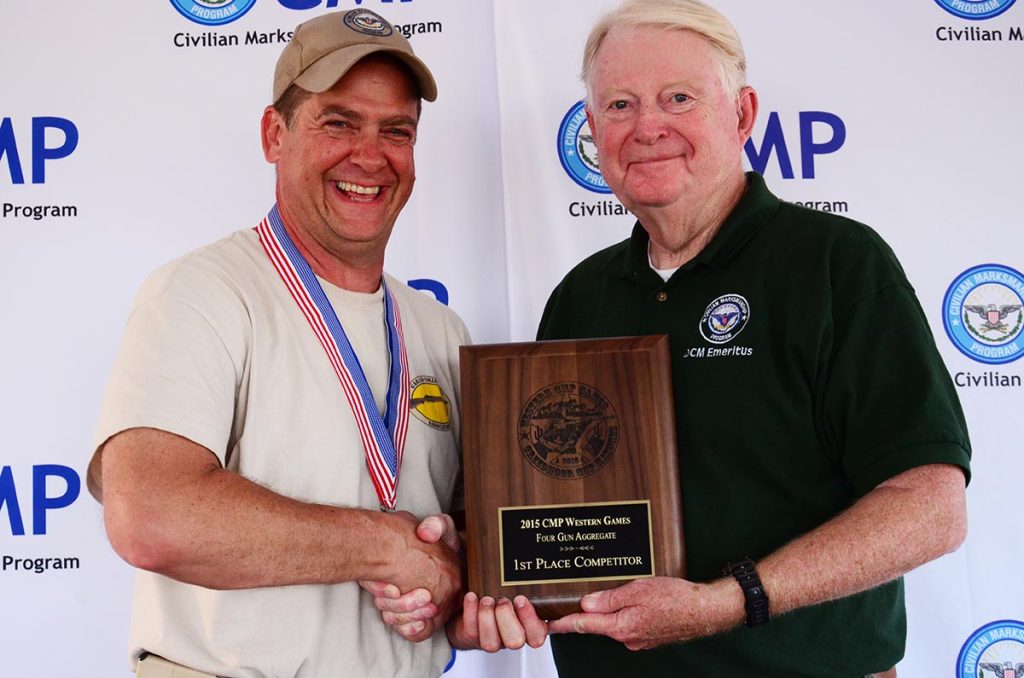 Rimfire Sporter:
Overall:
T-Class: Samuel Payne, 16, of Kingston, GA – 593-29x (High Junior)
O-Class: Jeffrey Schneider, 64, of Tucson, AZ – 577-23x
Tactical: Hector Miro, 58, Lakewood, CA – 570-15x
High Senior:
T-Class: Lee McKinney, 69, Rio Rico, AZ – 583-27x
O-Class: Jeffrey Schneider, 64, of Tucson, AZ – 577-23x
Tactical: Philip Mansell, 62, Ashford, MID – 534-5x
Carbine:
Overall: Ralph Maggio, 46, Harbor City, CA – 365-5x
High Junior: Collin Schreiber, 19, Chatsworth, CA – 228-1x
High Senior: William Fairless, 61, Vienna, IL – 365
Vintage Sniper:
Overall Manual Team: Western Wildcats – 388-13x
Team Members: Justin Tracy (40, of Colorado Springs, CO) and Reya Kempley (33, of Colorado Springs, CO)
Overall Semi-Automatic Team: Southern Boyz – 371-8x
Team Members: William Fairless (61, of Vienna, IL) and William Ellis (51, of Langley, Eng)