Southern Garret High School JROTC Competes in Junior Olympic Match
May 11, 2016
Civilian Marksmanship Program
▸
The First Shot
▸
Southern Garret High School JROTC Competes in Junior Olympic Match
Submitted by LTC Ralph Sheaffer
The cadets from Southern Garrett High School JROTC program entered the Maryland State Junior Olympic rifle match for the sporter class. In the five years since the school's air rifle program inception, the entry of the cadets into this competition was a first.
Taking aim to "aim small, miss small," the Ram cadets took second place sporter team overall, with one cadet placing third overall and another cadet taking first within his age category.
"The cadets were well prepared for this challenge, both in skill and attitude," said coach Ralph Sheaffer.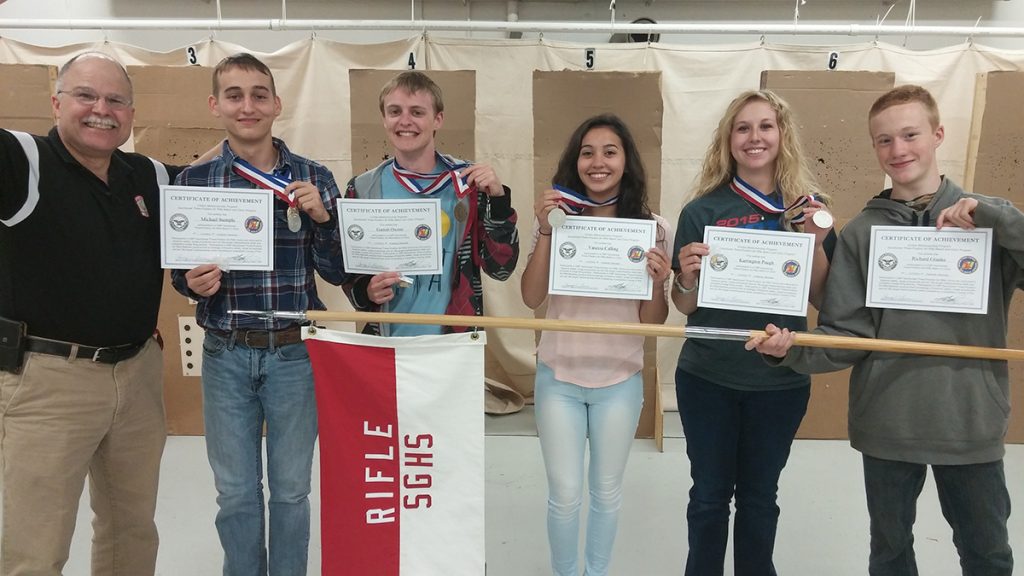 Garrett Owens took third place, sporter overall for the state with a score of 522/600. Fifteen-year-old Michael Stemple took first place for his age group with a score of 489/600 points, and the team consisting of Owens, Stemple, Karrington Paugh and Vanessa Calling took silver, with a score of 1985/2400 points.
Within the team, Southern Garrett had 27 10's, was 85 points ahead of third place team Governor Thomas Johnson High School and was 70 points behind first place Annapolis High School. As for Owens, he missed an automatic invitation to the next Junior Olympic level of competition by only eight points.
"All cadets from Southern Garrett also earned the gold or silver junior achievement pin for attaining established score levels in this sanctioned match," added Sheaffer. ​