Sollars Fires Record-Breaking Score in Popular John C. Garand Match
August 4, 2014
Civilian Marksmanship Program
▸
The First Shot
▸
Sollars Fires Record-Breaking Score in Popular John C. Garand Match
By Ashley Brugnone, CMP Writer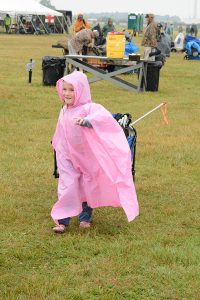 CAMP PERRY, OH – Through the rainy mist of July 19, a swarm of 1,080 competitors fired in the As-Issued John C. Garand Match at the 2014 National Rifle Matches at Camp Perry. Though marksmen fought through foggy glasses and wet triggers during the rainy morning, the soggy weather eventually subsided to clear skies to the always-eager Garand crowd.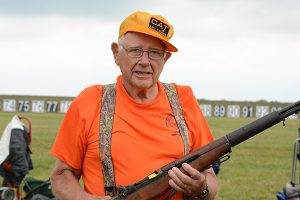 Milton Beckwith, 89, of Wethersfield, CT, still managed to find his way to the firing line, even through the rain. Beckman has been attending the National Matches at Camp Perry since 1954. Then, he was a talented pistol shooter – earning his Distinguished Pistol badge in 1969.
As he grew older, his shoulder began to hurt, and he could no longer hold the pistol out in front of him. That's when he switched to rifle. Now, he still finds time to shoot every week at the Fin, Fur and Feather Club in Chaplin, CT.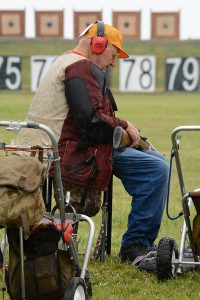 "I just like to shoot," said Beckman, with a smile.
His wife, Connie, 86, wasn't thrilled about the idea of her husband making the trip all the way to Camp Perry for the 60th year, but, according to him, it's the only time of year she can get anything done.
"She likes to get rid of me. She has things around the house that I won't let be done – things painted this color or that color. So while I'm away, that happens," he joked.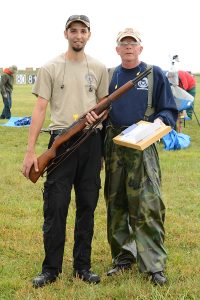 Jason Kozora, 28, of Columbus, OH, and his step-dad, Craig Downing, 50, of Cleveland, OH, built the M1 he fired in the match from a CMP barrel and receiver and other pieces and parts. Together, the pair has constructed about 20 rifles together. The M1 Garand took nearly 2 years to build.
"It's just something I enjoy doing," said Kozora. "I'd rather be doing this than work."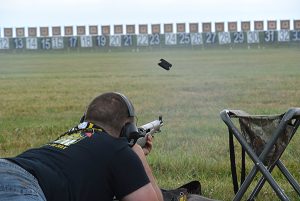 Competitors in the National John C. Garand Match fire "as-issued" U.S. M1 Garands through a Course of Fire that is designed in a way that allows experienced and inexperienced marksmen to easily complete. Because of this, the match attracts a large number of recreation-oriented shooters to enjoy a day of camaraderie, history and competition.
Winning the overall match was Larry Sollars, 43, of Cumming, GA. Sollars also set a new record for the event, with a score of 293-9x. The previous record of 293-6x was fired by Kurt Palmer in 2009.
"I was shocked," Sollars said. "I knew the score was good when I finished, but I didn't think it was a match winner. I thought surely someone would shoot better."
Sollars and his friends were out eating lunch after the match when the group informed him that he was actually in first place. After that, he started to keep an eye on Competition Tracker throughout the day.
"Late in the day, I finally realized that it was a new record too. It was incredible," he said.
Though he earned his name in the record books, it almost wasn't meant to be. Sollars wasn't even going to shoot in the match, but his friend, Ben Franklin, 56, of Woodstock, GA, convinced Sollars that he should, since he happened to arrive to his hotel a day early and had nothing to do.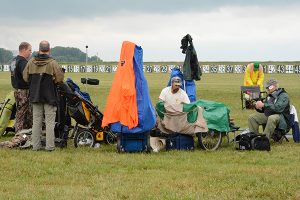 "When he saw the rain outside, he was quick to point out that it was my idea to shoot the match," Franklin joked. "But it cleared up as soon as we started. He really owes his win to me."
Proving his skill with a Garand, Sollars has advice for anyone else looking to master any CMP Games Match.
"Come out to shoot and have a good time. Don't set your expectations out of sight. Just shoot your scores. Shoot your game. It helps relieve some of the pressure. Don't put too much pressure on yourself," he said.
Coming in second place in the match and winning the High Senior Award was Robert Steketee, 64, of Haslett, MI, with a score of 292-11x. Kenneth Davis, 60, of Lucasville, OH, followed closely in third with a score of 292-8x. Robert Hudson II, of Halifax, VA, was the High Junior with a score of 285-8X.
New this year was the Grand Senior Award awarded to the high competitor (70+). Of the 68 competitors that were 70+, Michael Jozefov Jr. of Brunswick, OH, earned top honors firing a 278-4X.