SNIPER VS. COMPETITIVE SHOOTER
March 6, 2015
Civilian Marksmanship Program
▸
The First Shot
▸
SNIPER VS. COMPETITIVE SHOOTER
Submitted by Steve Sciarabba, Distinguished Rifleman/Presidents 100/M1 Carbine National Winner/US Army Sniper
Just within long-range high-power rifle shooting alone, there are all manners of classifications: 200 yards, 300 yards, 600 yards, cross-course, standing, sitting, prone, slow fire and rapid fire.  To win, a shooter must excel in all these disciplines over days, often in varying conditions, including torrential rain and excessive heat, at distances that can be difficult to see and comprehend with the naked eye.
During the course of a match, the shooter must also physically haul his or her heavy rifle with ammunition and all equipment to the various distances – equipment which may include a range cart, spotting scope, shooting floor mat and, most importantly, a heavy shooters jacket that can compress and stabilize the body during the actual shot itself (which is put to the ultimate test every year in the Wimbledon Cup Long Range 1,000-yard High-Power Championship).
This may sound like a competition geared toward snipers, but one of the first things you learn upon delving into the world of shooting is not to confuse competitive marksmen with snipers. With the popularity of the book and movie "American Sniper," and since I have lived in both worlds, I will share in the debate.
The way I see it is this:
In military terms, snipers infiltrate insurgent locales, negotiate a variety of terrain and, on occasion, take a shot. However this is only one element of their jobs, which also might include missions like scouting and reconnaissance, observation and security. A competitive marksman, however, trains year-round for competitive shooting yet doesn't see combat action. Instead, he or she spends time competing at a series of events – improving his or her marksmanship skills.
As a result, each community sees the other with a certain amount of disdain; snipers view competitive marksmen as "paper punchers" (reference to paper targets), and competitive marksmen view snipers as less inept in the shooting skills. To sum it up, excellence in either discipline is defined as the ability to hit the target effectively.
"From my perspective the only difference between the sniper and the competitive marksman is simply this: In competition, it's about winning; in sniping, it's about surviving."
Consider the rescue of Capt. Richard Phillips of the American cargo ship Maersk, Alabama. From 75 feet, three Navy SEAL Snipers picked off a trio of Somali pirates who were holding Phillips hostage in an 18-foot covered lifeboat. The operation required three shots, the difficulties of which were quite complex. The snipers had to use night-vision scopes and synchronize their shots from a swaying ship at a bobbing craft on the open sea. One of the targets was visible only through a window, and the pirates had AK-47's to the captain's head.
But the shots themselves: "I respect the conditions and the engagement, but really, for a Distinguished high-power rifle competitor like myself and others, that's an easy shot – that was, what, 100 feet? With a rifle we start at 200 yards. For most of the competitive marksmanship community, that's a shot that could have been taken with a handgun!"
As for the sniper viewpoint, retired Gunnery Sergeant Jack Coughlin, a legendary Marine Corp sniper in Vietnam who had more than 60 confirmed kills in combat, spoke for his compatriots on the subject of marksmen in his autobiography, "SHOOTER."
"Paper targets don't shoot back," he wrote. "So that's really kind of boring."
By the end of the Vietnam War, however, top U.S. military snipers using converted commercial hunting rifles were able to pick off targets as far as 1,200 yards away. Now, with better technology in weapons systems and ammunition ballistics, snipers reliably can hit a human silhouette at a distance of upwards of a mile, and just a few years ago a British soldier named Craig Harrison set a distance record when he toppled two Taliban fighters from a staggering 2,500 yards.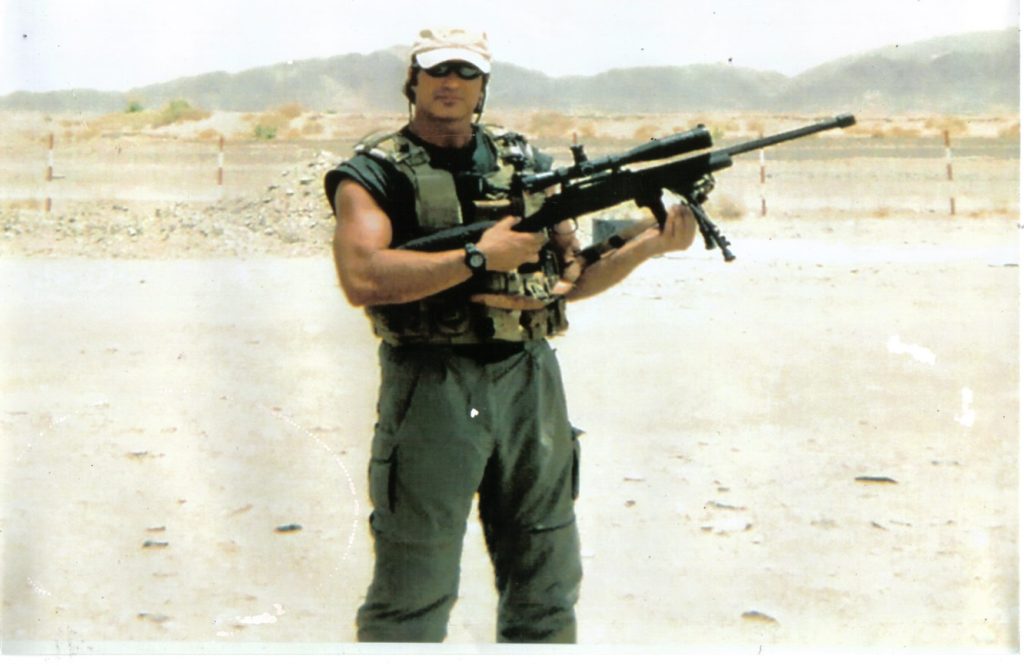 Consider also that the average military sniper will be shooting at an E-type or IPSC silhouette target in training. A hit anywhere on steel is a hit – hit the target anywhere. Hear the "BONG" – done. In competition shooting, the defining difference is how close you can get all (or the majority) of your shots into a smaller, more precise objective 10- and X-ring.
At Sniper School, Qualification and Field Craft training teaches a soldier how to engage the threat and to survive it. Highpower competition teaches an individual how to shoot with precision, without the threat. Combine those two in the correct proportions and you have one formidable operator!  It's not an either/or, it's a both – and the best can do both.
Carlos Hathcock was one of those rare individuals. He carved a niche in Marine Corp history for his legendary sniper missions, as well as becoming a nationally recognized shooting champion. Fifty years ago this summer, in 1965 as a Distinguished Rifleman, he won the Wimbledon Cup at Camp Perry. To be that effective both as a battlefield sniper and as a competitive marksman requires extraordinary qualities.
Being in both worlds, I can assure you military snipers use far more "tech" stuff than competitive shooters ever thought of using. A Data Book?  A good sniper keeps these, too. Talk about milling a target to get the range and then failing to adjust for climate and weather conditions somewhere in austere third-world parts unknown countries!
"I've personally seen zeroes change rapidly by a full MOA and more during rain and sandstorms coming through – and the drop in the barometric pressure on scene. The range won't change, but your POI (point of impact) sure as heck will."
If you think this just applies to snipers, think again. Camp Perry in the rain, wind and humidity is very unforgiving, as well. Both a good sniper and a competitive shooter, however, will have data on this and will make the correct adjustments for it.
"Except the qualified Sniper School graduate who hasn't been back on the range for anything other than his regular qualifications . . . probably won't."
As far as physical and mental attributes and characteristics, the fact is, I've never met a successful long-range shooter who wasn't very intelligent in either a very analytical or an OCD-savant kind of way. And indeed the Army uses a psychological exam as part of the selection process as to what makes a good sniper school candidate and has found that the common personality type is having "meticulous attention to detail" and "overachievement tendencies."
For a competitive marksman, however, if you wanted to become the kind of elite shooter who could be competitive at the level of the National Championships, then first and foremost you need to master the physical aspects of the sport. This means steadying and maintaining three different body positions (standing, sitting, prone) timed at three different distances. Plus, keeping the rifle snug against your shoulder to "eat the recoil" factors in to the physical aspects of static shooting, as well as the ability to control your breathing patterns or training your body to get "pumped down" rather than pumped up during high-pressure competitive situations.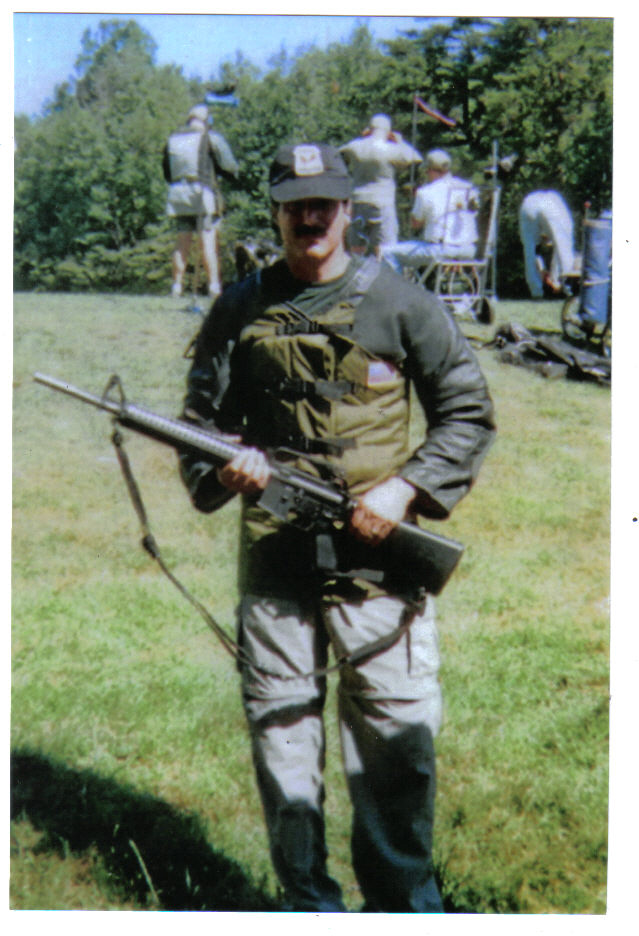 Some are so adept at this that they can actually control their heartbeats – on a monitor there would be a slightly longer pause during the shot. For the sniper, it comes with not being as deliberate but perhaps more methodical and on-demand in many instances because of the sometimes unpredictable target environments and mundane over-watch missions in varying terrains.
In conclusion, I would like to point out that there is virtually no money in competition and no glory in being a sniper. Both get little-to-no media attention, and both are arduous and difficult to explain.  So why do either?
If you ask both the competitive shooters and snipers, they'll talk about an obsessive need to master the equipment and conquer the conditions – "the challenge of putting a bullet through a target time after time is still very amazing to me – the precision of the shot; that if you line up the sights real carefully, control your breathing and body real carefully, and squeeze the trigger real carefully, that bullet will go that whole distance and land in the middle of an object the size sometimes smaller than a dinner plate."
Talk to the participants, and they'll tell you the common denominator to both is the "shooting," and to be chasing that lonely pursuit of perfection for either requires being the most prepared, the most proficient and the most persistent.