SGT Ryan Franks Makes His Mark During 2015 President's Pistol Match
July 14, 2015
Civilian Marksmanship Program
▸
The First Shot
▸
SGT Ryan Franks Makes His Mark During 2015 President's Pistol Match
By Ashley Brugnone, CMP Writer
CAMP PERRY, Ohio – SGT Ryan Franks, 27, of the Army Marksmanship Unit (AMU), is new to the world of competitive shooting – but that didn't stop him from becoming the overall winner of the prestigious President's Pistol Match at the 2015 National Trophy Pistol Matches. Surprising both his teammates and himself, he fired an impressive score of 392-15x to earn the title. "It's extremely surreal. I had no expectations of doing it whatsoever," he said with a smile.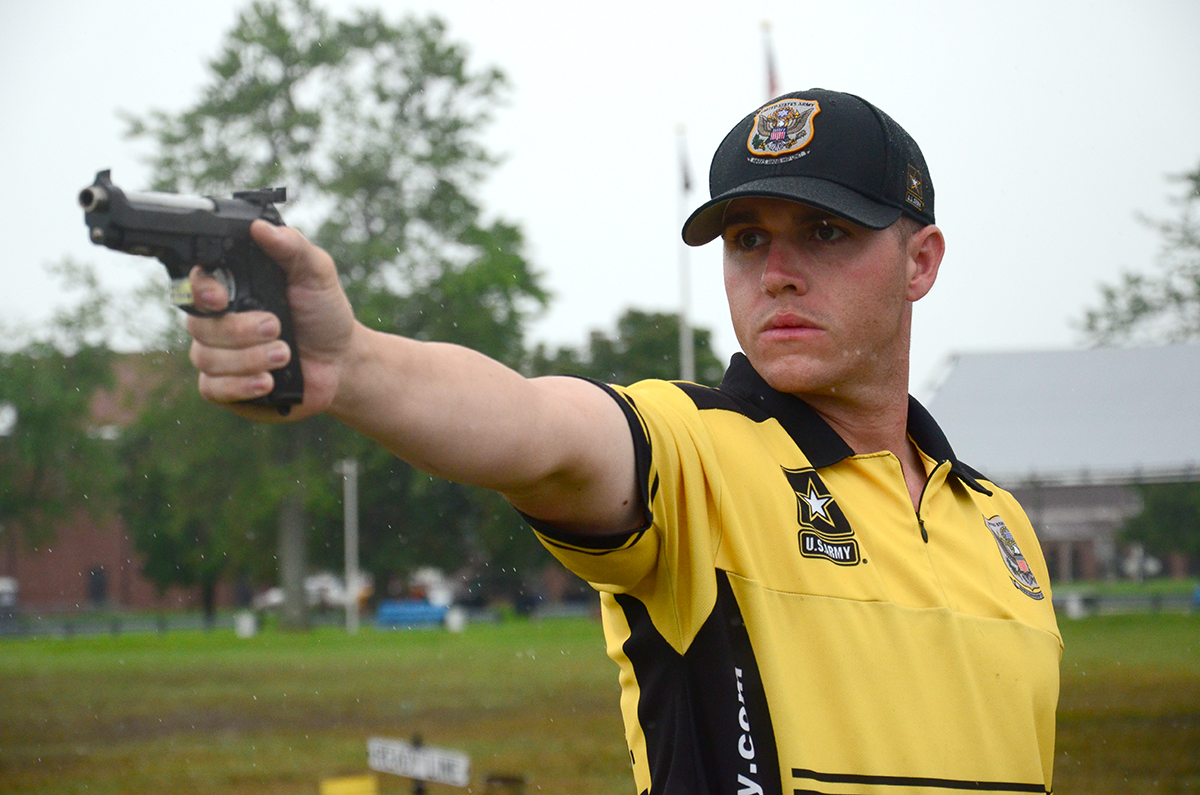 For Ryan, the President's Pistol Match was only meant to be practice for the upcoming National Team match – since that's what he's been training for and what his role on the AMU has been all year. But after cleaning the slow fire target for the first time in his career during the match (100-6x), he thought he might be onto something even bigger than a routine training session. "I put two or three shots downrange, and then I just quit looking and shot the rest. Then when I scoped it, I saw that I had cleaned it – that in it's own was a win for me since I had been struggling shooting slow fire," he explained. "Once that happened, it was a lot of mental management of, 'Oh, what could happen? Am I going to tank the next one?' And I used whatever nervous energy I had built up to focus. It ended up working out for me." Last year, he only came up to Camp Perry to shoot the President's Match, then went home after. This year, he returned to the National Guard base to fire in all of the National Pistol Matches for the first time – though, on paper, no one would be able to guess he was a rookie.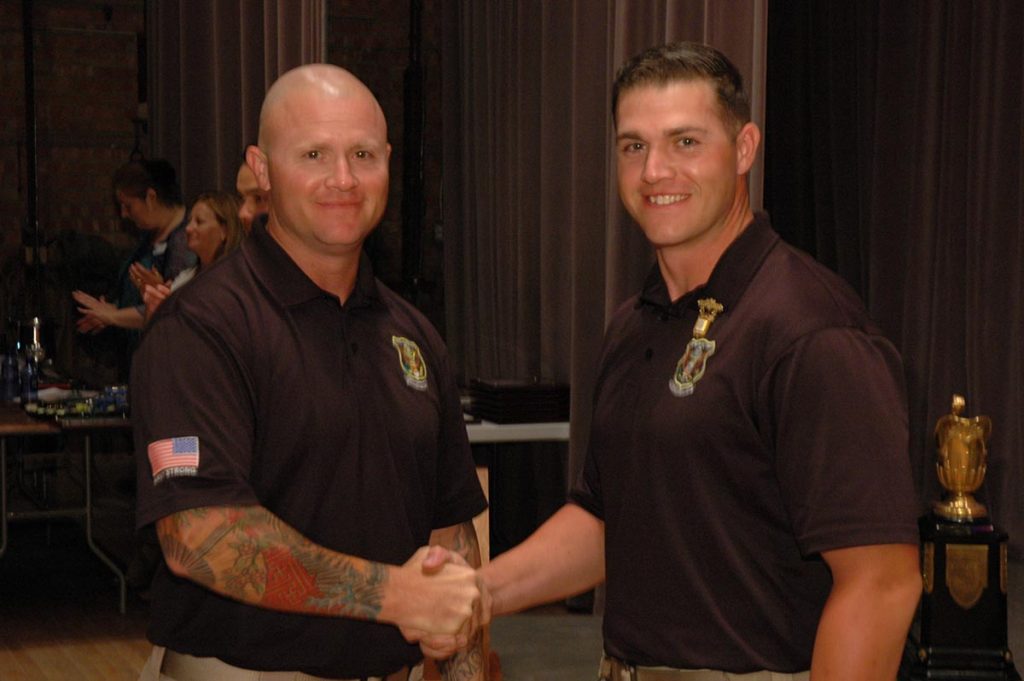 He finished within the Top 10 percent in the new .22 Rimfire Pistol Match and the Top 20 percent as an Individual in the National Trophy Team (NTT) Match – contributing to his U.S. Army Marksmanship Unit's win in the competition. During the National Trophy Individual Match (NTI), Ryan climbed his way to fifth place, falling only one point behind his talented brother, SFC Patrick Franks. In the Service Pistol EIC Match, Ryan was the high non-distinguished shooter – beaten only by a single "x" by the first place finisher, Patrick. Ryan's performance was enough to earn him the final leg points he needed to become Distinguished in Service Pistol. Additionally, during his President's Pistol win, he was only two points away from setting a new National Record for the event. "It blows my mind. It's very hard to believe because I am a new shooter and I'm very new to this sport. But I've had phenomenal coaching experience – not just from our team, but from all of the other teams and individual shooters," he said. "It's such a great sport – that everyone wants to help everyone get better. It's not just a win for me – it's showing all of the other shooters what they can do and what they can produce, because they've all had a hand in helping me shoot," he added. One person who is largely to thank for getting Ryan into the sport and driving him to become such a successful marksman is his brother, Patrick. Well known within the competitive shooting world as a member of the AMU, Patrick can often be seen at the top of the podium during competitions.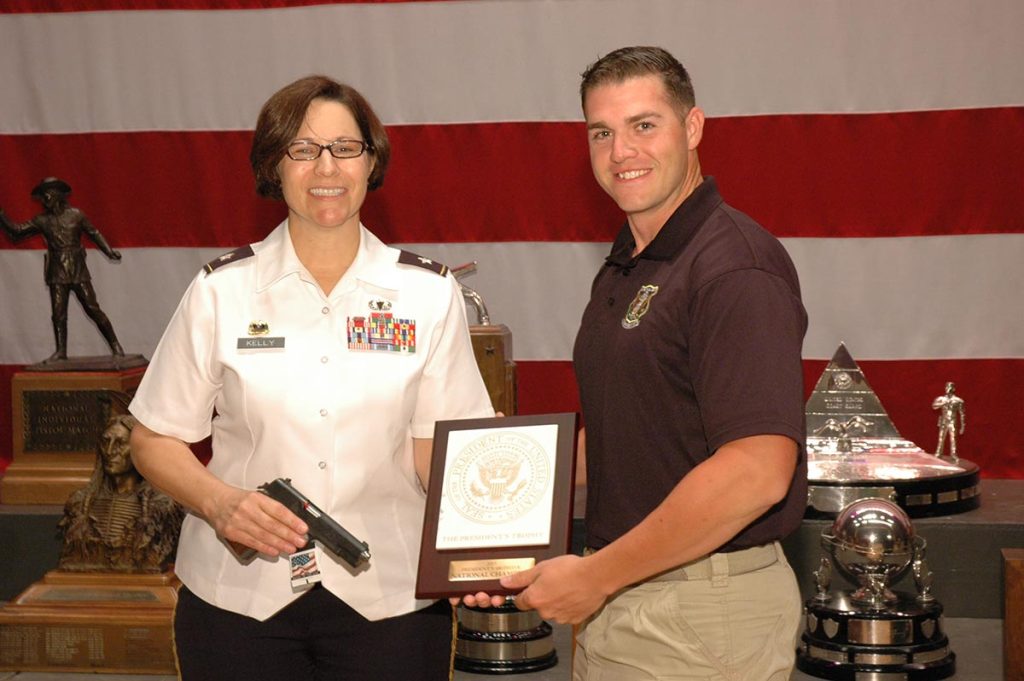 At this year's National Matches alone, Patrick set three new National Records in the NTI and NTT matches, earning three of his own National Trophies, and was the overall Service Pistol EIC champion. "It's no secret that I admire my brother. I just think the world of him," said Ryan, who is 10 years Patrick's junior. "He's a true role model – not only as a brother, but as a human being and a fellow non-commissioned officer. He's taught me and shown me all the ways to conduct myself." It was a few years ago, when Ryan was working as a firefighter in Tennessee, that Patrick invited him down to Fort Benning, Ga., for a visit. During that trip, Ryan had the chance to shoot with Patrick and see his AMU lifestyle, and he decided then that he wanted to be a part of it too. "I thought it was the coolest thing ever, so I wanted to join the Army – not just to shoot, but to be in the military," he explained. After about three years in the regular Army, Ryan was invited to shoot Interservice last year – with no experience and no training. But, as it turned out, he had a natural ability for the sport. "It was just something that I picked up very quickly. I wanted to do and be what my brother is and what he's been able to do," said Ryan. "I think it's a great testament to him mentoring me – me being able to put everything he's taught me into practice and produce a win." Standing on the firing line with extraordinarily talented shooters who have accomplished previously impossible feats, such as breaking records – like his brother Patrick has done – Ryan's career goal for himself has been simple. "I wanted to make my mark in this sport. And it takes more than winning to be a champion. I want to grow and develop into being an ambassador for the sport, and to help others, and get the sport out there – to keep it alive and keep it going by passing along anything I've learned to anyone else." Competing alongside a team he truly admires, down to the hard working armorers, as well as helping to develop the future of marksmanship through junior training, Ryan has truly found his passion. And after his trip to Camp Perry this year, he truly made his mark by etching his name into history with his win in the President's Pistol Match. But, he's not quite done. He hopes to return to the National Matches next year even better than before. "With a full year of training under my belt, I'm anxious to see what I'm able to accomplish."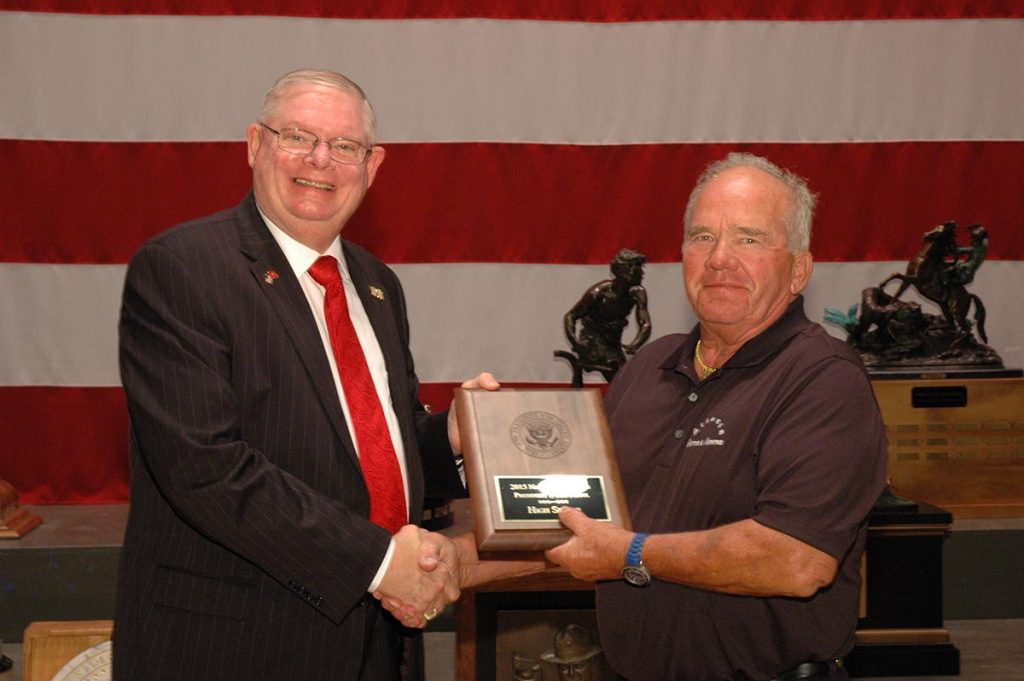 Also making a mark in this year's President's Pistol Match was high non-distinguished competitor of the match, SSgt. Jeremiah Jackson, 28, of the U.S. Air Force, who fired a score of 380-17x. Along with his tremendous score, Jackson received a ProPlus Series 1911 Pistol, donated by Steve Huff of Accuracy X, Inc.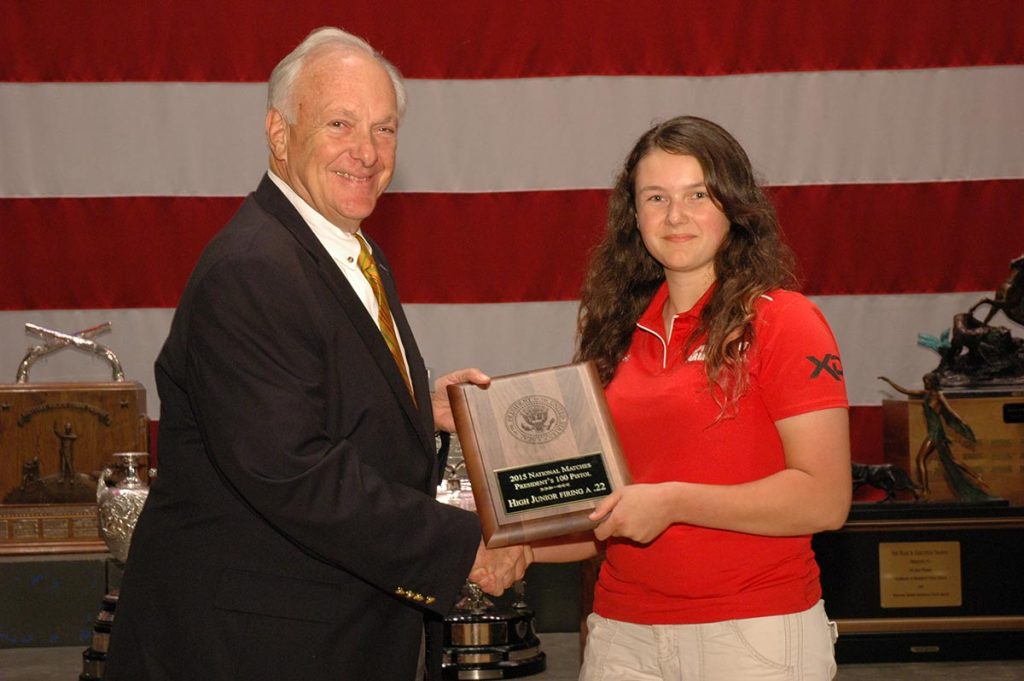 Lisa Emmert, 19, of Houghton, Mich., was the overall winner in the Junior President's Pistol Match and set a new National Record with her score of 374-8x.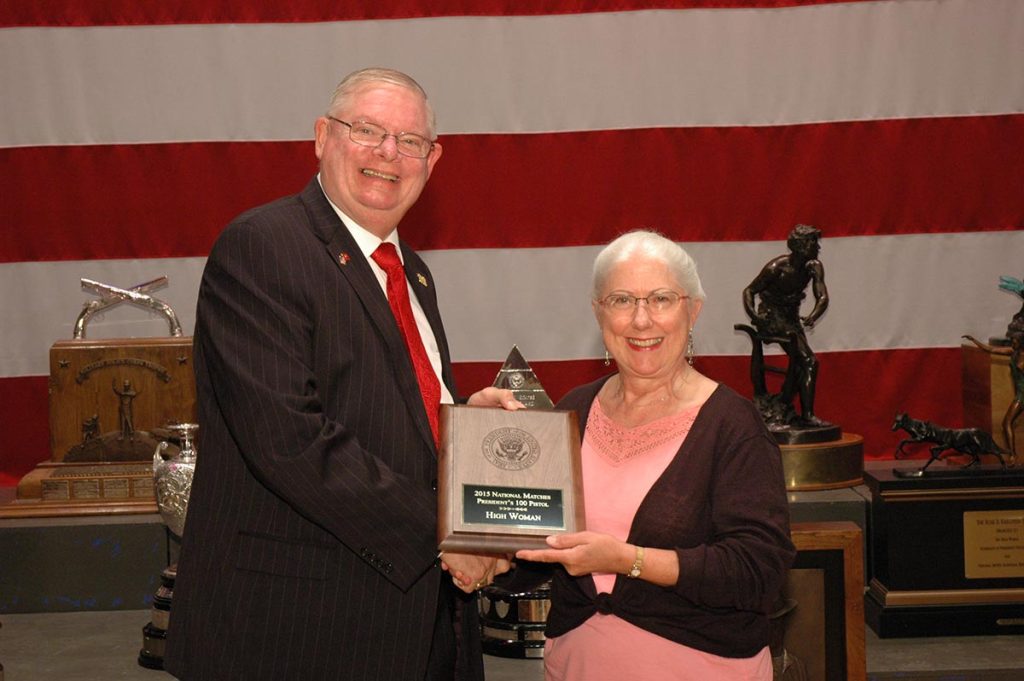 Judy Tant, 65, of East Lansing, Mich., was the High Woman of the match with a score of 370-6x, as Steve Reiter, 73, of Tucson, Ariz., fired the High Senior score of 374-7x. Both received an EyePal Master Kit, donated by EyePal.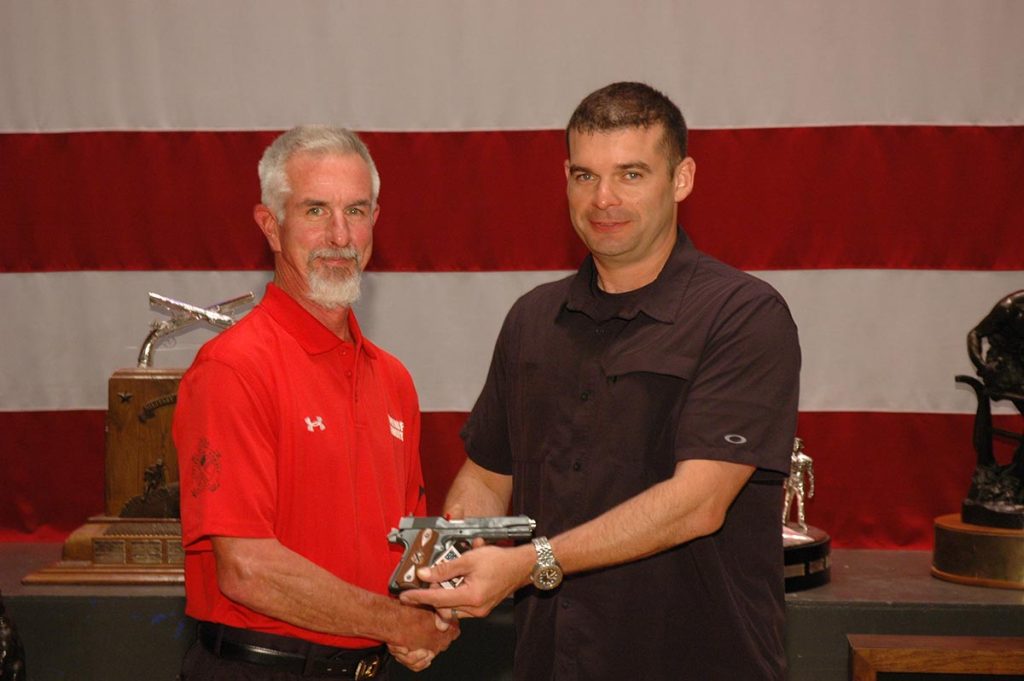 SFC Keith Sanderson, 40, U.S. Army Reserve, was the high shooter firing an M1911 in the match, with his score of 389-22x. As the high shooter with a 1911, he also received a special M1911 Pistol, donated by Springfield Armory. For a complete list of results, visit http://ct.thecmp.org/app/v1/index.php?do=match&task=edit&match=12169. Photos of the event can be viewed online at http://cmp1.zenfolio.com.