Senior Kyle Orr, Granbury Team Earn Records at 2022 JROTC Service Championships
February 17, 2022
Civilian Marksmanship Program
▸
The First Shot
▸
Senior Kyle Orr, Granbury Team Earn Records at 2022 JROTC Service Championships
The Civilian Marksmanship Program (CMP) recently hosted the 2022 JROTC Service Rifle Championships, with sporter and precision air rifle athletes and teams reaching new national records. The regional event was held in three locations (Arizona, Alabama and Ohio) over the weekends of Feb. 3-5 and Feb. 10-12.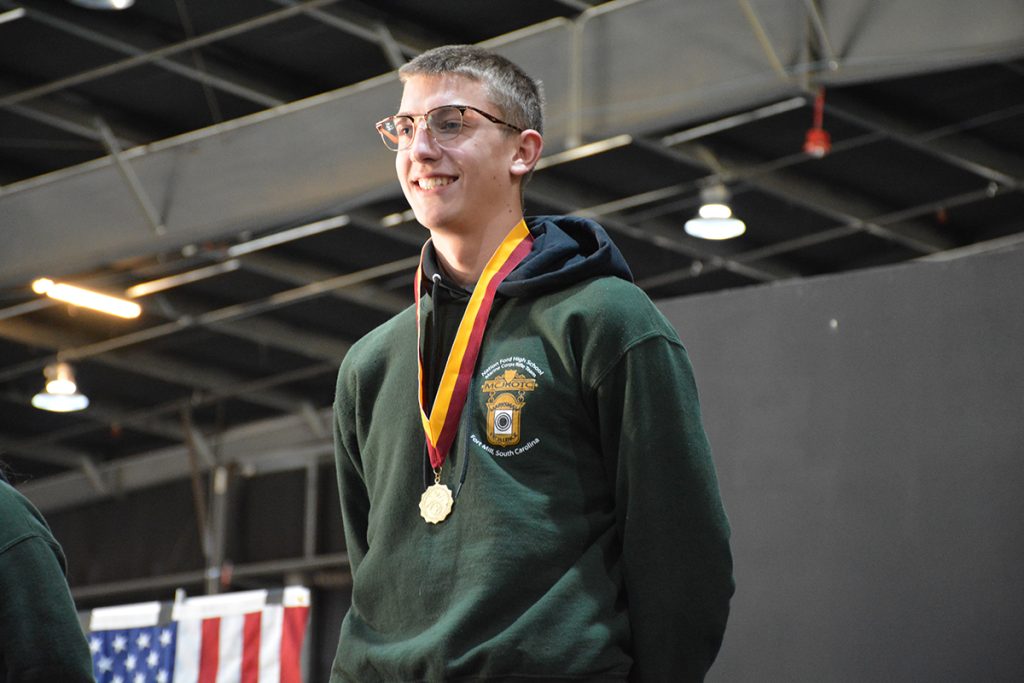 The JROTC Air Rifle Service Championship is a 3×20 air rifle competition, where competitors fire 20 record shots from three positions: prone, standing and kneeling. The final stop in the JROTC Championship competition series will be the National Championship, set to be held at the Gary Anderson CMP Competition Center at Camp Perry, Ohio, March 17-19.
During the JROTC Service Championships, Nation Ford High School from South Carolina overtook six of the top 10 places in the overall Marine Corps sporter category, with Kyle Orr, 17, earning the highest score of 1210-35X. Orr also fired a new Marine Corps JROTC national record score of 189-9X as part of his match performance. Following close behind were teammates Maya Cameron, 17, who placed second and Isabelle Fetting, 17, who took third. Unsurprisingly, the team led the Marine Corps sporter team results with their outstanding combined scores.
Likewise, Granbury High School from Texas claimed eight of the top 10 places in the Marine Corps precision competition. Parker Haydin, 18, fired a score of 1292-100X to overtake the lead position, as teammates Kaylynn Slaughter, 16, and Ashton Arlington, 17, landed in second and third, respectively.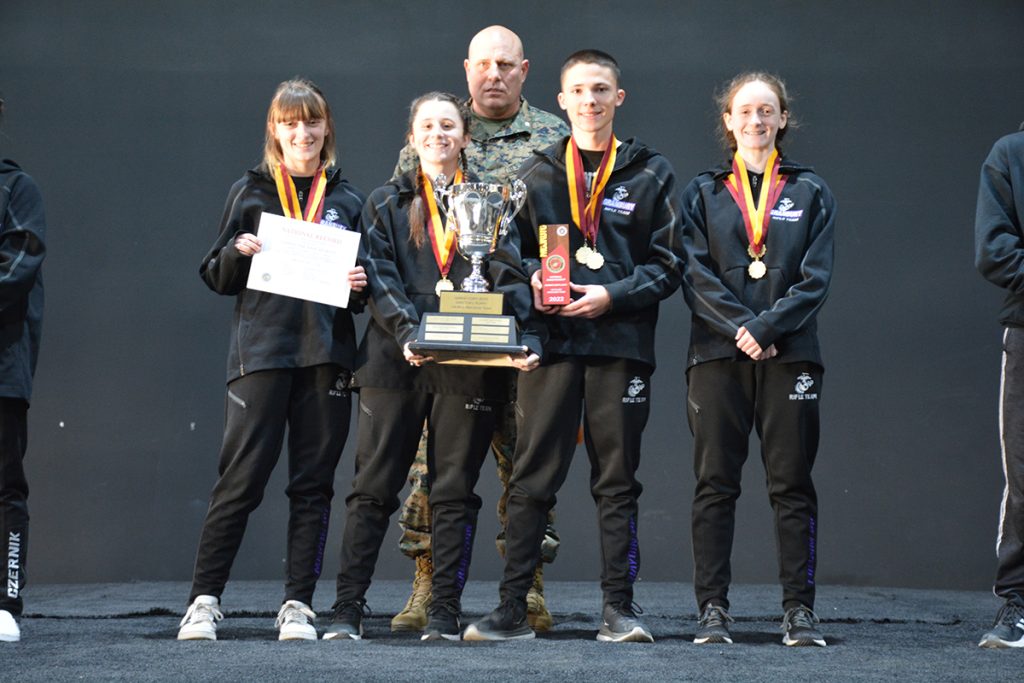 Not only did Granbury earn the highest score out of all Marine Corps precision teams, but its members also reached a new Marine Corps JROTC national record score of 2367-172X.
Leading the Army athletes in the sporter class were members from Ozark High School in Missouri. Frontrunner Elijah Glenn, 18, fired a score of 1191-35X, followed by teammates Sydney Broussard, 17, and Asa Wells, 15, who landed in second and third. Broussard earned a score of 1187-36X, while Wells marked 1184-32X. With the success of its members, Ozark was the top Army team of the match.
In Army precision, Kendall Goebel, 17, of Sarasota Military Academy in Florida, recorded 1281-87X to take the top spot and help lead the team to the overall score in the precision competition. Alysa Yancey, 16, of Marion High School in Indiana, claimed second with a score of 1278-91X, as Alex Pall, 17, of Marmion Academy in Illinois reached 1269-72X for third.
Amia Demuth, 18, of Freeport High School from Illinois, fired a 1105-41X to earn the overall score in the Navy sporter category, as Madeline Vetting, 15, of Patuxent High School in Maryland, earned a score of 1103-36X for second. Patuxent was the leading Navy sporter team of the match. Aidan Gutierrez, 17, of Vista Ridge High School in Texas, tallied a score of 1096-34X for third.
Ahead in the Navy precision event was Chris Jennings, 17, of Floyd Central High School from Indiana, with a score of 1172-80X. Following close behind Jennings was Abigail Swain, 17, of Camden County High School in Georgia, with a score of 1171-68X for second and Alyssa Ward, 17, of Caney Creek High School in Texas, with 1169-70X for third. Swain's Camden County was the top scoring Navy precision team of the match.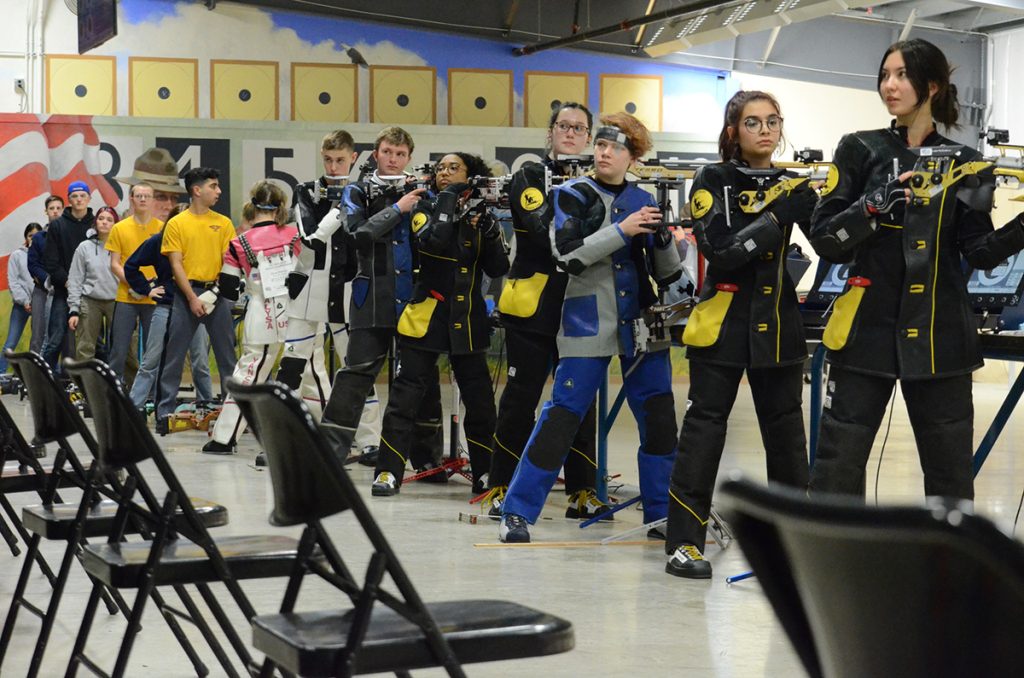 The Air Force sporter class competition saw a notable performance from Perry McCool, 18, of South Panola High School in Mississippi, who earned a score of 1181-36X. McCool helped lead his team to the overall high score in the Air Force sporter competition. Charles Bratton, 17, of Clover High School in South Carolina, recorded a score of 1176-26X, as Austin Dickey, 18, also of Clover, claimed the third highest score with 1173-27X.
Mateo Moreno, 17, of Del Norte High School from New Mexico, went on to net the top spot in the Air Force precision match with a score of 1243-60X – with Del Norte earning the overall team win in the match. Emma Wray, 18, of Dalton McMichael High School in North Carolina, landed in second with a score of 1235-54X, while Madison Landers, 16, of Burleson High School in Texas, acquired a score of 1232-45X for third.
For a complete list of results of the JROTC Service Championships, including top scorers from each location, visit the CMP's Competition Tracker page at https://ct.thecmp.org/22JROTCServiceChampResults. More on the JROTC Air Rifle Championships can be found on the CMP website at https://thecmp.org/youth/jrotc-air-rifle-national-championship/. Photos from the JROTC Service Championships may be viewed and downloaded at https://cmp1.zenfolio.com/f751997085.