Rimfire Pistol Distinguished Badge, Achievement Pins Get New Updated Look
March 17, 2015
Civilian Marksmanship Program
▸
The First Shot
▸
Rimfire Pistol Distinguished Badge, Achievement Pins Get New Updated Look
By Ashley Brugnone, CMP Writer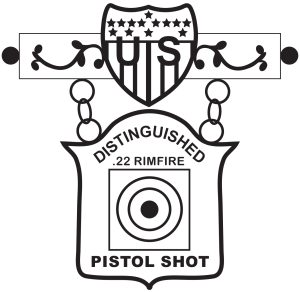 Art has been approved for the new EIC .22 Rimfire Pistol Distinguished Badge and .22 Rimfire Pistol, Service Pistol and Service Rifle EIC Achievement Pins for distribution to excelling marksmen in each distinction.
The improved Distinguished Badge will resemble the current badges, while the achievement pins will replace the EIC medals used in recent years. The pins are 1-1/2 inch in diameter and are gold with black, white and gold, silver or bronze highlights.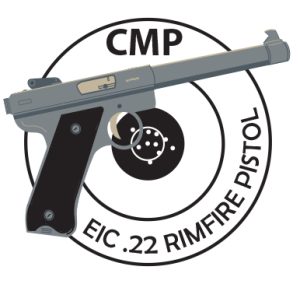 Rimfire Pistol EIC matches will be fired as separate matches where only .22 cal. pistols can be fired.  The 30-shot National Match Course will also be used for the match, except that the ready (start) position for timed and rapid-fire series will be with the pistol lowered to a 45-degree angle. If the range has a high bench that does not permit a 45-degree ready position, the loaded pistol must start from a point just above the bench. The low gun start position will make the event more relevant to Junior and College shooters who already use low gun start positions in their matches.
The first .22 Pistol EIC Match will be held Saturday, April 11, 2015, at the Oklahoma City Gun Club during the CMP Games in Oklahoma. Clubs can register now to sanction an event, but no .22 Pistol EIC Matches will be scheduled until after the April 11 date.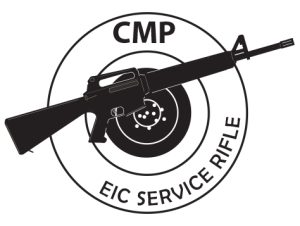 In each Excellence In Competition (EIC) match, eligible non-distinguished shooters are awarded EIC ("leg") points when finishing in the Top 10 percent of all Non-Distinguished shooters. EIC points will be given out to competitors that shoot the minimum cut score during the designated matches – 260 for.22 Rimfire Pistol EIC points.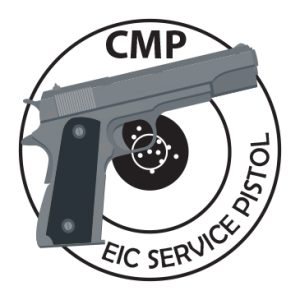 A key provision for ensuring that only Distinguished level scores earn EIC points will be a new requirement for any score that ranks in the top ten percent of Non-Distinguished Service Pistol shooters to score 250 or higher before EIC points are awarded.
Search upcoming EIC matches by visiting CMP's Competition Tracker at http://ct.thecmp.org/app/v1/index.php?do=matchRegistrationListUpcoming&filter=designation&filter_value=EIC.