Rifle Competitor Julie Klusmeier Plans Wedding Around CMP Air Gun Matches
April 25, 2022
Civilian Marksmanship Program
▸
The First Shot
▸
Rifle Competitor Julie Klusmeier Plans Wedding Around CMP Air Gun Matches
"My dad likes to say that 'shooters are weird,' and I think he is right about that," said Julie Klusmeier Landis, an air rifle competitor from Cincinnati, Ohio. "That makes me think of the Dr. Suess quote, 'We are all a little weird and life's a little weird, and when we find someone whose weirdness is compatible with ours, we join up with them and fall in mutual weirdness and call it love.' Though most people apply this to romantic love, it can also be applied to friendships."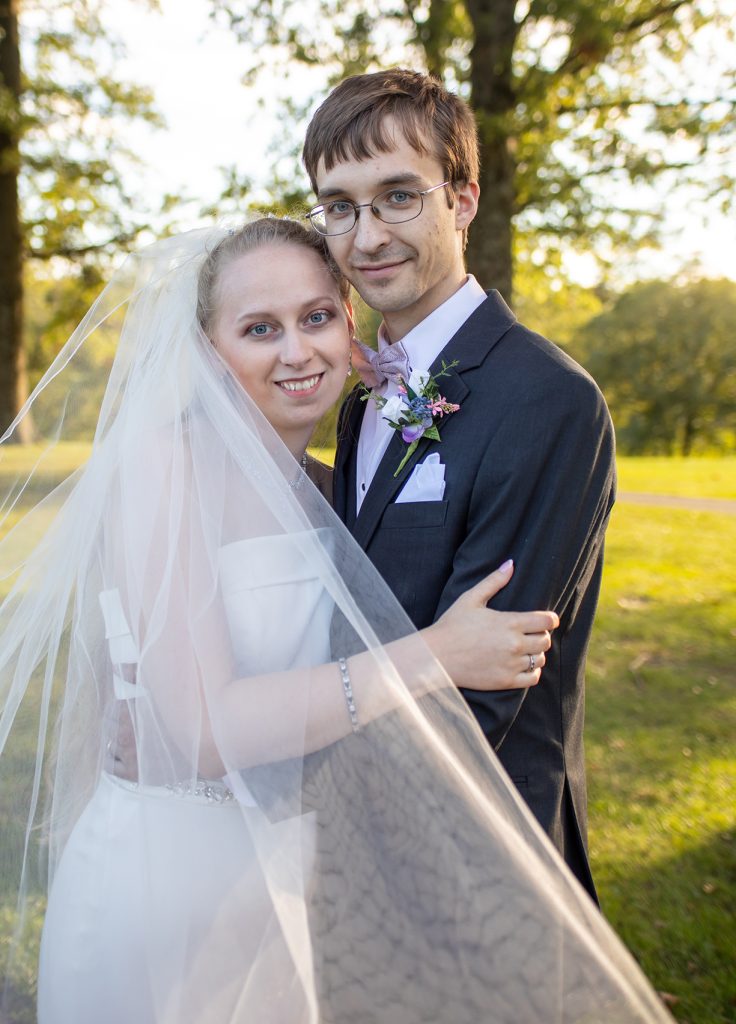 Julie began in marksmanship when she was 16 years old and has since created a network of experiences and lifelong bonds with her fellow competitors.
"I really enjoy competing and getting to see all my friends and making new friends," she said.
Marksmanship and the relationships she's built through the sport have become so central to her life that nothing can keep her from them – not even her wedding.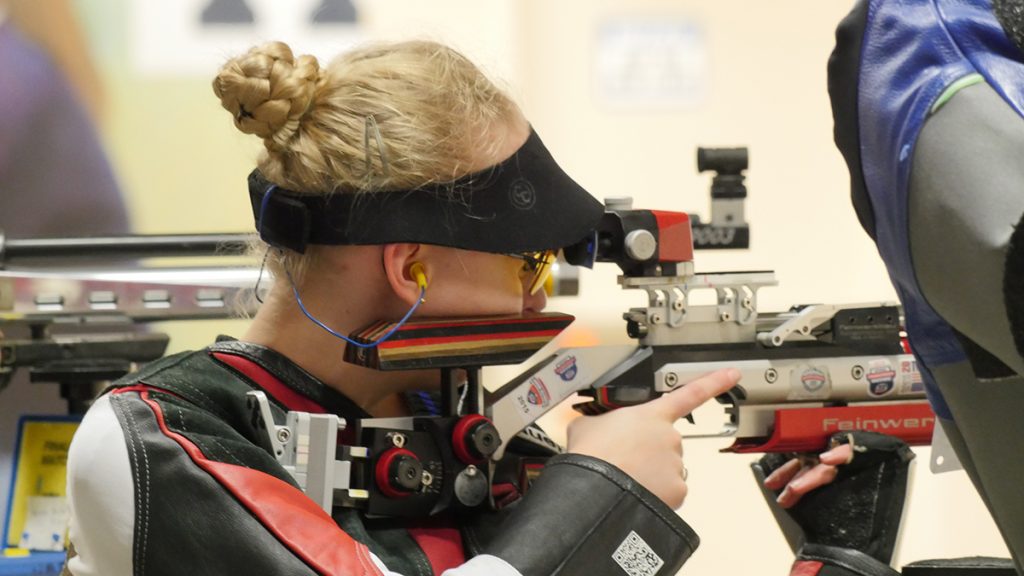 After getting engaged to her now husband, Mark, Julie knew right away that timing was essential. Through all the preparation and difficult decisions that come with wedding planning, creating a ceremony around the Civilian Marksmanship Program's (CMP) Monthly Air Gun Matches was, in Julie's mind, an easy choice to make.
"I planned my wedding around the match, in part, because I have shooting friends who I was inviting, and I didn't want them to have to choose between the match and my wedding," she said. "And because I wanted to shoot the match too!"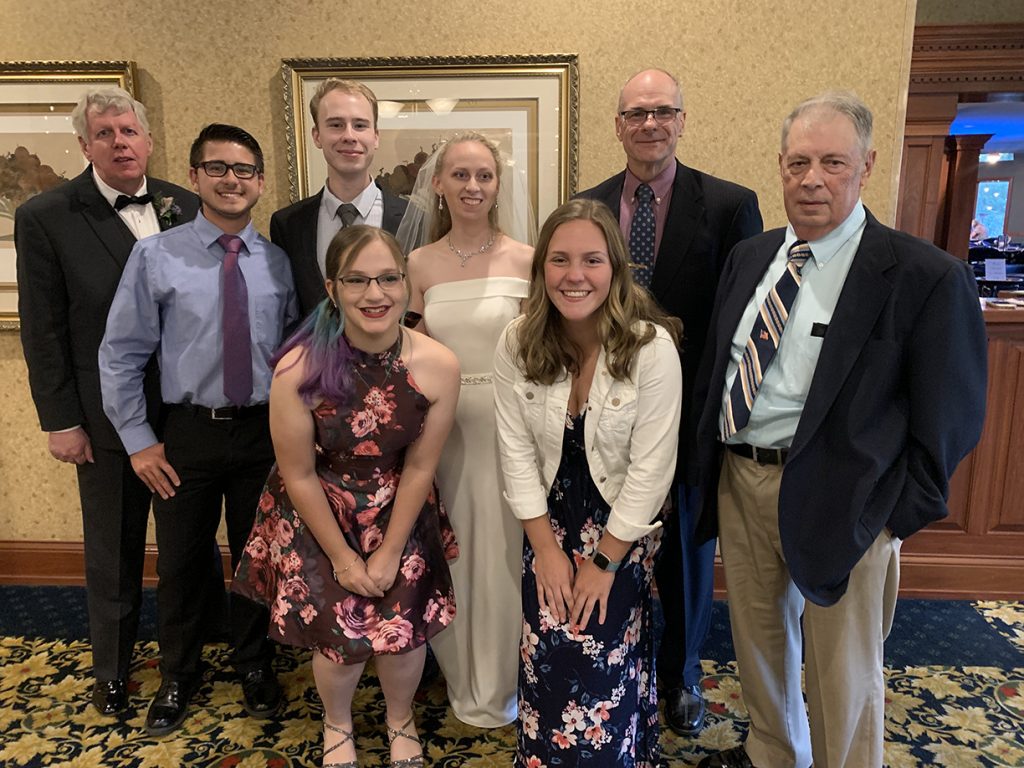 As the 27 year old began to make arrangements, she soon realized the time of year she was hoping to get married in was right in the middle of the competition season. She quickly got her hands on a CMP match schedule and eliminated the days that wouldn't work, which ultimately narrowed down certain wedding details as well.
"Knowing the match dates actually did help as there were several venues I looked at that only had match days available, so they were easily crossed off the list," she said.
After rejecting venue after venue that conflicted with the Monthly Matches, she admitted that her mom was surprised at just how serious Julie was about getting the date right. Her mom, though understanding, had doubts that Julie was going to stick to her original plan of competing so close to her wedding.
"When Mom realized that I was actually going to go to a match the week before my wedding, she kept telling me I was crazy and that I would end up not wanting to do that match," Julie said. "She was wrong! I did go, and I had fun!"
Though some thought the decision to organize her wedding around air gun competition was peculiar, Mark was always supportive of the idea.
"His concern was that at the end, we were married and happy," she said.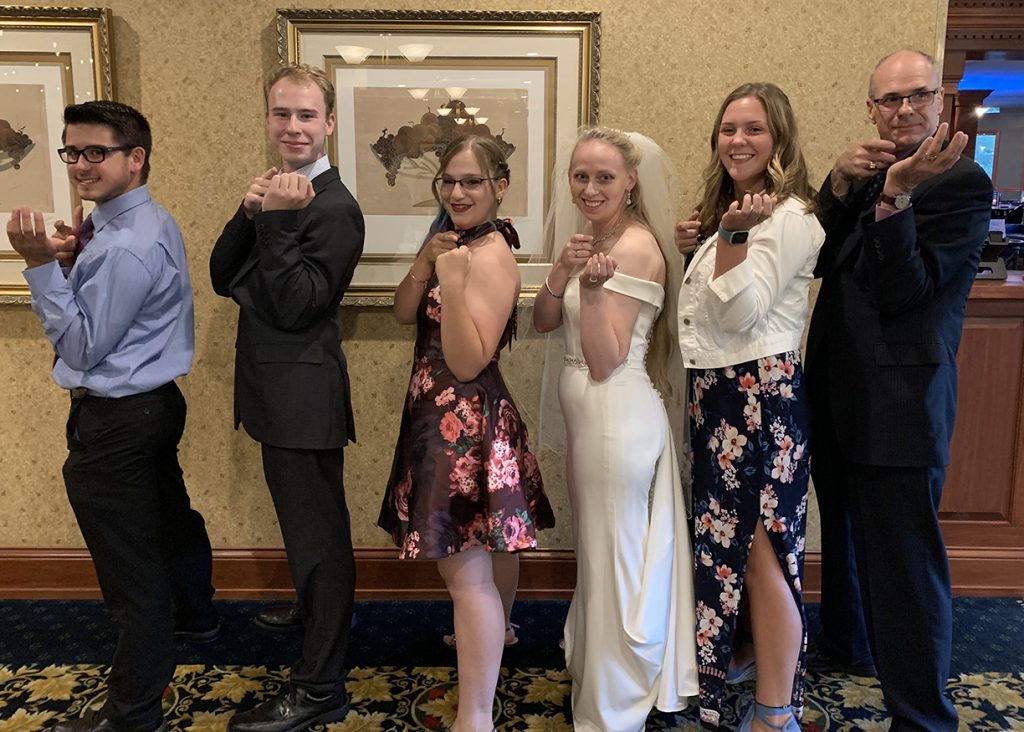 She and Mark settled on a wedding date of Sept. 25, 2021, in Julie's hometown of Cincinnati. The date landed a week before the September Monthly Match at Camp Perry – just a few hours north. She admitted that though she tried to stay focused on the match on competition day, she found her mind wandering to those last-minute wedding details. The distraction ended up serving as a training session in mental focus and competing under pressure.
"Every time I recognized I was distracted, I took a moment to breathe and refocus on the competition and what was happening in that moment," she said. "It was difficult, but it was rewarding."
Her strategy worked, with Julie marking a fourth place finish overall in the 60 Shot Rifle Match.
After competition was over, all that was left to do was marry the love of her life. She didn't incorporate marksmanship into her wedding, wanting to keep the festivities traditional, but her friends joked about coming to the wedding wearing their thick, leather shooting jackets and pants – although none actually went through with the idea.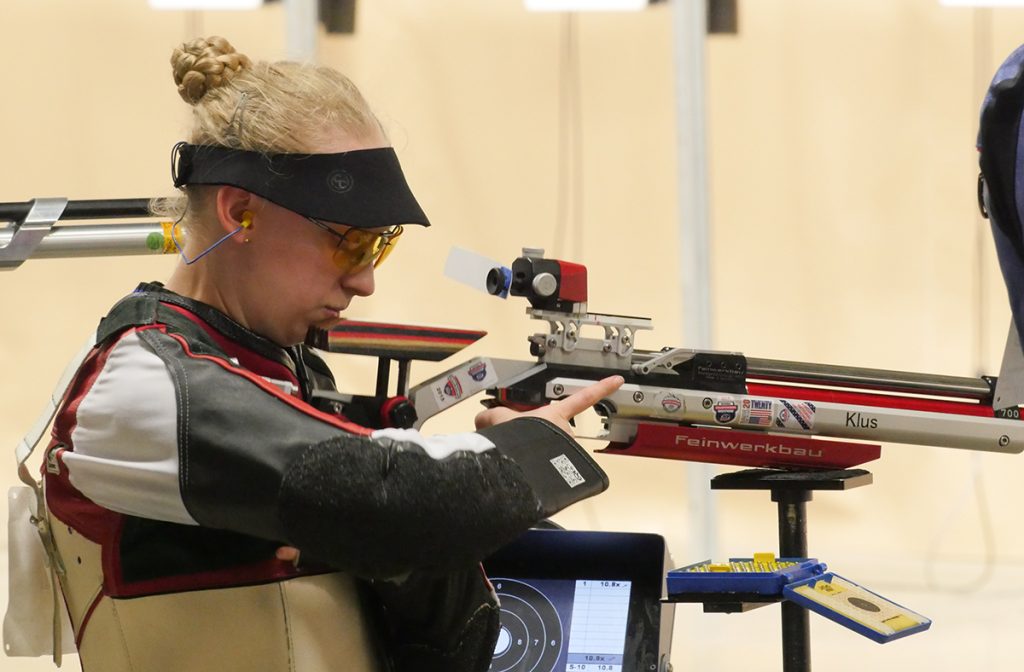 "To my slight disappointment," Julie joked.
The wedding may have been traditional, but Julie and Mark's relationship blossomed from a modern-day romance that began online. From the start, Mark was fully aware of Julie's interest in shooting sports. She used several pictures of herself shooting within her dating profile page and fashioned her username after the make and model of her air rifle. While Mark hasn't had experience in shooting, he's shown endless support for Julie's passion and has even attended a few CMP Monthly Matches when able.
Mark has kept busy with passions of his own since the two have been together, finishing grad school to become an architect and now working hard to remodel the couple's home. Julie says once they have more free time, she plans to take Mark out to the range and teach him the fundamentals of the sport. She also hopes to raise a family of young rifle competitors, just as she was.
Julie has been involved with marksmanship since 2011 when she joined a youth smallbore program at her local club, the Fairfield Sportsmen's Association. Luckily for her, a club member had started a youth air rifle team that same year and offered the new program to some of the smallbore athletes. Thus, began her journey into air competitions.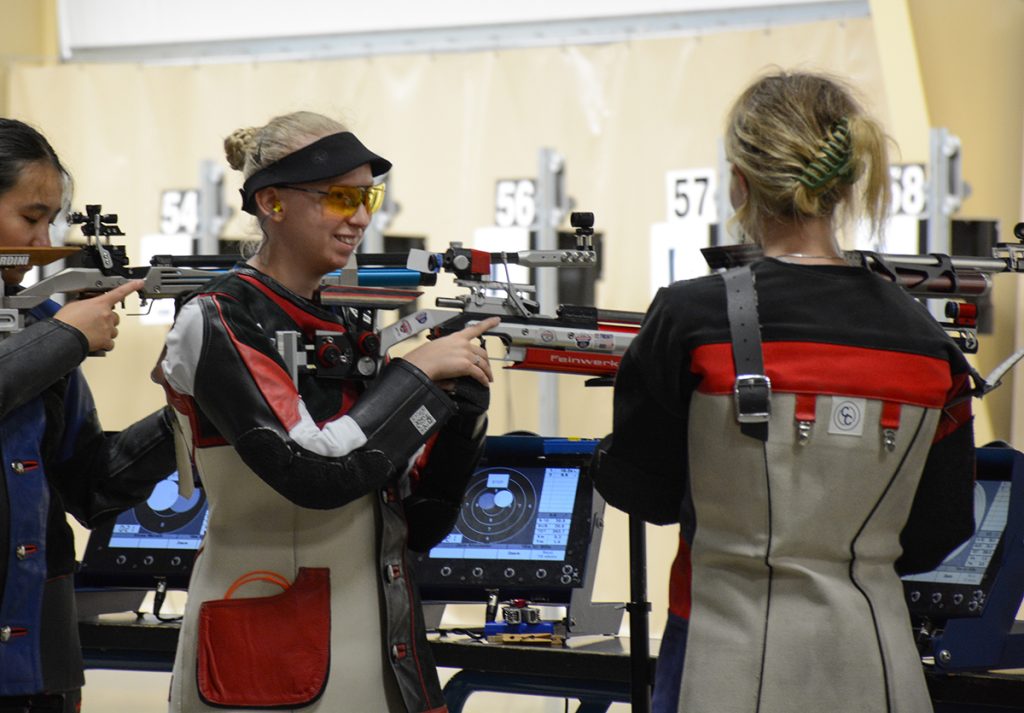 She continued with the sport as a hobby through her high school and college years. Although she wasn't on any scholastic teams, it didn't stop her from traveling and competing three weekends each month – and sometimes more. She has even competed in the National Junior Olympics and has gone on to fire in other national-level events, including USA Shooting's annual Winter Airgun event.
"After graduation, I continued with as many matches as I could. I still traveled about every other weekend for competitions," she explained. "Once I met Mark, we actually arranged our date nights around the nights I knew I needed to either be out of town or needed to get a good night sleep for a match the following day."
When she aged out of the junior programs, she became an instructor to the younger generation instead. She also used her downtime during the COVID-19 pandemic, when many matches were cancelled, to earn her National Rifle Association instructor certification.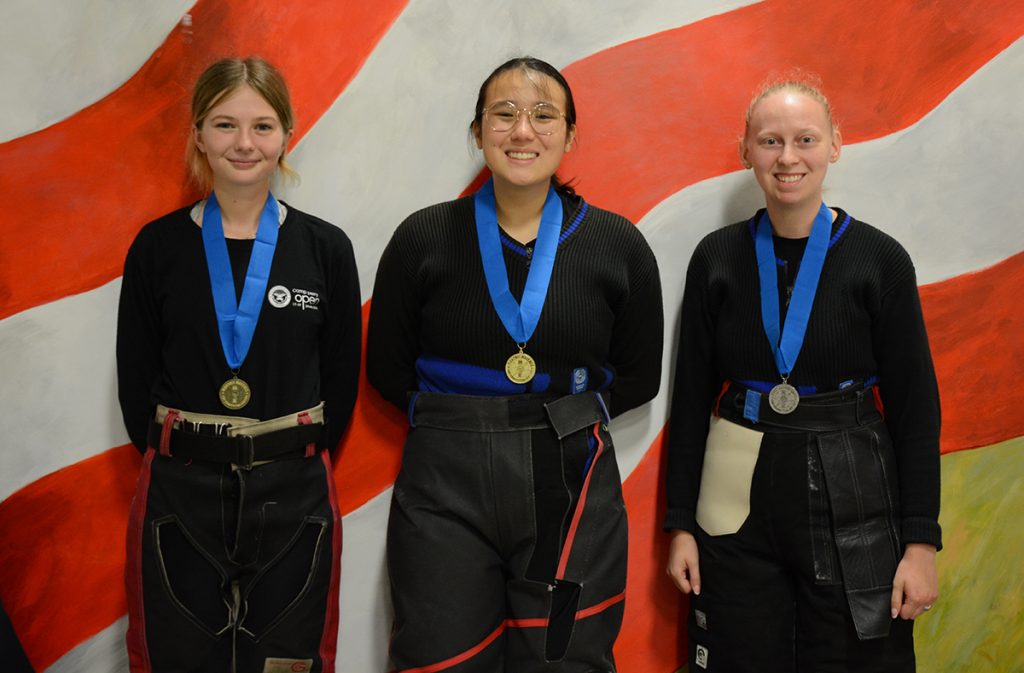 As COVID restrictions began to reduce, Julie resumed competing at as many matches as possible, like the CMP Monthly Matches and the CMP Aces Postals program, which is designed to be fired from an athlete's home range. Her involvement in competitions has not only provided her an outlet for her ambition but has also been a great source of notable connections in her life.
"I have found many lifelong friends in the shooting sports," she said. "It speaks volumes that of the guests of my wedding who were not family, my shooting friends came the farthest by far – some from Michigan, one from Maryland, and one from mid-Kentucky."
Though not acknowledged exclusively during her ceremony, Julie's wedding can be celebrated as a testament to the unique relationships that inevitably seem to form within the field of marksmanship athletes.
"I'm not quite sure why the bonds of friendship grow so strong in the shooting community, but I know they do," she admitted. "I always find it a little strange that I have such good friends that I see maybe eight to 10 times a year, if that many, and we can all just pick back up where we last saw one another."
She also remarked how rivalries in other sports can turn bitter, while those within the shooting sports move more toward admiration for their opponents.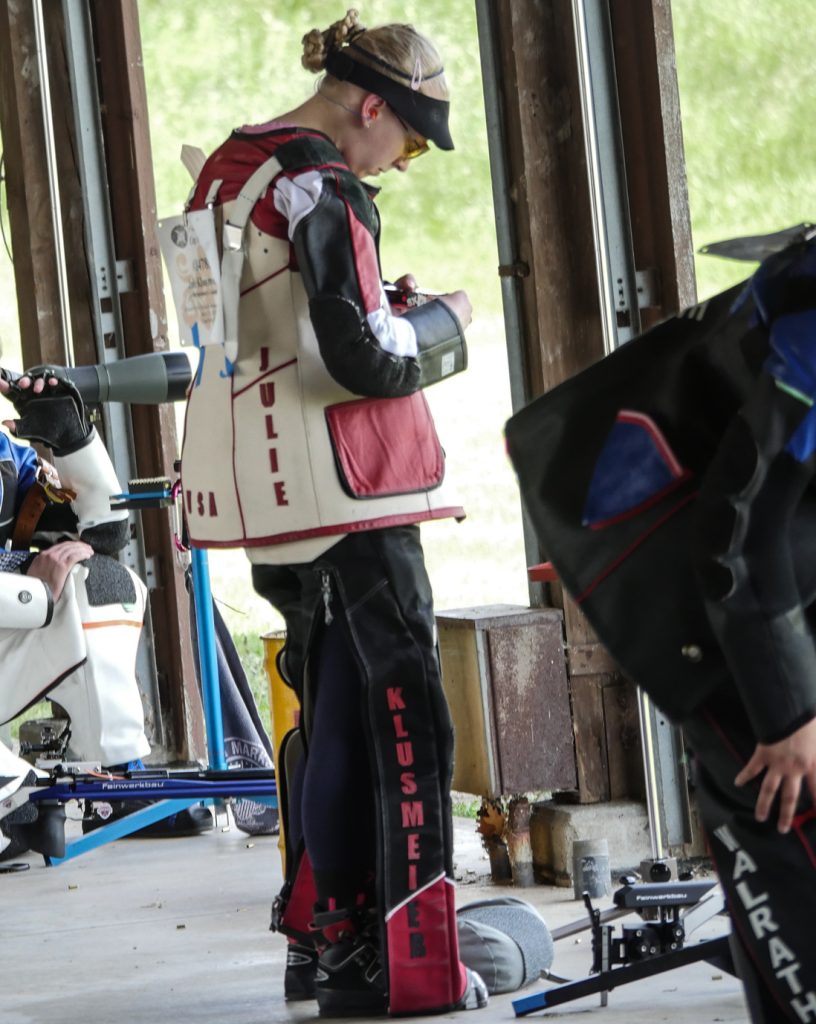 "We generally say we are competing 'WITH' not competing 'AGAINST' our fellow shooters," she said. "This fosters a sense of community and respect even outside of one's particular team."
As it turns out, those weird shooters know a thing or two about the value of human ties – whether romantically or not. Like marriage, being a marksman is a lifelong commitment, both on and off the firing line.
"The camaraderie of the shooting sports is truly a unique and indescribable situation," she said. "I can't really describe how much my shooting friends mean to me."